Podcast: Play in new window | Download (Duration: 1:27:31 — 60.1MB)
Subscribe: Google Podcasts | Spotify | Amazon Music | Pandora | iHeartRadio | Podchaser | TuneIn | Deezer | RSS | More
You wanted to know a bit more about your Horror Movie Talk hosts, David Day and Bryce Hanson, so here it is. First of all, we love horror movies – but why we love them is important. In this episode, we delve into what drove us to our horror movie addictions, share some of our horror tastes, and our top five favorite horror movies. Happy Halloween 2018, be safe and have fun!
What Got David Into Horror Movies?
As a kid, I lead a fairly sheltered life, especially when it came to what I got to watch. I remember begging my mother to let me see Jurassic Park in the 2nd grade because I always loved dinosaurs. I saw it in theaters, on opening night with a friend and it blew my mind. I was instantly hooked. The terror in that movie for a sheltered 2nd grader was high, and I loved it.
I remember waking up early quite a bit when I was very young and catching some messed up movies at 4 am on some subscription channel. One of those movies was Frankenhooker, which did a number on me. Frankenhooker had sex, violence, nudity, profanity, drug use, lewd and lascivious acts, you name it. I still carry the scars that Frankenhooker gave me. Watching it now, it's mostly a shocking comedy, but the damage has been done.
I found myself bored quite often and things like horror movies, sci-fi, and fantasy made life a little less common.
Jim Henson's Labyrinth and The Dark Crystal, along with The Muppets were always in high demand in my house as a kid, and gave me a strong love for practical effects, as well as puppetry.
David's Horror Movie Taste
I love tension and suspense. I like movies that build tension and dread steadily throughout the movie. The more dread, the better. Psychological horror and supernatural horror work well for me.
I don't usually love slashers. Something about knowing the cadence of the movie before I start makes it markedly less enjoyable for me.
David's Top 5 Horror Movies
In no particular order, my top five favorite horror movies are:

The Witch
: A family in 1630's America is cast out of their community and left to fend for themselves on the outskirts of the forest primeval with only their belief in God to protect them. As it happens, God does not have the power to save them, and it's dreadfully horrifying. This is a perfect horror movie in every way. The suspense, the acting, casting, concept, execution – flawless.
Hereditary
: It just doesn't get much more intense than this. I've never been nailed to my seat like I was during this movie. Prepare to care deeply about a family that is put to the ultimate test. Don't learn anything about this movie, just watch it. This has replaced
There Will Be Blood
as my favorite movie of all time. Greif, terror, disbelief, tension, perversion – it's all here. *click*
Alien
: This movie could have been made yesterday, that's how well it works and how good it looks.
Alien
is a quintessential horror classic that deserves every bit of praise that it gets. It's isolating, quiet, loud, completely alien in every way. This movie never gets old and will always be effective. If you ever find yourself in an argument where someone suggests that CGI is better than practical effects, show them,
Alien
.
John Carpenter's The Thing
(1982) plays on human psychology in a way that few movies do. Pair that with the most impressive practical effects ever, and you have a long-standing classic movie. Kurt Russell, playing a man's man in Antarctica pouring whiskey on a chess computer? Hell yeah!
Paranormal Activity
(the whole franchise): This works so well for me that I had to include it. I dare you to watch that trailer and not get chills! This franchise is great because it does so much with so little. There is nothing scarier than having a demon attach itself to you and follow you wherever you go. Don't believe me? Watch
Paranormal Activity
!
What Got Bryce Into Horror Movies?
I also grew up in a relatively sheltered situation. I grew up Mormon, and for the most part Mormon kids and even adults made it a point to avoid Rated R movies. However, my parents were rebels and allowed us to watch Rated R movies after we got to a reasonable age. I'm pretty sure my first Rated R movie in the theater was Red Heat, which would have made me six years old at the time. That actually sounds kind of crazy to me now.
Anyway, my parents were pretty lenient up to a point. As long as it was Rated R for violence and not sex, it was usually fine.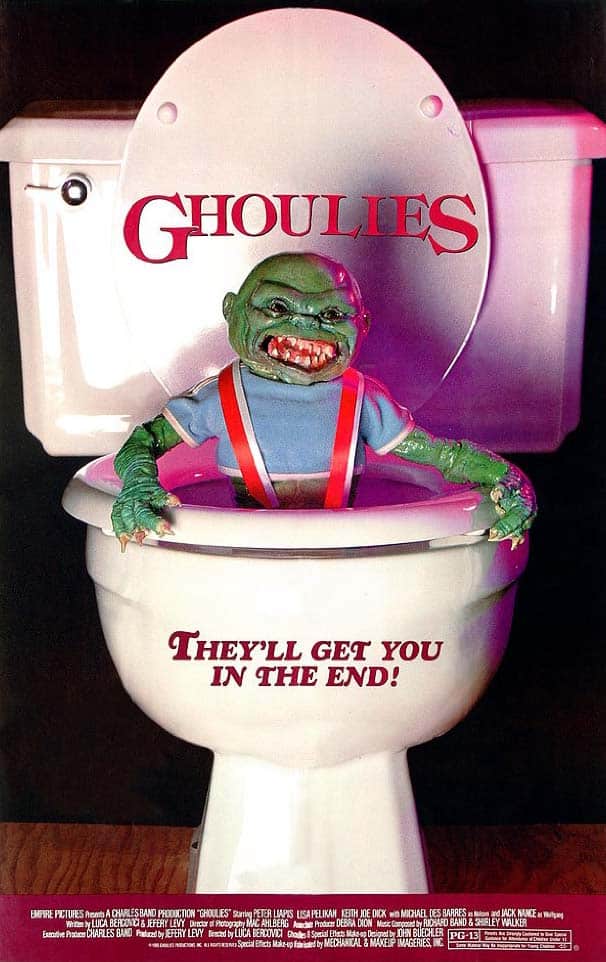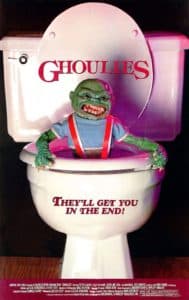 My entry into horror movies came through the IT tv movie in the early 90's. I think I caught bits of it when it aired, but it always greeted me at the video rental store and made me think of scary clowns. I didn't watch a lot of horror movies, but I would always be curious about the scary VHS covers that I walked by at the store. The cover of Ghoulies in particular scarred me mentally and was the cause of many a hurried flushings.
The biggest influence on my taste in horror movies early on, came from television. I was a big fan of the show Sightings, which aired on Fox on Friday nights. It was a show about the paranormal, UFOs, ghosts, and other spoops that went creak in the night. I ate that stuff up. Me and my group of friends would have sleepovers and kick it off with an episode of Sightings. I remember when they canceled it, I was mad that they were going to replace it with some procedural FBI show. But boy was I wrong, because the replacement was The X-Files, became one of my favorite shows ever. Also, honorable mention goes to Unsolved Mysteries, as another show that delved into the paranormal and mysterious.
When I got into my pre-teen to teen years, that same group of friends would make it a ritual to rent one blockbuster movie, and one shitty movie to make fun of. Most of those shitty movies ended up being Full Moon productions. We ended up having a lot more fun making fun of the crappy horror movies than watching the latest Hollywood action movie, so that quickly transitioned into renting two shitty horror movies.
Around that same time, we watched a lot of zombie movies and some of the classics.
Bryce's Horror Movie Taste
My preferences in horror movies are more towards relatable and story/character driven films. I like movies that revolve around family based hauntings, like Paranormal Activity, or Poltergeist. I like movies that deal with religious or devil stuff like The Exorcist and The Witch. I prefer a slow pace that builds up suspense like Get Out or Rosemary's Baby. On the other side of the spectrum, I also like horror movies that feature over the top tastelessness like Hostel or The Human Centipede. I think that's a hold over from my Full Moon days. Finally, I like horror comedies that are genre commentaries like Tucker and Dale Vs. Evil and The Cabin in the Woods.
Bryce's Top 5 Horror Movies
So with that being stated, lets delve into my top five horror movies. I don't have a particular order, but I can say which one is my favorite. That would be…
A young girl is possessed by an evil pressence, and the priests sent to perform the exorcism find themselves out of their league.
This one pretty much checks all the boxes. Family based. Religious. Slow burning. Over the top tastelessness. I fell in love at first viewing.
A family mourns the loss of their grandmother, and then all hell breaks loose.
This is the one that both me and David agree on, and is the reason why I knew we could talk about horror movies for hours on end in a podcast. Again, family, devil shit, slow burning, it hits all the boxes. This one is definitely a modern masterpiece. I have confidence that this isn't just recency bias. It has an amazing script, superb acting, and great directing. This one blew me away, and I'm glad I dragged David to it. You can Watch the trailer above in David's top five section.
Three young independent documentary filmmakers go into the woods, and never return…
This movie is the most influential found footage horror movie, and truly group breaking at the time. The real genius of this film was the marketing around it which really blurred the lines about whether it was a true story or not. Nothing can match the experience of seeing it in the theater with a group of people, and repeated viewings are all but a waste of time, but this one definitely sticks with me.
An evil scientist traps unwitting victims for his insane science experiment…
This movie, to me, is the pinnacle of glorious tastelessness. I can't get enough of the evil scientist in this movie. It is like a 1950's B-movie that you would find being roasted on MST3K was sewed onto a modern torture porn against it's will. The best thing about it, is it is played completely straight.
A family and grandparents move into a duplex together and slowly find out they aren't the only ones living there…
Ok, this is my hipster pick, but I genuinely love this movie and think about it as a touchstone for all other family hauntings I have seen since. It really is great despite the budget and 90's feel. I stumbled upon this on the Sci-Fi channel back in the day, and loved how relatable the family was. I also loved how the unexplained phenomena began as innocuous and confusing, then quickly ramped up to nefarious and frightening. Yes, there are other more famous family haunting movies, but this one was the first that I came across that really felt really believable. The special effects are not great, but they do force your imagination to fill in the gaps, and sometimes it ends up being more effective than big budget movies like Poltergeist.
As my gift to you, here is the whole movie in potato quality on YouTube: