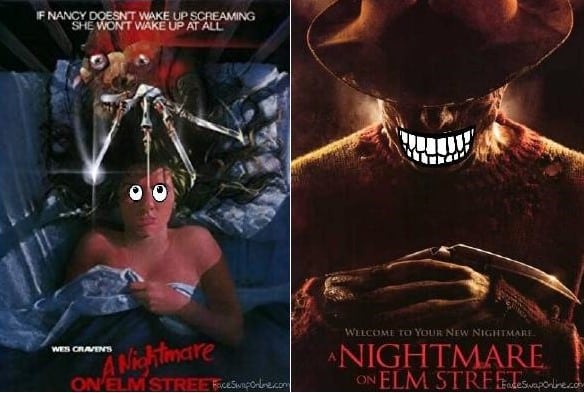 Before anyone jumps to conclusions, let's be clear: I do NOT prefer 2010's Nightmare on Elm Street over Wes Craven's 1984 original. To me, it was at best a mediocre, formulaic slasher with moments of quality. At worst, it was a thoroughly disappointing, uninspired homage filled with wasted potential and overused obnoxious jump-scares. It made money but crashed & burned overall in living up to its predecessor's legacy. To be fair, that was no small task to begin with.
If you would like to watch A Nightmare on Elm Street (1984)
or the remake A Nightmare on Elm Street (2010)
please click through those links to watch them on Amazon and it will support the podcast!
Some argue that the project was doomed from the start due to Robert Englund's retirement after an irreplaceable performance as the franchise's icon, poorly timed debut near the Blu-ray anniversary re-release of earlier entries (according to Englund's speculation), and a history of development + production problems such as creative differences, studio interference, altered scenes, and budget limitations (Hence, the heavier use of CGI over practical effects). Regardless of our opinions on it, there is no denying that the film failed to reignite the series.
In spite of an accomplished cast, it had several aspects working against it. Having said all that, after watching both versions multiple times each as impartially as I could, there are a few specific elements I feel were actually improved upon in this modern reimagining of Springwood's boogeyman. Four examples below will explore how and why I prefer these instances of well-done storytelling, atmosphere, and character development over Craven's classic:
1) Portrayal & Effects Of Sleep Deprivation
The Lead Performance
You could fill this whole blog with complaints about Rooney Mara's more introverted + emotionally bland take on protagonist Nancy Holbrook, many of which, I'd likely agree with (She reportedly didn't want the role in the first place, and it shows). She nearly quit acting after this movie's backlash. As much as the majority of fans love Heather Langenkamp, however, one glaring flaw I noticed over time is that her performance is far too energetic throughout for someone we're meant to believe is suffering from progressively severe sleep deprivation.
Even in the 3rd act, after days without sleep, the amount of screaming and energy she exerts aren't much different from her energy levels earlier in the film. She seems to alternate between acting exhausted in scenes where the plot dictates that she fall asleep and being energetic again in suspenseful or action-driven scenes. One moment, her eyes can barely stay open.
The next, she's retained the mental awareness & physical precision to set up traps all over her house Home Alone– style (Her vision and coordination would be affected along with hands shaking from exhaustion by this point, never mind accomplishing complex tasks) in addition to the adrenaline to flee or fight off Krueger. You can't have it both ways, which makes Nancy's portrayal in context come off blatantly unrealistic.
One can write this off as anecdotal, but I've experienced sleep deprivation firsthand, having struggled with it in my younger years and occasionally stayed up for over a day straight. So I know a little of what I'm talking about here. Even if my life depended on it, I could not keep my wits enough to do half of what Nancy does after that many hours of consciousness. Even with all the drugs in the world (Caffeine, energy drinks, the remake's epinephrine shot, etc) it's simply not physically possible to resist symptoms for that long and maintain such vigor.
We could attribute this to Langenkamp's acting experience at the time, Craven's direction, comparatively limited medical knowledge on sleep deprivation in the '80s, or some combination of all three but the end result in any case is the same. For a story revolving around surviving a killer's wrath by staying awake, fighting the inevitability of the human body's needs for as long as possible to unhealthy lengths, the original film's performance is too inconsistent to overlook.
Suspending disbelief at the myriad of outlandish things Freddy or the dream warriors who face him are capable of on his turf is one thing, but that argument doesn't work for the human characters in the waking world. You can't hand-wave this away as "It's just a movie, it's not supposed to be realistic" when the whole concept hinges on sleep & dreaming, two of the most grounded, universally relatable functions of human beings (among other animals). It's in the original's poster, for crying out loud!
If the cast can't be bothered to make the illusion that they're losing steam consistently convincing, that will understandably affect viewers' immersion in the danger. This is the only aspect where I give props to Mara because the remake's deeper integration of sleep deprivation works to her reserved performance's advantage. As dull as she may come off compared to Langenkamp, that's fitting if we're strictly talking about the 2nd-3rd act.
The fact is, sleepy people in reality generally act similar in lack of expression & emoting, so it makes perfect sense for Mara's Nancy in that context. The issue is, because her quiet, anti-social behavior already provides so little energy in the early story, the effects of her struggle to stay awake aren't as compelling to the audience except in brief instants such as burning herself with a car's cigarette lighter. So, of course, many won't be as invested in her. Nonetheless, I believe this version does the remake a service at least in the latter half, which is where the clinical side of sleep plays more of a role.
The Science
Pharmacy Micro-nap Scene
As said, medical research on the subject wasn't as developed in Craven's time, so it understandably wasn't as emphasized in the original. Quoting Charles Fleischer's Dr. King when questioned about what dreams are by Nancy's mother, he answers "Mysteries, incredible body hocus pocus. The truth is, we still don't know what they are or where they come from."
Granted, King exaggerates to a point about how in the dark we were back then but, for the story, it works. Even in 2018, there are still things we don't fully understand about how the brain works with sleep & dreams. This is why I both enjoyed and appreciated the further depth given on micro-naps, which become an important plot point later. The pharmacy aisle scene beautifully visualizes this to heighten the tension as the dream world begins bleeding into reality and the horrified Nancy sees that Freddy is getting closer.
2) Six More Minutes To Play:
Jesse's Death Scene vs. Rod's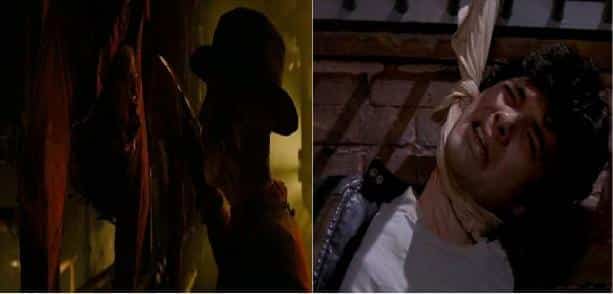 The Scene
I won't lie, this is the one part of the remake that genuinely scared me and stuck with me afterward. I remember trembling a bit when I first saw it in theaters. On the surface, it's fairly tame. Thomas Dekker's Jesse Braun, after struggling to stay awake in jail, is seemingly bailed out by his parents only to realize he's failed and is not in Kansas anymore. Upon finding the boiler room and the corpse of his ex-girlfriend Kris (Katie Cassidy), an encounter with Krueger ends in his demise.
The kill itself is as basic as it gets. Freddy disappears for a moment before clawing Jesse through the chest from behind. His bloody body drops in the real world, mirroring the wound, which leads to a darkly humorous reaction from the dumbfounded cellmate who immediately reacts by yelling that he didn't do it and banging on the door to be let out! So yeah, nothing special here at all. What happens next, however, is where I was in for an unsettling surprise.
First, I should confess something: When it comes to horror movies, I have a thing about impalement. Not that I know of anyone who likes it but, of all the ways to die or be killed, this is one I really don't like to see. It's worse when the victim doesn't die right away. Some horror buffs out there may get some satisfaction from torturous deaths in film (Cough, Saw sequels) but not me. This is where the remake got under my skin as the real hell is just beginning for poor Jesse.
The Psychology
Despite his physical body being dead, the boy is still barely alive and aware in the dream realm, chained upside down beside Kris as the latest in the line of Freddy's body count so far. With his spine presumably destroyed (I'd definitely hope he can't feel anything), he's unable to move or even breathe properly as Jackie Earle Haley speaks what I found to be his version of Freddy's most chilling line: "Did you know that when the heart stops beating, the brain keeps functioning for well over seven minutes? We got six more minutes to play."
Those last seven words made my blood run cold, as I knew what it meant the same moment Jesse processed this revelation, his eyes widening. As Einstein simplified in an explanation for his theory of relativity, "Put your hand on a hot stove for a minute, and it seems like an hour. Sit with a pretty girl for an hour, and it seems like a minute." In Jesse's case, it's tragically the former.
Since then, I always dread this scene when re-watching the remake but never skip it since I have seen worse and still have my pride (Translation: I'm stubborn). My heart always beats a little faster though despite my best efforts and knowing it's not real. This is a mark of quality horror, when you're logically aware it's an illusion but it still affects you emotionally. The editing on Dekker's breathing to make it sound distorted is most effective as Jesse chokes out one last blood-curdling scream of terror & helplessness, knowing his last minutes of existence that may well feel like hours will consist of being tortured by the monster.
The Imagination
At this moment, 2010's Elm Street accomplished two things:
Adding an interesting new psychological layer to Freddy's lore.
Making Freddy himself and more importantly the idea of becoming his victim scary again but for a new reason.
The implications run deeper when you realize in retrospect that, if the brain lingers for a few minutes after physical death, then all of Freddy's past victims suffered this fate (assuming their brain wasn't dealt severe trauma in the kill): Kris, Dean (Kellan Lutz), Marcus (Aaron Yoo), everyone who's fallen by Freddy's blade.
My only major gripe with this scene is how the script apparently forgot that autopsies and cameras exist. The coroner and authorities would probably question how a person's chest somehow spontaneously exploded from the inside as if stabbed by an invisible murder weapon, whereas Rod's death in the original was cleverly made to look like a suicide. Honestly, it could've bettered the writing and built up eeriness among the Springwood children if Freddy set up every death like a suicide or accident, planning for his kicks to make each kill more creative.
However, that's where my praise of Rod's death ends. I found it not only boringly unimaginative by comparison for what the film had to work with regarding Freddy as a concept but a contradiction to what little logic is established in the original on how his abilities work. He only has power in dreams and can harm you when you sleep or influence you as you grow sleepy.
Simple, right? So, how then does Krueger make an inanimate bed sheet in the real world tie itself around Rod's neck and hang him? Even as a kid, the sheer stupidity of this almost made me want to laugh. The worst part was, the script could've so easily fixed it by having Freddy hang Rod with some other object (Ex- a chain) in the dream world but reveal when Nancy & company find him that he was manipulated while asleep into hanging himself with the sheet.
The remake's first onscreen death used virtually this exact tactic with Freddy slicing Dean's throat in a dream but Kris seeing that he's forced to do it to himself in reality. Self-harm while sleeping is a very real condition, specifically cases believed to directly connect with nightmares. Again, I acknowledge that the original was made before this was understood among doctors. However, even back then, the writers could have plausibly brainstormed something like this idea and Rod's scene would've benefitted. Fans are of course entitled to defend it but I consider it one of the 1984 film's weakest scenes and creative misfires.
3) The "Was Freddy Innocent?" Sub-plot
The Impact
This is either one of the greatest or dumbest aspects of the remake, depending on whom you ask. I mean, come on, Fred Krueger? One of the most influential, sadistic killers of the genre? A child murderer? The "bastard-son of a hundred maniacs" (Not that how you're born necessarily dictates the person you'll become)? How do you even entertain the notion of a guy like that being innocent? Evidently, by rewriting him from a confident, cunning psychopath who only escaped justice on a technicality into a cowardly child molester who skipped town.
I'm not suggesting that molestation is any less reprehensible, mind you, but it did admittedly eliminate the pre-existing Springwood body count Freddy had accumulated prior to his death. Even the visions characters see of kids with claw marks are changed to memories of their childhood selves, instead of ghosts from Freddy's past victims. Whether Krueger himself works better conceptually as a killer or abuser is up to you, but I'm focusing on how it influences the plot.
Because this is a new interpretation of Krueger, we go in with certain expectations while ideally open to twists on familiar tropes. There fundamentally wouldn't be much creative point to remaking anything if the project attempted to emulate the original beat-for-beat instead of trying new things, as multiple past remakes learned the hard way (Ex- 1998's Psycho). One main reason Haley's Krueger drew a cult following is precisely BECAUSE he's written differently from the original and made it his own rather than trying to reconstruct Englund's charisma.
This feeds into the unpredictability introduced when Kyle Gallner's Quentin Smith confronts his father Alan with Nancy after having finally learned about their connection to Fred Krueger in pre-school. While Alan insists that the Springwood parents knew Krueger was guilty based on accounts relayed from the kids combined with signs of abuse, Quentin (having witnessed a flashback to Krueger's gruesome death up close) debates that "we were five! We would've said anything! You killed an innocent man." to Nancy's mutual shock.
The Contemplation
As ludicrous as it sounds, the possibility of the remake going in that direction changed the game in a meaningful way for better and worse. Just ask yourself for a second, "What if?" What if, instead of being the same old stereotypical sadist we grew up with, there was something more three-dimensional to this Krueger?
What if this character was innocent or worse, framed for the children's misfortune? What if this murder spree was the manifestation of a vengeful spirit dispatching his personal "justice" on the kids whose actions, intentionally or not, directly led to his death & perpetual suffering (I can't imagine that burned face feels comfortable)? Regardless of whether fans believe this humanized Krueger too much, I saw it as a welcome dose of intrigue to an otherwise familiar dance.
Of course, I along with the majority would've hated if this subplot had followed through on Freddy being revealed as a victim himself, twisting him into a misunderstood dark avenger of sorts. Still, just bringing the idea up to build this extra psychological conflict made the unraveling of Krueger's backstory + how we perceive the teens as garden-variety horror protagonists more engaging, instead of stretching the plot out with more standard padding.
4) Superior Glove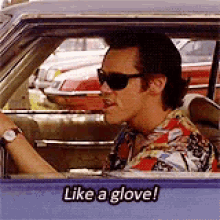 Who Wore It Better?
Nobody I know of will contest that Freddy's iconic glove is a defining trait of what made him the series' star as well as nightmare fuel for generations, but even the most die-hard fan can admit that it's not the most practical weapon for a killer, living or otherwise. Craven revealed that his inspiration came from bear claws, which the films' many gloves have captured the theme of to varying success. There's a unique awkward charm to its body language, Englund comparing how the weight lowered his shoulder to the mannerisms of a gunslinger.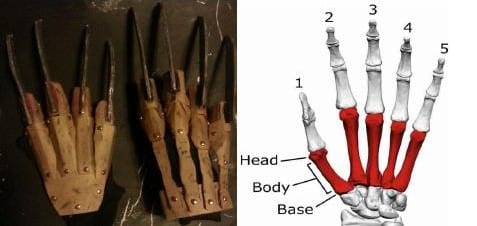 The Anatomy
When you study the original and remake's designs side by side, however, the differences in craftsmanship become more noticeable. Special effects designer Jim Doyle recalled in an interview how Englund adapted to his instrument of carnage very quickly, instantly fascinated with its functional grace and experimenting/practicing for a whole day to perfect his routine.
Watching Englund onscreen though highlights its greater restrictions in precise finger movements, limiting articulation of how it flows with the hand's natural motions when fighting or killing. The plate on top of the glove connecting the knuckle segments exacerbates this, further compromising flexibility.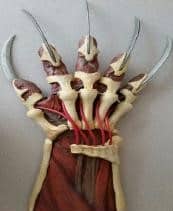 Haley's glove, by contrast, takes a page from the more skeletal design of 1994's New Nightmare, my personal favorite Freddy claw in the entire franchise. In fact, I wish Craven had developed it in '84 alongside the original glove so Krueger could've used the crude one he welded together in life as the "Springwood Slasher," then the more devilish claw after returning from death.
Yes, my bias is showing, I digress. Examine how, rather than a plate, Haley's design uses straps that not only connect the knuckle segments to the wrist but flow along the top in a similar pattern to our Metacarpal bones (highlighted in red above). This improves the articulation of the structure as a whole, allowing for an at least marginally more flexible repertoire.
Making The Cut
I'm not here to convince anyone to like either version of Elm Street any more or less, only to point out that neither is flawless and this remake has glimpses of significant redeeming value even when the court of public opinion rules that the bad outweighs the good. There are remakes of far worse watchability (House of Wax, Amityville Horror, The Wicker Man, etc) but even the bottom of the barrel can hide a pleasant surprise if you give it a fair chance and put it under a microscope that isn't already seeing red at how it measures up to a timeless classic.
If you would like to watch A Nightmare on Elm Street (1984)
or the remake A Nightmare on Elm Street (2010)
please click through those links to watch them on Amazon and it will support the podcast!
Sources:
Why Nightmare on Elm Street Reboot Failed- Robert Englund Interview
Wes Craven Reveals The Origin Of Freddy Krueger's Glove
Freddy Glove Origin Stories
A "Nightmare" of a Task: Writing the Elm Street Remake
A Nightmare on Elm Street (2010): 10 Things You Didn't Know
Why The Nightmare On Elm Street Remake Was So Bad, According To One Star
Microsleep: Causes, Dangers, and Prevention
"I cut myself with knives in my sleep": Woman, 22, finally finds cure for bizarre disorder that left her severely injured