How Will The Reboot Reflect The Classic?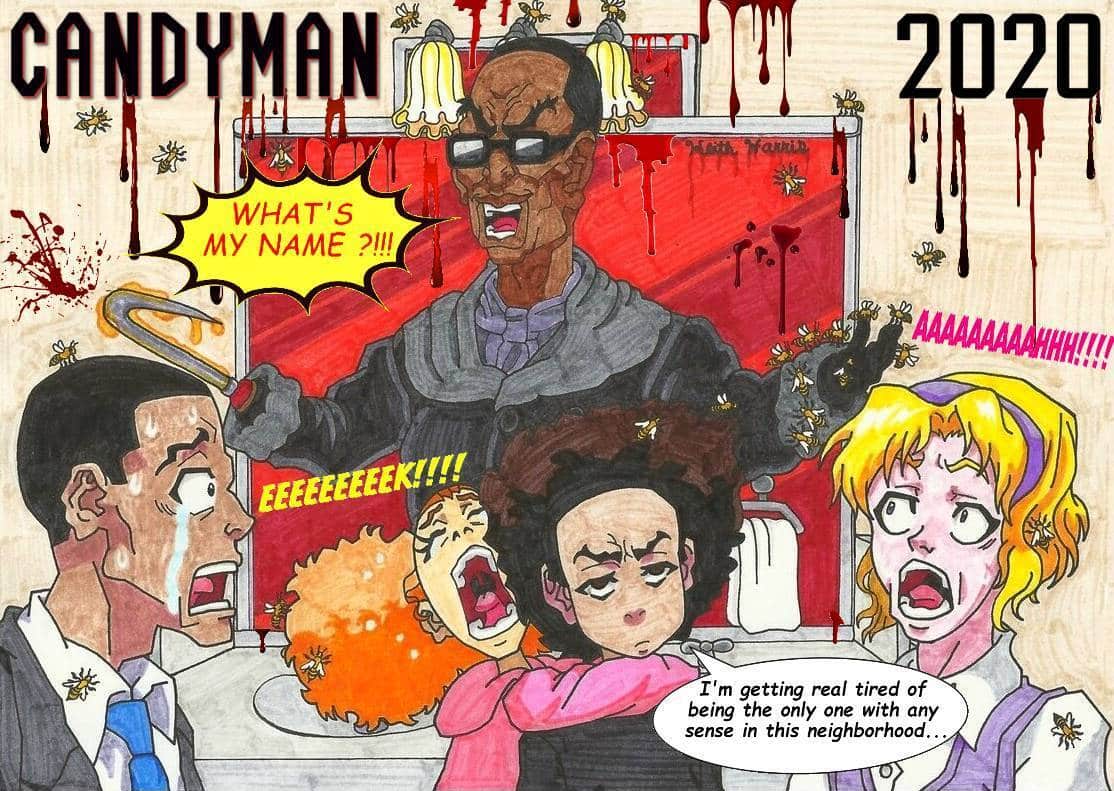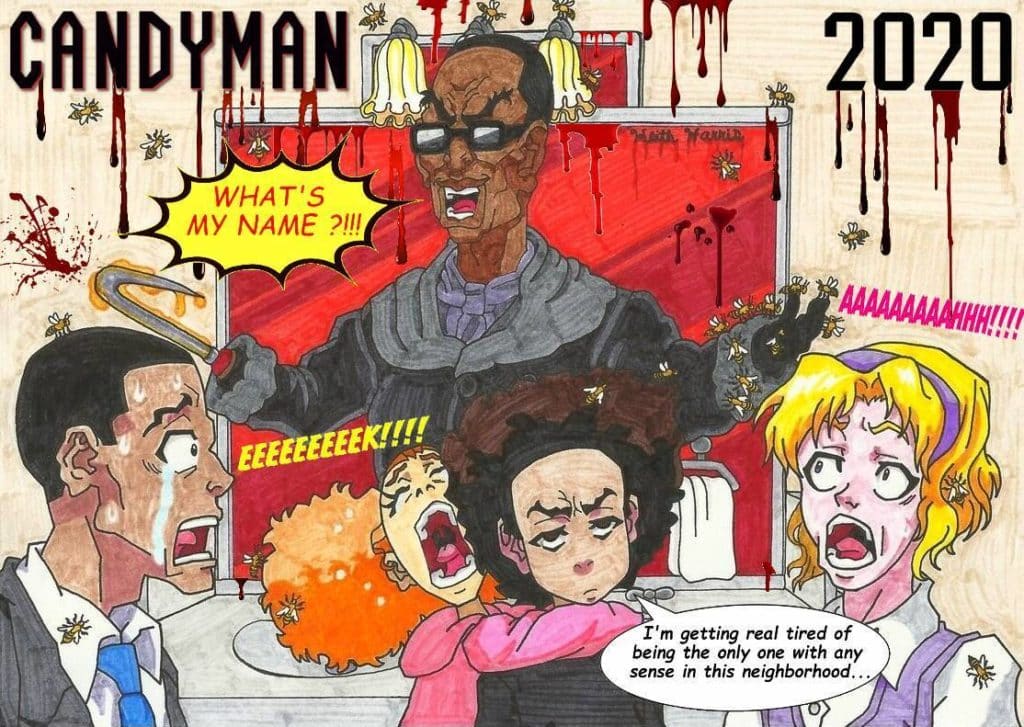 "I am the writing on the wall, the whisper in the classroom, the sweet smell of blood."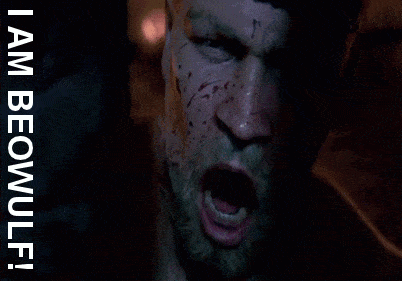 In all seriousness, it's hard not to be at least a little intimidated by what is arguably one of the most chilling character introductions in all of film. On October 16, 1992, American moviegoers were invited to witness and assist in the birth of one of the 90's first major genre icons, a contemporary boogeyman spliced together from DNA of past urban legends & real-life tragedies for the silver screen – Candyman.
Beginning development as a low-budget indie-film and going on to earn $5,404,320 USD in its opening weekend ($25.7 million worldwide), Bernard Rose's Candyman didn't just scare generations from saying his name in the mirror at sleepovers. It also brought the previously niche "black horror" sub-genre to new levels of recognition and subtext that are still being discussed and influencing Western culture today.
To the best of my recollection, I only saw bits and pieces of this movie on TV as a young child (Obviously, my parents justifiably wouldn't have sat me in front of it). I didn't watch the full film until many years later. I do remember, however, knowing enough about the character that I was one of those kids who, despite my skepticism, was too afraid to test the mirror by speaking the name. Perhaps that's why I'm still alive to write this blog, who knows? All legends come from at least a grain of truth, after all, do they not? ?
Few staples across the history of cinema, even outside the context of genre, stand as such a powerful testament to the perseverance of filmmaking against the most seemingly insurmountable odds (Ex- Jaws). Candyman's success, both onscreen and through its famous behind-the-scenes struggles, has built a legacy which majorly contributed over time to breaking through barriers and paving the way for the freedom black horror rightfully enjoys today. A prime recent example of this is Jordan Peele's work.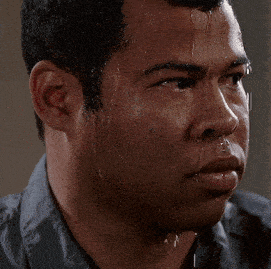 Honestly, of all the people most would expect to become an accomplished horror director (You know, the quiet and/or creepy social outcast with a past involving substance abuse who likely had a traumatic childhood, like who casual fans keep wanting to believe Stephen King is), the last person I would've expected was the guy from Key & Peele. ? Had I predicted such a narrative to any fellow horror fans before 2017, they'd most likely have laughed. I mean, really, who the hell saw THIS coming?
Let's recap. First, following his breakout role in Mad TV, this dude spends over three years doing thoroughly entertaining sketches on Comedy Central, forming one of the tensest bromances of all time with Keegan-Michael Key (Do NOT pretend you've never once thought about it! These two have more onscreen chemistry than Chris Evans & Robert Downey Jr., for crying out loud! I'm NOT crazy, damn it).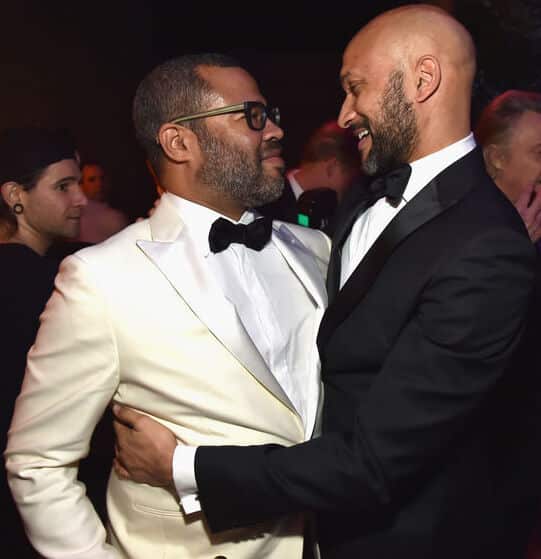 Then, as if out of nowhere, he makes 2017 a hot-topic year with one of the most widely acclaimed modern horror/thriller experiences in his Oscar-winning Get Out. My reaction to this in the moment of first seeing it online was a mix of surprise, happiness, and excitement… but mostly surprise.
My Reaction To Jordan Peele's Get Out Oscar Win
Peele suddenly becomes an almost overnight sensation as one of the up-and-coming faces of horror. Then, because he apparently had this talent hidden for so long, he decides, "You know what? I'll bet I can do it AGAIN!" and releases Us a couple of years later. The real kicker: Both these movies had Jason Blum (Blumhouse's founder) as a producer! So yeah, Peele's rise to horror rock-stardom is as compelling of a shocker as his films. Even after two grand slams, though, he's not satisfied!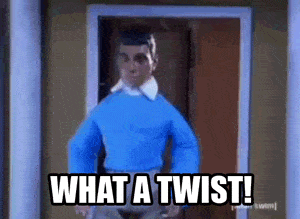 He wants his shot at a pre-existing franchise because all the big names today have to have at least one of those. That's how you know you've truly made it, when your reputation carries enough weight to tackle a classic property. This dream-project could have been anything, and there were some conflicting rumors for a while as faith in Peele quickly grew. I certainly couldn't have guessed what he'd do next.
For all I knew, considering this uncharted territory, it could've been a revival of Leprechaun with an older (but still beautiful) Jennifer Aniston somehow talked back into the series that served as the main reason she rarely discusses her pre- F.R.I.E.N.D.S. career. But oh no, Peele's not chasing rainbows for gold. He wants that legendary honey! Now, lo and behold, here we are: A new Candyman installment, and the first to get a theatrical release since the original after two straight-to-DVD sequels whose sole redeeming quality was Tony Todd giving us more scene-chewing performances as the titular slasher. I won't be referencing them in any further fashion, not even for Candyman's human name (I personally thought his name being left unknown in the first film was more effective anyway, as it added to his mystique).


So, here's the million dollar question and what you clicked on this blog for: What can we expect from 2020's Candyman? More specifically, given the current information, how likely is it to measure up against its progenitor as a worthy successor to the IP? Well, folks, that's what we're here to discuss today! In addition to separating fact from speculation surrounding the new film, there will be a retrospective on what exactly made Candyman so memorable in the first place. If you're nervous about reading Candyman's name any further, I'm afraid it's too late since you've already done so twelve times. Best of luck!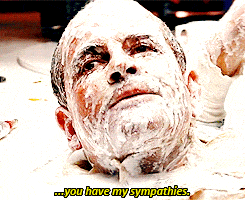 Warning: MAJOR SPOILERS BELOW! Some of what I'll talk about comes from rumors that are as yet unconfirmed. Take everything you read with some healthy skepticism (hopefully healthier than Helen's):
Trailer Vs. Trailer
The first noticeable detail is how intentionally similar this is to 1992's Candyman trailer. Albeit, with the possibly deliberate juxtaposition of downtown Chicago and our protagonist (Aquaman's Yahya Abdul-Mateen II) expositing the old urban legend to his significant other (Teyonah Parris) as opposed to the original's opening of the white blonde Clara (Marianna Elliott) parroting it to her bad boy Billy (Ted Raimi) in the suburbs. Of course, whether this is meant to signify some cultural transition from a white character recounting a story that was originally written for and attached to a black community (in this series' canon), I can't say. This pattern of homages continues as the trailer progresses.
Both previews then have characters test the myth in front of a mirror (Helen & Bernadette vs. the group of school students) before a brief moment of suspense as nothing initially happens. Unlike in the 1992 trailer, however, where Candyman appears much sooner behind Clara to prove the legend true after the narrator assured it's "just a story", 2020's version provides a well-executed fake-out (a trope that thankfully doesn't overstay its welcome). The more we watch, the clearer it becomes that this entry is made with fans of the original in mind and aims to play on our expectations in ideally thoughtful ways.
The use of camera angles is also effective, as the blood-stained compact mirror held by the girl who first spotted the bees (Notice how the back of her hair moves strangely upward as if touched by an invisible force) drops to the restroom floor. A quick glimpse of a familiar hook-handed figure in a coat completes the picture while carrying on the franchise's talent for horror in broad daylight. This sequence even ends on a note that reminds series veterans of the original's ending. Poor Trina (I apologize if I've misspelled that) in the restroom stall, being the sole survivor at the crime scene, is set up to likely be blamed for the bloodshed just as Stacey was upon finding the fresh corpse of Trevor Lyle (Xander Berkley).
From this point onward, 2020's trailer steadily diverges in its own direction & atmosphere: The artist protagonist using inspiration from modern gentrified Cabrini-Green to revive the Candyman story's cultural relevance, the kills, the timing of sound, the scares, etc. Restricting the killer himself from a full body or face reveal outside those clever blink-and-you'll-miss-it reflection shots is masterfully conservative and in line with his concept. What we're left with appears to suggest a sort of reinvention of the classic's core dynamic between Candyman (Tony Todd) and Helen Lyle (Virginia Madsen), evolving the 1992 film's twist-ending to explore new depths of the lore.
Perhaps the most notable distinction between these trailers' presentations is the music. The original is more typical early 90's Halloween marketing fare with an almost cheesy "shock and terror" vibe (at least, by today's standards) complemented by the late renowned Don LaFontaine's narration. 2020's version by contrast follows a strategy previously solidified in Us, taking an at one time popular existing song outside the horror genre and having it changed to better suit the project's tone in context. Whereas Us used a remix of Luniz's "I Got 5 On It", this trailer takes things a step further by choosing a single which perfectly fits Candyman's legacy both in-universe and as an IP.
Remixing "Say My Name" from the 1999 album The Writing's on the Wall by former musical group Destiny's Child seems almost in itself like fate, as this would have been too great a match to pass up. Although the practice of utilizing unconventional songs to sell horror certainly wasn't invented by Us, there's a certain way Peele's productions do it that somehow feels unique. It forms a connection with viewers that standard horror music & sound rarely captures. Ultimately, both trailers stand as indicative of their time but the modern incarnation pays more than enough respect to its roots. We still can't know anything for certain until the full product is released, but can reasonably speculate from this that 2020's Candyman will not be joining the long, sad history of soulless cash-grab sequels & reboots.
Is Candyman (2020) A Sequel, Reboot, Remake, or Re-imagining?
I've talked before about how the line between these labels can easily blur, depending on the production, but virtually everything we know at present points to this movie NOT being a remake. Both Peele and director Nia DaCosta classify it as a "spiritual sequel" or "re-imagining". Given the stark contrasts between other re-imaginings and their source material (Ex- 1999's Silent Hill vs. 2009's Silent Hill: Shattered Memories), this description still doesn't give us much to go on in terms of specifics.
Set within the same universe & neighborhood, the new film's story reportedly acknowledges the original's events but will not necessarily be beholden to them for airtight continuity. Whether certain details (characters, deaths, dates, etc) may be changed is unconfirmed, but this is not intended to be seen as an alternate timeline like 2016's Ghostbusters or the rebooted Star Trek trilogy. Quoted from an exclusive interview while viewing the new trailer:
"Gentrification is what helped us to reimagine the story because Cabrini-Green is gone. The movie from the 90's has a vision of Cabrini-Green where it's sort of on its way to being knocked down. What we talk about in the film are the ghosts that have been left behind because of gentrification."

-DaCosta
Jordan Peele Is NOT Directing?
It's uncommon for any director, especially those with clout, to deliberately hand the reins to someone else for such a potentially career-skyrocketing project but Peele had allegedly planned this early on. Having learned from developing his personal style on Get Out and Us, sources claim that he didn't want to be at the helm for this particular movie and thus sought DaCosta for her first high-profile directing job.
I commend Peele for this because it not only marks maturity on his part as a currently less experienced director (compared to, say, Guillermo del Toro or David Lynch) but also signifies that he knows exactly what he's looking for in this production. As any filmmaker worth their salt will tell you, while it's good to have goals and be ambitious, part of being successful means learning to play to your strengths.
Peele likely recognized that his style wasn't the right fit for what he envisioned this new Candyman to be, which led him to recruit young DaCosta. He is by no means, however, leaving his creative input on the sidelines. Apart from producing the film, he co-wrote its screenplay with DaCosta (both being fans) and has his hands deep in this alongside hers.
Will Tony Todd Return?
Short answer: Yes, but don't expect too much.
Specific answer: While details regarding this national treasure's exact role are at times conflicting, the consensus is that Mr. Todd will indeed be involved in some capacity. From a marketing standpoint, especially in this instance, this would be the smartest move. History teaches us that replacing any cinematic icon with a new actor is generally at best an uphill battle and at worst a disaster. This is not to say that it can't be pulled off to at least minor success, but that's definitely a rarity.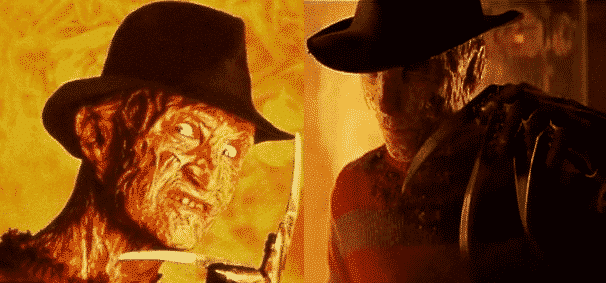 Ever since this sequel's announcement, the first concern among most fans had (understandably) been "What about Tony?" Countless individuals took to their computers giving this the full Where's Waldo treatment, scouring the internet for any sightings in the trailer or clues behind the scenes. When questioned about this at a convention, the actor himself unfortunately didn't know enough or couldn't say enough at the time to give an answer that would alleviate the suspense:
In the most current relevant source I could find (a March 2019 BloodyDisgusting article), the record was set straight with Collider while discussing how Tony's character relates to Yahya's:
"Well, it's been slightly misreported. I can't say what's happening in the film because we want it to be a surprise, but he's not replacing Tony Todd. That's been reported, and I was just like, 'I don't know what to say about this. This is not right.'"

-DaCosta
The trailer seems to support this, as it's pretty well documented by now that Todd's appearance itself is a virtual certainty (assuming nothing changes between the trailer to the final release). This is most indisputably apparent as his handsome mug rears its head for a couple seconds in Yahya's reflection when he passes by a vehicle in full costume!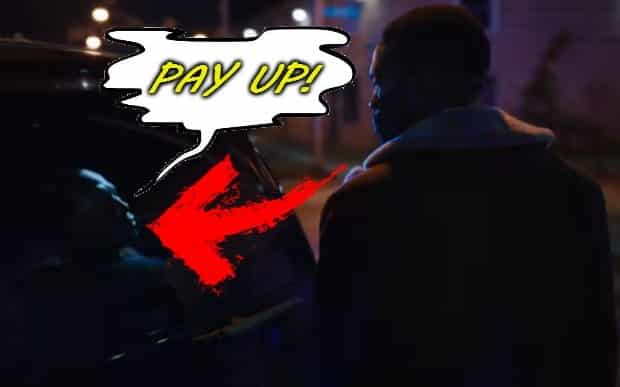 Even with Candyman's voice in the trailer being distorted to a much deeper volume (presumably to leave some mystery as to who is speaking his words), the spirit of the character is on full display. With all this in mind, I'll be cautiously optimistic and give DaCosta the benefit of the doubt. It's safe to say that fans will get the dose of Todd's bloody hook and soothingly sinister honeyed words they've been craving. Realistically, however, the best-case scenario is that it will be in a limited onscreen presence. Worst case scenario, it may only be a background role consisting of a couple-few brief onscreen cameos.
As much as I love Mr. Todd, we've got to face facts. The man is 65 years old. He won't likely be floating and/or teleporting around on wires in a weighty coat with a prop-hook, carving up a new body count in the same physically demanding fashion as he did in years past. Tony is still plenty spry, to be sure, but he's not a young man anymore. Could this movie pull a Captain America and CGI his head onto another (younger, fitter) actor's body? Depending on time & budget, sure, but I don't see that happening.
Yahya's character is blatantly set up as the new blood to help carry out the original Candyman's will, so it would defeat the purpose (not to mention, waste money) to restore Todd to the forefront in such a manner. Even if a Candyman continuation did attempt this, I suspect the editing inconsistencies between Tony's head and neck vs. the body underneath may be a distraction to several observant viewers. While it's expected that not everyone will like this new direction, it's the best deal we're going to get. Times change, people get older. Candyman may be immortal, but we must accept that Todd is not.
Who Else Is Coming Back?
From what the sequel's casting tells us, Todd won't be the only familiar face returning. The trailer already shows the lovely Vanessa Williams reprising her role as Anthony's mother Anne-Marie McCoy. Helen Lyle is also reported to appear, this time played by Cassie Kramer. As deeply as I'll miss Virginia Madsen, this is justifiable if Helen is meant to be portrayed at the same age she was in 1992. Whether she'll only appear in flashbacks (perhaps in the trailer's exposition scene of Anne-Marie telling her son of what happened to him as a child) and/or as her "Candywoman" spirit is not yet known, but both possibilities offer much creative potential. For Freddy vs. Jason fans imagining an epic "Candyman vs. Candywoman" face-off against Tony or Yahya though, I wouldn't hold my breath.
What's The Story?
From what information is available, 2020's Candyman sees a now grown Anthony McCoy (Yes, baby Anthony) moving back to his early childhood neighborhood of Cabrini-Green with his partner.

Seeking the next big inspiration for his painting career, he finds himself inexplicably drawn to this area in spite of how radically it's changed and (presumably) having little-no memory of 1992's events. Introducing himself to the locals, including one who may be hiding some knowledge of Candyman's history (Fear the Walking Dead's Coleman Domingo), Anthony explores until coming upon a familiar church and suffering a sudden bee sting (on the same hand that Candyman lost in the old legend). Like a werewolf's bite, this particular bee's venom appears to trigger a slow physical & mental transformation.

Regardless, Anthony presses forward in his obsessive goal of reviving Candyman's "congregation", taking advantage of the gentrified Cabrini-Green's history for the personal gain of his boosted art career. He realizes too late, however, that he's made a terrible mistake as a string of murders begins in an eerily similar pattern to the Candyman killings 28 years ago. Despite his partner's best efforts to get through to him as this obsession affects his personality, sanity and their relationship, poor Anthony gradually loses himself. The spirit of Candyman has its "hook" in him now, as the man that was Anthony McCoy is gradually further possessed and deformed until becoming something else entirely.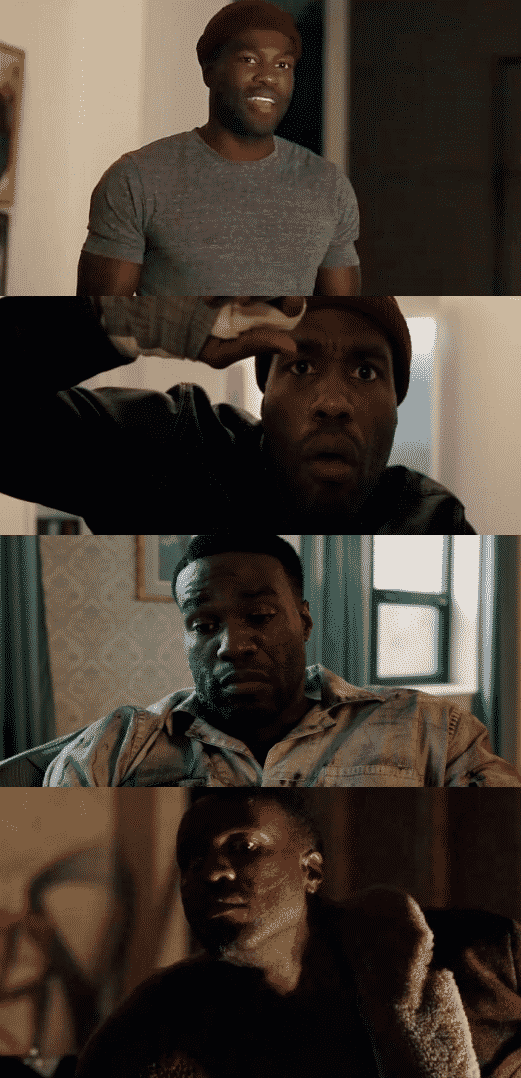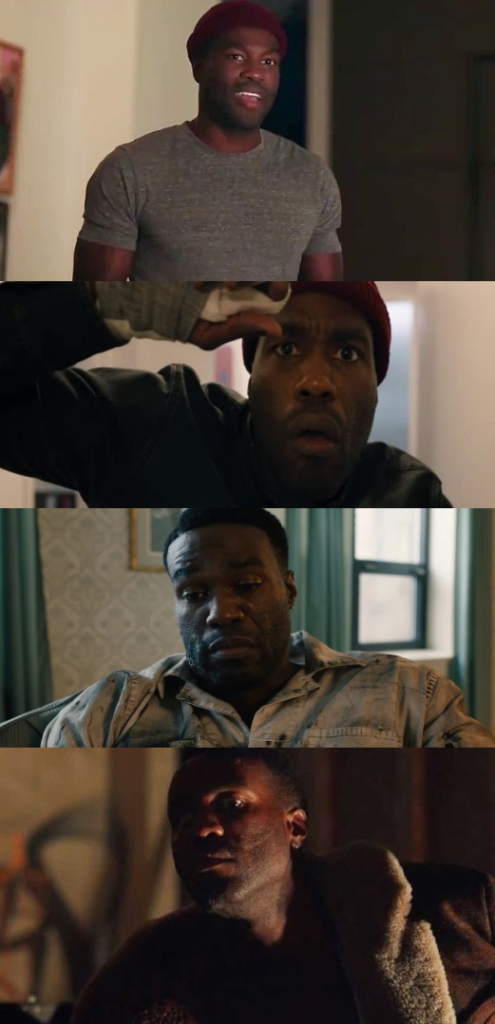 Anything beyond this is based in unconfirmed leaks and here-say, but that hasn't stopped multiple invested online personalities from diving down this rabbit hole for potential spoilers. The following videos come from one such individual, who theorizes what the exact plot will be from these alleged leaks:
Next, Mr H breaks down the trailer, speculating on details he believes prove the leaks true:
While I personally believe little-none of this at face value, I can admit that several of Mr H's claims do make a lot of sense. As far as my reaction, if we're to believe there is truth to this plot regarding Anthony, I have to say that I'm already personally disappointed. Granted, I was never opposed to the concept of Baby Anthony (or any character from the original) returning in some form. What I dislike is the idea of Anthony becoming a pawn of Candyman and ultimately being destroyed by his corruption, because that would fundamentally undermine Helen Lyle's sacrifice to save his life in the original film.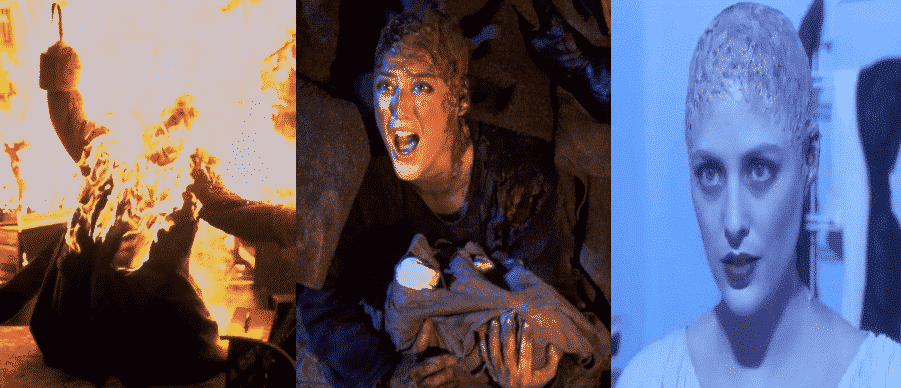 This was a driving plot point in Candyman's 2nd-3rd act that contributed to making it a classic. A university grad student writing a study on urban legends, Helen and her best friend/research partner Bernadette (Kasi Lemmons) sought to deconstruct the Candyman story as well as recent killings blamed on him. Hypothesizing that this was a case of a crime-ridden community blaming their misfortune on a ghost story, Helen resolved to prove her thesis by risking both their lives to visit Cabrini-Green. Nearly getting herself killed in the process, she thankfully helped the police finally apprehend the gang leader using Candyman's persona but the real terror had yet to begin.
Meeting the real Candyman almost halfway through the film, Helen then finds her life systematically destroyed. Everyone she loves is either killed or turns against her until she's framed for these new murders, arrested, interrogated by the very detective who previously trusted her (Gilbert Lewis), and institutionalized. When the innocent baby Anthony, whom Helen met earlier with his mother, is taken hostage by Candyman, Helen reluctantly surrenders to him in exchange for the boy's life being spared.
In the end, he betrayed and attempted to kill them both but Helen managed to defeat Candyman at the last moment before crawling through the bonfire started by the locals who mistook her for the killer. With her last breaths, Helen returned Anthony to his mother unharmed before dying from her burns. Tragically, however, her name lived on in legend as Candyman had intended for them both (ironically, thanks to the Cabrini-Green residents who buried her with his hook before immortalizing her in a new mural). Thus, Helen was revealed in a cruel twist as a new scarred murderous ghost who'd inherited that same weapon.
This was a fate worse than death, and Helen certainly didn't consent to it, but there was still a tragic beauty in how she martyred herself, becoming a devil in order to save the little angel that was Anthony. The symbolism from this selfless act was palpable, and Helen's death itself was a beautifully emotional scene that still makes me tear up, partially thanks to that soulful music. If these leaks for 2020's Candyman are to be believed, and the monster ends up killing or converting adult Anthony anyway, such a narrative would render Helen's personal losses, sacrifice and eternal suffering completely pointless! It would take away from the 1992 film's emotional payoff in context of how that particular story was built up to end. The original movie may arguably be Helen's story, but Anthony was a critical part of it. You cannot change the latter without impacting the former.
Every time fans re-watch Helen's arc, a number would think "Well, what does any of this matter now since her efforts ultimately fail and are simply prolonging the inevitable as history repeats itself?" Look, I get the appeal behind having new and/or surviving characters continue the legacy of a franchise icon. It's been done countless times, occasionally to great effect, in the horror genre alone. It can be a quality premise.


The catch for this concept to be received well by fans is, you have to execute it in a way which carries forward the conflict while RESPECTING the characters and their struggles that came before. Moreover, it's generally in your best interest to progress this conflict WITHOUT undoing the accomplishments of past stories. Otherwise, instead of your continuation complementing the source material both in-universe and from at least the majority of audiences' perception, you are setting it up to be seen by many as a slap in the face to it (Perfect textbook example: Luke Skywalker in Star Wars Episode VIII: The Last Jedi)!
Obviously, not everyone would agree with me on this and I respect that. Nonetheless, the evidence is clear throughout storytelling history that undoing the journeys, development and/or victories of past characters in order to continue a beloved story is not often remembered fondly. If 2020's Candyman wanted to go this route, multiple Cabrini-Green residents spotlighted in the original could have possibly been written to serve this purpose. Ex- Instead of an adult Anthony, why not revise the script while maintaining its themes for a grown Jake (previously played by Dejuan Guy) returning to Cabrini-Green?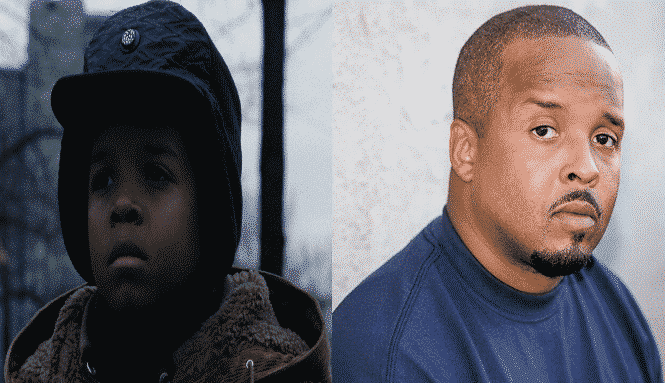 As a whole, I just don't see this benefitting the new Candyman's reception in context of how its implications could affect the continuity. That said, I'm hopeful that these leaks aren't accurate (at least, not entirely, as there are some cool ideas) and the story won't go this direction with Anthony's fate.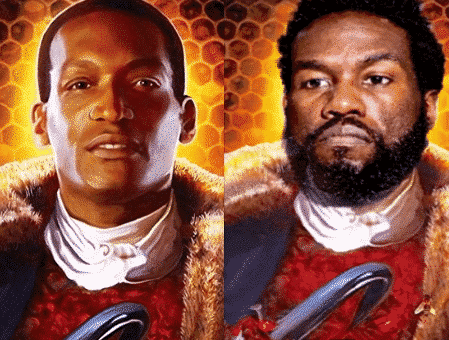 Where Did The Candyman Character Come From?
As with all original ideas, even the most abstract and/or imaginative are always inspired to some extent from a pre-existing source. Candyman is no exception. As said, his concept was an amalgam of influences from many urban legends as well as varied folklore across multiple cultures and real-life events (some of which have been adapted several times in other media both before and since).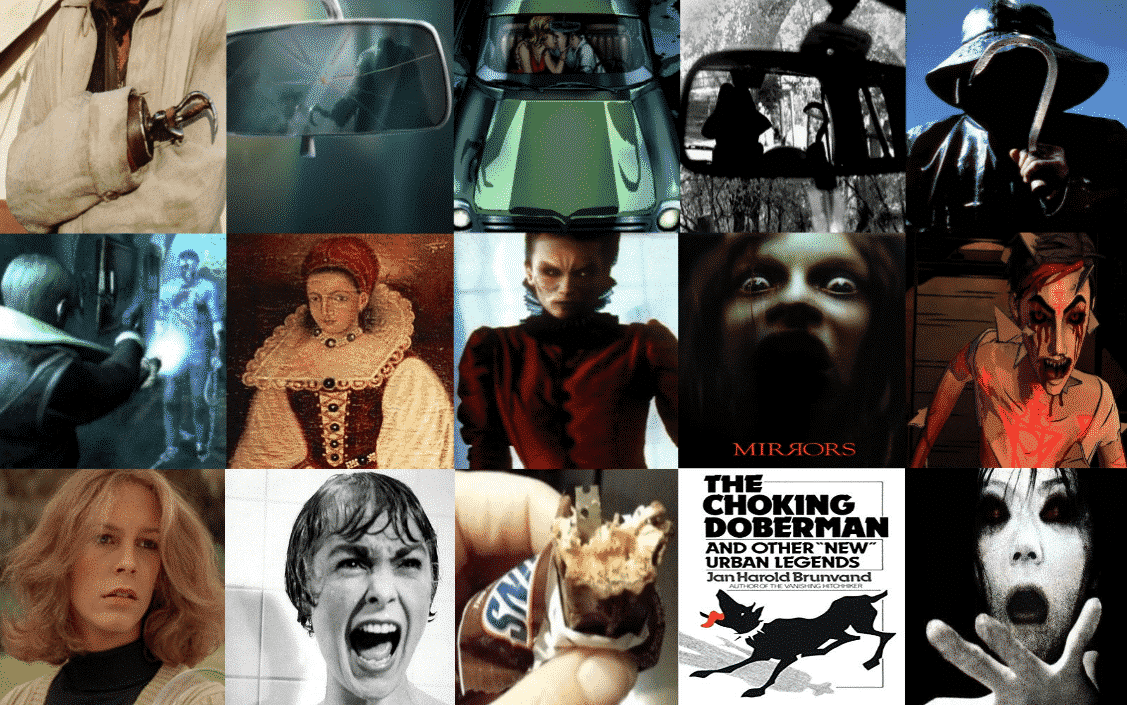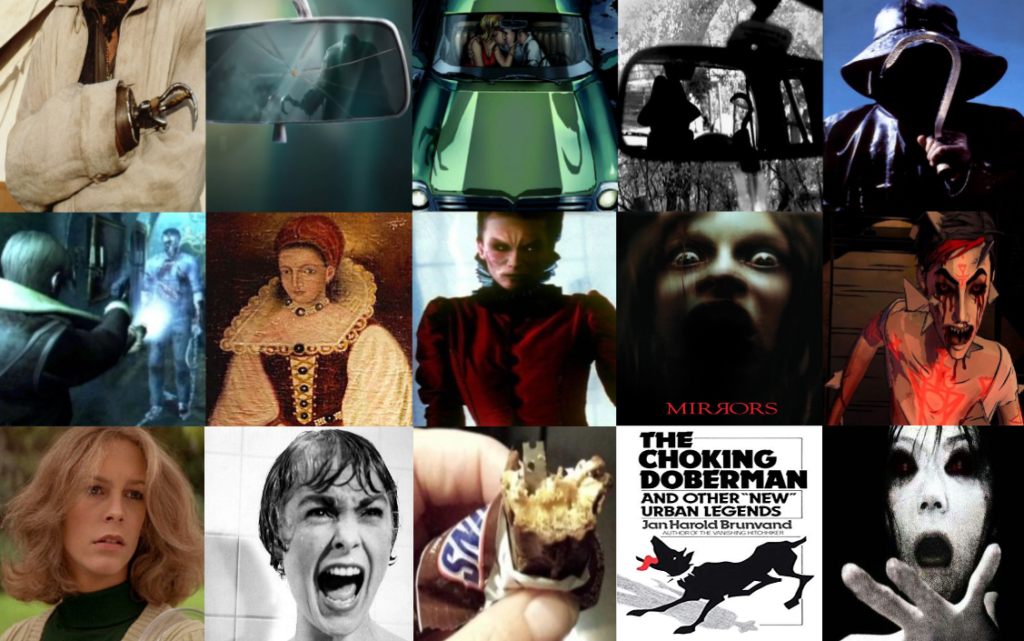 From the centuries old fear of mirrors & bathrooms most commonly associated with Bloody Mary to countless campfire stories involving a killer with a hook, sympathetic vengeful spirits popularized in Japanese horror like the Juon/Grudge films and the near-fetishization of blood influenced from stories of the murders committed by Countess Elizabeth Bathory, Candyman was forged in the fires stoked by personifications of our own histories, phobias and paranoia stretching back generations.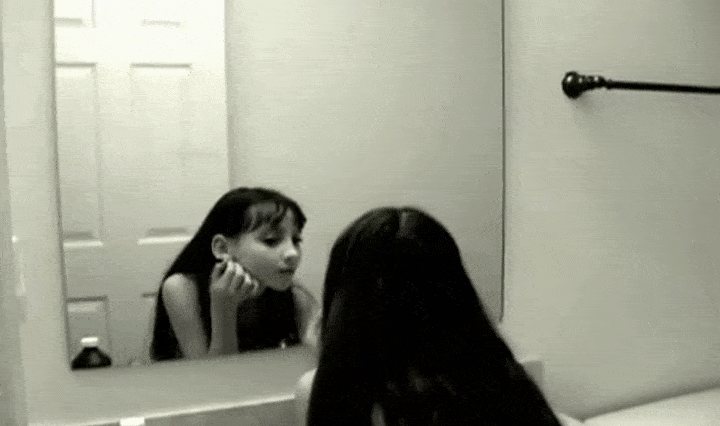 In terms of recent influences, perhaps the two most infamous culprits are the Chicago murder of Ruthie Mae McCoy and the crimes of Ronald O'Bryan (referred to by some as the "real Candyman").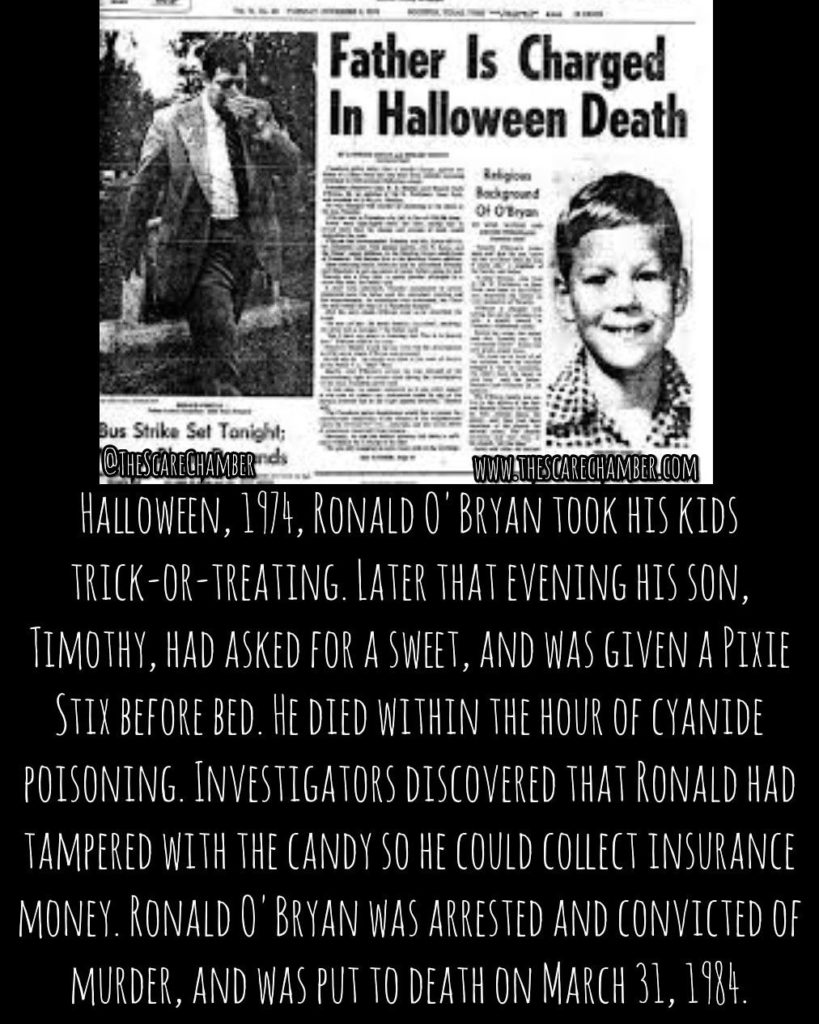 A richly detailed analysis from horror lover Youtuber WeeLin tells us more about Candyman's origins:
Why Do We Love Black Horror?
I may not be the most qualified or educated to weigh in on this question, but the hilariously insightful Movie Review Extravaganza team at Double Toasted (hosted by Korey Coleman) certainly can:
Candyman (1992): Reflecting On The Original
Yes, I used the "reflecting" pun again. Big whoop, wanna fight about it? We'll conclude this behemoth of a blog with coldcrashpictures' take on what made Candyman unique cinematically & thematically:
Candyman, even outside Barker's or Rose's narrative intent, can be interpreted as a commentary on so many things. While structured around a specific culture, it can make any one of us stop and think: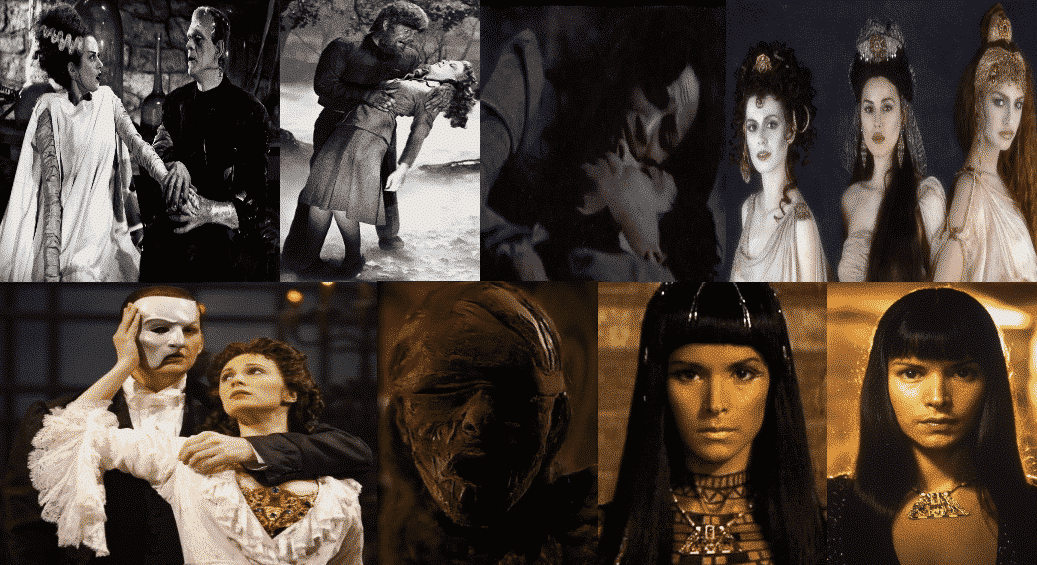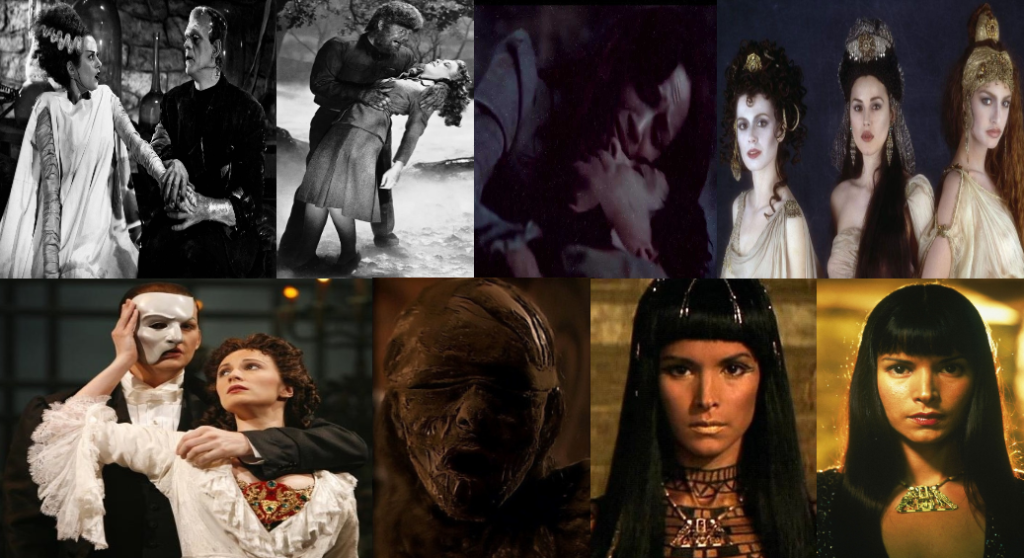 The opening credits' aerial visual of Chicago's traffic resembling the hustle & bustle of bees.
The tonal juxtaposition of Philip Glass' Gothic organ choir music, mixed with soft classic piano against the crime-ridden projects' cultural backdrop. This lends an almost religious atmosphere to the story.
The economic ramifications of city planning and community manipulation to isolate the projects delivers a provocative commentary on class as well as how both the struggling poor & comfortable middle-class are environmentally trained into normalizing this status quo. Quoting Helen: "My apartment was built as a housing project. Once it was finished, the city soon realized there was no barrier between here and the Gold Coast." Bernadette confirms this: "Unlike over there, where you got the highway and the L train to keep the ghetto cut off." Helen concurs: "Exactly. So, they made some minor alterations. They covered the cinder block in plaster, and they sold the lot off as condos."
The implication of Helen as a reincarnation of Candyman's lover, as supported by his seductive trance-like hold over her and Tony Todd citing this as a direct inspiration for enduring production difficulties to play the role (including 23 stings while shooting with the specially bred bees, each of which pocketed him a $1,000 bonus): "I've always wanted to find my own personal Phantom of the Opera." Horror has a history of such Shakespearean tragedies with persecuted outcasts craving forbidden love.
The symbolism of Helen (a white woman) as an intruder using Cabrini-Green to suit her own purposes, photographing it like a historical ruin and invading the murdered Ruthie Jean's apartment (boasting an eerily similar layout to her own). Quoting Anne-Marie: "You don't belong here, going through people's apartments and things." As well meaning as Helen may be, is she not also doing this for selfish reasons? Quoted: "So, you say you're doing a study? What you gonna say, hmm? That we're bad? We steal? We gang-bang? We all on drugs, right? We ain't all like them assholes. I just wanna raise my child good."
Race relations between police in context of their abuse & negligence toward Cabrini-Green's residents. Quoting Anne-Marie: "I heard her, right through the walls. I dialed 911. Nobody came. Everybody's scared. Whites don't ever come here, except to cause us a problem." Helen points this out to Bernadette upon getting the gang leader using Candyman's persona arrested: "You know what bugs me about the whole thing? Two people get murdered, and the cops do nothing. Whereas a white woman goes in there, gets attacked, and they lock the place down." Detective Frank Valento (a black cop) admits to the police's hand in this: "We can't protect 'em down at Cabrini-Green, and they know that."
The moral relativity or indifference of Candyman's character, a common theme among Barker's creations. Quoted: "What do the good know except what the bad teach them by their excesses?"
Helen using Candyman's signature weapon to scale the bonfire and save a life as opposed to killing, then defeating him with fire. Could this symbolize a pyre, referencing Candyman's original murder at the lynch mob's hands? Does this sacrifice make Helen a "white savior", or is she unintentionally martyred for the sins of white people before her? At her funeral, when Anne-Marie leads Cabrini-Green's residents to bury Candyman's hook with her, is this paying tribute in gratitude, forgiveness, love, poetic justice, memory, legacy? Or, could it also be interpreted as everlasting hate, grudge, the cycle of prejudice being carried to the grave? This all most likely contributed to controversies the film was met with before and after release.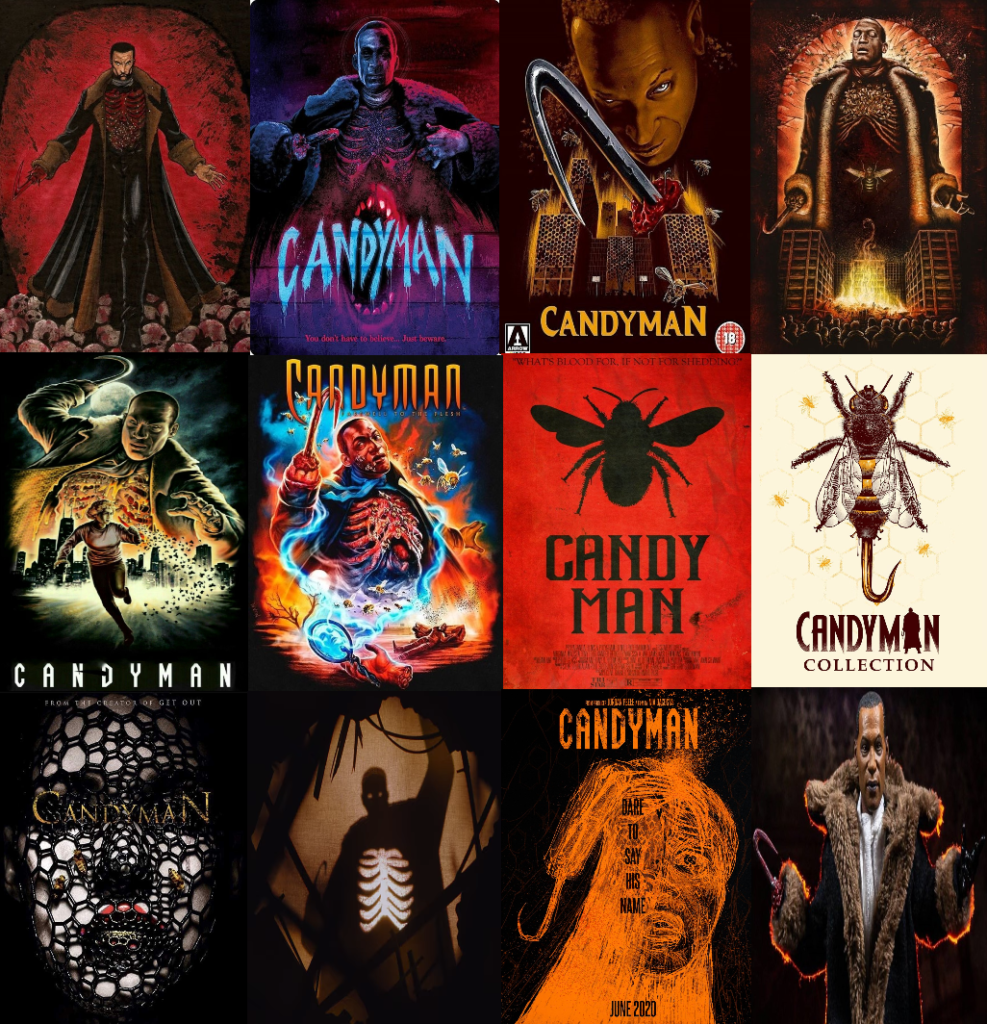 However we perceive it, there can be no doubt that 1992's Candyman was not only influential to the horror genre. It's a triumph of storytelling, period. It is a timeless cautionary tale, a mirror to the "hive" that is our civilization and how our own inner natures play a role in shaping it as we swarm in a mass of individuals through our everyday lives. Will 2020's sequel live up to this? I, for one, can't wait to find out!
Sources:
(Candyman (2020) Trailer Analysis – EVERYTHING YOU MISSED!)
(WeeLin- Candyman: Creating an Urban Legend)
(coldcrashpictures- Candyman: Breaking all the Rules of Horror)
(Killer Kountdown- The Misunderstood Legacy of Candyman I #ChildhoodMovieTrauma)
(Ryan Hollinger- Why Is CANDYMAN So Messed Up???)
(Dead Meat- Candyman (1992) KILL COUNT)
(New Rockstars- Candyman Trailer Breakdown! All Candyman Sightings Revealed!)
(Mr H Reviews- CANDYMAN Trailer Confirms The Leaks I Revealed)
(Mr H Reviews- CANDYMAN 2020 Leaked Plot Tony Todd's Role & Jordan Peele Shtick Strikes Again)
(Marvelous Videos- CANDYMAN REBOOT – Everything You Need To Know)
(SOFAKINGCOOLONLINE- Tony Todd Discusses His Role In Jordan Peele's CandyMan Reboot)
(CANDYMAN AND THE NEW WAVE OF BLACK HORROR I Double Toasted)
(Double Toasted- CANDYMAN MOVIE REVIEW – Double Toasted)
(HORROR FUEL- The Story Of Ronald O'Bryan The Real Candyman)
https://www.fastcompany.com/3025796/see-the-bone-chilling-inspiration-for-candyman-and-hellraiser
(Fast Company- Carey Dunne article)
('Candyman' Trailer: Nia DaCosta-Directed Reimagining Of Classic Horror Addresses Gentrification With Lots Of Gore, Hints Return Of Tony Todd)
https://www.chicagoreader.com/Bleader/archives/2014/03/14/how-a-story-about-the-horrors-of-housing-projects-became-part-of-a-horror-movie
(How a story about the horrors of housing projects became part of a horror movie)
https://www.boxofficemojo.com/release/rl4081616385/weekend/
(Box Office Mojo by IMDbPro- Candyman)
https://www.chicagotribune.com/news/ct-xpm-1992-10-29-9204080203-story.html
(BLACK SLASHER `CANDYMAN` DRAWS FIRE OVER `RACIST` DEPICTIONS)
https://www.theguardian.com/film/2019/jun/25/how-we-made-candyman-virginia-madsen-tony-todd-bee-sting
(How we made Candyman: 'I got a $1,000 bonus for every bee sting')
('Candyman' Director Nia DaCosta Clarifies That Yahya Abdul-Mateen II is Not Replacing Tony Todd…?)
https://www.mentalfloss.com/article/507217/15-fascinating-facts-about-candyman
(15 Fascinating Facts About Candyman)
http://www.clivebarker.info/bloodbarker.html
(Clive on The Books of Blood)
(Candyman Villain Was White – Why Was It Changed? Explained)
(Why Movie Trailers Changed Forever In 2008)
https://spo2.fandom.com/wiki/Don_LaFontaine_Narrations
(Don LaFontaine Narrations)