Podcast: Play in new window | Download (Duration: 1:19:03 — 54.3MB)
Subscribe: Google Podcasts | Spotify | Amazon Music | Pandora | iHeartRadio | Stitcher | Podchaser | TuneIn | Deezer | RSS | More
We watched Paranormal Activity 3 and I literally had nightmares. This movie has taken the tried and true formula from the first few, sharpened it, and really knocks it out of the park in terms of scares.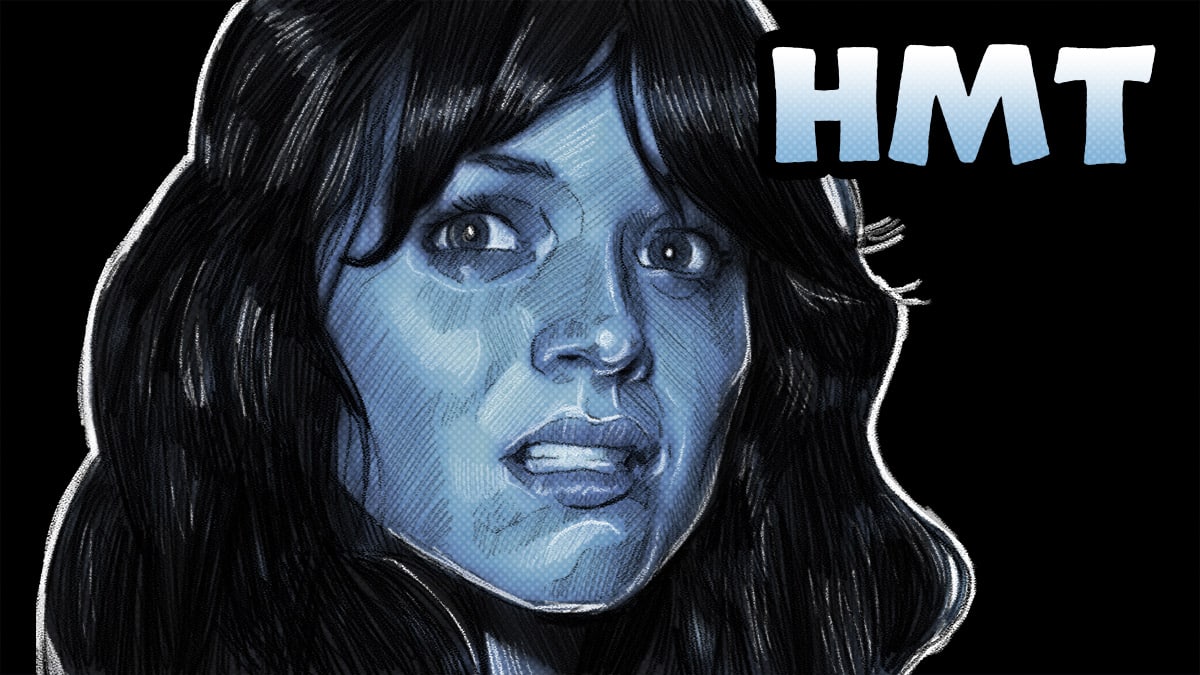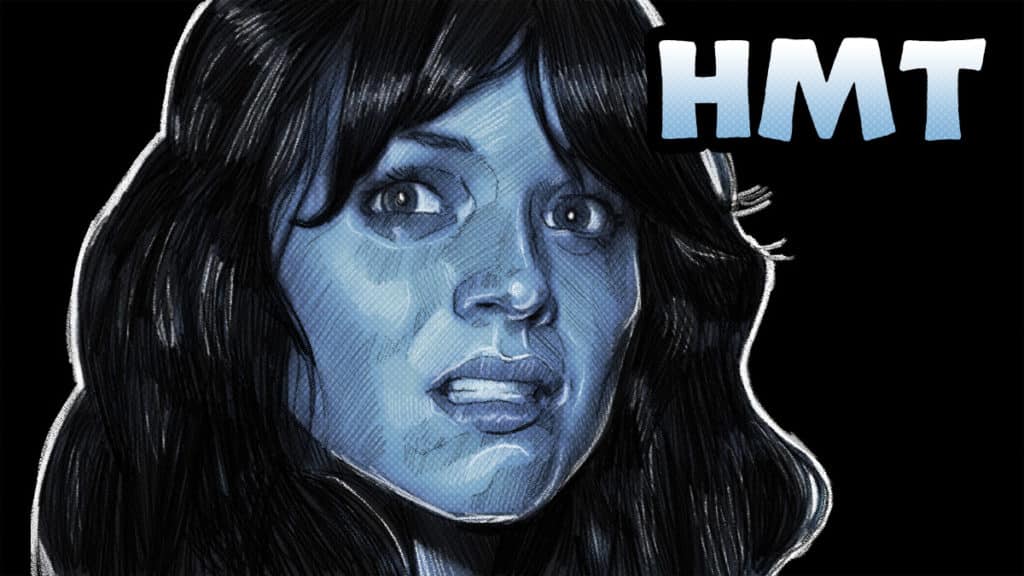 Synopsis
While the first movie in the series focused on Katie (Katie Featherston), and the second focused on her sister, Kristi (Sprague Grayden) while they are in the present, the third installment focuses on their childhood.
Katie and Kristi are at home in Carlsbad, CA in 1988 with their sexy mom, Julie (Lauren Bittner) and her remarkably likeable boyfriend, Dennis (Christopher Nicholas Smith).
Strange sounds and movements start to happen throughout the house and Dennis, who owns a wedding video film taping company takes a big interest in catching this on tape.
Kristi, the youngest girl, has an imaginary friend named Toby, and well, Toby fucking sucks.
Julie's mother doesn't seem to approve of her dating Dennis.
Eventually our ill fated family get more paranormal activity than they bargained for.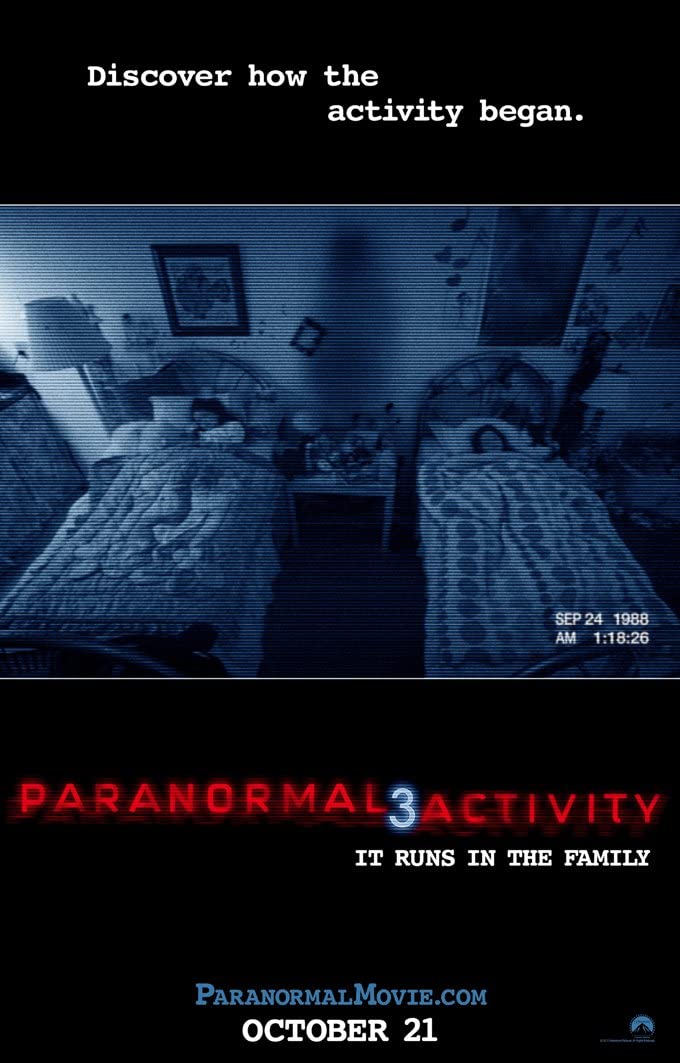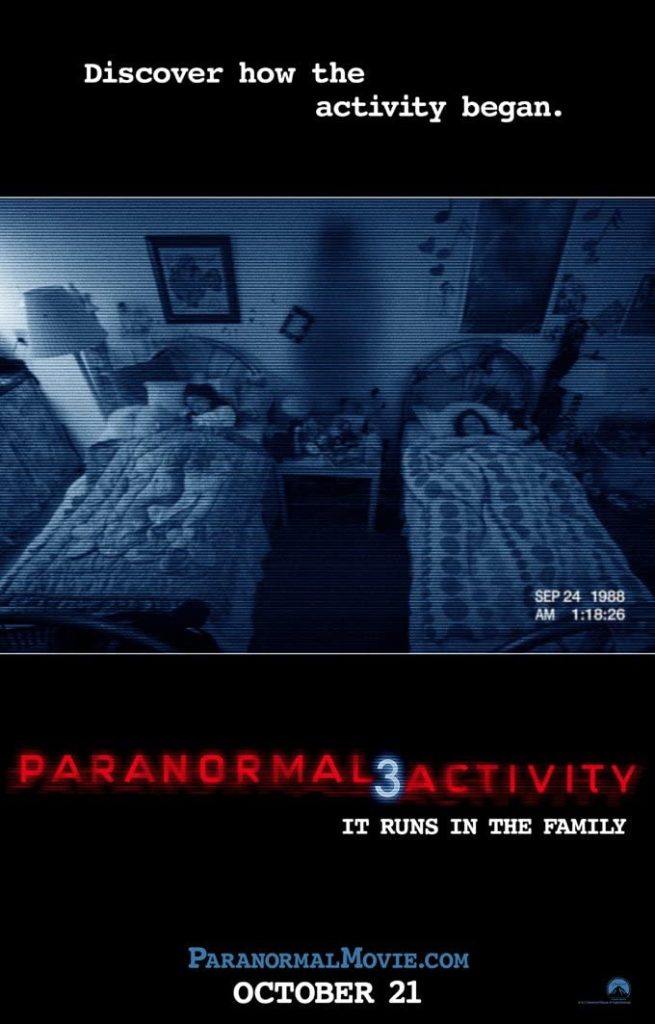 Review
Directed by Henry Joost and Ariel Schulman, Paranormal Activity 3 blows me away. So much about this movie works and it scares me to death.
With the kids being a central focus of the happenings in the house, I am basically on high alert right from the beginning.
The stationary cameras that are the calling card of this series are done so well in this that I still think about it when I think about framing and timing perfection within film.
There is a reason for almost everything that happens in Paranormal Activity 3 that is rooted in decent enough logic and for everything else the scares are so intense that I can't be upset.
The way this movie uses sound is masterful. The slight movement of boring objects around the house keeps me on the edge of my seat.
Producers, take note. For the low cost of some fishing line, you can scare me way more than if you pay a huge crew of computer animators to design a monster that runs around and skins people.
Mostly, the tension is the highlight of Paranormal Activity 3. While it may not work for everyone, I think the build and release cycles of tension in this are second to none. Every single time it day turned to night in this film, I was shook.
Score
10/10
Final Recommendations
If found footage is something that you even mildly enjoy, this is a master class. Of the first three, I think this one is the scariest to me, and I love the oscillating fan cam!