Podcast: Play in new window | Download (Duration: 1:19:56 — 73.2MB)
Subscribe: Google Podcasts | Spotify | Amazon Music | Pandora | iHeartRadio | Podchaser | TuneIn | Deezer | RSS | More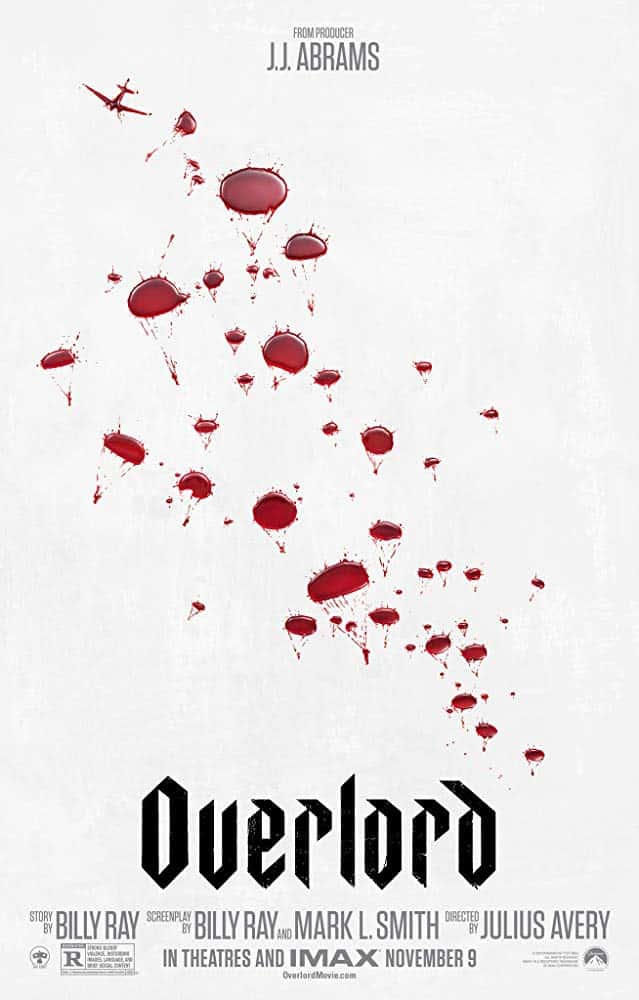 If you want to watch Overlord, please consider renting or purchasing the movie through this amazon linkto help us support the podcast.
Overlord was fun, very loud, and not to be taken too seriously.
Overlord is a fun action-horror movie with intense emphasis on disturbing body horror and super stereotypical Nazi bad guys.
It's got everything you need for an action movie – incredible sound, crazy intense physical fights, gun battles, chase scenes, you name it. It also has plenty of disturbing imagery that works well and makes you say, "Boy, those Germans sure were mean dudes!"
All the elements to make this a "fun horror movie," are present. Overlord provided me with all my favorite things – WWII, Nazi killing, fun horror, drugs, and a decently tight script.
Overlord is a movie about a few American paratroopers in WWII dropped behind enemy lines in France. Their mission is to destroy a radio tower in a church that has been occupied by the Germans and converted into a radio tower, and much more.
The main character is named Boyce, played by Jovan Adepo, who is English. His superior is named Ford; I'm sorry I don't remember the rank. Ford is played by the dreamy Wyatt Russell. They are joined by the most stereotypical set of WWII companions that you can imagine, including Tibbet – the most NY Italian American I've ever seen. Tibbet is played by John Magaro.
Eventually, they bump into the sexiest French girl I've ever seen, Chloe (Mathilde Ollivier) who helps them in their journeys to kill Nazi's and do drugs.
Overlord is Produced by J.J. Abrams, and it feels like it. It was directed by Julius Avery, who is relatively unknown.
Rating
7/10
Spoilers
This movie starts with one of the most intense action sequences I've ever seen. The plane trip to the drop zone the night before D-Day, which quickly turns into a fight for life. I can honestly say that I haven't seen such an intense action sequence in movie theaters since Saving Private Ryan.
Overlord is a great movie to see in theaters because of how incredibly loud and violent it is. Everything about this film screams, "great theater experience." Head to a theater with a confirmed great sound system to get the full experience.
The good portion of the movie is spent inside Chloe's house where her suspiciously sick aunt and cute little brother live. In this house, we learn of Chloe's rape relationship with a Nazi SS leader, Wafner (Pilou Asbaek). We also learn about how deep the evil of Nazis run when the little boy rolls his baseball to a Nazi soldier. The soldier picks up the ball, sneers, and hocks a big loogy on it before throwing it back to the kid. What an inhuman monster!
This brings up an interesting observation – we all hate Nazis. They are bad. Overlord gives us a look, although maybe a slightly exaggerated one, at the thing we should hate. Intolerance and hatred incarnate. Maybe Overlord gives us something to unite under, a vision of what we should strive not to be. Plus, Overlord slaughter's Nazis and zombie Nazis in massive quantities, so there's that.
As our American protagonists fight their way to the church, they learn about fiendish experiments that the Nazis have been conducting on the dead, bringing them back to life with some sort of drug they have been extracting from underneath the hallowed ground of the church.
Eventually, they get their hands on the drug, run some experiments of their own, and find out that it brings the dead back to life and makes a living into superhumans.
Is Overlord Worth Seeing?
If you enjoyed Wolfenstein in any capacity, you would like this movie. If you love action, this is a great movie. If you are looking for lots of body horror, this is your thing. If you are looking for a deep, think piece, this isn't your deal. If you want historical accuracy, this probably should be avoided.
If you have a killer sound setup at home, you must test it out with Overlord.
Horror Movie News
Check out the silliest Vogue article ever, where Taylor Antrim suggests that 2018 was tame on horror. More importantly check out Brad Miska's Bloody Disgusting article that slams Taylor for such ignorance.
Finally, get excited for the most fucked up holiday movie trailer I've ever seen, Hanukkah.
https://www.youtube.com/embed/4dNdUGbhjY8

If you want to watch Overlord, please consider renting or purchasing the movie through this amazon link to help us support the podcast.