Podcast: Play in new window | Download (Duration: 1:09:45 — 47.9MB)
Subscribe: Google Podcasts | Spotify | Amazon Music | Pandora | iHeartRadio | Stitcher | Podchaser | TuneIn | Deezer | RSS | More
I had a lot of fun watching Creepshow (1982). It's presented in an entertaining way, has a ton of big names, and if you aren't into the story, you can wait 20 minutes and see a new one because it's a compilation of five horror stories. This was the only George A. Romero film to open at number one in the weekend box-office. It was a sleeper hit in theaters, and its charm is mostly to blame.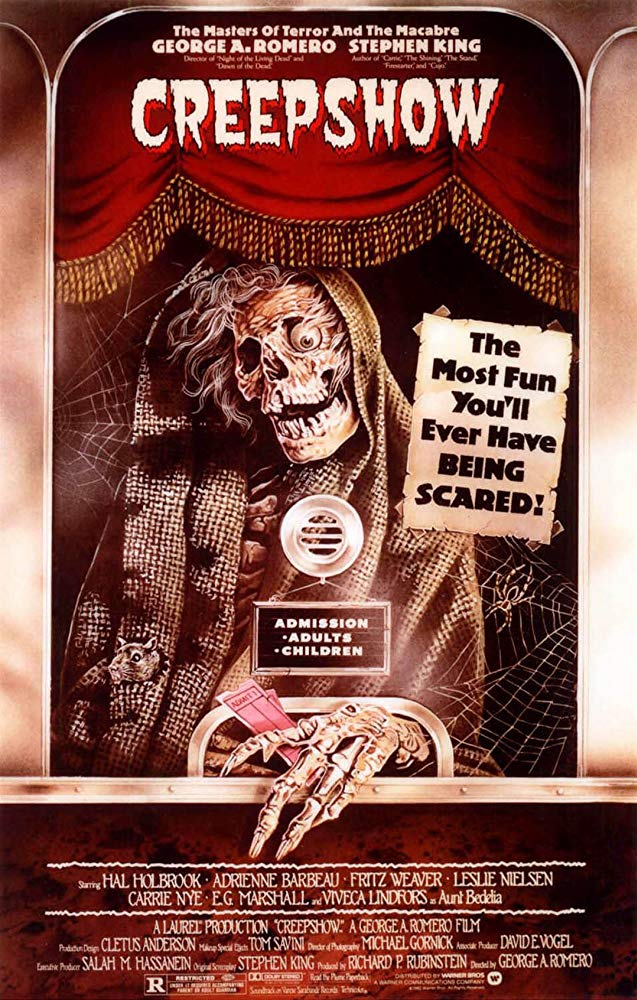 Creepshow Trailer
Creepshow is a cult classic that has remained low on horror fan's collective radar since it was released. It was directed by the great and powerful George Romero and written by Stephen King, so it already has a huge amount going for it. Add to it a cast that includes Leslie Nielsen, Ted Danson, Ed Harris, Adrienne Barbeau, and Stephen King himself, and you have a horror gem.
Creepshow is comprised of five short horror stories that are each compelling and envelope-pushing and memorable. The acting is hammy, the actors are having fun, the stories are spooky but not hard to handle for the easily spooked horror fan. This movie is like a trip down to nostalgia town. Creepshow is a fun, funny, and scary movie that I had not seen before this, and will now revisit year after year.
Want To Watch It Now?
Click the button below to watch it on Amazon
My Rating
8/10

While Creepshow is an excellent example of a cult classic, it's too light and breezy to be much higher than an 8/10.
Spoilers
Creepshow is presented in a comic book format. They do some interesting paneling shots where the video is shown in the same way that a comic book panel would be presented. The motif is made to look eerily similar to the classic comic titles, Eerie and Creepy did, almost down to the T. It's clear that these comics made a big difference in Stephen King's childhood, and probably Romero's as well.
This was Stephen King's screenwriting debut, and it's pulled off without all the confusing bullshit that is known to accompany much of his writing.
Father's Day
The first of the stories that Creepshow has to offer is titled, "Father's Day" and is the story of a well-to-do family who is reprehensible human beings whom each get their comeuppance.
The dead father was killed by his daughter, Bedelia, on Father's day while being a real jerk to her. The rest of the family is rich and living off of daddy's fortune. On this Father's day, dad comes back from the grave to exact revenge on his ungrateful and equally terrible kids.
Father's Day presents a bit of a lesson to the audience, which I took to be, you get what you give. Alternatively, don't be a dick, especially when family is involved.
Check Out Our Review of Gremlins!
The Lonesome Death of Jordy Verrill
The second story is titled, "The Lonesome Death of Jordy Verrill", which is based on the short story "Weeds." This is a one-man-play starring the King himself as a goofy hillbilly who finds a meteorite that crashes to earth on his property. He touches it, which is enough to spell his doom. King, bumbles and stumbles around as his luck grows worse and worse until he finally is overcome by the plants that the meteorite brought to earth.
The Lonesome Death of Jordy Verrill was reminiscent of pulp mags and stories from the '50s and '60s. I enjoyed the special effects on this story quite a bit – tons of plants!
Something to Tide You Over
"Something to Tide You Over" is the third story in Creepshow, and it's one of my favorites. This one stars Ted Danson as Harry, who is the victim to Leslie Nielsen's wealthy psychopathic killer. Leslie's wife has been cheating on him with Ted, and he exacts his revenge in an extremely creative, ocean-themed way. What he doesn't bargain on is his revenge coming back to bite him.
Check Out Our Review of Bird Box!
The Crate
"The Crate" is probably the longest and most notable story in Creepshow, and features a college janitor who drops a quarter underneath an old, forgotten stairwell. Upon closer inspection, he finds an old, forgotten crate under the stairs that dated back to the 19th century. He notifies Dexter Stanley, a college professor. They open the box to find one of the craziest movie monsters I can recall.
Of all the great practical effects, this monster, coined Fluffy, is the best. Fluffy has an incredible appetite and seems happy to live solely within the box that it's been locked in for over a hundred years. I can't believe how much room Fluffy has in his belly, because he ate, three, maybe four people.
The Crate had a great story about Northrup, whose old lady was a real bitch. The amount of revenge and comeuppance in The Crate works well.
This short left me with the same feeling that Raiders of the Lost Ark left me with – some treasures are sitting in some vault somewhere, waiting to be rediscovered.
Check Out Our Review Of Escape Room!
They're Creeping Up on You
"They're Creeping Up on You" is the final installment in the short story horror powerhouse, Creepshow. They're Creeping Up on You is short, effective and fun. It stars, E.G. Marshall as Upson Pratt who is a cruel and ruthless businessman who lives like Howard Hughes did, in a hermetically sealed apartment. He is a major dick and comes under attack from cockroaches.
Final Recommendations
Creepshow is such an interesting and fun crowd pleaser; I would recommend this to anyone who is looking for something "spooky" and fun. It's a great palate cleanser and made me so interested in the series that I watched the sequel, Creepshow 2 (1987) which is somewhat less impressive.