Podcast: Play in new window | Download (Duration: 1:23:16 — 57.2MB)
Subscribe: Google Podcasts | Spotify | Amazon Music | Pandora | iHeartRadio | Podchaser | TuneIn | Deezer | RSS | More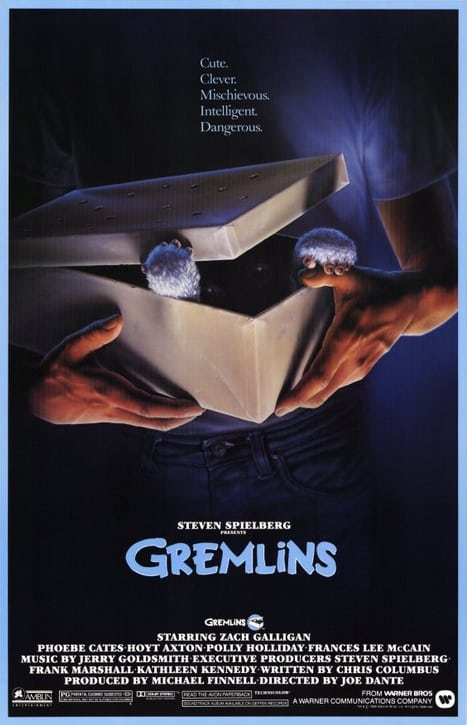 If you don't know what Gremlins is about, what the fuck are you doing? This is a movie about a Mogwai, and the sleepy little town of Kingston Falls, that wakes up to a very unusual Christmas day!
If you want to watch Gremlins use this link to rent it on Amazon and you will do your part to help support this podcast.
It's single-handedly responsible for a HUGE section of horror, now basically known as Gremlins knock-offs. The list of Gremlin knock-offs is long and includes:
My Rating
8/10
Gremlins Spoilers
Gremlins is an iconic movie in many ways. It's got Steven Spielberg's stink all over it despite being directed by Joe Dante. An interesting thing about Bryce, he loves Steven Spielberg, and because he was the Executive producer on this, I bet Bryce has a worthwhile take on Gremlins. Listen to the podcast to find out more on Bryce's takes on Steven Spielberg.
Check Out Our Review of Gremlins!
Gremlins starts in my favorite way, in a bustling set of Chinatown, where a young boy leads Randall Peltzer (Hoyt Axton) down into his grandfather's shop of Asian artifacts. Randall Peltzer has an interesting through line in this movie, in that he is a shitty inventor unless you count creating inventions that kill Gremlins well.
Anyway, the old Chinese grandfather/curator of the shop, Mr. Wing (Keye Luke), warns Mr. Peltzer that the cute Mogwai isn't for sale but the grandkid can't turn down the money, and Mr. Peltzer walks away with Gizmo. But not before being given very specific rules for dealing with the Mogwai.
The rules for keeping Mogwai are simple:
Keep them out of the light.
No water.
Don't feed after midnight.
So Gizmo goes home and eventually all the rules are broken, and we are given Gremlins. Gremlins are sadistic and mean, and they mean nothing but trouble for the town of Kingston Falls.
How Gremlins Die
Gremlins is a movie that holds nothing sacred, except maybe movie tropes. Watch Gremlins to see all the interesting ways that you can kill the Gremlins in your life.
We get to see Gremlins killed with:
A knife
Food processor
Microwave
Sword
Sword/fireplace combo
Light
Car
And more!
Tropes in Gremlins
Gremlins is a movie about tropes. Here are some of the most impressive tropes that Gremlins sticks to:
Black man is first to die.
Rules are made to be broken.
School as a place of horror.
Alien blood, I.E. blood that is colored differently to make it appear strange.
Damsel in distress.
Mythical creatures.
Action mom.
Asshole victim.
Bad people abuse animals
Bungling inventor.
Crazy cat lady.
Police are useless.
The Dad in The Chimney Subplot
The dad in the chimney subplot is one of my very favorite parts of this movie for a few different reasons. Kate Beringer (Pheobe Cates) is finally convinced to share the story of why Christmas is her least favorite holiday. She tells the tale of Christmas Eve, the night her father went missing. Days went by, and there was no sign of her father.
Finally, it became cold in the house, so she went to light the fire, where she noticed a foul smell. Turns out, Her dad tripped and fell while trying to surprise her for Christmas and wedged himself in the chimney, where he died. So many things are wrong with this:
What are you doing on the roof when trying to surprise your child?
Why go down the chimney, have you seen a chimney?
Why did it take so long to find him? Didn't he yell and scream?
How long does the house go cold for before you light a fire?
How much do you hate your father for being a blithering idiot?
I love this story. I love this movie. If you haven't seen it, or haven't seen it in a while, it's a fabulous time.