Podcast: Play in new window | Download (Duration: 1:22:22 — 56.6MB)
Subscribe: Google Podcasts | Spotify | Amazon Music | Pandora | iHeartRadio | Stitcher | Podchaser | TuneIn | Deezer | RSS | More
Tom Holland's original Child's Play (1988) holds up well even by today's standards. I think people tend to forget what the original Child's Play is, which is harsh and disturbing. It's easy to see why it has become a cult classic that has spawned so many sequels, because it's a niche horror movie that really doubles down on terror. Read below or listen to our review.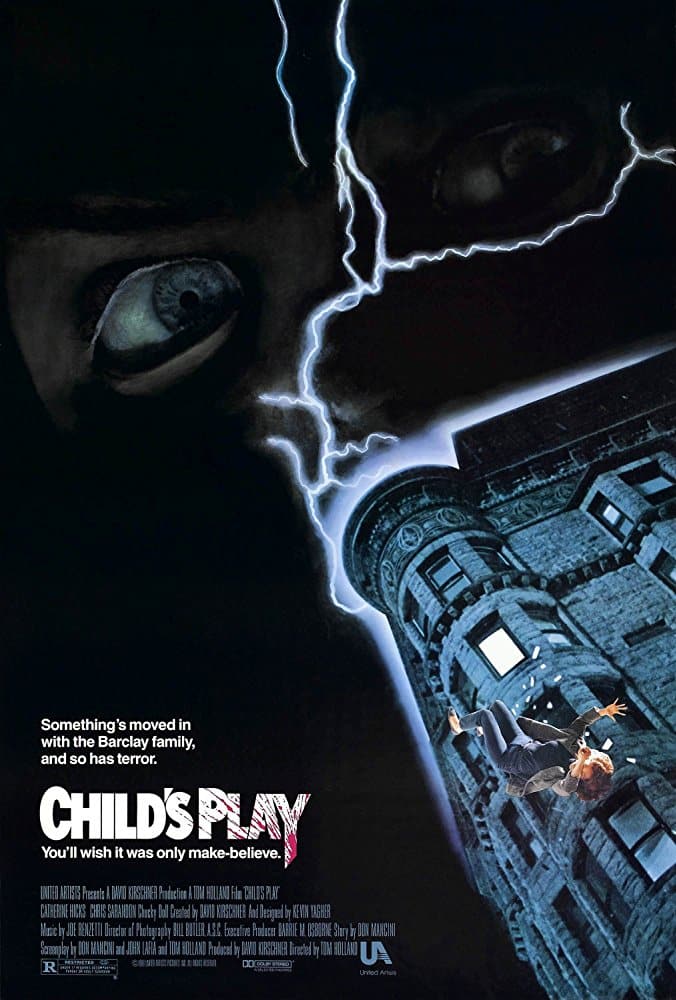 Child's Play (1988) Trailer
Child's Play (1988) Plot Synopsis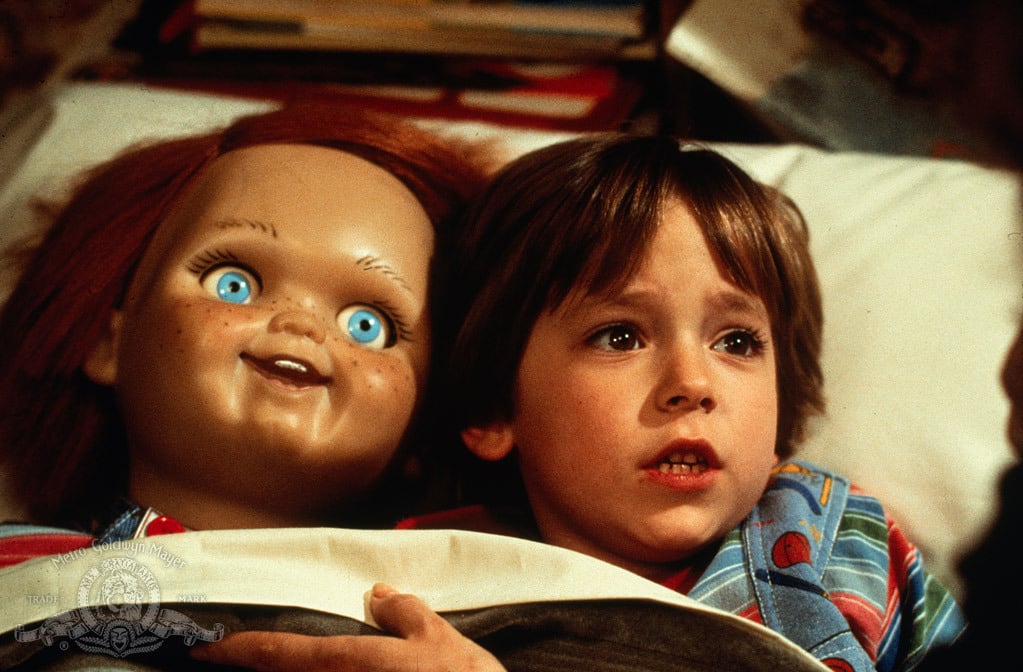 Child's Play is a movie about a serial killer named Charles Lee Ray (Chucky) who, in his dying breath manages to transfer his consciousness into a Good Guy brand doll, which ends up in the home of Andy Barclay – A sweet young boy who just wants a friend. As the story progresses Chucky cuts a swathe of terror through the Chicago neighborhood where the Barclays live and Andy finds himself with more doll than he bargained for!
Is Child's Play (1988) Worth Seeing?
Yep. This is a classic that set the stage for one of the most memorable slasher series ever made. While the sequels can be hit or miss, the original is strange and interesting from start to finish.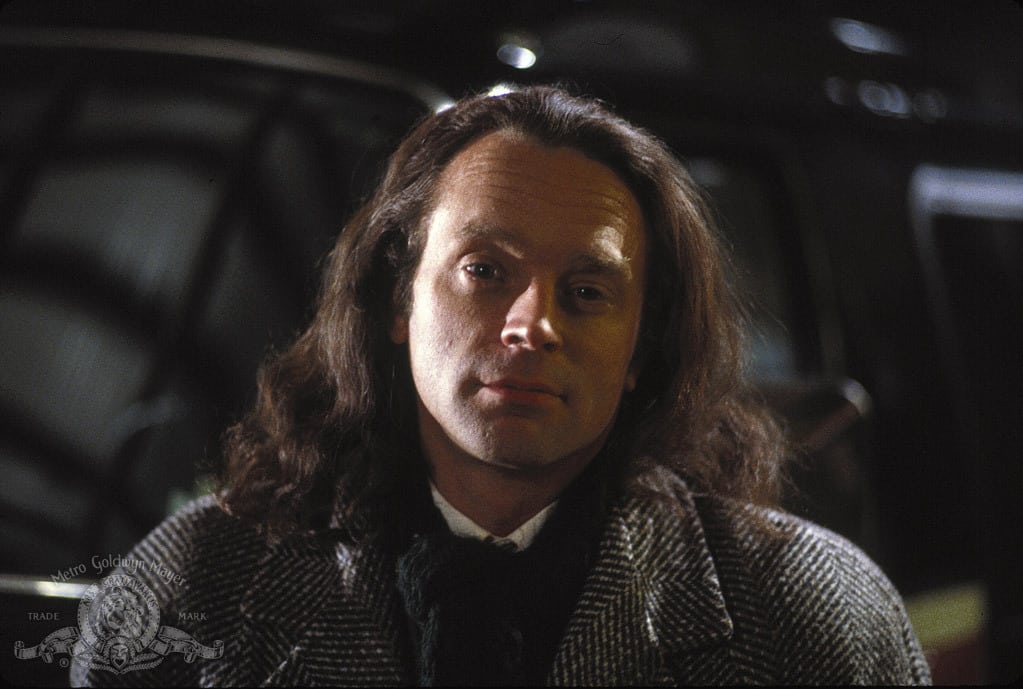 The original Child's Play is not for the faint of heart because it goes heavy in the paint when it comes to disturbing and suggestive themes. Mostly, I was shocked because of how sweet and innocent young Andy was, and how much he loved this doll who has a psychopathic serial killer living within him. While young Andy (Alex Vincent) is not the best actor, he is charming and believable to the point that I felt tons of empathy for him. The empathy that I felt for Andy and his mother , Karen (Catherine Hicks) really went a long way in making this a disturbing movie, because it felt like they were in true danger and didn't even know it.
While the original Child's Play is not the most gruesome or splatter driven slasher from the late 80's it is a superb exercise in audience manipulation. While the premise is a bit goofy, the execution is taken deadly serious by writer/director Tom Holland, and it ends up paying off.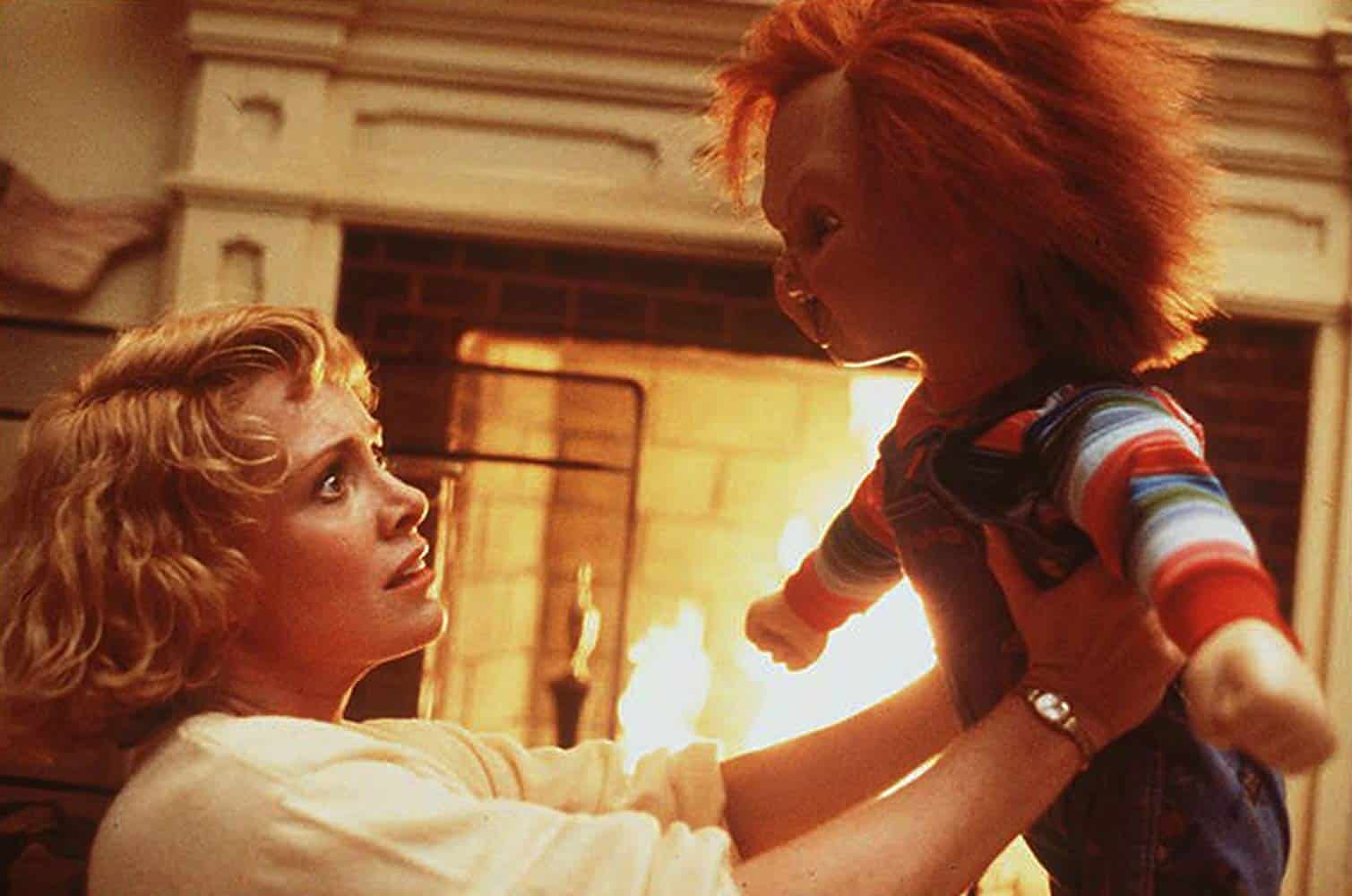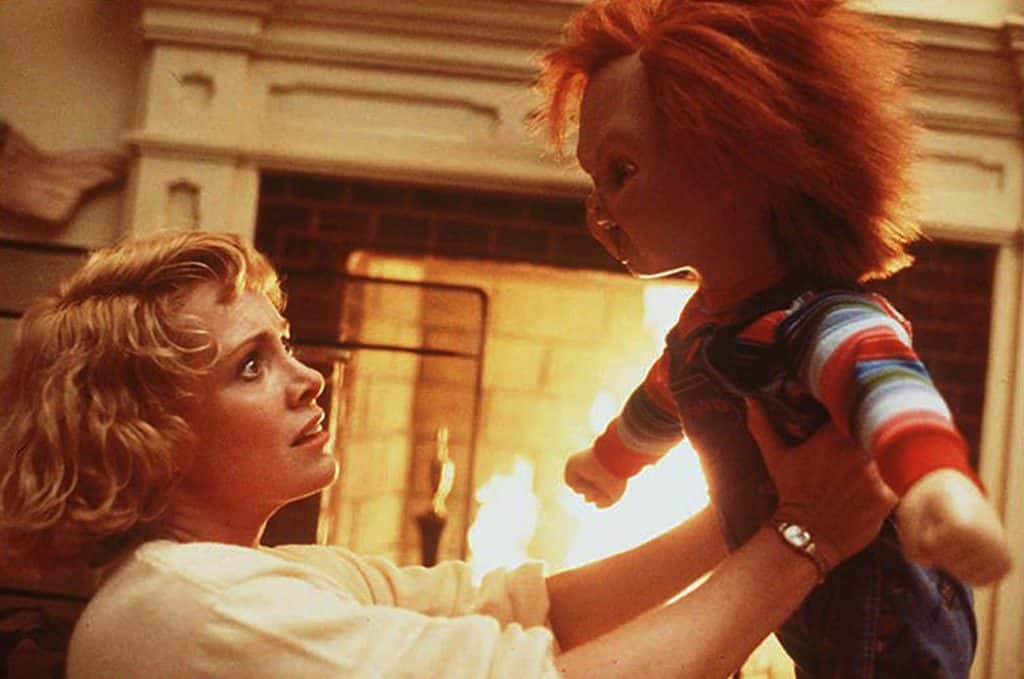 The one thing that Child's Play lacks is levity of almost any kind. There are a few brief moments of minor lightheartedness, but mostly this is a deadly serious movie that could have a lot more fun than it does.
Our Score for Child's Play (1988)
7/10
Child's Play (1988) Spoilers
The film starts with the police chasing a wanted criminal through the mean streets of Chicago. Charles Lee Ray is the criminal and he is wanted for being the worst kind of criminal – a serial killer, namely a strangler. The chase ends up in a toy store and Charles takes a few bullets in the chest before he falls to the ground cursing the detective and promising vengeance.
With his dying breaths, Charles grabs a Good Guy doll and begins whispering some incantations. Immediately the sky begins to roil and turn black with storm clouds. These were some serious clouds, even for the Windy City. Lightening hits the building and the whole toy store explodes in a complete fireball… which seems extreme, but we are talking about a movie where a killer sends his soul into a doll, so…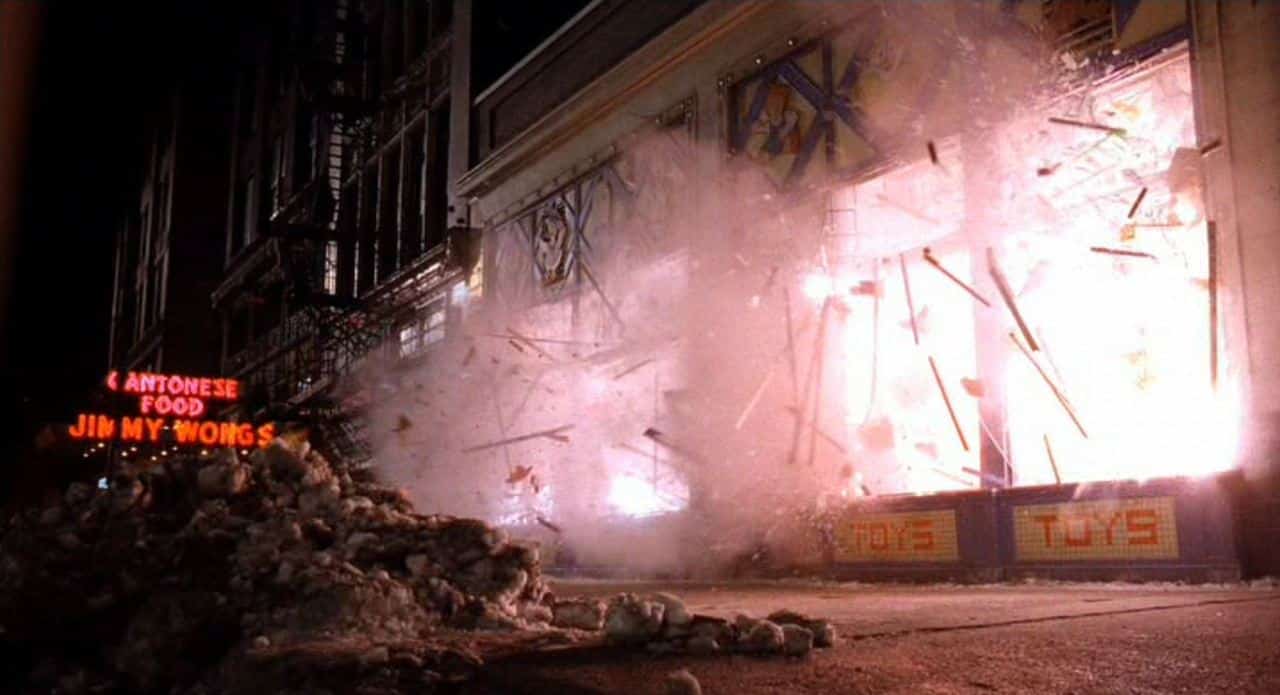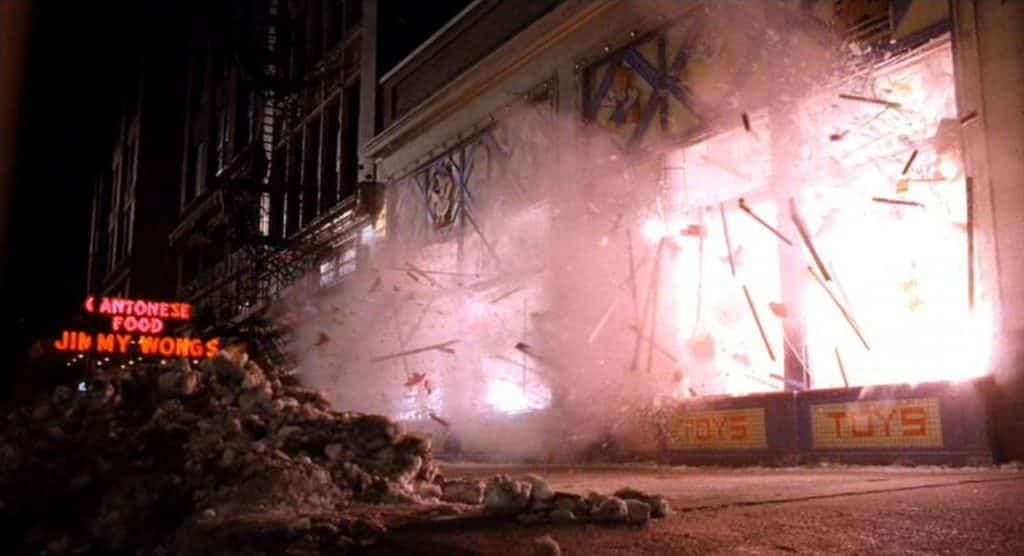 Next We Meet The Unsuspecting Family
From here we head on over to Andy, the lovable little boy who brings his mom a balanced breakfast in bed. JK, he brings her pure sugar mixed with milk that splashes everywhere. Despite the fact that this milky sugar mixture has been splashed around her house, Andy's mom hugs him and they head out into their living room to open up Andy's birthday presents.
It is revealed that Karen couldn't afford the one thing that Andy really wanted, you guessed it, a Good Guy doll. But, she does find a street peddler who is selling a slightly off-brand Good Guy doll with some added features behind her work. Let this be a lesson to all you working moms out there, pay the big bucks for the real thing, it's always worth it not to have a possessed doll in your house.
Once Chucky is in the House Things Get Alarming
Once Chucky comes home, the tension really begins to ramp up very quickly. The way the camera follows this doll around the house, being touted by this sweet little boy is extremely effective in building dread. The audience knows the terrible evil within this unassuming little doll, which really turns this movie into a bit of a peepshow.
It's alarming to see this little boy bring his doll to be and tell it, "I love you Chucky" in an earnest way.
Check Out Our Pet Sematary 1989 Review
That same night, Andy's "aunt" Maggie, who works with his mom, Karen, is watching Andy while his mom covers the late shift because her boss is an 80's era dickhead. Maggie put's Andy to bed at the exact moment when a news report on the recently deceased Charles Lee Ray comes on the nightly news. Obviously, Chucky is interested in this report, so he sneaks out of Andy's room to see what's on TV. Maggie becomes cross with Andy, who is as bewildered as her about Chucky, and ends up taking a claw-hammer to the forehead, forcing her out the 6th-ish story window and into the streets below.
Poor Andy Had Nothing To Do With it!
At this point, the police and Karen begin to suspect that Andy had at least something to do with Maggie's death, and soon they notice that Andy's pajamas have the same footprints as those found at the scene of the crime. It's at this point where I really got a heavy whiff of how dark this movie is. There is a point that makes up the middle of this movie where one of the cutest child actors and sweet characters I've ever seen on the screen is being held and questioned by hardened cops about the murder of his beloved aunt Maggie. As if the idea of losing his aunt wasn't enough, now a six year old has to be grilled by a bunch of mean men? It feels real, and dark, and sad.
Like Slashers? Here is Our Sleepaway Camp Review!
At this point Chucky starts forcing Andy to take him to the bad part of town, and do things he wouldn't otherwise do. If you've ever seen any of the Robocop movies, the setting of Chicago and the tone of Child's Play feels remarkably similar. Kind of tongue in cheek depressing with a wink, if that makes any sense (it will if you are a fan of Robocop).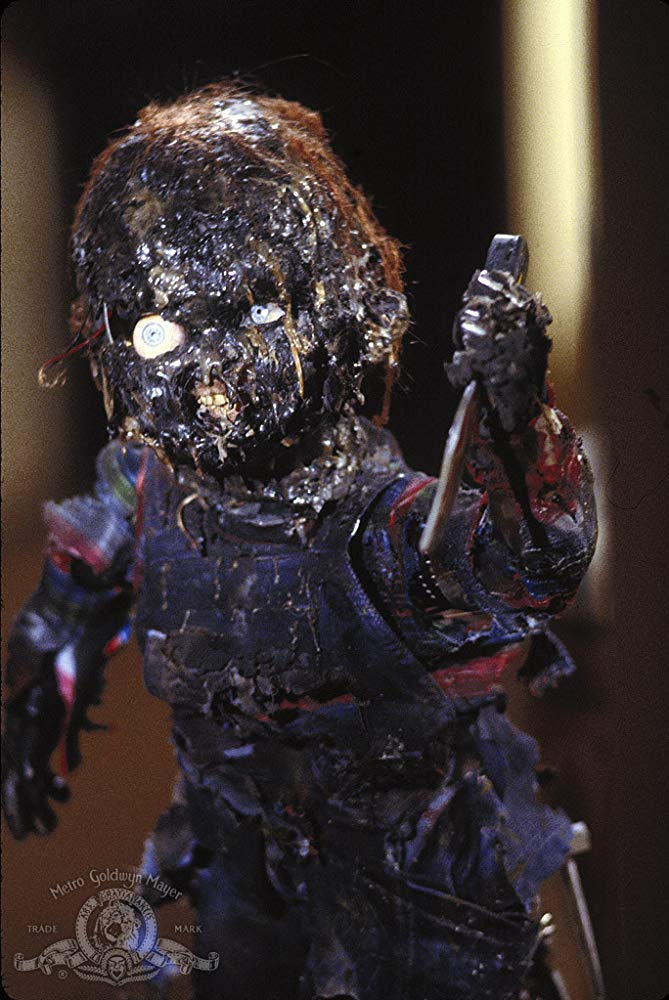 Chucky's Reign of Terror
At this point Chucky goes off the rails. He seeks out the man who taught him the voodoo required to transfer his soul into the Good Guy doll and finds out that he will become the doll if he doesn't make another transfer soon – and the only transfer that the voodoo magic will allow is for Chucky to inhabit the body of the first person he revealed himself to. Poor Andy.
Child's Play culminates in a standoff between Chucky, Karen, Andy and Detective Norris. This is a fantastic ending to a horror movie for a few different reasons, the first being the tried and true trope of, "He just won't die!" Chucky is thrown in the fire, torn limb from limb, shot, and even shot in the heart, but he keeps getting up and giving it the old college try. Well, until the heart shot, that ends him…right?
Can't Get enough of Tiny Troublemakers? Our Gremlins Review!
The reason the end works so well is it's convincing. Surely a doll can't make it through burning in the fireplace! Wrong. Even when there is only an arm left, little Chuck is still trying to get to Andy. The practical effects are extremely well done and leave the audience with a bevvy of haunting visions.
Who Would Like Child's Play (1988)?
Well, considering that this is the movie that started one of the five most iconic slasher series of all time, I think it's safe to say that if you enjoy slashers this is for you. More than that, Child's Play is a thoughtful slasher (which is weird to say about a movie whose antagonist is a doll) because of the artful way that it plays with tension and empathy. The first half of this movie is mostly about trying and succeeding to get the audience to buy in, which is more than most slashers can say.
Like Scary Dolls? Read This Blog