Podcast: Play in new window | Download (Duration: 1:15:27 — 51.8MB)
Subscribe: Google Podcasts | Spotify | Amazon Music | Pandora | iHeartRadio | Podchaser | TuneIn | Deezer | RSS | More
With the Pet Sematary remake right around the corner, we decided it best to give the original 1989 Pet Sematary the full Horror Movie Talk treatment. Pet Sematary is not really about a pet cemetery, but is really about what lies beyond…the pet cemetery. The only horror trope more predictable than a Stephen King story set in Maine, that's right, an Indian burial ground. And as with every movie with an Indian burial ground, the moral to the story is: don't mess with an Indian burial ground. The movie, directed by Mary Lambert and written by Stephen King is based on his novel of the same title.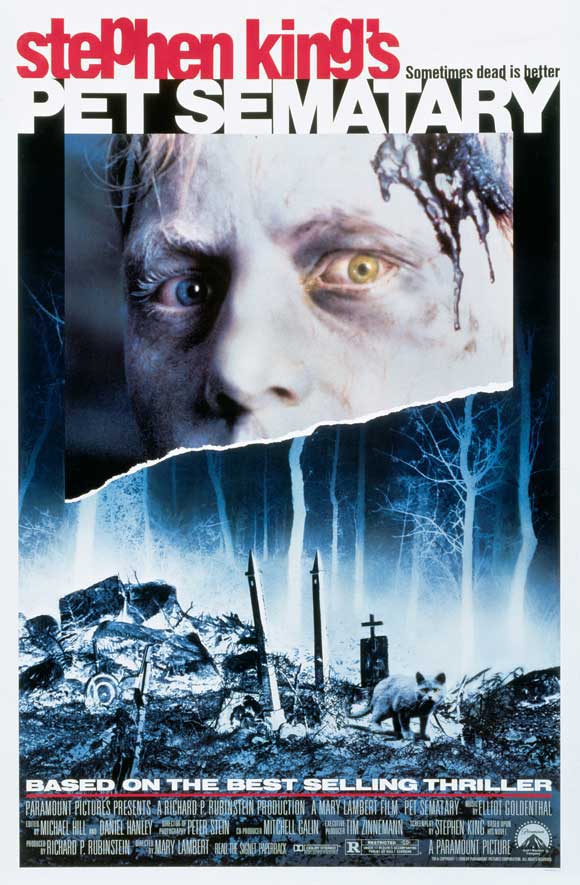 Pet Sematary 1989 Synopsis
Pet Sematary tells the story of the young Creed family. Louis Creed (Dale Midkiff) is a doctor moving to the small town of Ludlow, Maine with his wife Rachel (Denise Crosby) and his two children Elle and Gage. Immediately they meet the kindly old man Jud Crandall (Fred Gwynne) who introduces them to the features of the property. Mainly a busy road filled exclusively with speeding 18 wheelers, and a spooky forest where people bury their dead pets that were killed by those same 18 wheelers.
The crux of the plot however relies on what lay beyond yonder Pet Sematary. A Mic Mac Indian burial ground holds the secret to resurrection.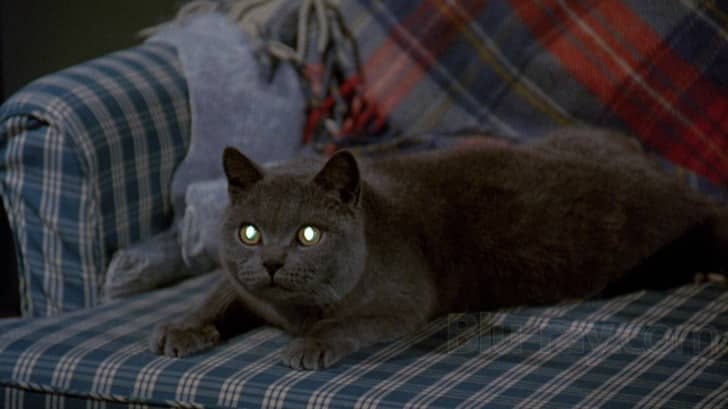 After the loss of a family cat "Church", Jud takes Louis to the Indian burial ground which has the unique feature where whatever is buried there will come back to life. While the feline resurrection saves Elle the grief of losing her favorite cat. The knowledge of a power to restore life is a Pandora's box that only results in misery for the Creed family.
Original Pet Sematary Trailer
Review of Pet Sematary (1989)
Pet Sematary deals really well with the concepts of loss and the folly of trying to cheat death. It's surprising how much is packed into this movie and how well it still delivers. It deals with the loss of a pet and teaching about the afterlife to your children. It deals with protecting your children from physical and psychological trauma. It deals with resentment of caring for people on their deathbed. Ideals with the grief of losing a loved one, and the desire to get them back at any cost. And it does these all really well.
Check Out Our Review of Pet Sematary (2019)
The acting is not particularly good, but the writing makes up for it. The dialogue can have weird asides like those found in Stephen King's novels, but they are done tastefully and they add to the tone of the film. The script does a really good job of laying out the plot very logically and creating moments of escalation in ways that aren't always predictable.
The film has equal parts dread, jump scares, and gore. All of which are very effective. The special effects are good, save for the fight with the Gage doll at the end of the film.
Score for Pet Sematary (1989)
7/10
Spoilers
Expand for Spoilers

You can pretty much surmise from the trailer that at least the cat will get resurrected, But the real turning point for the movie is when Gage Creed is run over by a truck.

Lewis in his distress is fate driven to use the powers of the Mic Mac burial ground to bring his son back to life. He does this regardless of the warnings of Jud.

Gage, like Church the cat, does not come back the same. In the place of this innocent adorable toddler, Gage comes back as an evil killing machine.

His first target is Jud, whom he carves up like butter with his father's scalpel.

Zombie Gage then kills his own mother before being tracked down by Lewis and put down like a rabid dog.

The imagery and emotional pull of seeing Lewis reunited with Gage is truly the best part of the film. The conflict and grief that Lewis feels when he puts down Gage feels intense.

Deadly Serious Slasher Fan? Check Out Our Child's Play 1988 Review!

The movie ends with Lewis learning nothing and proceeding to take Rachael, his wife, towards the indian burial ground.
Final Recommendation
Pet Sematary is a must see for any fan of family-based horror. The impact of the film is hightened if you have children of your own, but the themes in the film touch on all levels of death and grief.
Also, see it before you see the remake, because from the trailer, the remake has made significant changes to the story.
Horror Movie Talk Episode 37: Pet Sematary (1989) Review
Full Transcript of Episode 37 of Horror Movie Talk

This episode of horror movie talk brought to you by Uncle Wally's Child Coffin warehouse. No one likes to lose a child. Funerals are expensive, and mortuary services often take advantage of people's pocketbooks at their most vulnerable moment. So skip these expensive funeral homes and come on down to Uncle Wally's Discount Child Coffin warehouse. We have certified pre owned infant toddler and pre PBS inside coffins priced at less than half of what the other guys charge. You couldn't save your child, but you can save your money. Come see us at Uncle Wally's Discount Child Coffins in the funeral district on third mentioned this ad when you buy a coffin and get a ten percent off coupon for your next child coffin purchase. Hello and welcome to horror movie talk and opinionated and accidentally funny horror movie review Show Your schlubby host each week are Bryce Hanson, the cool collected nihilist, and David Day, a cool guy who was always cool. New theatrical releases always get priority, but we also review older horror movies both good and whole Roar Bowl. Um, Samson, I, uh, they So Uncle Wally's child Coffon warehouse. Man, they are just what a screaming deal I know. Like and and I mean, the one question I have is like they're certified pre used. Yeah, where? I mean, are they just dumping the kids out? It's best not to. Aunts ask these questions, and it's definitely best not hands. I mean, it's worth the price, though. I mean, you know, you gotta take what you can get. Absolutely coffee, Yeah. All right, everyone, We've got a great show today in preparation for the upcoming remake, will be talking about the original nineteen eighty nine pet cemetery. It's spelled wrong. Oh, boy, I'm excited. This is This is one of my long time like this is one of my formative movies. So pretty excited about this? Yeah, So if you don't know how horror movie talk episodes work will give a brief review and our score for the movie, we score on a scale of one to ten one being miserable enough to make you angry at the film. Five being completely average that hits all the expectant marks and ten being so good that it transcends genre boundaries after we give our score will get into spoilers and take a deeper dive into what we liked and hated about the movie. And then, later on, we'LL have game time. Full boy gives replaying. Bryce will be doing our around our latest round of rotten tomatoes. Game hall. Nothing. Favourite game. Hey, you know what I was thinking as you were reading the intro and and you're calling me a cool guy who's always cool, I was thinking, wouldn't it be nice if the fifth year, actually. Cool. Well, that first of all, obviously, it would be nice to be the thing that I am, but ah, I think the fans should think up something for me to be, Ah, thing that is always thing. So all of the all of all of the suggestions should go ahead and shoot those in their to us. I mean, your brother listens to this, so yeah, it could. It could really go south on us. In fact, I'm counting on it. Alright. So before we get into the review, let's cover some in house business. You can go to our website at horror movie talk dot com, and there you'LL find links to all our social media Facebook, twitter, insta. We even have a subreddit. You can go look at past episodes on and comment. We post new episodes every Wednesday, and we love if you would subscribe and leave a review on your favorite podcast platform. ITunes, especially you, Khun. Support the podcast by buying a renting any movie or product on Amazon. If you click through the green button in the header of our website, that website again is poor or movie talk dot com. Also sponsor, I guess. Technically, sponsor, right? Yeah, A Shudder has a special offer for listeners of court movie talk. If you use the code H m T. At Checkout, you get a thirty day free trial to Shutter, which is basically the Netflix of horror. It's a streaming service for horror movies and TV shows. They've got lots of exclusives, even some really nice original content, and check that out. You can get it for free for thirty days if you use H empty. Thanks again for last name, Last name. I always say, last name. What is my I don't know. Like whenever I hear my own voice, I've been a I've been keen. Intellect, policy. Yeah, I've been cannon on weird speech patterns, patterns that I believed to be weird, that are, in reality, normal. So, like when people say I want a prize, that bothers me to no end. They say I won the championship, but it's one I want it. But they say, want it, It bothers me. Yeah, those kinds of things when they're like mayonnaise. Okay, I see how fancy you are. Pronouncing the wides called Manny's. There's no wire. Oh, in the in the word, say, Manny's, I've been listening to, like some podcasts or just stories featuring, um, Mormon families in true crime stories. Oh, dear God. And there's like I'm pretty keyed in on the Utah accent. It's very I can't imitate it. You can't take it. I can key in on it. Do you fall into it? No, you're never I can't. I can't really do it. My wife could probably do it. I fallen, but it's very earnest, very like over pronounced. So for me, that's a real detriment to me. Because I look like a fraud all the time because I'll fall in tow Whatever is being said to me. So if you have a heavy Southern accent like, I could go there real quick and its sound and it sounds disingenuous and like, I'm a head, But it's just me, I guess trying to relate or something like that. And I don't do it on purpose with that being said. So when you're around black people, you're like, Hey, what's up? Money? No, no, no, no. Well, yeah, I guess I guess that does happen along. All right. So we rewatched thie nineteen eighty nine pet cemetery this week and it still holds up really well. Especially if you're a parent. Yeah. Holy cow. Yeah, and I say we watch here, he watch it. I thought I had seen this movie and I realized as I was watching it that I had not seen this movie. That's fair. And, you know, we'LL go into that in a minute. Anyways, here's the trailer for Pet Cemetery, the original one. Eyes. This place I brought you here, Barry Allen. You're right. Why, Judge? By car. You and Mr Crandall buried him. What did we do tonight? Judge? What? We did a secret. May the Lord bless you and keep you. Anyone ever buried a person up there? May the Lord make his face to shine upon you. You think? Can I get you something? Really? You think about that, don't you? Back to me, Gage, come backto us. Pictures presents Stephen King's time I'm a Bestselling Taylor. Pet cemetery. A cz of we. We watch it on Amazon Prime. It was free to stream. But as of the release of this episode, I don't think it will be anymore. Yeah, it's being pulled from free on prime, but Google it. I wouldn't be surprised if it's free or really, really cheap. The week of release for the remake. Oh yeah, well, yeah, no, actually, that's that's probably accurate. Especially like Google play. And I think I can really capitalize on that a lot because they they have the most to gain right, right, because they're trying to compete with Amazon. Pet Cemetery is not really about a pet cemetery, but is really about what lies beyond with a pet cemetery. The movie, directed by Mary Lambert and written by Stephen King, is based on his novel of the same name. It tells the story of the young Creed family who's head of household. Louis Creed is a doctor moving to a small town of Ludlow Mane with his wife, Rachel, played by Denise Crosby and his two children, Ellie, and gauge immediately, they they meet the kindly old man Judd Crandall, played by Fred Gwynne, who introduces them to the features of the property mainly a busy road filled exclusively with speeding eighteen wheelers and a spooky forest where people bury their dead pets that were killed by those same eighteen wheelers. Really, really picked quite a spot there, Louis. Yeah, good, good house. The crux of the plot, however, relies on what lay beyond yonder Pet Cemetery, the on ly horror troll more predictable than a Stephen King story set in Maine. That's right, an Indian burial ground. And as with every movie about an Indian burial ground, the moral to the story is Don't mess with an Indian burial ground. Haven't you done enough, you white supremacist? Um, great name for the Indians. To,, Mack, Mack Indian Burial Ground. Yeah, that's just rolls right off the lips. . It's like shilly shally way we're going. After the loss of a family cat church, Judd takes Louis to the Indian burial ground, which has the unique feature where whatever is buried there will come back to life. What spoilers? I think you pretty much get that idea. While the feline resurrection saves Ellie the grief of losing her favorite cat, the knowledge of a power to restore life is a Pandora's box that only results in misery for the creed. Family Pet Cemetery deals really well with the concepts of loss and the folly of trying to cheat death. And it's surprising how much is packed into this movie and how well it still delivers. It deals with the loss of a pet from teaching about the after life to your children, deals with protecting your children from physical and psychological trauma. Um, deals with resentment of carrying for people on their deathbed, also with the grief of losing a loved one and the desire to get them back at any cost, and it does all of these really well, Yeah, yeah, it does. And it's also kind of a stand out because it's the start as far as Faras. I remember unless Kujoe was before Kujoe is before, I think. But this is the first of the Stephen King movies that feels like, kind of like it could be a made for TV movie a little bit if you like, especially at the start, The way it starts doesn't feel like a normal blockbuster movie. It feels kind of like toned down. It has it. The tone of this movie, especially at the beginning, feels like Tommy Knockers, I guess. Well, it's it's really interesting that this the screen screenplay was written by Stephen King himself. So it feels very much like a novel and that there's like a sides. There's little vignettes and and, ah, different areas that are explored, and you can really tell that King was including as much as he could from the novel to like touch on all the different areas that he wanted to touch thematically. Yes and ah yeah, it works works really well. I mean, a lot of the themes air pretty, pretty deep and like core to dread and and horror, Um, feeling, feeling it like you don't have control, really feeling right like Jesus has the wheel and it does. It does it with the premise that that feels like it could be really, really corny and bad. Yeah, and it actually like explorers. It really well, that's one of the with that premise. That's one of the interesting things about this movie to me is because I think I think Stephen King and I think I think Tommy Knockers, I think dream catcher I think all these movies that don't make it, like all these movies that are like, they're kind of staples there definitely staples but they're also, like, weird and just don't make sense. And they're like from a coke addled brain. And this movie is not that it is a well put together solid Yeah. Movie. Yeah. Um I will say the acting is not particularly good. No, especially from the lead. Louis, The guy that plays Louis House name. How dare you? My wife will have your head. Dale Midkiff Oh, yeah, Dale Midriff, midriff bit Dale Midkiff which I wrote in my notes. It sounds like he graduated from the Chiana Reeve school of acting. Just he's He plays Elvis in Elvis and me, and he's in. And according to my my wife, he's in lots of lifetime movies and and Hallmark movies. So close your eyes and tell me whether this sounds like Chiana Reeves. Yeah, that's church r e. I mean, yeah, it's just like the delivery, if yet Thanks, Deano Reeves. Alright, anyways, But acting isn't particularly good, but the writing makes up for it. The dialogue can have weird asides like those found and Stephen King's novels, but they're done tastefully, and they add to the tone of the film. There's a lot of kind of poetic, you know, just weird quotations that they use that you would normally Houston normal conversation. But it works because it's establishing the tone. The script also does a really good job of laying out the plot very logically and creating moments of escalation in ways that are always predictable. You know, it's kind of a stepwise motion for lifting up the consequences in the decisions, you know throughout the film is has equal parts of dread, jump scares and gore all which all of which are very effective. I thought the special effects were really good. Save for one was the fight with the gauge doll. In the end, I like it when he jumps at him. Wait. So overall, I really like this. This movie, it holds up really well. I gave it a seven out of ten. Yeah, I am. This one's our hard won for me, Tio pinned down because it is a you know, it's like a formative. Yeah, it's a formative kind of movie, and I do recognize that it is not just there. There are certain stumbling blocks in this movie like the acting. I like the delivery. Some of the delivery some of the delivery is like is so good that it really shouldn't be replicated. John Lithgow should not be touching that role, even though he is legendary, you know. Yeah, Fred Gwynne is great in the movie. I mean, it's a little sometimes is a little much on the main accent, but overall, I mean, he's probably the best part of the main accent. By the way, the woman, the the laundry lady home and the main action I like I didn't like it last night, I was watching this. I was like, The main is this is that I know it's an accent. Does main have an accent and and yeah, that kind of that was jarring. But I mean, everything about Fred Gwynne be you really can't you can't replicate and shouldn't go near it because he's he's just kind of the greatest all time for this role, so But I tip in it down, I'd say, Yeah, I give it a high seven probably, even though I do love it very much. Yeah, I think the only thing keeping it from being an eight was like the acting. There is a moments of really good emotion and it where you really you're like Oh, jeez, yeah, yeah, I really believe that the terror that they're feeling, Um, but it doesn't necessarily earn it other than in that moment. Yeah, you know, it's kind of this movie. This movie is interesting. That's that's what this movie is. It is an interesting movie because for a lot of different reasons, not just thematically and not just like entertainment wise. It's interesting because it's a Stephen King movie that isn't Iraq. It's a movie written by Stephen King. That isn't Iraq, I should say. And it's from the late eighties, early nineties, and it still holds up in the scares and in a lot and in Peking, my interests throughout, like I'm I'm there with it. And normally I in that time frame my attention can wander, So Ah, yeah, In that regard Pet Cemetery is is Ah, interesting and noteworthy movie that should be watched. Yeah. Uh, All right, let's get into spoilers. Spoilers. Okay, so the beginning of the film does a really great job of foreshadowing. I mean, it's very succinct, iconic. You've got a scary road. You've got a cat kid situation and a pet cemetery and no offense, you know, So the other moral to the story is put up one of those slow children playing signs. You know, it doesn't have to be the county or something that puts it up. You can just put up one yourself. There's slow kids playing here or, you know, yeah, put up, put up a fence. Just put up a little fence. Doesn't mean it's just got to be a road. Doesn't have to be It doesn't have to, like, keep everything And it's just got to be a road blocked, kid. Yeah, anyways, so it starts out, basically sets up the premise of the movie in the setting with Judd and, you know, tell them about the pet cemetery and stuff. And then suddenly brains boom Big o just right from the home, too. Brain trauma and ah, doctor. As a compound fracture on that brain trauma So Dr Creed is ah, at the university. And they bring him in this trauma victim named Pascal. And the actual actual weird. He sure does. He, like, grabs Louis by the shirt and starts telling him Well, he should be dead. Yeah, he should be dead. Yeah, he and then he's. But he's not. Yeah, how that happened. I'm off men wear soil of a man's heart is toe near stonier Estonia. Yes, I watch it with the subtitles on So I know whether he actually said that that, like, really, like, jumps into okay, Supernatural now? Yeah, because before then, it's all just based on the reality of like, yep, new home. I have scary road pets die, and then all of a sudden, it's like, creepy demon voice from man with brain falling out. Yeah, and ah, and then it just it just goes from there. And so pass cow P. Hans. Hey, Hans Lewis From then on, and pretty soon after that, he leads Lewis. You think it might be a dream, but it's actually reality. He leads him to the pet cemetery and tells them very specifically. Don't go beyond that. Point the ground bad. See all those sticks over there? You see all that, All that crap. Whatever you do, don't climb over that. Don't try and climb over all that crap that you would never think of climbing over. And now I've planted in your brain this crazy idea of climbing over all those crappy sticks the whole time like you still his ghost has, you know, brain falling out and stuff. Yeah. Which I'd hope if there is an afterlife, We do, like, get repaired. It's not a scary if we do get repaired. Yeah, but yeah. Poor guy had his brain fallout for all of eternity. You know, I'd like to say that this that just that. So all the look, all the shooting, all the filming, all everything in this movie takes place in Maine. And what a beautiful place. Yeah, just gorgeous. It actually reminds me a lot of the Pacific Northwest. That's why I went and looked up Where that where it was shock causes. Like there's got to be Washington. It just has to be. Yeah, it's kind of interesting. Stephen King insisted. I don't know if he's a producer on this, but he apparently had a lot of power on this film because he basically insisted that it had to be shot in Maine on location, and there couldn't be, like, any changes to the script. Wow. And since it was in Maine, he lives in Bangor, Maine, and just really close. So he was on set all the time, you know, for the movie and ah, yeah, yeah, I mean, he I think he's all about keeping it, you know, keep boosting the economy and trying to help out. Yeah, but also, I mean, it's true to the setting of the story, and it's based on, like, his life. I mean, his his Ah, he based it on the experience of one losing the family cat and by getting hit in the road. And he also had a child that he like, prevented from getting hit in a road. Well, so did I on the all the time when she goes dark for the road and I'm like a and then I tripper right and I think it's like a lot like the scene with Gage, except, you know, he saves his daughter instead of that's going to say,, are we going for some Eric Clapton stuff? And and also like basically, the property that he lived on was that, like this property had the busy road. And then there's a pathway to literally a pet cemetery with the wrong spelling, like that's what he based it off. So and Stephen King is on record saying that pet cemetery is to him that his scariest book. Really, Which makes sense, because it deals with such a personal thing. And I can't think of anything more stare scary in terms of subject material than losing a child. Yeah, it's It's scary because it's so blocked you because you have kids and, you know, they're basically trying to die all the time, right? Can I drink? There's no please toe. I have that written down as a talking point. Kids have a death wish in jobs. Like this. I mean, for me, particularly, this movie resonated with me because I've got a daughter around. The same age is Ellie, and I've got a son around the same age as gauge. Yeah, and Gaugin and Colin look pretty similar. I mean, yeah, a little blonde kids. I mean, the only difference is is Colin is like an absolute unit. Yeah, perhaps. I think I think if a semi truck hit Colin, he probably be okay. Semi truck with alright. Yeah, kid is he's a tank. Uh, every time I see him, I'm like, God, that is a sturdy man. Like, I don't even think of them as a baby. But in terms of like, as a little toddler like this, the way he's running around and acting in the movie is like, man, that's totally like my son, man. Just barely. Hey, starting toe like, understand words at all, you know? Yeah, a man. So yet when the scene spoilers, where its players Well, I mean this scene When when the audience had thirty years to get there. When gage gets hit by that truck and the reaction is just horror and just screaming in agony I'm like, Yeah, that I really felt it. Yeah, it was like there's a few movies that do the child losing a child thing. Really? Well, hereditary is one of them, and this is another one. I'm sure there are others, but I mean, the reason it works is because you condemn you immediately. Khun, go there. Yeah, if you have kids and even if you don't I mean, it's very easy to put yourself into that. Yeah, because like like we said, like, kids have a death wish. You run through this scenario all the time in your head, just like you can't look at them all the time. And when you don't look at him and only takes him seconds to harm themselves, it's astonishing. It's it, really. I mean, there's nothing more to say about it other than yeah, kids just want they want to get hurt. Yeah, badly. So pass Cow really is acting as a good angel. He's showing Louis like, Don't do this. It's bad. Yeah, it's not good. And as a contrast Judd is, you know, the friendly neighbor guy. You know, his brain's aren't falling out. He's not scary to look at but he's kind of acting is the bad angel. Yeah, and he's He's pushing Louis to use the burial ground when the when the cat dies. So how do you really think about it that way that way, Which is interesting because it's so obvious, you know, But But all I think about when I see what's his What's his name? Judd. Yeah, I know, man. I wish I had a neighbor who just invited me over and offered me a beer. You want to sit down on the front porch and smoke and drink beer? Yeah, Judges, judges, like a great neighbor was not good. And he's not. He's not really like trying. He doesn't have, ah, malicious. There's no really he's really trying to helping. But in terms of like getting Lewis in a bad spot, he is the direct cause of it. Absolutely, basically took his hand and said, Come here, Let's do this. I will lead you on an incredible journey of land. Dead horrible, horrible thing. Um, And then, of course, judge, you know, tries to convince him not to, you know, resurrect his son. Yeah, which is tells them as bad idea because sometimes that is better. I can't e and I've heard ever. John Lithgow's, you know, read, redo of that. We had John Lithgow. I don't think he's trying to do a main accent at all. Not only is he not trying to do a main accent, he's not ultra baritone. He is not bad. I mean, I think it's good casting. Sometimes, Sometimes dead is better. But in terms of like casting against Fred Gwynne mean Fred Gwynne is a presence like his. His head is like probably the size of my like chest cavity. Yeah, he's, he's, he's you know he was. He played Frankenstein for years. Is Herman Munster, you know. So he's a large man. Giant mouth. Yeah, just and his teeth are appropriately messed up. You know, there's no effort was gone into making his mouth pretty. Yeah, and so it's everything about him. His country, you know, there there's a strong element in this movie of that, like good old boy, kind of this is this is country. This is This is a rural place, and we're hospitable folk, but we're also hard. Yeah, there's several things that tie this movie to the expanded Stephen King universe. Yeah, emcee you So for three cases in the U. S. K you Stephen King Universe? Yeah, sure skill. Anyways, they so there's a couple like Little Easter eggs. There's a poster that and I think in the novel they talk about a dog that goes crazy referring to Kujoe. I think in the movie they pass a sign for Salem's lot. Um, and all of the family seems to have the shining like the entire family of the creed family, because Judd Khun see the dead being like Ellie like Cape keeps having premonitions and also sees Kosc out. Yeah, and I think that's like just part of the thing is that, yeah, that their whole family Khun basically shine. Dude, this's really interesting and never knew any of that stuff. I just like I just note notable things for me. Or like Boy, Luke Lewis is the worst rake forever. He's bad at raking up leaves. I didn't even notice that. He's like he's standing in the middle of his yard with a rake and their believes all around him, and he's just like, I mean, it's it's like watching an actor who's never had to do a thing, do a thing. It was just like like flopping it on the ground kind and then, like, he doesn't rake anything. And then he's like, done with Reagan and they're still leaves everywhere. And it really bothered me a lot. You're like, Oh, yeah, ties, ties really well in the Stephen King universe because I think the whole family can shine. Also, there's the Salem's lot thing going on over here, and I'm like, I can't write. Um Okay, So, yeah, the the mother played by Denise Crosby, which I recognized from Star Trek. The next generation. Oh, yeah, I think she she left Star Trek the next generation. Um, like the year before this movie? Um, she didn't She wasn't a main character. Anything like she wass. I mean, she was basically she was war fs position before war. Oh, yeah, Yeah, I know. Will Wheatley said on record, He's like, Yeah, the first season with war if they didn't really ever do anything with him. But eventually, you know, he got flesh. Now you got flushed out, and he said, Basically, Denise Crosby just kind of got fed up with having nothing to do. So she quit and the worst mistake ever, And they killed her off in one of the episodes with the black oil monster. It was very sudden, but she came back. She she came back and like flashbacks and came back a czar as her daughter. So she she still worked on the show, but not as a main cast member. She's no. Worf will tell you that in this movie, she plays Rachel and Rachel. Kind of. Ah, yeah, kind of kind of a. Don't mince your words here. Okay? All right. Yeah, I wrote down a different word, but yeah, Boy, man, she she's not grading. Yeah, grating. So this is when judges taking them and showing them the pet cemetery. And this is her reaction to a nice neighbor that was showing them an interesting thing about their property. Basically a feature of their property. There's something going on. This place couldn't plant nothing but corpses here. Anyway, I goes. How can you call it a good thing? A graveyard for pets killed in the road built by brokenhearted children. Well, that Lynn about death somehow not know them is great. Why? Why? Why is ah, I did I do something to offend you Are? Yeah, to make you mad. I'm just welcoming me, welcoming you to the neighborhood. Why? Why did they have to learn about death? Because it's perhaps the most important thing that a shot a child should learn about because they're constantly trying to die. And then later they're talking as a family at the breakfast table. And, ah, they're talking about neutering church. The cat and Ellie is like, worried that something's going to go wrong in the surgery. And this is Ah, her reaction to Louis. You know, being a doctor and saying most likely everything will go fine anyways, so it should be all right, honey, You promised Daddy. Don't shilly shally. Louis, Give the little girl a promise. Church will be fine. I promise. Uh, don't shilly shally. Louis. Shut up, woman. Don't shilly shally. Louis, give the little girl a promise. It's like, Yeah, but how about you just stay out of it? Yeah, but there there's a chance that something could go wrong. Sure. Like he's a doctor. A him of all people is going to be like, Yeah. I mean, there might be something going happen. But it's not so definitely be gone either way. S o. The premise behind having him neutered is Judd is like you should get that cat neutered. You should tutor up that cat because new neutered don't wander it so much, they don't wander, but yeah, they d'oh. I mean, but also, Yeah, just a road a couple feet away from your house. Yeah, and that's not It's not like they're tied to your house once. They don't have nuts. Yeah. Was the implication on that toe, like nude or his child? Should should he have neutered his child and then his kid wouldn't have walked into the OK, so I don't have boys, so I don't know e I just deal with girls all day. No. Yeah, yeah. It's kind of Ah, bad idea that. You know, if you have a cat that's an outdoor cat, it's just now Door cat? Yeah, it's gonna wander around, and it and it better know its way around the street. Yeah, or else it I've had it be. I have had several cast that have died by getting hit by cars. It sucks. No, it doesn't. It doesn't, um Okay, so cat dies and Judd takes them to Indian burial ground. Of course, the cat comes back and the cat is scary like that Best holdup in terms of like, the jump scares with the cat. I thought so. Do you think so? Yes, Absolutely. This is church hissing with his eyes glinting in the dark is forever burned into my brain. That is one of the most iconic horror shots of maybe of all time. And in the nineties, it was used in a commercial. I can't remember exactly what the commercial wass, but they played it over and over again. And I was little, you know, I was like, seven or eight and and very much like to this day. That's one that's one of these shots that is just going to live on for forever. Really? So, like, yeah, the jump scare when church appears again, is great. And then also the part where church scratches Um, it was, like, really effective to To me. Yeah, because for a number of reasons, because that's exactly what a cat would tio. Apparently the cat. I thought it looked really weird to me like it was weirdly like compact. I don't know. I guess it's not that weird because they had, like, eight different cats. Plane? Church? Yeah, those those cats there, a blue something, and and all of them look exactly the same. So it making it the ideal cat for extras because you got one of them. This one over here looks just like it. Yeah, um, I guess, Yeah. When you film with cats, you can't teach a cat to do more than one thing. And so they had to use, like, eight or nine different cats. And really, you're not really training the cat. You're just using the cats that have that natural profitability proclivity, like, All right, we need to train a cat to scratch you. Let's just find a cat that scratches people is getting angry, one or, you know, mess with his tail. We need We need to catch the hiss of the camera touches tummy. Let's let's find a really pissy cat. Are you going touches? Tell me them always makes a man. Um, so, yeah, the bringing the cat back toe life is you know, something? It right about that cat is definitely undead. The daughter's complaining about how states she's like well and also like we passed one of my favorite scenes in this movie, which is Judd calls Louis over to his front lawn. He's like a Louis. You got something going on? I want to see. That's all right. I got a, uh, I think is that your cat? And it's dead and is sitting there on his grasp on right next to the road. And it was like, Sure is you played the clip. Yeah, that's true. Char very, very emotional church. All right. And and then after that, he peels church off the grass like the grass has The cat has been sitting there for a week because the grasses like intertwined. Well, they mentioned how was Frost have, like it frosted over ongoing Jed Judd specifically said, like, No, the cat wasn't alive when you buried it. There's no there's nothing alive that would peel off the ground like that, right? Like it was frosted over. Yeah, yeah, that's what I love that scene because of the effort he has to go through to pick that cat up off the grass is like a Velcro. Yeah, and so that that whole part of setting up the cat returning. It's pretty low stakes. Yeah, you got You got a nun dead cat, which really acts like a cat. Anyway, a crazy zombie cat is, you know, pretty close to an actual cat. It right? What happens when you bury like fish in the pets? What then? It is a goldfish like because it doesn't need air or water anymore. Yes, a little confusing the rules with with the world because, um, they come backto life. But you can still kill him pretty easily. Yeah, and further. So things were dying all the time and getting buried in this pet cemetery. Well, it's not the pet cemetery. It's the Indian burial ground beyond it. Right. But but But things are being buried in the pet cemetery. Yes. Oh, wait, I'm Yeah. So what if so, what if, like, a cougar dies in the Indian burial ground? I think you have to be buried, is the thing. Oh, okay. Mm. Yeah, that's rough. But anyway, yeah, I mean, it's kind of like they're not that hard to kill after they're dead. Like he kills them with, Like, a sedative. Yeah. You look like a drug. Go away, kitty. Um, so then the like, The most harrowing scene happens after all. This a set up of the rules of this Indian burial ground. Then, of course, gauge the little toddler, the que dis little boy in the world. And what a cute he runs into the road and gets annihilated by a semi truck. Yeah, pulling man just and just a reaction of of the family is feels really genuine. Well, yeah, I really believe that. They just lost a little child, and then they have a funeral for Gage. And the father in law is the biggest in the entire universe. He sure is. Like I told my daughter that he would on Lee bring pain and look what you've done. Look at you now, like, wow, does. I can't think of a better way to get murdered in plain sight. Yeah. Then to confront someone who had lost their child, lost their child at the child's funeral, telling them that it's their fault. Yeah, that if my father in law did that to me, I would strangle him right there. Wow. What? He No. Okay, well, at least there's no no risk of that. And then, of course, Judd, you know, knows what Louis is thinking. Hey says no, don't do it. Don't don't don't bury gauging the don't do that thing. And of course he does, because yeah, I mean, so that asks a good question, right? That's a That's a worthwhile question. If you lost your kid and you were in the depths of despair because, you know, assuming you didn't kill yourself, Yeah. Ah, how appealing would that be? How appealing would it be to be able to bring him back to life in any way, at any level of, like, even knowing, even watching? Okay, so you okay, so you have a pet cemetery situation going on at your house. You have a trail that leads to an Indian burial ground not far away. You watch the movie and then you lose your child and then you go. I know I just watched the movie about this thing that shows how bad this will end, but you might still do it. Here's here's yes, you would. And here's why. Um Number one. You look at how people react to family members on their deathbed and, like, end of life care like people are vegetables. They're not, they're they're never coming back. And they'll still put him on life's support for Aeon. Indefinitely. Yeah, because letting go is harder. Letting go is harder and they still have some talk. That person there, you know, whether it's just the body and it's And that is compounded infinitely when it's a young, vibrant child, right? And then the other side of it is a child that's a mindless zombie That on Lee wants to kill is really not that different than a toddler in general. That is to shape. But he'LL never darling, could you, could you tell? I don't think I could tell sometimes if if my child was trying to kill me because they're izombie or if they're just trying to kill me because I didn't let them finished playing with the iPad. Yeah, the lack of restraint is it's really it's just like, Hey, I know I owe man. Well, man, the other day, So we had we had a pair of scissors in the dishwasher and, ah, you know, the dishwasher in the kitchen shears or just Yeah, I guess I can't recall. No, I think they were just like scissors, like sharp scissors and because whatever would cut something open and had to be washed. And so the dishwasher was sitting open. And, of course, she grabs the scissors and she comes walking into the hallway down that, you know, from the kitchen were looking down the hallway at her with this Paris is and she's like, Look, this's I'm like, Oh,. Both of us were, like a little And so I'm I'm, like, carries almost screaming. But I'm like, just stay calm. Just stay calm. I was she wearing a red jumpsuit by any chance? And now a brown glove on one hand. Now her name was not Lupita Young. Go. So I will just walk. Very column Lee, you know, stay in rial. Hey, how about you give me those okay? You know, because it was like she's going Click, click, click, click, click. You know, she's got this is his work and actual work in that action, out like, Oh, God, please don't kill yourself. Yeah, I don't know where the scissors are in my office, because I'm I guarantee that Might my eighteen month or old just grabbed him and walked away with him. Kids. Kids air of get fun. They're fun. So the best part of this movie is dead. Gage. Yeah, he's He's super effective. Gabe Gage Gage wrote down gay percent gauge. Seen a little kid like literally with a scalpel. Carving up Fred Gwynne is, like, pretty horrifying. Yeah, it's really effective because the child's play come out before this or right after I think. Before I think Child's play was eighty eight. I mean, I think it was like for some reason, that was the heyday of really selling that image. Oh, yeah, a little tiny baby or little tiny something like something killing you. Yeah, because yeah, gremlins really kicked that all off gremlins and then, uh, kicked off the whole small thing coming in. But it's also now it's really hokey. It's like you would only see that in the movies. I guess they're remaking child's play. But when kids well, yes, like Gremlin, ask stuff stuff that's not a person. So like gremlins and egg. What? What's that other one that scared you? The cut of the box are girlies, girlies yeah, and hob goblins and all those critters. All those, By the way, new critters just just has been made and released on Shuter. Enter HMT it. Check out and check out the wacky. We gotta review this one because it's crazy. But but so back to it like little kids, though, are always going to be a staple of horror, right, because it just makes sense. There's so like if you if you have a two year old and she walks into your room at night unannounced quietly, it's alarming because there's this tiny little silhouette of a thing moving around in your house. You know, it clicks a lot of terrifying, you know, just checks all those boxes. Um, the scene with with Louis Fighting gauge our zombie gage is probably the worst in terms of special effects because it literally looks like not even a really good doll. That looks just like throwing around I shaking him like you ever trying to trying to breathe life into this doll by shaking it. Yeah, and it's kind of interesting the director, so But they really went to great lengths to not traumatize this kid that any scene with blood or cutting or anything that he wasn't on set. They just, like, would intercut him into it. Think the only thing that was remotely, um, scary would be He was He was there when he get gets injected in the neck. And that little kid did a really great job. You got to say he really especially considering how old he was. So he's tiny. He was, like, just barely over two years old. And he's a tiny, tiny kid. Yeah, just looks. He looks like an eighteen month old. Just a little taught and And yeah, no, he the way they did it. Yeah, the whole way through your kind of going Jesus Christ. I hope they didn't traumatize this kid like very badly. But also, you can see the spots where they don't You know where the effort is being made? Not too, because there's a decent amount of kind of jump cutting what you know, or like showing a hand like a little tiny little tiny and with a scalpel instead of gauge with a scalpel exact, like enacting the violence. You know, you'LL see Gage with the scalpel, but the violence is done by has done with a shot of a hand with this tiny hand with a scalpel. So that kind of stuff kind of makes me feel a little bit better about the fact that this kid is not heavily traumatized. I got to say like that. Those scalpel seems pretty effective. Like Gore like him cutting up Judd Judd was like, Poof! Carbon and carbon is like Achilles ten. Big got really gets in there till and like his faith. Yeah, yeah, well, and that's the thing that's scary about child's play and on all these these things, right? Because if you're if you're if your legs dead, If they get your and they always dio like in Child's playing Pet Cemetery and all these movies, it's like, Let's go for the Achilles And you'd be up for out for the count, you know, maybe for life. So, yeah, the the other. The other part of it is Louis killing his kid a second time off, like and being, you know, doing it by his own hand. Even though it's a zombie kid, you could still see that. That was, like painful. Yeah, I can't imagine how how bad that would be. Just be like I got to say goodbye again, you know? Yeah, it's like a mercy thing, which is not easy, but you just have to kind of, you know, like I don't know when I when I mean that is a really interesting like parallel to this movie of just life support, having a having a family member on life support and, you know, they're never coming back. Like like how people deal with death. And the answer is not well, right. It takes it. I'm always I'm all. I am impressed by people who are able to hunt because it's that's an impressive ability to be able to separate yourself even from killing an animal. You know, like like I remember as a kid, you know, we had acreage and I would mow the field, you know, and Ah, and I'd run, you know, you just run over a little field mice and then they'd be kind of like, you know, in the throes of death. And as a kid, you know, walking up to him, being like I have to I have to kill this thing, Teo, because that's that's the right thing to do. Like, yeah, I heard it and, you know, step anonymous or whatever, and but that's very difficult to dio. Its not, it's takes stills, takes a little p C. A. You know, and so being able to divorce yourself from that is impressive to me. Yeah, kinda interesting. Like how other cultures that air closer to nature, right, are better with death or more respectful about it. Much more so, for example, the Indians like Indian burial grounds. There's a lot of, you know, symbolism around that of just showing there's more respect for life in the circle of life right now where they're not trying to. You know, a lot of lot of Native American rituals are just leaving the body out and letting nature consume it. Yet there's and or just kind of returning it to the earth as opposed to, you know, Western cultures there. Let's preserve this to make it look like it's a life for a CZ long as possible, because we don't want to admit that this person's gone right, and ah, and then just in general of just yeah, consuming meat, like having being a hunter and being having an intimate relationship with the thing that you're killing and eating yeah, is a lot more meaningful than just picking up a pound of beef from the supermarket. Yeah, and it's much different than trophy hunting, right? It's not. It's not joyous. Two. It's not joyous in a hurry. I killed this thing. It's not the The joy doesn't is not surrounding, you know, getting, you know, acquiring its its surrounding, You know, Thank you for giving your life to sustain my life, you know, and and paying respect. Yeah. Yes. Ah, life and death is fertile ground, too. Explore. So, final recommendations. Who would you suggest would like Pet cemetery? If you're a horror fan, you really just need this in your You really need this in your repertoire. You know, you need to have I've seen this to be able to discuss it. It's important. Yeah, and especially if you're a parent. Like, if you're a parent with a young family, this movie is horrifying. Yeah, it will be. It'll it'll it'Ll hit those buttons for you. Yeah. All right, go see it. See it before the remake. The remakes coming out tomorrow If you're listening to this podcast on the day of release and we'll be reviewing the remake next week, so tune in next Wednesday. Also check out we have a blogger on horror movie talk dot com. It's our latest blog's so just and it's and it's Keith comparing Well, you know whether or not the pet cemetery needed to be remade, basically, is the question he asks and and tries to answer in this log. And it is a big, long blawg that really delves deep into that and the idea of remakes itself when, when it's necessary and when it's not. In fact, don't go to our website directly. If you search Pet Cemetery Original versus Reverses remake, it should come up on the first page and number one click, click through the horror movie Talk and read that article. It is really good, and it's he wrote it mostly just based on the trailer. He's goingto update it after he sees the new movie by help. So yeah, most of it, you know, reading over it like it's more like you said. Just an argument about whether this needs to be remade or not. We're the changes that you could see in the trailer worth it. Yeah, and he's really fair about it. And and this is This is an interesting like that, in my opinion, really doesn't need to be remade. I get why they would, you know, this's going to be one of the biggest horror releases of twenty nineteen is my guess. You know, just because Pet Cemetery, I mean its legend. It's a legendary horror movie, but I can't. I just can't see what they're what spin they're going to put on it that's going to make it. That's going to add anything. All right, so let's move on to our game, the Rotten Tomatoes game. Right. Rotten. We've got a record that in earnest, Rotten tomatoes. Game is where I list off a couple movies. And David has to guess which one has the higher tomato score. Taito meter score on the Taito Mitos made me No, don't call. I'm right. This is a themed addition of all the Stephen King animal related movies. Wow. You were able to compile with other animal related non horror animal related movies. Okay. All right, but yeah, there's just barely enough like actual Stephen King adaptations that it works. Okay, Okay, first. Stephen King's Sleepwalkers. There's a TV movie versus Homeward bound. The Incredible Journey Eyes that homeward bound. The Incredible Journey is the one that we saw his kid, the one that was released, like ninety in the nineteen ninety ninety two Michael J. Fox Pups. Yeah, boy, that was a great move. Well, but it's so hard to say, all of these movies that I picked are like my childhood movies, and I also I thought, their whole grade. Wow, you're casting aspersions on homeward bound Now I feel like I saw that movie so many times like that was just got worn out VHS player. I really can't see. I really can't see a made for TV. Stephen King. What? Beating Homeward bound. Like one of my childhood favorites. So I'm going home or bound on this one? Yeah, that's one of the easiest one. Sleeping sleepwalkers was twenty percent and homeward bound. The incredible journey was eighty seven percent bank. So really good. What was sleep? Sleep waters. Sleepwalkers was the one that I thought was pet cemetery like, That's the one I remember scene and it's got like and involved cats. I can like a weird alien zombie virus that turns people into cat. Now, is there somewhere we got? That's the Stephen King. I know that this pet cemetery totally makes sense pretty good. But I remember, like, when seen stuff about Pet Cemetery to only show that cat, I'd be like, I remember seeing a really Stephen King cat movie on. Like I can understand what people are talking so fondly about this pet cemetery because I remember it being a real piece of. Yeah. You know, a pet cemetery really falls into that nostalgia zone with twin peaks and just Oh, and misery, You know, like just good kind of interesting spot in history. Okay, next up, Kujoe versus Benji the Hunted Wow! Benji The hunted That's also in the like a tease, huh? So and Qiu Ju I've never seen Never seen Joe Benji The hunted was probably my favorite movie when I was like a toddler Ah, Benji happen. She was great Just watching a little scraggly dog run around and do your stuff. Look, the dog's doing stuff. Oh, he's walking down the street. I liketo walk down the street. Yeah, um who This is tough because I'm sure Benji the Hunted does not get thie the reviewers coming back and looking at it Nobody Nobody has reviewed Benji the hunted since since it came out. Oh, I don't know. I mean, come on, Netflix, He really OK from Netflix? Okay, All right. So here we go. Benji the hunted. I'm still going to go. I'm still just because of the I will say that there close. I'm just going to say just cause of the cult aspect of Kudo. Don't go with Kujoe, Alright? You're correct. Mean Kudo is sixty percent and Benji the hunted is fifty six percent. Ah, Poor Benjy. Be nice. A little pup. All right. Another really close one pet cemetery way just reviewed versus Turner and. Starring Tom Hanks and Big Ugly Dog. Um, Man, that's rough. I'm guessing that pet cemetery is sitting somewhere in the seventy to eighty percent zone. Probably like low eighties, and I'm going to guess that Turner and is sitting. That's tough because the audience score on Turner and is going to be high because people really like early Tom Hanks. Well, it's not the audience know, I know, but and that's what I'm trying to, because because I'm thinking public sentiment. But it's that's not what this is about. I'm going to say I must say pet cemetery because I think it's just gotten more love over time saying it, You are wrong Oh, pet Cemetery was fifty percent. Why It's not even fresh shocking. To me, this is a good movie. Fifty five zero five zero Wow! And Turner and was fifty two percent. All right. Next The Adventures of Milo and Otis. Yeah, How man I love that one versus Stephen King's Cat's Eye Cats. I. This isn't about animals. It is called cats. I like cats on it. What's his thing with cats? Cats? I Cat's eyes like a casino is a three. It's like it's kind of like creep show. It's got three short stories that I don't know anything about it, but I thought I had a cat on the cover and it's called Cat's Eye. So included it. I think we really need to get deeper into watching more Stephen King. You know, movies, because I have I as almost a za rule I've there so many, though there's no way we could do it all. I mean, that would be a podcast itself. Thinner. There's like there's, like, forty movies, like If you look on Wikipedia, it's it goes on forever. Lawnmower Man was one. Well, like Lan Mar meant Well, the lawnmower man that we know there's only based on the title are like they only borrowed the title. It has nothing to do with his story, but they still counted on Wikipedia. Yeah, there's a lot Okay, So this is Milo. Notice versus Cats. I, uh Bye, Milo. Notice has to take it just based on the fact that it's awesome and I've never heard of Cat's eye. All right, you're right. Yea, Adventures of Milo Notice is eighty Stephen King's Cat's Eyes sixty seven. That's three out of four. So far, you have one last one. Ah, yeah, Yeah. Okay, babe versus Pet Cemetery, too. Wow. I mean, uh, I'm rack your brain. I mean, I don't know. Wait. There's a pet cemetery to Yes, there is directed by the same director. Wow. Mary Lambert. Wow. I wonder what she did. Is it good? Lets find out. I'm going to say this is not big in the city. No, if there is no they What a great movie that wass Bahram you, Bryce. I've still never saying that You've never seen Babe. Oh, my God would do to life, bro. Do you know you got kids? You need to show him, babe. Okay, It's the best. It's such a cute little baby. I bet somebody ate him after that. I'm going to go, babe. It's a pretty safe bet. Think Bay was nominated for laying Academy Award. Yeah, baby came in at ninety seven percent. Wow. And pet cemetery to came in at. Why don't you just guess what? The score for pet cemetery go twenty to twenty five percent. Twenty finally closed. All right, So you dominated that game. Yeah, that was good. I did good meat. Good, good. Jolly. I mean, I was tryingto find enough Stephen King movies that the ones that I found a really bad So it wasn't that hard. I should have just found really bad animal movies. No. Yeah. Yeah. You know, Babe won an Academy Award for cute pig if just for they just create that category that year, right? And, you know, it was wasn't hard because there's a lot of yeah, ugly pigs. I was really surprised at how low Benji the Hunted in Turner and. God, Is that really surprising, though, Like, it just must be like I probably didn't have really good taste. Is a kid no Say that ain't so your movie reviewer Horror movie. Look atyou. You've come so far. Bad taste like And Benji. Benji The hunted was great. It was Benji the cute dog. Except he was hunted. Yeah, scary their stakes. Now they should remake that movie. Who has a horror movie? The real question. Does that issued the origin? Make a sequel? Benji the Hunter. Oh, Benji's or Van shifts. All right. Thanks for listening to the show that the road Benj Rabb, Adams or a Benji, the Hunter Ra Benji. Hey, Benji gets his revenge. Ah, all right, that's all we got for today. Thanks for listening. Please share the podcast with a friend. We've got convenient links on our website at horror movie talk dot com Again, If you want to get a thirty day free trial to shutter, there's lots of exclusive content on there. That's your horror movie fan or even a TV fan. Yue's hmt it. Check out again. If you are just clamoring for ways to support the show, you can go on our website horror movie talk dot com and click on the Amazon. Ah, bunter Henderson Amazon Button in the banner and pretty much do any of your Amazon shopping and we'll get a little taste of that. So thanks again and join us next week when we review Pet Cemetery might. Sorry that Cemetery two thousand nineteen. Yeah, the remake, The remake The Remix Baby Bye Yeah.
Quick Take on Pet Sematary 2019
Forgive the shitty audio, but we got to see an advance screening of Pet Sematary 2019 and we wanted to share our impressions immediately upon returning from the theater. Check it out, and stay tuned for our next episode where we'll do a full review.
Read more on our blog
Keith has written a stellar blog on Pet Sematary that you should check out: