Podcast: Play in new window | Download (Duration: 54:57 — 37.7MB)
Subscribe: Google Podcasts | Spotify | Amazon Music | Pandora | iHeartRadio | Podchaser | TuneIn | Deezer | RSS | More
We saw Terrified AKA Aterrados on Shudder (it's a Shudder exclusive) and goddammit, it was a scary ride. This is an Argentinian horror film that knows how to terrify you – and holy jesus is it a blast! This movie is worth the price of entry and then some, if you are a horror fan you must check it out!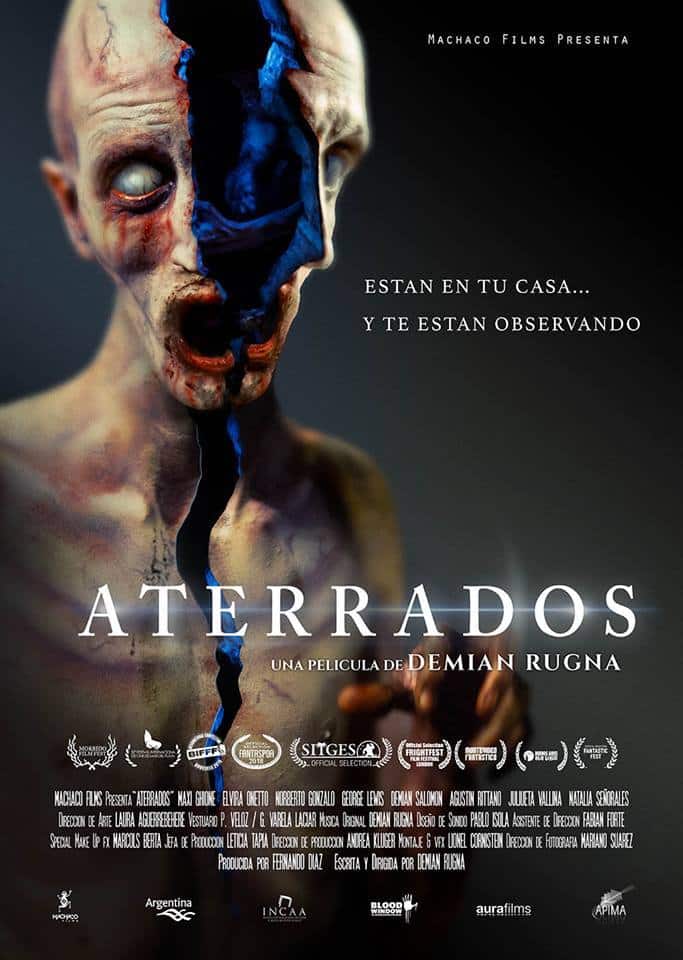 Also, if you are a horror fan, you should check out Mondo's Hottest Horror Products Now!
Terrified (Aterrados) Overview
Terrified is an 87 minute powerhouse of scares that skips all the story and exposition, instead choosing to head straight for the meat on the bone – scares. It utilizes a super-interesting format that allows it to focus on a few different story lines at once. As the movie progresses the story lines intertwine into a cohesive web of terror.
Terrified introduces us to a neighborhood that is plagued by an infection of sorts. The symptoms of this infection include the dead brought to life, strange creatures that resemble corpses, and invisible/visible spooks that seem to live in the dark corners of houses and apartments. A team of researchers and cops spend a night in the three houses affected by this plague and end up finding more than they bargained for.
Check out Our Review of Evil Dead (2013)
Terrified is remarkably effective at what it sets out to do – scare. It utilizes some great camera work, sound design, acting, and visual effects to produce a real terror of a film. It doesn't pretend to be anything it's not, and as a result the viewer doesn't get much of a chance to breathe. It's tight, and it gave me real scares, which seem to be hard to find anymore.
Our Score
9/10
Join Shudder to Watch Terrified
Use code "HMT" at checkout for a 30 day free trial
Terrified (Aterrados) Spoiler
Terrified starts out in a couple's apartment. Juan (Agustín Rittano) and Clara (Natalia Señorales) are plagued by what they believe to be their neighbor hammering on some DIY project every morning at 5 AM. After a couple mornings, Juan wakes up to his bed empty of Clara, but the hammering is still in full swing. Juan walks outside and buzzes the intercom in his neighbor, Walter's (Demián Salomón) front yard. No one answers, just heavy breathing. As he walks back into his house and into the bathroom he witnesses his partner levitating, lifeless, and vertical in the bath, being slammed back and forth between the two, tiled walls.
Check Out Our Review of Pet Sematary (2019)
The focus then changes, and we get to see a bit of their neighbor, Walter's week. Walter lives alone in this duplex he shares with Clara and Juan – or so he hopes. Walter seemingly lives in constant fear and mental anguish of something else inhabiting his house. Something is constantly unplugging his nightstand lamp and alarm clock, things move throughout the house, and Walter appears to be on high alert. As the viewers, we are granted a look at the thing that lives in Walter's duplex with him.
Check out Our Review of Us
Finally, a small child is killed when coming too close to Walter's apartment. The child rises from the grave and makes his way back home to take his place at the dining table, a decomposing little boy. His mother, Alicia, is understandably beside herself and contacts the authorities, who show up to investigate.
Want to Watch Terrified?
Click the button to watch it on Amazon
At this point the three storylines morph into one when two detectives and a paranormal investigator who had been called by Walter when he was of semi-sane mind. The three decide to spend a night in the three houses in question and find quite a bit more than they bargained for.
Deadly Serious Slasher Fan? Check Out our Child's Play Review!
Terrified (Aterrados) Sound Design
The sound and sound design in Terrified is fabulous, and really understand how to work around tension and scares.
Terrified (Aterrados) Camera Work
The camera work is adept and is great at building tension with slow, back and forth panning shots that work to block the viewers at key points in the tension builds.
Terrified (Aterrados) Final Recommendations and Summation
This movie does not need lots of exposition, story, or plot. This is a vehicle to scare the shit out of you and it works. The subtitles don't get in the way one bit. If you are a jaded horror fan that just want's something unnerving and spooky to scare you, Terrified is your jam.