Podcast: Play in new window | Download (Duration: 1:00:55 — 41.8MB)
Subscribe: Google Podcasts | Spotify | Amazon Music | Pandora | iHeartRadio | Stitcher | Podchaser | TuneIn | Deezer | RSS | More
Paranormal Activity: The Ghost Dimension is available to stream on Amazon and is probably the weakest movie in the Paranormal Activity franchise. This is a Christmas horror movie as the whole thing involves a house with a Christmas tree in it. Let's face it, that's as close to Christmas horror as you should want to get. It does do that satisfying thing that all the Paranormal Activities do which is tie back into the others nicely.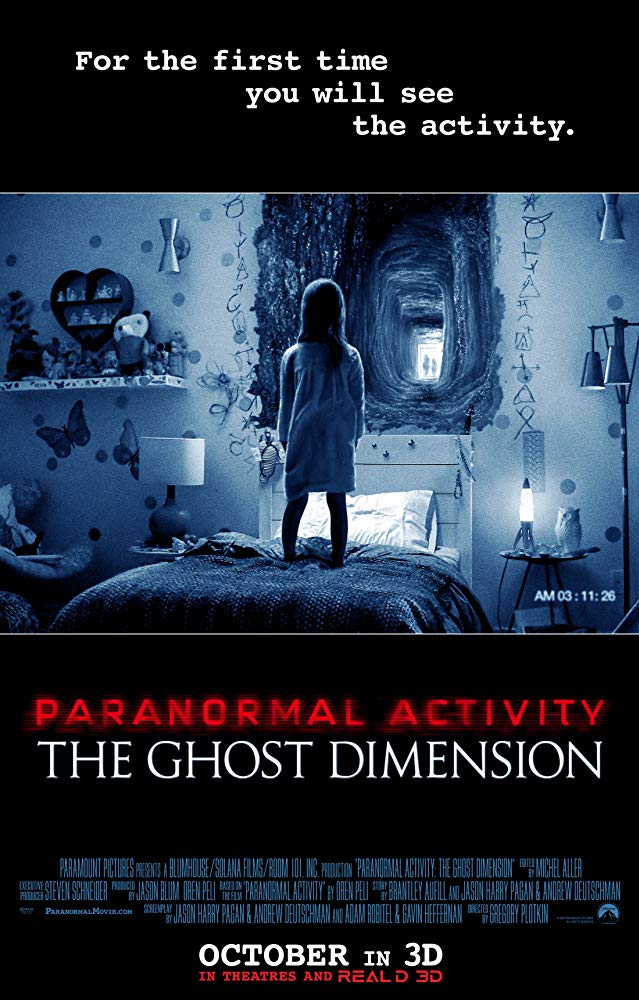 If you want to watch Paranormal Activity: The Ghost Dimension, please consider renting or purchasing the movie through this amazon link to help us support the podcast.
Remember Toby? The demon from the Paranormals is back in this movie, where he focuses on an entirely new family who bought a house that was built on the same site as the house from the third movie. The house from the third movie burned down, and this is what's there now. This family has a child who becomes the focus of the demon Toby.
Ghost Dimension was released in 2015, and it was the scariest thing of all…a 3D movie. They took a good premise and fucked it out, pretty hard.
My Rating
5/10
Quick Summary of Paranormal Activity: Ghost Dimension
Ghost Dimension stars a family of three: the dad Ryan (Chris J. Murray), mom Emily (Brit Shaw), five-year-old daughter Leila (Ivy George).
It starts light and ends heavy, like most Paranormal Activities. The family who lives in this palatial house is being visited by a super sexy family friend, Skylar, who parades her jubblies around like everyone's business. Skylar is played by the stunning Olivia Taylor Dudley.
Check Out Our Review Of A Truly Scary Movie, Terrified!
Mike, Ryan's brother who is fresh out of a long-term relationship, is also visiting the family during Christmas. Dan Gill plays Mike.
Ryan and his brother, Mike find a box outside while putting up Christmas lights. The box contains a bunch of VHS tapes and a souped-up video recorder that would make Doc from Back to the Future jealous. The camera allows the user to view the Ghost Dimension.
These tapes reveal a good portion of footage from the '80s where the original sisters Katie and Kristi were used by the cult present in the third and fourth movie to foretell the future and communicate with Toby.
The Problems With Paranormal Activity: The Ghost Dimension
One of the many problems with this movie is that it focuses too much on boring 3D visual effects. There is a soupy 3D fog that the viewing audience is constantly forced into by whoever is piloting the ultra-camcorder. It's supposed to be spooky but ends up being boring.
There are quite a few visual effects in this movie that are cool to look at, but not as effective as a real person standing over their significant other for three hours or more while they sleep at night. There is some goop that shoots from floor to ceiling, and some demon figures that zoom around so fast you can't make out more than a blur of movement. Overall these effects don't do a lot for Ghost Dimension.
Another issue that Ghost Dimension suffers from is showing the spook. The reason the Paranormal Activity series work is partially because you don't get to see the spook, you just get the aching feeling that it's there. The Ghost Dimension replaces the effective nothing, with a shitty something, and ruins the whole thing that made the series work in the first place.
Check Out Our Review Of Summer Of 84
As far as found footage goes, this is a pretty weak entry to the genre. They don't use the stationary cams that made Paranormal Activity stand out as a series. Instead, they decided to go with, not a shaky cam, but a handheld camcorder. The dreadful feeling of being forced to look at a still frame for 15 seconds at a time is done away with and replaced with a format that tells you where to look instead of forcing your eye to find the action.
What Paranormal Activity: The Ghost Dimension Does Right
Ghost Dimension does a good job of capitalizing on the story of the Paranormal movies. It's eerie to see how the VHS tapes refer to the family in real time. Having a little girl in a pre-recorded VHS do live commentary on me watching TV would be enough for me to shit my pants, so I give Ghost Dimension credit for that.
It's also part of one of my very favorite movie franchises of all time, so while I am able to really focus on the bad, overall it's a solid "C" of a movie. It had a good budget and some decent acting.
If you are a sucker for found footage movies, The Ghost Dimension will be right up your alley. If you have friends who are very satisfying jumpers during jump scares, it will be fun.
If you want to watch Paranormal Activity: The Ghost Dimension, please consider renting or purchasing the movie through this amazon link to help us support the podcast.