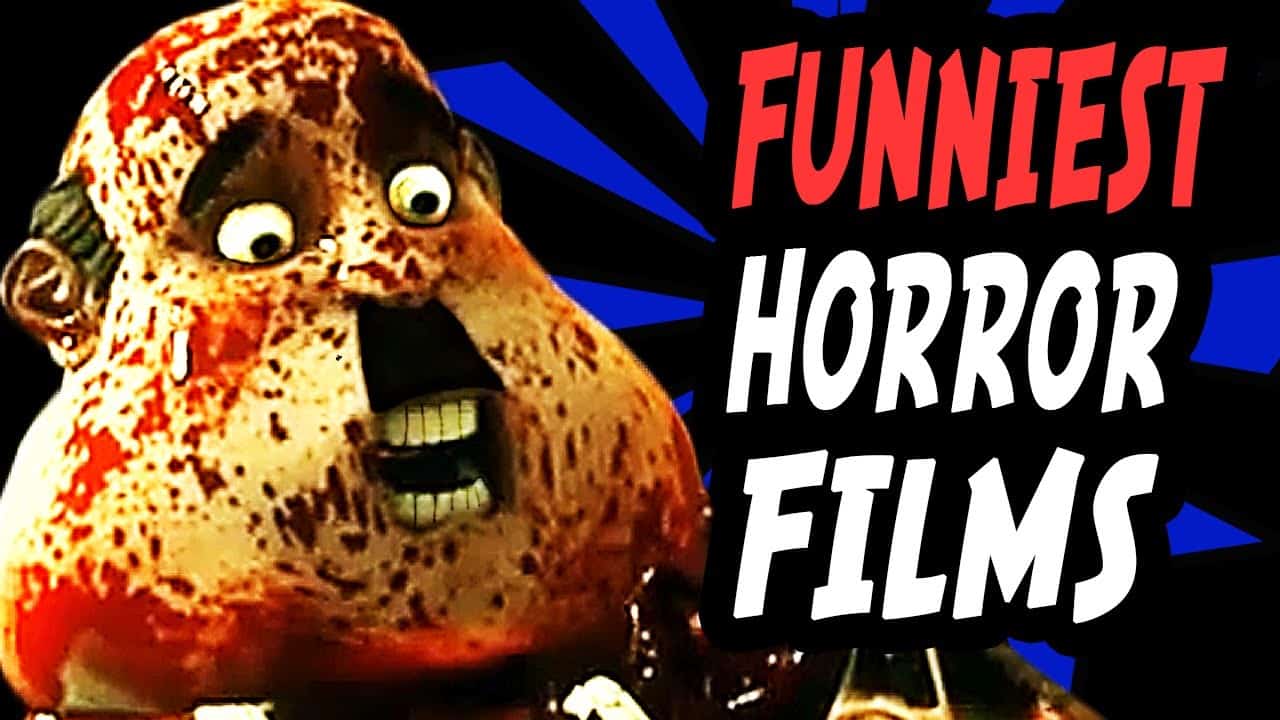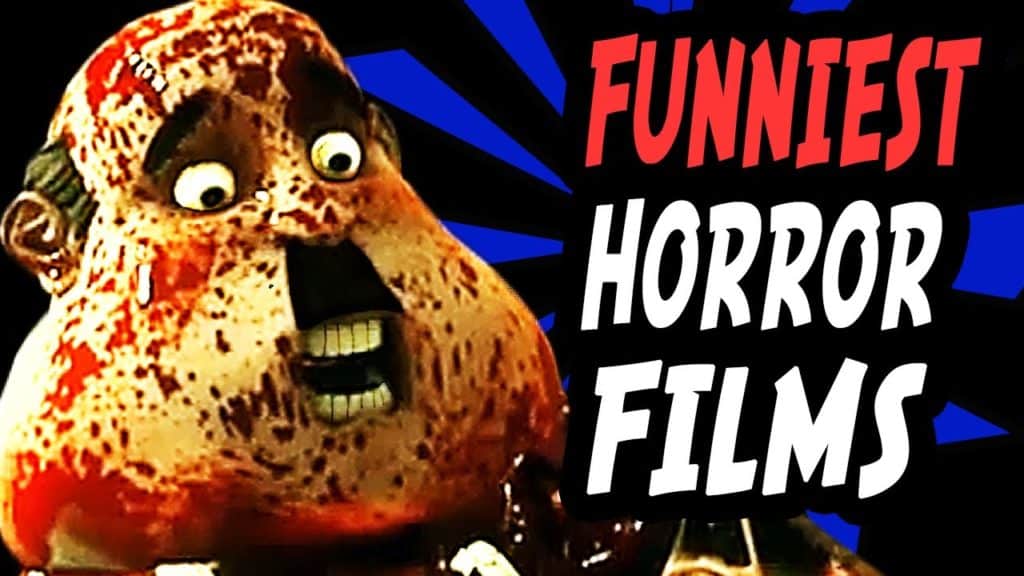 Comedy and horror? Can they actually go together? In fact, yes they can, and it makes for interesting funny horror movies. Sometimes the storyline gets lost, and people enjoy it for the comedic laughs it can provide, because you need that break from jumping, haunting, and the rest.
Sometimes what makes a horror movie comedic too would be that it's plain bad. Most comedic horror movies are intended to make you laugh, even if it is a spoof of a movie to make you not-so-scared of the original anymore. So let's take a look at some of the best comedic horror movies
This movie is a spoof movie of the classic novel, Frankenstein by Mary Shelley. The movie has also been ranked as Number 13 on the American Film Institute's list of 100 funny horror movies in America. The visuals of this movie as well as the inside jokes that border on adult material.
Gene Wilder did a great performance of making this movie a riot to watch, as well as being an homage to the original Frankenstein. The gestures, movements, and the jokes make the movie comedic, along with Igor and the other funny characters.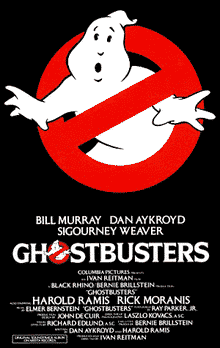 The bad graphics, weird storyline, sexual innuendos, silly ghosts, and a big puffy marshmallow man – who you gonna call? Well, looks like the comedic group of Ghostbusters can use their high-tech ghost vacuums can help you sweep them away. Bill Murray made the movie by improvising a lot, along with his interwoven comedic gestures. The movie has a lot of sleazy charm, and makes every scene one that will cultivate pure laughter and joy.
The ghosts are comedic in their own right because they are silly, slimy, combustible, and puffy. The names of their machines in the movie make it hilarious because they are made up on the fly. It is considered a cult blockbuster. This movie inspired other comedic horror movies such as: Casper, Ready Player One, and this year even has its own house at Universal Studios Halloween Horror Nights.
Everyone knows that water and gremlins don't mix, right? In this cult classic and comedic horror tale, there is some violence, practical effects, and cameos by some big names. Ironically, it was released the same weekend as Ghostbusters.
Interestingly the idea of what gremlins were began back in World War II times, when there were mechanical failures; the royal soldiers in the RAF would joke that little monsters – gremlins – were messing with it. What makes the movie so silly and funny would be the fact that it is a fun movie with playfulness and clichés. There are many moments in the movie where there are build-ups to where you know something is coming whether it be violence, laughs, or both!
Check Out Our Review of Gremlins!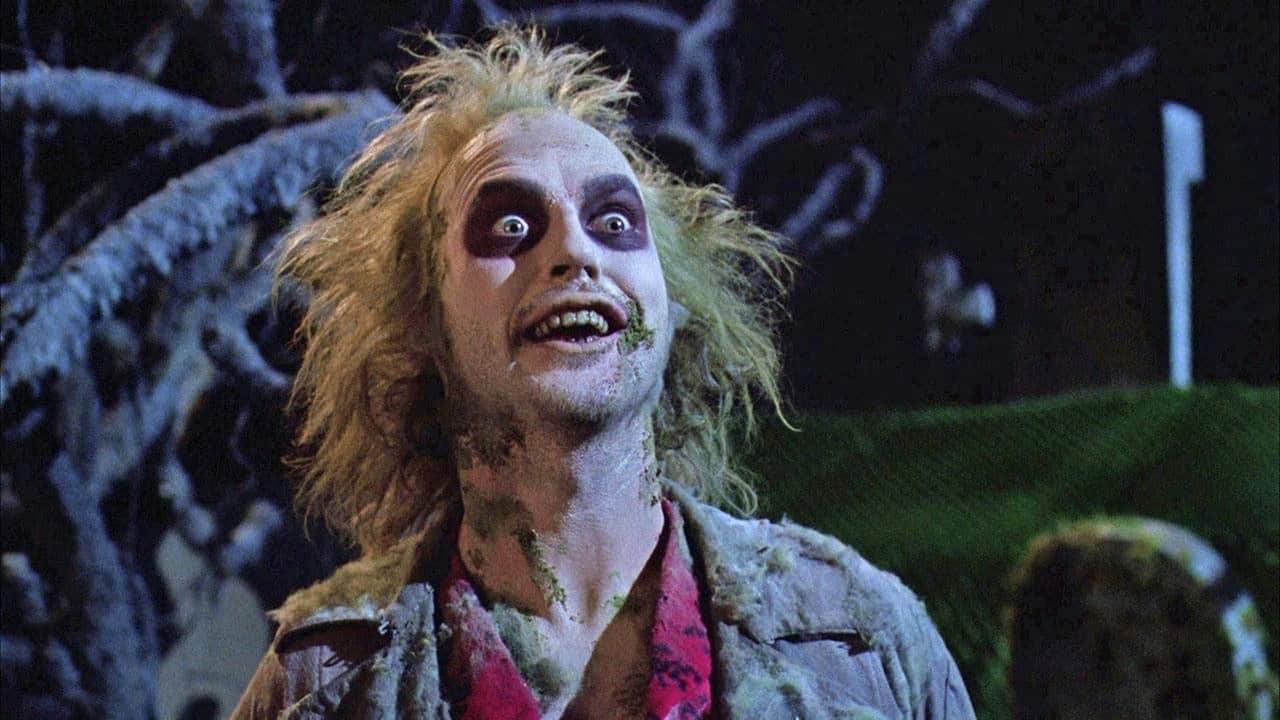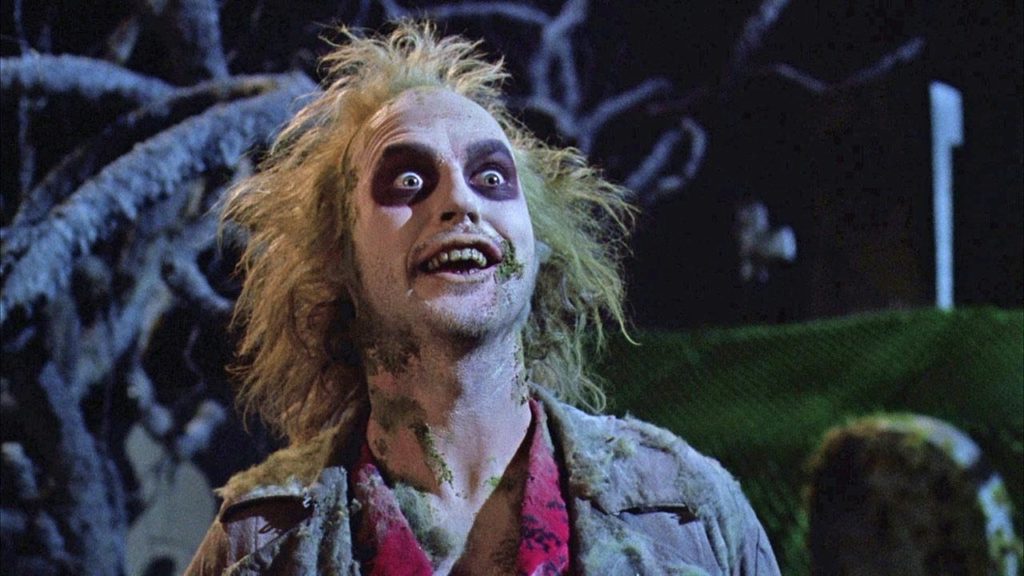 Say his name three times, and he shall appear! Michael Keaton's portrayal of the man in black & white stripes is hilarious and impressively, largely improvised. The effects of this movie were cheap and intentionally made to look fake.
The original script was written to be darker and less funny, but the writer decided that a change of pace with the direction of the movie. He achieved this by creating it from a weirdness and comedic standpoint was a direction that would be a risk, but worth it in the end. What made the movie so funny was the dark comedy, and of course, Michael Keaton's stellar performance.
With a cast like this, who cares if Mars attacks us, am I right? The movie was so cheesy and bad that it made it worthy of a list of funny horror movies. The idea for the movie originally hit in 1993, where it was originally going to be named Dinosaurs Attack!, but the concept seemed too much like Jurassic Park in 1993. This movie had twelve rewrites of the script, but when the writer came up with the final draft, it was released the same time as Independence Day. It was stated that the difference between the movies was, "both films had a similar story, but with different tones" (Gems).
The visual effects of the movie were CGI and stop motion animation, but like most of Tim Burton's work…he wanted it to look cheap and fake so that it could be deemed as hilarious. It was trying to do a lot of parodies from various movies and put them into one big amalgamation. They went overkill with the amount of saucers, aliens, and it shows.
To me, these parody movies are one of the best parody series that have ever seen the silver screen. They turned classic horror movies into parodies that give us a belly laugh. Each movie has their own parody vision, and what makes them funny is when the "monsters" are overdrawn or when a bit in the original movie is twisted to be funnier.
In the first movie – the parodies are as listed – Scream, I Know What You Did Last Summer, Sixth Sense, and even the Matrix. The second movie has parodies of – The Haunting, The Exorcist, Poltergeist, and The Amityville Horror. The third movie plays parodies on the following movies: The Ring and Signs. The fourth movie focuses on the movie of Saw and The Grudge. The final Scary Movie resembles Paranormal Activity movies, Mama, and Sinister.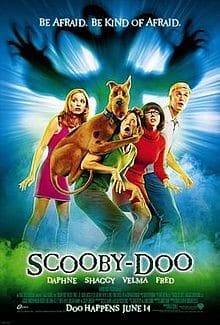 A jock, a stoner, a geek, a preppy girl, and…a dog? There is always a mystery to be solved with these five around! Based on the cartoon, this movie has become just one of those movies that you have to see (sometimes more than once) in your life. The "scares" are completely hilarious, along with all the jokes that come in between. Everyone's favorite dog is back to give us some scares, frights, and belly laughs to figure out who the mystery killer could be.
We all know behind each mask in this movie is a character somewhere in the movie. What makes it so funny is the cheesiness of the jokes, characters, and how 'bad' the plot can be. You can see the jump "scares" coming and predict the cliché that will end up happening. This movie is great for a first time 'horror' movie, and just an overall fun movie to enjoy.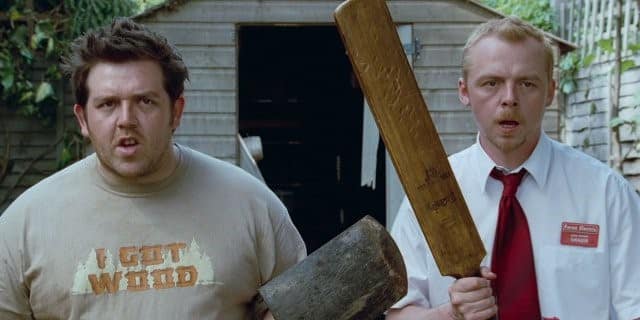 The zombies come to life in London. In 2006, this movie was ranked 3rd on the Outstanding British Film's 50 Greatest Funny Horror Movies of all time. Stephen King even commented on this movie, in which he stated, "This movie is a '10' on the fun meter and destined to be a cult classic." George Romero asked Simon Pegg & Nick Frost to appear in cameo roles in his 2005 film Land of the Dead because of their performances and writing abilities.
Simon Pegg and Nick Frost starred in this movie, as well as was written by Simon Pegg. It is part of a trilogy – which includes 2007's Hot Fuzz and 2013's The World's End followed. What made the movie so good and funny were the jokes, the improvising, and I think what makes the movie is the chemistry between Nick Frost & Simon Pegg. The kill scenes were dynamic, funny, cheesy, and sometimes overkill just to make the audience laugh.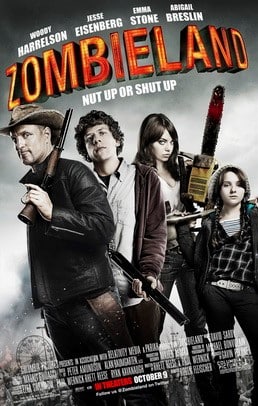 With the sequel coming out this year (2019) – I think it is a good idea to pay respect to a movie that makes us all laugh and want to eat Twinkies (okay, maybe not that far). You have to admit that this dynamic foursome has us full of laughter from the quirks, jokes, and extensive violence. The music aspect of this movie really ties in with the action. It surpassed Dawn of the Dead (2004) as the top grossing zombie film in the US.
I think what makes this movie catchy, and funny would be the 'rules' they set forth. Each rule has a consequence if you do not follow them. What makes another funny aspect would be the character's names, because they have actual names, but use the city they are from instead. Woody Harrelson improvises a lot in the movie, which going off-script always leads to real reactions from the actor's onset.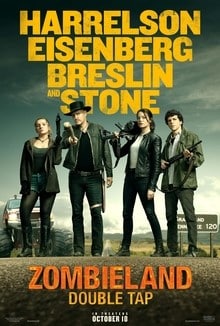 Be sure to catch the newest movie on October 17, 2019!
Watch the trailer for Zombieland: Double Tap here:
Tucker & Dale vs. Evil (2010)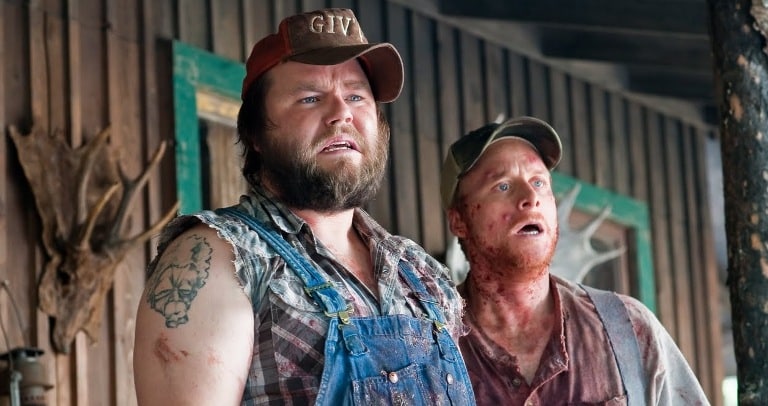 No list of funny horror movies would be complete without Tucker and Dale vs. Evil. This one was one of those films that was discovered after it left theaters and had a second life on streaming services. This is undoubtedly one of the funniest horror movies ever.
It deals with many tried and true tropes of hillbilly slasher horror movies, but turns them on their head. Honestly, the less said about this movie, the better. Don't watch the trailer, just watch the full movie now. You won't be disappointed.