Podcast: Play in new window | Download (Duration: 1:31:18 — 62.7MB)
Subscribe: Google Podcasts | Spotify | Amazon Music | Pandora | iHeartRadio | Podchaser | TuneIn | Deezer | RSS | More
We went and saw Us, and while it was an incredibly solid horror movie, it did not live up to the hype. Yes, it had good social commentary and implications. Yes, it is by one of the most respected (if only because of his single debut horror movie, Get Out) writers, directors out there, Jordan Peele. Yes, it starred an all-black cast. It's hard to follow something like Get Out with something even more impressive, and that's the only sin that Us committed.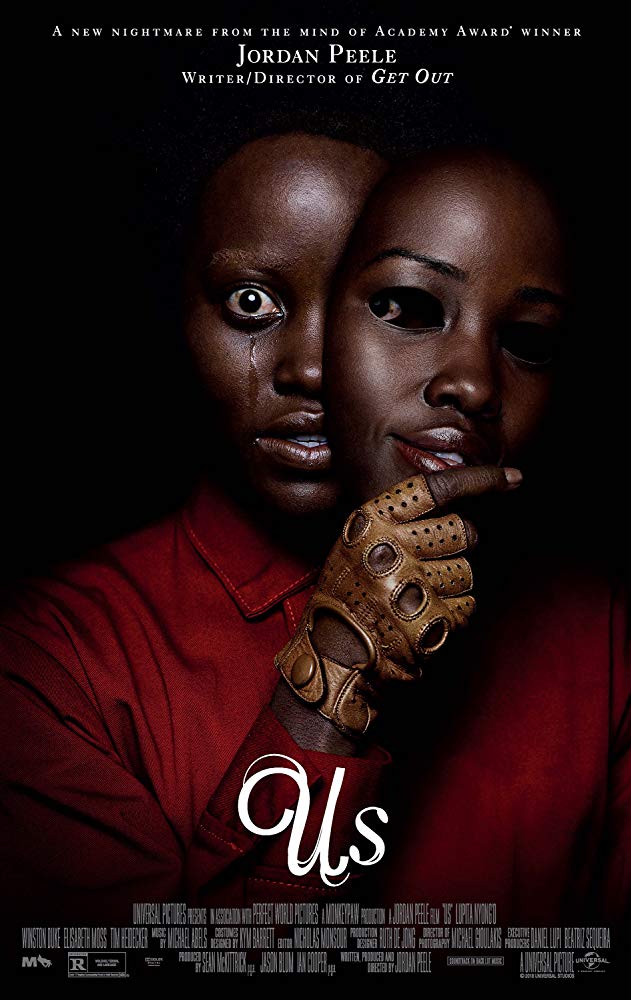 Us Overview
At its core, Us is a home invasion horror movie. Us is also a smart critique on America today, both politically, and socioeconomically. Even more, it's a fun, and at times, funny movie that everyone can probably appreciate.
One of the many things that Us has going for it? It's a conversation starter.
My Score
7/10
While it's all the things I described above, it's not particularly impressive in any stand-out way. It's a solid movie that people will talk about, but it's just not THAT thrilling. I was fairly bored during about ⅓ of this movie, and a lot of that was while the cat and mouse game between these two mirror families was playing out. It is an intricate, well-crafted film, with an eye on symbolism and obvious deep meaning. It just didn't entertain me like I hoped it would.
Us Movie Spoilers
Us begins in 1986 on the Santa Cruz boardwalk, with young Adelaide having a fun time with her parents. At some point, she wanders off and discovers a House of Mysteries below the boardwalk, which is where she first comes into contact with her tethered-self.
This intro is nearly perfect in the way it builds tension and sets the atmosphere. I was enthralled immediately. The beach at night is a very scary place, and I think he captured that feeling quite well.
Adelaide is deeply traumatized and stops talking following this event for some time.
Check Out Out Review of Pet Sematary (2019)
Fast forward to the present day, and Adelaide (Lupita Nyong'o) is driving with her family to their vacation house near Santa Cruz. Adelaide is nervous about returning to the scene of the crime that caused her so much agony as a child.
The family has a few strange run-ins at the beach and a small scare. From here they meet up with their friends, the Tylers (Tim Heidecker and Elizabeth Moss). I can't take Tim Heidecker seriously, for me, this is a miss-cast role, but to be fair, for most it's probably a high point in the movie.
Her husband (Winston Duke) believes that she is overreacting when she starts having panics about the safety of her family, and the area in general. When they are getting ready to go to bed that night, the action ramps up when they see a family standing in their driveway.
Check Out Our Puppet Master: The Littlest Reich Review
There is a lot of chasing and being chased in Us, which is the least fun part for me. There weren't very many genuinely disturbing moments, there were few scares, and overall the middle of the movie felt very soft compared to what it could have been.
Thinking back on Get Out, it wasn't a movie that went over-the-top with scares, it did what Us did, created ambiance, and mood quite well.
Us is well cast and acted, every single character was compelling and made the movie better except Tim Heidecker, whom, as I said, I just can't take seriously.
So, when we meet the tethered people or the doppelgängers, the Adelaide tethered tells the story of who they are and how they came to be.
The happy middle-class family that is the Wilson's has an inverse family of tethered people who are forced to live underground and have lives that are the inverse of their above-ground counterparts.
Read Our Halloween 2018 Review
The doppelgänger family lives in a place where suffering and cruelty is normal. This family has the last name Red. They hate their above-ground counterparts for obvious reasons and have decided to take their lives.
Us had a wonderful, original score, that reminds the audience that choral music and analog sounds do produce the creepiest vibe.
At the end, it is revealed that the underground copy of Adelaide kidnapped and swapped places with the above-ground girl in 1986. This insinuates that "We are them and they are us." It's the environment that makes the person.
One thing I noticed was that none of the Red family could talk except for Adelaide. No one underground ever talked, so the ability to talk was mostly lost in Adelaide who was forced underground. This also explains the supposed PTSD issue following the events of the 1986 boardwalk.
Us Pays Homage to Peele's Inspiration
Lot's of tributes are being paid in Us. Some of the things I noticed were:
What Does Us Movie Stand For?
Well, there are a lot of different ways people can an will interpret this movie, it was made to be interpreted a number of different ways. Here was my immediate takeaway impressions of Us.
The Bible verse that continuously appears in the film (Jeremiah 11:11) reads:
Therefore thus saith the Lord, Behold, I will bring evil upon them, which they shall not be able to escape; and though they shall cry unto me, I will not hearken unto them.
Keep this in mind while interpreting the movie.
There is an obvious socioeconomic suggestion going on in Us – an analogy of class.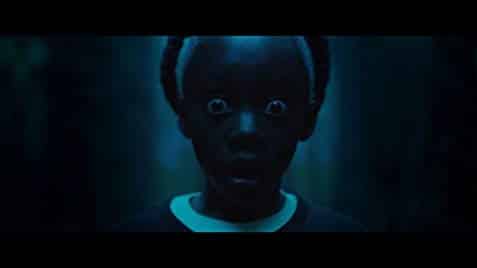 I couldn't shake that this was an obvious criticism of an America who voted for Trump:
The "evil" people were called Red.
There is a fear of invaders, of people foreign to us whom we may believe are below us.
There is a point in the movie where they reference hands across America, which seems like a direct Mexico wall reference — joining together to unite in building a wall.
The suggestion that we don't know who we are, we are a nation divided, half of us would like very much to ignore the other half, and that goes both ways.
Also, following the twist ending the very real, "we are whom we hate" suggesting that those who think they are innocent are just as guilty.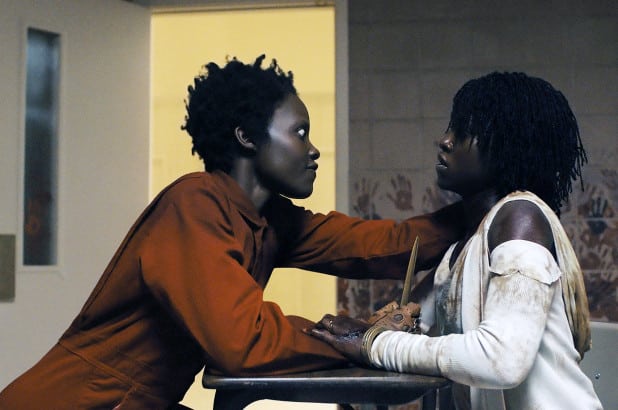 All of this spoke very loudly to me about the state of America under Trump, today. Almost like a "Shame on you, America."
Read Our Halloween 1978 Review
Final Recommendations For Us Movie
Anyone who enjoys a movie with a deeply well thought out meaning, or symbolism will be able to latch onto something within this movie that will spawn lots of interesting conversations. If you enjoy home invasion horror, this is a must see, although it's not the best, it's quite good. The trailer ruined this movie quite a bit for me. Most of the action in this movie just felt like the trailer+.