Podcast: Play in new window | Download (Duration: 52:19 — 35.9MB)
Subscribe: Google Podcasts | Spotify | Amazon Music | Pandora | iHeartRadio | Stitcher | Podchaser | TuneIn | Deezer | RSS | More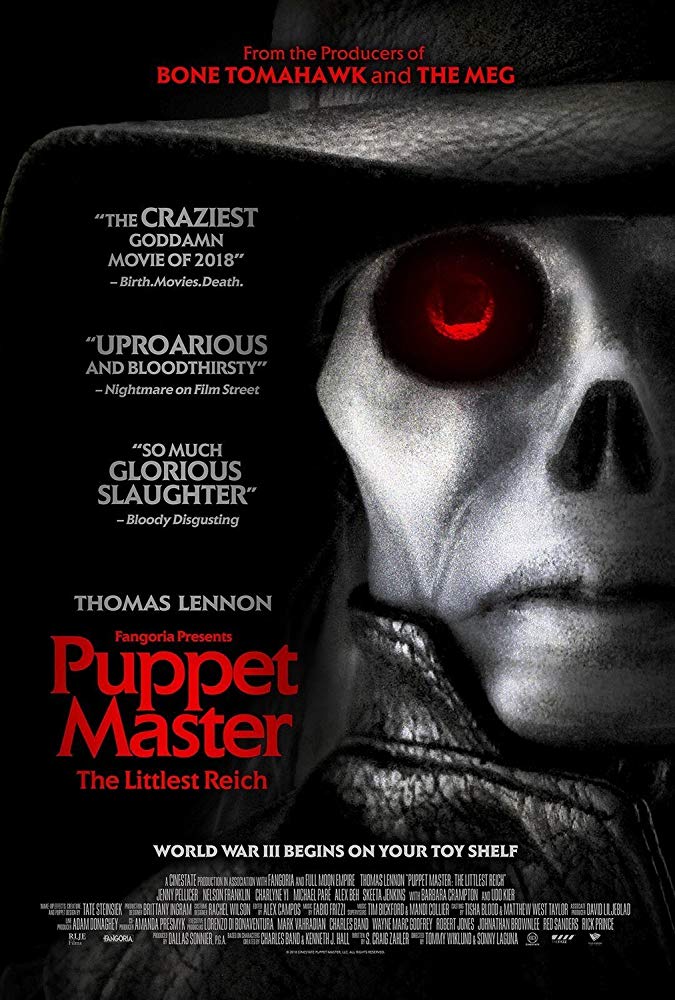 If you want to watch Puppet Master: The Littlest Reich please consider renting or purchasing the movie through this amazon link to help us support the podcast.
Synopsis of Puppet Master: The Littlest Reich
Puppet Master: The Littlest Reich is a reboot of one of the most popular cult classic horror franchises in the past 30 years, and it's fun for all the right reasons. It is irreverent, funny, fun, completely gratuitous and extremely violent. If you are new to the series, it doesn't do a fabulous job of introducing you to the puppets, but it does a great job of explaining the premise of the puppet master, Andre Toulon, played by Udo Kier.
Puppet Master: The Littlest Reich has enough familiar faces to make you feel at home, and the cast you (probably) don't recognize do a wonderful job of giving admirable performances.
Thomas Lennon (Lt. Dangle from Reno 911) plays Edgar, the main antagonist who is a recent divorcee and comic book creator who has fallen on tough times and is living with his parents until he can sort his life out. Nelson Franklin plays Markowitz, Edgar's buddy and employer at a local comic shop, provides most of the comedic relief throughout the movie. Jenny Pellicer plays Ashley, Edgar's new girlfriend.
Edgar finds a puppet in his parent's house and quickly realizes that it was created by the infamous Andre Toulon, a Nazi who also happened to be a skilled puppet maker. He finds out that there is going to be an auction of Andre's puppets and decides he could use the money, so he takes a trip to the hotel where the auction is taking place. Coincidentally this hotel is near to the puppet master's residence, and the gathering of puppet collectors in this hotel is the perfect place for the second Holocaust.
Horror movie veteran Barbara Crampton, who also starred in Dead Night, is a retired cop who introduces us to the history behind the puppet master, you will also probably recognize Charlyne Yi, who plays Nerissa, a hotel restaurant employee who has a decent role.
My Rating
7/10
Spoilers
I saw seven boobs in Puppet Master: The Littlest Reich.
That sentence tells you more than you need to know to evaluate whether or not this movie is for you. It is completely inappropriate, and that's what makes it fun. Nazi puppets who are bent on killing Jews, blacks and homosexuals are the antagonists who provide extremely creative and gory deaths to anyone who gets in their way.
Here is a list of completely insane deaths that took place in Puppet Master: The Littlest Reich:
A Jewish couple was burned to death while mocking their puppet, calling it a Nazi souvenir that was meant to remind them of Hitler's failed Reich.
A pregnant woman suffered, what I will call, an abortion with extreme prejudice.
A dude was decapitated while taking a leak and ended up urinating on his head in the toilet bowl.
One young man was completely disemboweled while chatting with his mom on the phone.
One guy had his back torn open, a tiny "Junior Fuhrer" climbed into him and controlled him as one would control a puppet. This puppet looks like a baby Adolf Hitler.
This movie reminded me of something Mel Brooks said during an interview.
"I said: Listen, get on a soapbox with Hitler, you're gonna lose — he was a great orator. However, if you can make fun of him, if you can have people laugh at him, you win."
Puppet Master: The Littlest Reich takes everything sacred and rips it to shreds. If you are offended by anything, this will do a damn good job of finding what it is and trying to bother you, if not make you quite upset. If you can sit back and stop taking everything so seriously, suddenly all those things have no power over you anymore. I don't want to get too far into a life lesson while writing a review about the 13th Puppet Master installment, but it's as good a time as any to say, chill out and have fun.
To be fair, this movie knew me way too well and might have scored a few extra points by having comic books featured prominently, as well as a nod to black metal, grindcore, death metal, and a few other extreme subgenres of metal that I like quite a bit.
If you would like to learn more about the series, the Puppet Master Wikipedia page is amazing and offers an in-depth look at every movie, every puppet, and every cast member. It's actually very interesting.
Is Puppet Master: The Littlest Reich Worth Seeing?
There is a part of me that loves a horror series that has more than a dozen installments, the fifth of which is titled, "The Final Chapter" or something close to it. There is also a part of me that wishes, "the final last one" was indeed what it claimed to be. In this case, Puppet Master: The Littlest Reich does a good job of making me happy that it exists.
To be completely honest with you, this is the first of the series that I've seen, and now I want to watch them all. I know from experience that I will probably deeply regret watching 12 killer puppet slasher flicks, but this is a labor of love, and love means being there through the bad times and the good.
If you want to laugh and have your jaw hit the floor a few times with friends, Puppet Master: The Littlest Reich will scratch your itch.
If you want to watch this movie please consider renting or purchasing the movie through this amazon link to help us support the podcast.
Special Thanks to G.Thomas Craig, who edited this episode for us. Check him out at gthomascraig.com/