Podcast: Play in new window | Download (Duration: 44:19 — 30.4MB)
Subscribe: Google Podcasts | Spotify | Amazon Music | Pandora | iHeartRadio | Stitcher | Podchaser | TuneIn | Deezer | RSS | More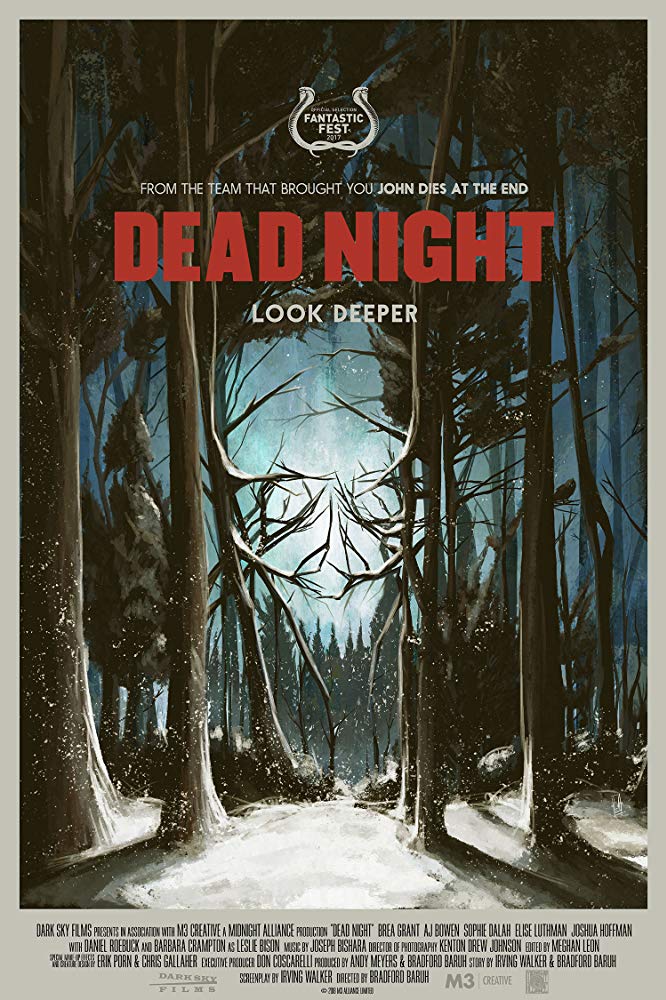 Oof. Seriously though, while watching this movie, I was quoted as saying to Bryce and my poor wife, "I didn't realize they still made this kind of movie." Dead Night is a movie that gets lost on it's way to the end – where that is, I'm still not sure.
I was decently excited to watch this. The poster and summary had a "cabin in the woods" quality to it, and I love horror set in the deep woods. I think my brain did some subliminal math with the title and the poster as well. I saw the two-word title starting with "dead" and the snowy woods in the poster and remembered Dead Snow (a Nazi zombie flick that's great fun). Don't let your brain make the mistake my brain made.
Want To Watch It?
Dead Night is for people who love bad horror. If you like to laugh at continuity errors, zany and confusing plots, large portions of unexplained but seemingly important elements – this is your swan song.
I would liken the feel of this movie to something that would be shown in the middle of the day on the Sci-Fi network in the 90's. It starts off with fun dialog, a decent setup, and mildly interesting characters, then at some point a switch is flipped, and everything goes so far off the rails that you are left confused as to how things ended up this way.
My Rating
2/10
Spoilers
The movie starts out showing a couple making out in a convertible in the woods in 1961. The young lady hears something, and of course, the young man goes to check it out. A horrifying figure makes swift work of them both. An alien looking monolith is in the shot for a moment, and we are left wondering.
Cut to 2015. The Pollack family is on a trip for rest and relaxation, but more importantly because James Pollack (AJ Bowen) has something incurable and his wife, Casey Pollack (Brea Grant) has it on good authority that their vacation rental was built on restorative minerals. Their son Jason (Joshua Hoffman) and daughter Jessica (Sophie Dalah) are less than enthusiastic to be going on this vacation. Jessica has her friend Becky (Elise Luthman) along for the ride. Jason and Becky clearly have a little bit of a crush on each other.

The family gets to the cabin and begins to get ready for their stay. At this point in the movie, the framing, dialog, and lighting are done well – so well in fact, that it tricked me into believing this was going to be great. It has plenty of artsy shots on the cabin and surrounding woods that last a little bit too long but are sometimes indicative of hints at later plot points.
Check Out Our Review of Slender Man
As the movie progresses, I began to realize that all those artsy shots were for naught. The husband heads out of the cabin to find some firewood and eventually stumbles upon Leslie Bison (Barbara Crampton) who is pretending to be passed out in the snow and ends up being the main antagonist.
A switch flips. Enter mid 90's made-for-tv Sci-Fi channel vibe. For brevity's sake here is the quick and dirty rundown of the second and final act:
It turns out that a coven of witches don't like the way things are going in this part of Oregon, so they decided to give Leslie Bison, who is running for some office, some powers in hopes that she would take the election and sway the future in their favor. Powers Leslie has bestowed upon her are:
Control over alien monolith that produces rocks that zombify people when applied to their body
The ability to teleport
The ability to induce hallucinations
Other things?
Casey, the mother, doesn't like that Leslie is zombifying her family, so she tries to fight back but ends up killing most of her zombie family with an ax at the behest of the witches. Oh, yea, she met with the witches, and they told her that the only way to make this stop was to kill her family.
Check Out Our Review of Gremlins
Some minor explanations are made using a crime investigations show that pops up throughout the movie.
How Dead Night Stacks Up
If you want that 90's Sci-Fi channel nostalgia or love seeing super cheesy made-for-streaming horror movies – this is for you. Barabara Crampton really hams it up in this, and she is a seasoned vet in the horror movie industry, so if you dig her maybe check it out.
Everyone else, remember, some of the biggest stars in all of Hollywood got their start in garbage horror movies that you wouldn't like to watch. I look forward to being able to say, "I saw so and so in Dead Night, and it was terrible!"