Podcast: Play in new window | Download (Duration: 58:11 — 40.0MB)
Subscribe: Google Podcasts | Spotify | Amazon Music | Pandora | iHeartRadio | Podchaser | TuneIn | Deezer | RSS | More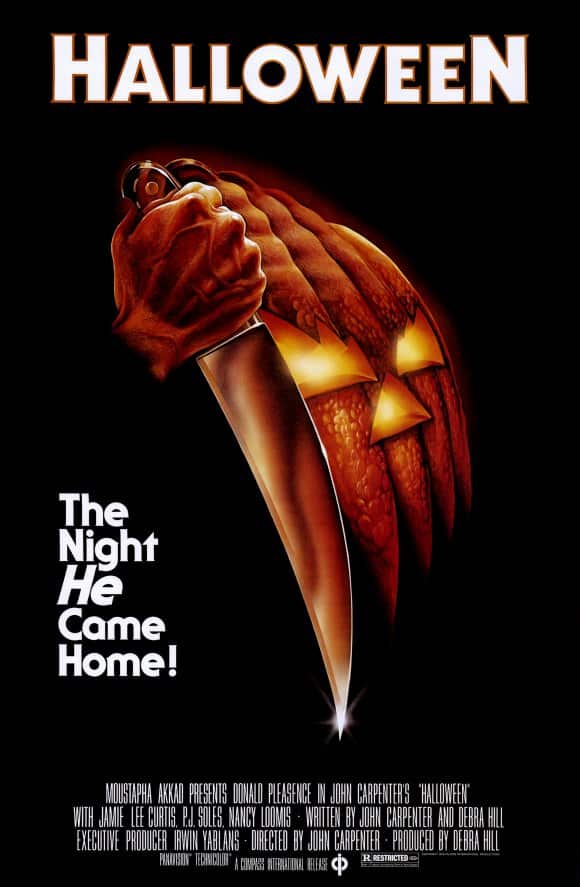 If you want to watch Halloween (1978), please consider renting or purchasing the movie through this amazon link to help us support the podcast.
John Carpenter's original Halloween released in 1978 is a pillar of the horror movie genre. Halloween helped to pave the way for slashers and created tropes and techniques that are still used to this day to great effect. When it comes to fun, seasonal horror movies, you can't do much better than this. Today Halloween still stands up on its own but benefits greatly from a form of nostalgia that I have a great deal of respect for.
Halloween focuses on three main characters – Laurie (Jamie Lee Curtis) who is the virgin teen in distress, Loomis (Donald Pleasence) who is The Shape's head doctor, and of course, Mike Meyers AKA The Shape (played by seven different actors). By today's standards this movie is quite slow-paced, but if you feel like you can trade in the pacing for nostalgia and sleepy Midwest towns with old-fashioned values, you probably won't regret it.
I had not seen this movie in ages, so when I learned that The Kiggins Theater in Vancouver, WA was having a showing of it the Friday before halloween, I knew we had to go. Seeing this on the big screen with a bunch of horror movie fans was the best part of this movie for me so that I may be a little drunk on the ambiance, but I will try not to let it taint my review.
My Rating
8/10

If you haven't seen Halloween (1978), you really should. It's just good, old-fashioned, stabbing the way your mom use to serve it up.
This is the movie that created the stamp that we commonly refer to today as slashers. If you have seen a slasher, it was influenced by this, and the spoilers section probably won't be too much of a spoiler after all.
I like to think about the audience in 1978 who paid to see this at the theater and consider what kind of experience they probably had. Were there movies like this previously? Yes, kind of – The Texas Chainsaw Massacre (1974) and The Hills Have Eyes (1977) were similar in style but not nearly so successful as Halloween.
The musical score is iconic and created a style unique to horror movies where the audio track truly became part of the scares.
Other Halloween Movies We've Watched
Spoilers
The movie starts with the camera in the perspective of a young (six years old?) Mike Meyers stalking around the outside of his own house, peeping on his sister and her boyfriend as they make out on the couch. As things get hot an heavy, the couple decides to take things upstairs, and Mike heads into the house, grabbing a gigantic kitchen knife on his way.
A laughably short amount of time passes before the boyfriend, now done with his romantic endeavors, decides to head home, walking by a hiding Michael on his way out the front door. Michael heads upstairs, dons a mask, and proceeds to stab his sister to death brutally. The intro ends with Michael in the front yard holding the knife as his parents come home to find him with a cold look of bewilderment.
The Movie skips forward in time 15 years to October 30th, 1978 when Dr. Loomis is driving to the mental hospital to visit his pet project, Michael. It's a dark and stormy night, and upon arriving at the hospital gates, Loomis and his passenger realize that the mental patients have flown the coop. Mental patients are wandering through the stormy night, and as Loomis gets out of the car to check the gate, Michael attacks his female companion, steals the car and drives off into the night.
At this point, we join Laurie in her hometown or Haddonfield, which just-so-happens to be the town where Michael grew up. Laurie is a high school aged girl who doesn't do very well with the boys but babysit quite a bit. She does all the things teenagers tend to do with her girlfriends, smoke pot, drink and carve pumpkins on Halloween.
Michael enters sleepy little Haddonfield with Loomis hot on his trail and proceeds with his killing spree. Most of the victims are nude, near nude, and female. He is unstoppable, slow, and very hard to get a read on as he never speaks.
Is Halloween Worth Seeing?
Halloween has enough fun and funny moments to make this movie charming in a lot of great ways. The feel of Haddonfield is perfect, the characters are fun and believable, and if you enjoy peeping at the house across the street, this is simply a hole in one. The acting in this is very good, and the characters are enduring.
Halloween does a great job of setting the stage for the genre and giving everyone who follows it something to shoot for. Panic, jump-scares, the lone virgin, it all starts here. Watching Halloween during the fall is a must. Watching Halloween any other time of the year is similar to Christmas addicts listening to jingle bells out of season – it brings you back to where you want to be.
If you want to watch Halloween (1978), please consider renting or purchasing the movie through this amazon link to help us support the podcast.