Podcast: Play in new window | Download (Duration: 1:54:38 — 78.7MB)
Subscribe: Google Podcasts | Spotify | Amazon Music | Pandora | iHeartRadio | Stitcher | Podchaser | TuneIn | Deezer | RSS | More
We watched the original Friday the 13th on Shudder, and while it definitely represents the film version of pulp, it's the original upon which so many slashers have been based. It delivers in a charming way and the twist is still impressive after all these years. It's 40th birthday will be this Saturday, May 9th, 2020.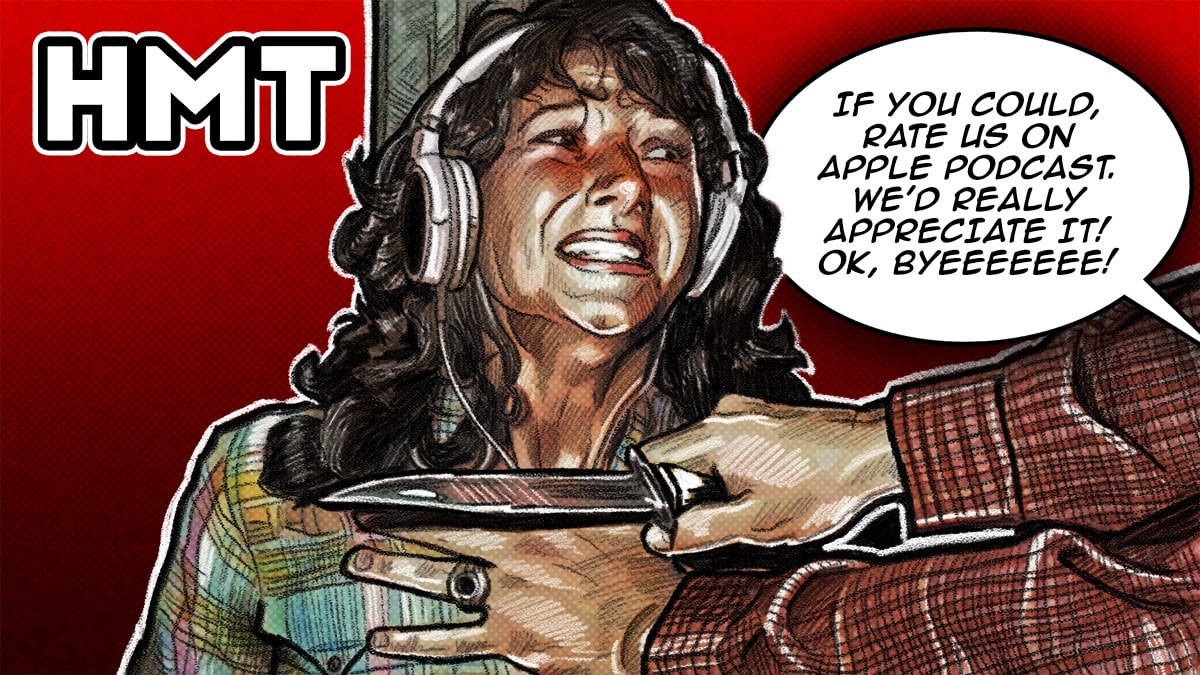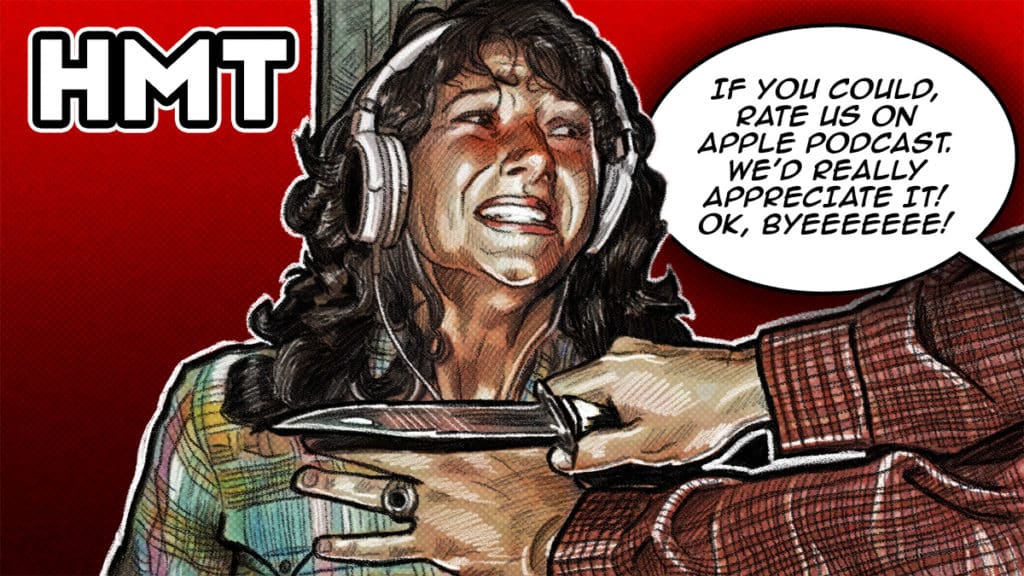 Synopsis
Friday the 13th is the story of a group of teen counselors who are setting up a summer camp at Camp Crystal Lake.
It details the short story of the final days of these teen counselors. We also get a glimpse into small town americana, which is unbearably quaint. There isn't a lot of story to this one, and that's the point.
Review
Friday the 13th was the first independent film of it's time to secure distribution in the U.S. by a major studio (Paramount).
Directed by Sean S. Cunningham (who went on to write and produce many sequels) and written by Victor Miller, Friday the 13th was the second of the big franchise slashers to hit the scene, following the success of 1978's Halloween.
This movie birthed so many tropes and trends that it's almost comical. It is also a great place to see Kevin Bacon in one of his earliest and sexiest roles.
While it's no crowning achievement in filmmaking, Friday the 13th does set the stage for 80's horror very nicely with a parade of sexy but disposable characters, great practical effects by Tom Savini, and tense music by Harry Manfredini.
Friday the 13th is a classic that is only dwarfed, in my opinion, by the sequel, Friday the 13th Part 2. If you haven't seen this movie, don't expect to be blown away, instead expect to gain a better understanding of the foundation of the slasher genre.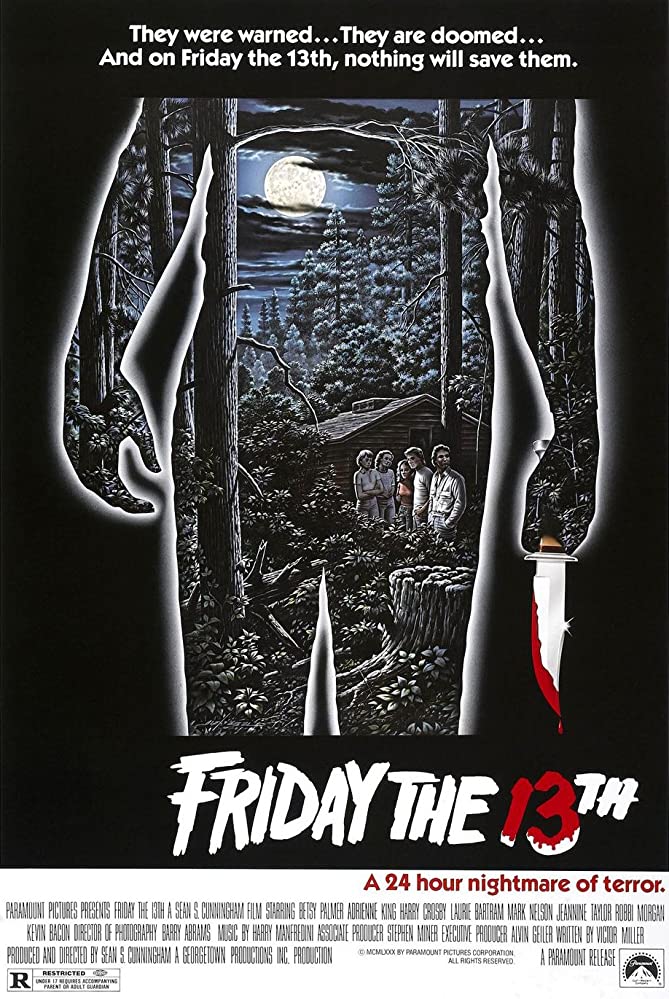 Score
7/10
Friday the 13th Spoilers
I'm going to level with you, even though there is a hefty twist at the end of this movie that is made better with time, you've had 40 years. Get with it.
First-person killing
A huge portion of Friday the 13th is spent stalking the campers with the camera in first-person perspective. This places the audience square in the feet of the killer and while that's not a big deal today, it was in 1980. Sure, Halloween and Black Christmas had done this to a small extent, but it's like the calling card of this whole movie.
To make the first-person perspective even more important, we are given clues throughout the film. We get to see the big work boots worn by the killer, and the rough leather gloves they are using.
We automatically assume that these manly accouterments lead to a big burly man – you know, the myth of Jason! But that just makes you a big sexist pig!
Who is the killer?
The one who is stalking around the camp and killing young lovers and camp counselors is none other than – Mrs. Voorhees! That's right, she's been stalking the camp for the last 20 years, taking revenge on those who she blames for the death of her son, Jason.
Critics were furious at this movie for a variety of reasons, mostly for being a n exploitation film that was sexist and distasteful. Apparently the irony of the killer being a woman was lost on them.
Packaging horror in the neatest of boxes
Friday the 13th accomplished such a beautifully simple packaging of the slasher genre into a neat little package that it's no wonder why it spawned so many copycats. It was so chalk full of sex, murder, and weird, cautionary morality lessons that it was bound to be duplicated.
It threw caution to the wind and it's sails caught a big breeze that allowed it to crank out a new sequel every year for most of the 80's. Think about that. When was the last time you saw something with so much appeal? Harry Potter and Marvel Cinematic Universe come to my mind.
Final Recommendations
This movie is so quaint and tame by today's standards that I really would recommend it to anyone who hasn't seen it, so long as they are interested in horror. This is a great entry to bring a new horror head into the genre because it gives the viewer such a strong idea of where all the tropes come from.
Don't Miss JJ Villard's Fairy Tales on Adult Swim!
JJ Villard is our guest on this episode and gives us a peak behind the scenes for his new show, JJ Villard's Fairy Tales. Check out the trailer and the premier on May 10th at midnight on Adult Swim!