Podcast: Play in new window | Download (Duration: 1:23:35 — 57.4MB)
Subscribe: Google Podcasts | Spotify | Amazon Music | Pandora | iHeartRadio | Stitcher | Podchaser | TuneIn | Deezer | RSS | More
Child's Play 2019 is probably the first movie that we've reviewed that I can whole heartedly say is so bad that it's good. This movie has almost nothing to do with the original movie, and makes a bunch of bizarre choices, but in the end it is very entertaining.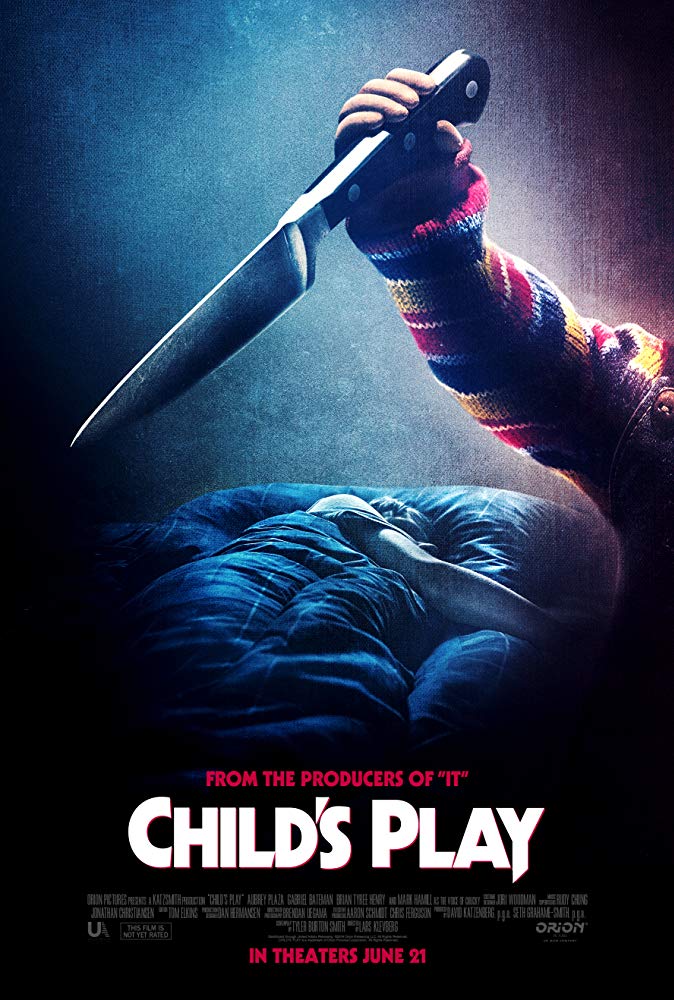 Child's Play can be found in theaters now, and you can also watch the original for a limited time for free on amazon prime.
Synopsis
Child's Play 2019 is a hard reboot of the 1988 film of the same name. However, it bares little resemblance to the original. Basically the only elements that hold over are… kind of the design of the doll, and that there is a doll, and that it's name is Chucky. Child's Play 2019 tells the story of a child's doll for teenagers that looks like an anime version of a little person, and has the voice of a middle aged man talking in a child's voice. This doll isn't like any ordinary doll, though, it connects to your home automation system! Because that makes sense. Also, the doll has an advanced AI that it uses to learn how fun it is to kill people.
Check out Child's Play 1988
Watch the Original on Amazon
Check out Child's Play 2019
Watch the Full Movie on Amazon
Review of Child's Play 2019
This movie is kind of a hot mess, but it still kind of works. It's the first movie that we are reviewing that I can give a heavy stamp of "So bad it's good". This movie goes beyond head scratching horror movie logic, and into the realm of the absurd. Watching the trailer and hearing about many of the elements of this film before hand, made me think several times "that's a weird choice". I assumed that upon watching the film that it would all come together and make sense as a whole. Nope. All those things still seem like weird choices still.
Why would you give a child's doll home automation integration?
Why would a teenager have/want a doll?
Why Aubrey Plaza?
Why that face?
Why Mark Hammil as the voice?
These and other questions are answered with "because". The movie suffers from the "and then this scene happens" syndrome, with very little happens in term or story arc after the initial set up of the plot. But who are we joking, it's a movie about a murderous doll. This is not a thinking man's movie, and really, in terms of entertainment value, this movie was enjoyable to watch. I laughed and winced several times throughout the movie, and I consider that a win in any horror movie. There are a lot of effective death scenes, and the schlock value is high enough to let me laugh off the bad jokes and ridiculous elements of the story.
Remember The Original Child's Play? Check Out Or Review!
Score
Score: 7/10
Child's Play (2019) Spoilers
Expand for Spoilers

First of all, lets talk about the company that makes Chucky: Kasdan. This company has the worst business model that I can think of in recent movie history. What is the target market for a child's toy that integrates with your home automation and Uber equivalent?

I try not to be a snob about movie logic, but in this case it actually pulled me out of the movie.

But like I stated previously, this is not the thinking man's movie, and really, neither was the original.

Instead of having a doll literally possessed with the soul of a serial killer, in this version, Chucky is a poor innocent AI that has had his safety protocols removed by a disgruntled Chinese factory worker.

Want a Well Done Scary Movie? Our Review of Evil Dead 2013!

Throughout the film, we are shown Chucky in earnest trying to learn how to best "play" with Andy. Since Andy and his group of friends are teenagers, they are kind of dicks. Through observation, Chucky learns that they enjoy swearing and more importantly, watching death. After Chucky is exposed to Texas Chainsaw Massacre 2 and sees the gleeful expressions of Andy and his friends, he starts to imitate the psychotic behavior he sees on TV.

Since he has "imprinted" on Andy, Chucky also gets insanely jealous of Andy's time and attention. This results in many deaths because side characters (including a cat) are bothering Andy or just keeping him from playing with Chucky.

The original film didn't have a lot of humor, but when this one tries, it really falls flat. After the black detective finds Andy's Mom's Boyfriend's body mangled in a watermelon patch, he states, "White guy dead in a watermelon patch, poetic". I still don't understand why that is supposed to be funny.

Also, there is a scenario taken straight out of a sitcom where Chucky returns the boyfriend's face to Andy, and Andy accidently(?) wraps it in wrapping paper and gives it to a neighbor. Then wacky hijinks ensue when he has to get it back.

Who wrote this?

There are a couple of gratuitous deaths, include the demise of the poor man's Jack Black.

The end is where the carnage ramps up. At the release of the Buddy 2, everyone is crowding around like it's Black Friday, and of course, since Chucky is connected to the cloud, his evil is infectious to the other buddies (and buddy bears). A doll army is released among the hapless shoppers, and blood and gore is splashed across the screen in a manner that could satisfy most zombie genre fans.

Chucky's death feels tacked on at the end, and feels pretty contrived. Andy's mom acts as the damsel in distress, and Andy saves the day. Big whoop.
Final Recommendations, "who would like this"
If you like schlock, and laughing at ridiculous scenarios and premises, then you will enjoy this movie.
Read About Other Scary Dolls