Podcast: Play in new window | Download (Duration: 1:36:08 — 66.0MB)
Subscribe: Google Podcasts | Spotify | Amazon Music | Pandora | iHeartRadio | Podchaser | TuneIn | Deezer | RSS | More
We went and saw Brightburn, and it was as advertised, but even more gory than I expected. It's not a perfect film, there isn't a lot of character development past the perfunctory set up, and there are some plot threads are fully dropped without explanation, but overall it delivers a very good horror film riffing on the superhero genre.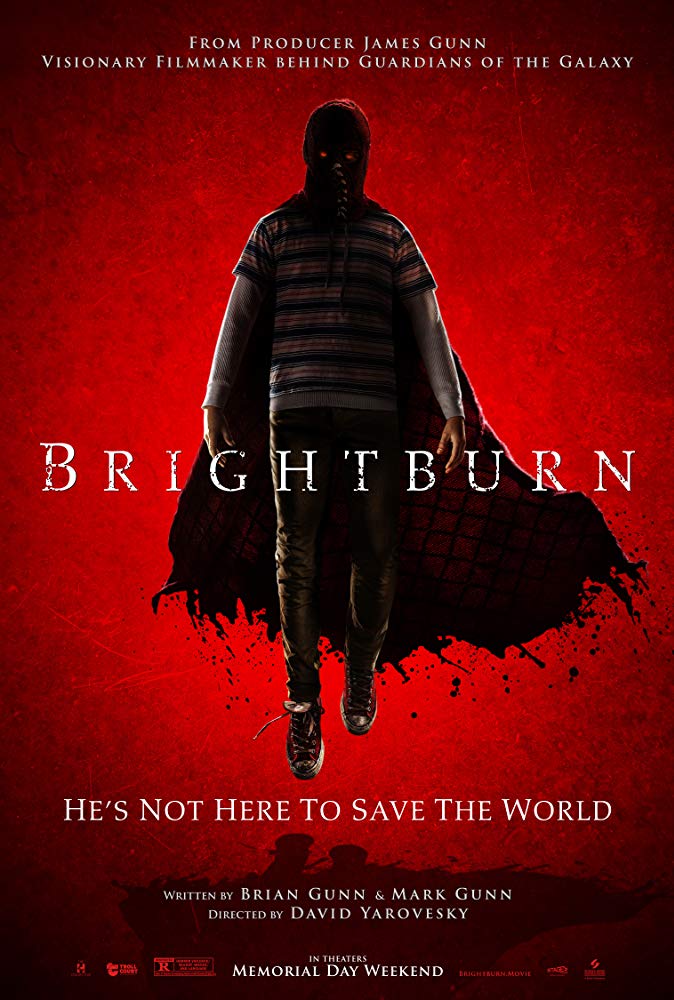 Brightburn Plot Synopsis
The synopsis for Brightburn is very simple. It's the superman origin story, but instead of him being good, he's bad. The Breyers are a young couple in Sma… Brightburn, Kansas, that desperately want a baby, but can't have one of their own. One night, a meteor crashes into the woods near their house. Inside is a little baby that they name Brandon and raise as their own.
You can find Brightburn in theaters now.
When Brandon reaches puberty he is awoken and summoned by voices in his head that lead him to the spacecraft he arrived in hidden in the Breyers' barn. Brandon soon discovers he is completely impervious to harm, has super strength, and can, get this… fly. Brandon does what every good middle american farm boy would do with these new found super powers… He kills and maims anyone that gets in his way towards world domination, including those closest to him.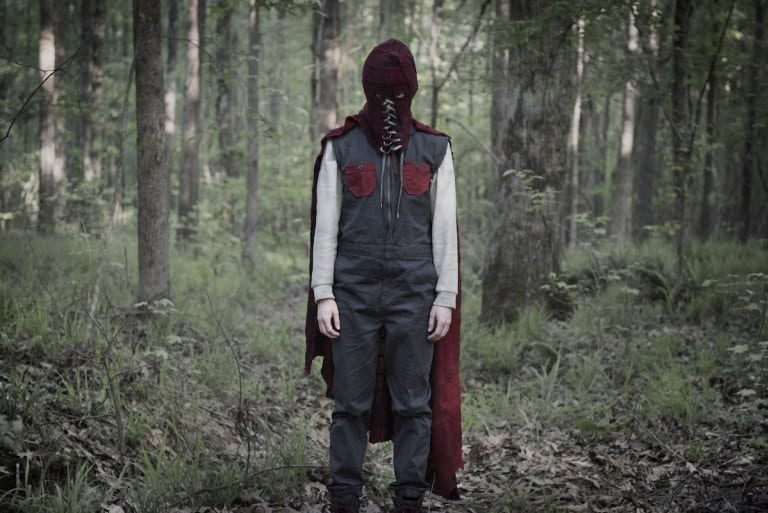 Brightburn Critique
David is going to complain that this story has been done dozens of times with Superman in the comics. But if you like me aren't a FUCKING NERD, then this is probably the first depiction of a truly evil superman origin story, at least on film. I think this film accomplished exactly what it set out to do, and was very enjoyable to me. While it is exactly what I expected in terms of plot, it exceeded my expectations with how dark, and especially how gory they went with it.
Brightburn is directed by a relative newcomer David Yarovesky, but produced by James Gunn, who is the director of the Guardians of the Galaxy movies as well as Super, another anti-superhero movie. It is well cast with Elizabeth Banks as Tori, the mother in denial, and David Denman as Kyle, the father that immediately is suspicious. Brandon Breyers, the anti-superman, is played by Jackson A. Dunn which does a great job of maintaining a steely enigmatic gaze. The script doesn't delve too deeply into character development, but the characters are three dimensional, and react to the events of the film in natural ways.
They keep the intentions and internal motivations of Brandon intentionally mysterious up until the time that he starts wreaking havok. Although it didn't explore as many facets of the anti-superman story as they could have, it delivered on the promise of a really dark story in an effective and efficient manner. I really enjoyed it.
Score for Brightburn
7/10
Brightburn Spoilers
Expand for spoilers

The most important thing to get out of the way is that Roy from The Office is in this movie. David reminded me about 50 times throughout.

The first shot we see in the movie is the camera panning over a bookshelf full of books about infertility. In the background, the Bryers are having sexy time and talking about their inability to have a baby.

We get it.

The find Brandon ala Kall-El in the woods. and then there is a montage of baby Brandon looking neutral.

Check Out Our Review of Child's Play 2019!

The thesis of the movie is basically stated when Brandon in class describes wasps that have lost their ability to create nests, so they use their strength to get other wasp species to raise their young.

That pretty much sets up how Brandon's purpose on earth is going to be for the remainder of the film.

Brandon is summoned to the Barn in the middle of the night by glowing red light and voices in his head. He seems possessed.

He later finds out that he has superpowers by flinging a lawnmower 200 yards and then shoving his hand into it's spinning blade.

At Brandon's birthday him and his dad have a spat, and it seems as though Brandon's anger affects the electronics in the restaurant.

The parents are determined to "give a shit" about what is going on with Brandon, but chalk it up to puberty. When they go through his room they discover some innocuous bra ad porn quickly followed by pictures of open body cavities.

Ever Hear of Piercing? You Should Have! Check Out Our Review!

Brandon's father (Roy from the office) take Brandon on a camping trip to have "the talk". Brandon mistakes his father's explanation of bodily functions and hormones as a tacit endorsement to be a huge creep to a girl he likes in class.

He proceeds to use his superpowers to creep on said girl. When she catches a brief flash of him before he disappears and her mother responds to her screaming.

Later at gym, when the girl refuses to save Brandon in a trust fall exercise, Brandon completely crushes and mangles her hand. Her mother flips out at Brandon and his parents. Brandon visits the girl again and she tells him that her mom doesn't want her talking to him. He tells her that he will "take care of it"

He takes care of it by attacking her mother at her work. He uses his powers to explode some florescent lights, sending a shard into her eye. He then kills her in the freezer.

Brandon's father is suspicious that all of his chickens have been mutilated after he catches Brandon creepily staring at them. The mother doesn't think Brandon is capable of doing it though.

During this conversation, it is mentioned that Brandon has never been cut or bruised.

One last time, Brandon is summoned to the barn, and he finally breaks into the cellar where he discovers the spaceship that brought him to earth. He accidentally cuts himself on a piece of the spaceship when his mother startles him.

He finally understand what the voices from the spaceship are telling him: "Take the world".

Brandon makes a visit to the school counselor which also happens to be his aunt. He shows no remorse for hurting the girl in his class. When his aunt tells him that she will have to report to the sheriff that he is making no progress, he becomes threatening.

Mandy May be the Craziest Revenge Movie Ever! Here is Our Review!

He visits his aunt later at her home and threatens her if she doesn't keep quiet. She refuses to be intimidated.

His uncle discovers him in the closet of his bedroom and is furious that Brandon is acting so weird. He tells Brandon to get in his truck so he take him back to his parents. Brandon refuses.

Probably the best scene in the film is Brandon's uncle encountering Brandon on the road and being creeped out and then attacked by Brandon. It is also probably the most gory. The uncle's jaw is basically ripped from his face by the steering wheel. Brandon revels in his murder and paints his symbol on the ground.

Ma With Octavia Spencer? Check Out Our Review!

When Brandon comes home that night, his parents have been worrying about where he is. When Brandon acts suspicious, his father investigates why Brandon was trying to hide his shirt. When he sees that it has blood on it, he connects the dots and determines that Brandon killed his brother in law.

The father take Brandon out on a hunting trip and tries to kill Brandon unsuccessfully. Brandon promptly uses his laser eyes to blow a hole through his father's head.

His mother finally realizes how dangerous her son is and calls the cops. Brandon toys with his mom by flying through the house and destroying it while she is in it. When the cops arrive, they are immediately dispatched by Brandon.

Brandon's mother then trys to trick Brandon and kill him with a piece of the ship he came in, but Brandon stops her and the kills her by flying into the stratosphere and dropping her to the earth.

The moral to the story is that wasps are assholes.
Who Would Like Brightburn?
Anyone that is a fan/tired of the superhero genre might get a kick out of this film. Horror fans will like the surprising amount of gore.