Podcast: Play in new window | Download (Duration: 1:42:41 — 70.5MB)
Subscribe: Google Podcasts | Spotify | Amazon Music | Pandora | iHeartRadio | Stitcher | Podchaser | TuneIn | Deezer | RSS | More
Happy Death Day 2U is the direct sequel to Groundhog Day plot stealing slasher Happy Death Day. Even though the slasher elements take a backseat in this entry, the fun and fresh tone of the original is maintained. This film has more of a sci-fi comedy than a horror movie and tries to extend the scope of the first film while maintaining the premise of living the same day over and over again.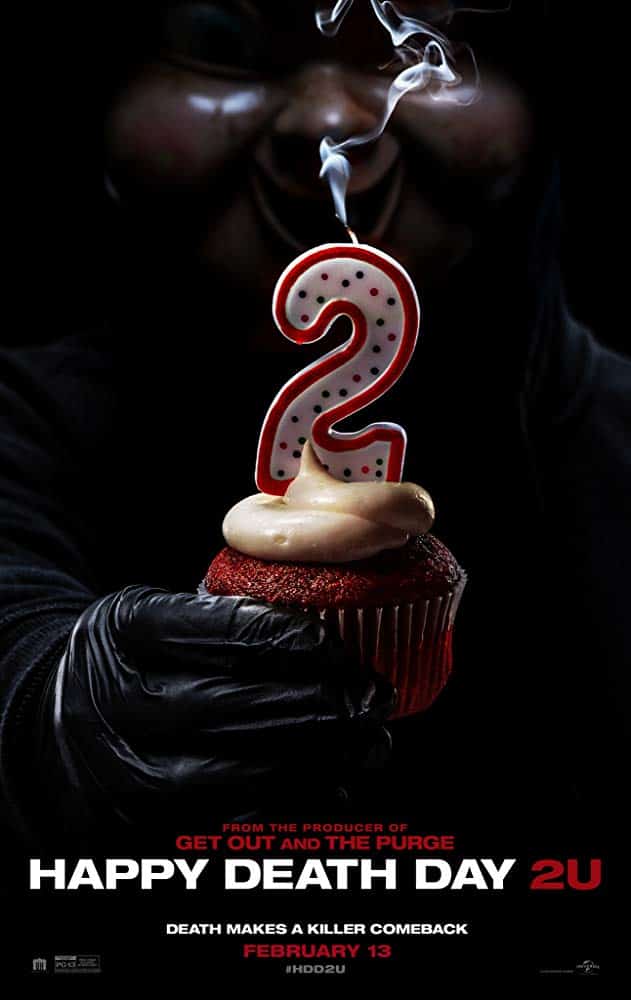 Happy Death Day 2U Synopsis
The film starts out following Ryan Phan (played by Phi Vu) on the morning after the events of the first film. Ryan was only a bit part in the original Happy Death Day, but plays a much more important role in the plot this time around. In a welcome bait and switch, after rerunning Ryan's day a couple times, the plot switches focus back to the original protagonist of Happy Death Day, Tree Gelbman (played by Jessica Rothe).
Check Out Our Review Of Silent Night Deadly Night!
If you're not familiar with the premise of the original, it is simply a horror version of Groundhog Day. Tree is forced to relive day of her murder over and over again until she solves the mystery of who her killer is. This sequel throws in a wrinkle this time because despite being the same day, Tree is in a different dimension, so not everything is the same.
HDD2U Lowdown
Happy Death Day 2U maintains the fun and playful atmosphere of the original but basically switches genres. It's much less of a horror movie, and more of a sci-fi comedy, ala Back to the Future. In trying to keep the premise fresh, they end up over-extending and there are multiple loose ends and skimmed over plot points that make this movie much less cohesive and tight as the first movie. Happy Death Day 2U is more enjoyable than the average movie nonetheless, and that is thanks to the performance of Jessica Rothe.
Want To Watch It Now?
Click the button below to watch on Amazon
Our Score
6/10
Final Recommendations for Happy Death Day 2U
If you liked the first one, you will still like this one. Very light horror, so if you are going for a slasher, you might be disappointed.
Bonus Trailer: Ma