Podcast: Play in new window | Download (Duration: 1:18:46 — 54.1MB)
Subscribe: Google Podcasts | Spotify | Amazon Music | Pandora | iHeartRadio | Podchaser | TuneIn | Deezer | RSS | More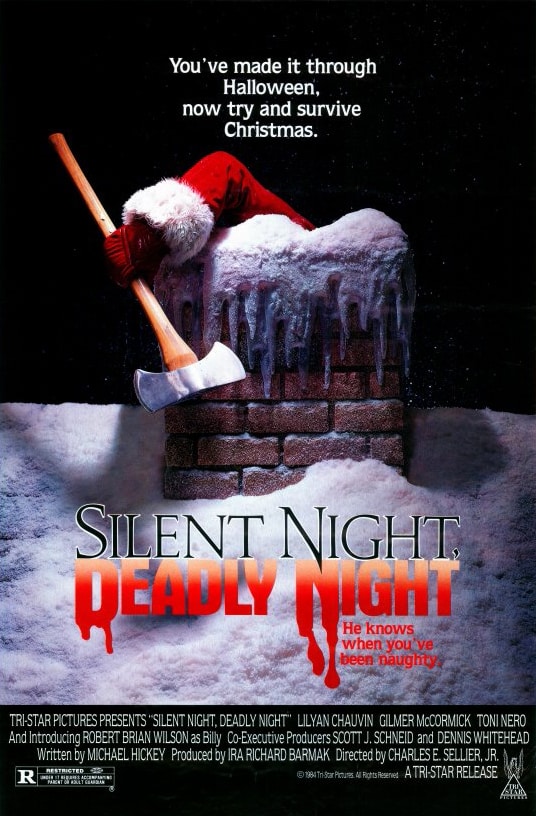 This week, we rented Silent Night, Deadly Night and to be honest, it might be one of my new favorite horror movies.
Silent Night, Deadly Night can be found for rent on Google Play, iTunes, YouTube, and VUDU. If you want to own the recently release Blu-ray edition, click through to Amazon.
Silent Night, Deadly Night is about a young man named Billy who witnessed the murder of his parents at the hands of a criminal in a santa suit. Since then, Billy grew up in a catholic orphanage where his traumatic childhood has been stringently repressed by the Mother Superior and has been imbued with a strict and black and white morality. Billy is still terrified by Santa even as an adult, but one fateful Christmas Eve, he is asked to be Santa Claus for the store he works at. That experience along with a series of events brings Billy to the point of a psychotic break, and he begins a killing spree dressed as Santa.
It's awesome.
Silent Night, Deadly Night is the best version of this movie that I can imagine. The script is way tighter than it needs to be in terms of setting up and executing the major moving pieces of the plot. This is a exploitative slasher, that doesn't have any delusions of grandeur, but is more enjoyable than most slasher movies I have ever seen.
Check Out Our Review of the New Black Christmas!
Billy's character is terrifying as well as pitiable. Some of the killings have real weight to them, though most are as cheap as any slasher death. There is a lot of creativity is the methods of killing, and since you actually kind of care about the main character, there is a constant tension on how it will play out for him in the end. I highly recommend you watch it this Christmas Season.
My Rating
9/10
What works in Silent Night, Deadly Night
A lot of things work about this movie. As I stated before, the writing in this was way better than it needed to be. I expected a movie about a killer Santa to much lower effort and production value than this movie delivered. The motivations of Billy as he turns into a killer are logical and presented in a compelling way.
After getting scared by his grandpa about Santa and then having his fears confirmed by witnessing his parents' death at the hands of Kris Kringle, he undertandable has some baggage about Santa. Not satisfied with that set up alone, the screenwriters augment Billy's mental issues with Santa with a strict Catholic upbringing, including sexual shame. So needless to say, Billy is a ticking time bomb by the time he is an adult.
Another indication that the writing in this movie is of higher quality is that I actually cared about the characters. I cared about Billy and his fate because he was a three dimensional character. I also cared about some of his victims, especially Pamela, whose death seemed tragic in the moment.
The other thing I love about this movie is the original music. This is another example of demonstrated artistic care given to a movie that no one on the surface would take seriously. The original Christmas carols in particular are fantastic, and really add to the slightly off feeling throughout the movie. These Christmas carols sound deceptively cheery, but have weirdly ominous lyrics. Here is one that I've had stuck in my head ever since watching the movie:
I'm not a big fan of slashers, but I must say that I enjoyed the creativity of some of the deaths. I don't think that Billy killed anyone the same way twice. We had:
Christmas light strangulation
Box cutter disemboweling
Claw hammer to the head
Arrow to the spine
Stabbed with antlers
Defenestration
Axe beheading
Axe to the Chest
Sometimes these deaths came from out of the blue, and were super effective.
What Didn't Work
To be honest, there wasn't really anything I didn't like about this movie. I'm sure that others will point out bad acting, and exploitative nudity, but we're talking about a slasher here. There are always some flaws that come with the territory with slashers. This isn't high art, but it is entertaining, and Silent Night, Deadly Night is a higher quality slasher compared to most.