Podcast: Play in new window | Download (Duration: 59:28 — 40.8MB)
Subscribe: Google Podcasts | Spotify | Amazon Music | Pandora | iHeartRadio | Podchaser | TuneIn | Deezer | RSS | More
Have you ever lit your worst enemy on fire, decapitate them, and use their still burning severed head to light your cigarette? Better yet, have you seen Nicolas Cage do it? Mandy is an exercise in world bending drug trips, fantasy novels, 70's & 80's horror movie tropes, and insane revenge. It starts in the woods in 1983 and ends up in some crazy fantasy land that I don't understand, but I love it nonetheless.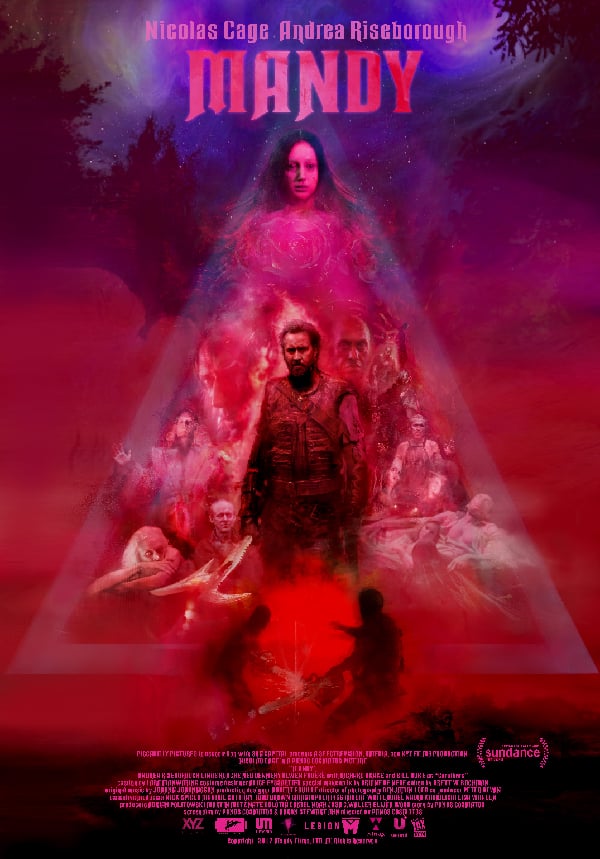 There is this trend in shows and movies right now that seeks to capitalize on the nostalgia of the 80's. Some things do it quite well; others just make me feel like I'm being taken advantage of – Mandy is the former. Mandy is like a strange amalgamation of Turbo Kid, The Amityville Horror, Raising Arizona, and Stranger Things. The whole production is slow, methodical, and feels quite unhinged.
Mandy Trailer
Synopsis of Mandy
The story starts with Nicolas Cage and Andrea Riseborough (Mandy) living their best life in a nice little cabin in the forest. There is something slightly supernatural about Mandy, and she infatuates Cage. A van full of "Jesus Freaks" see Mandy walking down the road one day and the cult leader decides he can't live without her. After that, this movie descends into some of the strangest territory that I can recall.
Written and directed by Panos Cosmatos with additional writing credits Aaron Stewart-Ahn, Mandy makes sure to pay homage to its roots. There are tons of callbacks and references to old-school horror, fantasy novels, music, and tropes. It's mostly a mood piece, and the mood is drug-fueled.
Check Our Our Review of The Killing of a Sacred Deer
The music drones loudly and angrily, the setting morphs into a dark fantasy land, Cage turns into a bad ass narco messiah, it's nuts.
My Rating
8/10
Mandy is insane. It features Cage in quite possibly the best way you can feature Cage, the same way Raising Arizona features him, as a normal, everyday lunatic.
Mandy Spoilers
Once the aforementioned Jesus freaks catch sight of Mandy and decide they need her in their cult, they make use of an artifact whistle that summons the four quad-men of the apocalypse. They are a motorcycle gang who has been turned into something eternal and perverse by some sort of trucker crank. This drug has altered the biker gang into super mutants who can be controlled by anyone who gives them more insane drugs.
The Jesus freaks give the quad-men some drugs and demand that they help kidnap Mandy, which they do while Cage and his girlfriend are asleep in their bed.
Check Out Our Review of Gremlins 2: The New Batch
The Jesus freaks give Mandy some heinous psychedelics from a giant wasp, and the cult leader, Jeremiah (Linus Roache), tries to convince Mandy to sleep with him in front of his followers. Mandy openly laughs at an mocks Jeremiah, so he decides to sacrifice her in front of a bound and gagged Cage by lighting her on fire.
As it turns out, that was a mistake on Jeremiah's part. Enter the rage Cage.
Cage becomes a man with a purpose – to kill anyone who was involved with the kidnapping and murder of Mandy. The movie morphs into a dark fantasy-horror landscape that was inspired by 70's and 80's fantasy novel covers.
Is Mandy Worth Watching?
To answer the question of, "Is Mandy worth watching?" please refer to the following list. Do you enjoy:
Revenge
Cults
Destroying cults
The 70's
The 80's
Fantasy novels
Psychedelic vibes
Bad ass weapons
Insane drug trips
Revenge
Apocalyptic themes and tropes
Burning religious imagery
Dark and sinister characters
Lude sexual acts
Horror movies
Tigers
Nicolas Cage in his element
Revenge
If you answered yes to some of these things, it's probably worth a watch. Mandy is clearly on it's way to becoming a cult classic of sorts, so watch it now on Amazon or in a limited release theater so that you can say you saw it on release.