Podcast: Play in new window | Download (Duration: 1:17:21 — 53.1MB)
Subscribe: Google Podcasts | Spotify | Amazon Music | Pandora | iHeartRadio | Stitcher | Podchaser | TuneIn | Deezer | RSS | More
The Gremlins are back, and this… new batch…is crazier than ever. Yeah, yeah, yeah it's barely horror, but it's horror adjacent and stupid fun. Can you just give us this?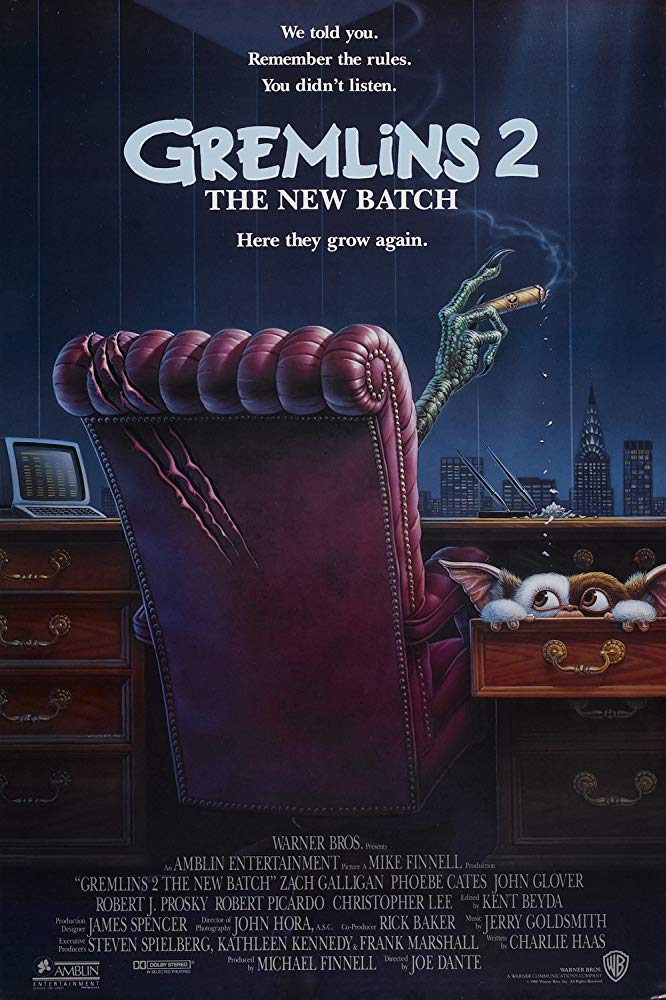 Gremlins 2 can be found streaming on Shudder as of the recording of this podcast, but I don't know if it's still on for you. You're a big boy, you can Google it.
Gremlins 2 Synopsis
Years after the events of Gremlins, Billy Peltzer (Zach Galligan) and KAte Beringer (Phoebe Cates) have moved to New York and are working in a new high tech, highly automated, highly satirical skyscraper. Guess who else is in the skyscraper? That's right, Gizmo the Mogwai. Rules get broken, hijinks ensue.
Review of Gremlins 2: The New Batch
If you liked the Gremlins part of Gremlins, then you will love this movie. We got all kinds of Gremlins. Bat Gremlins, googly eyed gremlins, Gremlins with 8 legs. We got brainy gremlins, dumb gremlins, electrical gremlins, hell, we even have a vegetable gremlin. More Gremlins than you can shake a stick at.
Check Out Our Review of Gremlins
Where the original films tone was inconsistent, Gremlins 2 comes out very early on and establishes itself as a goofy as fuck comedy/horror. While it's tempting to say that this movie was a hot mess, I honestly can't. It is ridiculous, yes. But it's not supposed to be taken seriously. There are a lot of fun moments in this movie that break the fourth wall. The film acknowledges and pokes fun at the logical inconsistencies of the original, including Kate's weird asides about personal tragedies on holidays. There is also some top quality satire of 80's business tropes that ranks up there with Robocop.
Score for Gremlins 2: Muppets Take Manhatten
6/10
Spoilers for Gremlins 2
Pretty much everything can be covered in this Key and Peele sketch:
Should You Watch Gremlins 2?
This is a great example of a movie that you should watch if you flip by it on cable (do people still have that?). I wouldn't go out of my way to watch it, but if it is in front of you, you will enjoy it. It's goofy fun, and is entertaining in intentional and unintentional ways.