Podcast: Play in new window | Download (Duration: 1:28:43 — 60.9MB)
Subscribe: Google Podcasts | Spotify | Amazon Music | Pandora | iHeartRadio | Stitcher | Podchaser | TuneIn | Deezer | RSS | More
This movie is a lot of things. It's hard to label it with genres without going into a run on sentence. You could call it a meta socially conscious zombie dark comedy horror film. Read below or listen to our review.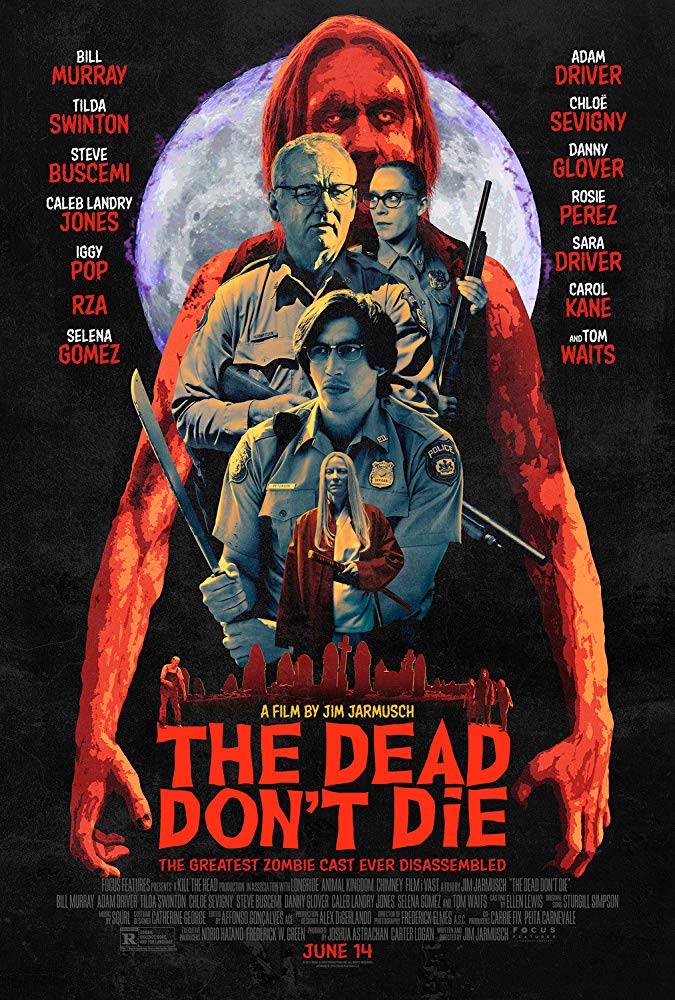 Trailer
The Dead Don't Die can be found in theaters now.
Plot Synopsis for The Dead Don't Die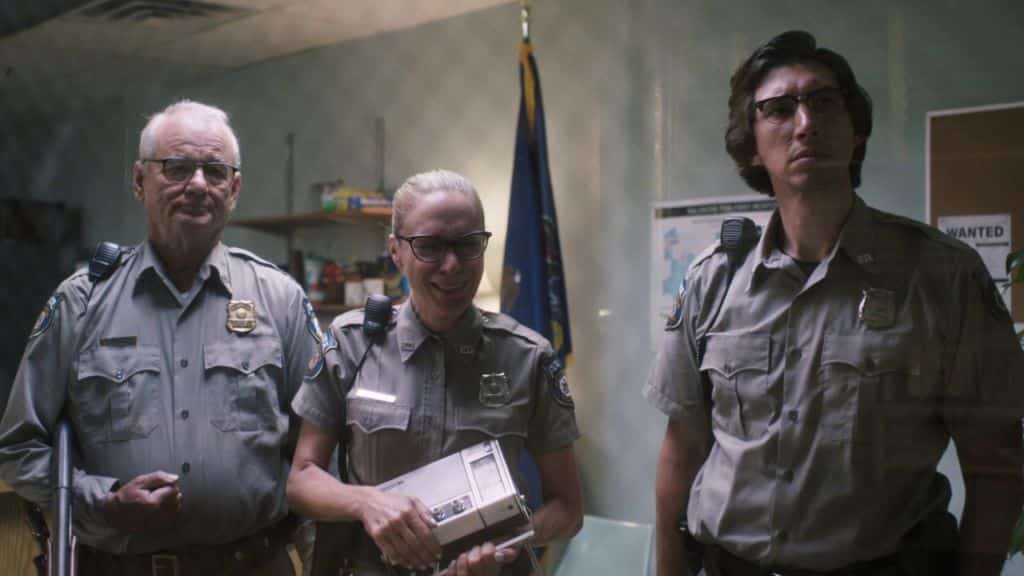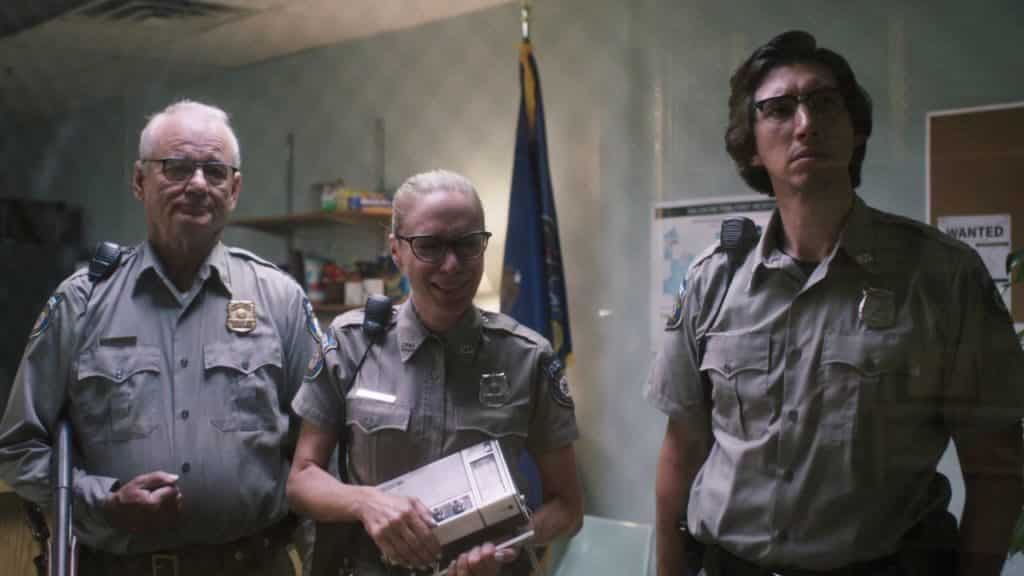 The film is set in Centerville USA, "A Real Nice Place" and follows two police officers, Chief Cliff Robertson (Bill Murray) and Ronnie Peterson (Adam Driver). Their sleepy routine of handling minor misdemeanors is disturbed when a grizzly double homicide at the towns one and only cafe. Since Centerville is such a nice place, the first assumption is that it was some animal…or several animals that did it, but Ronnie Peterson correctly guesses that it's "zombies, you know, the undead…ghouls". Apparently the "polar fracking" that they have been hearing on the news has inadvertently caused the earth to go off axis and…the dead to rise from their graves.
Watch The Dead Don't Die
Check out the movie on Amazon
Is The Dead Don't Die Worth Seeing?
What follows is a great mix of fourth wall breaking, social commentary, and sardonic comedy horror. This movie has a definite indy feel, which isn't too surprising, since writer/director Jim Jarmusch has made a whole career staying on the edges of mainstream. This is actually his first film that opened in more than 300 theaters. Regardless, you have likely seen or heard of some of his other films, such as Broken Flowers, Ghost Dog: The Way of the Samurai, Dead Man, and Only Lovers Left Alive. This film actually features 8 actors that have worked in previous Jarmusch films, which has resulted in an embarrassment of riches, including Tilda Swinton, Steve Buscemi, Tom Waits, Chloë Sevigny, Rosie Perez, and RZA. The dialogue is as dry as a Mormon wedding, but the world and characters that Jim Jarmusch has created are as charming as the prototypical little american town that Centerville represents. It is a precisely written, directed, and acted. There is very little fat in this movie, but the story and dialogue is given plenty of room to breath.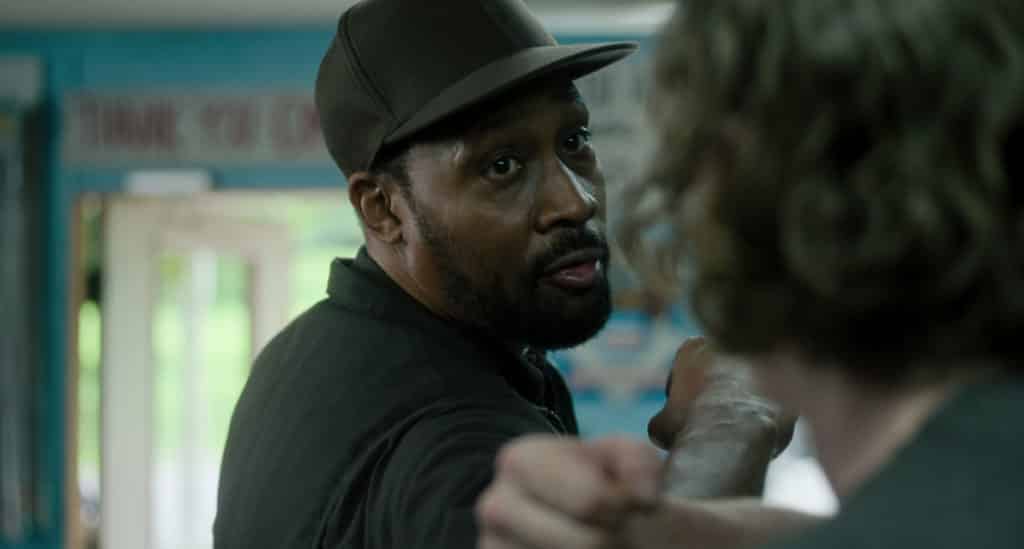 The Predator! What a Fun Movie! Check Out Our Review!
I'd hesitate to say that general audiences will enjoy this movie as much as Avengers Endgame, but I think there is truly something for everyone. There were many moments throughout that delighted me, and I found myself laughing out loud as well as feeling intense existential dread. While watching it, my score kept going up and up. I highly recommend it.
Our Score for The Dead Don't Die
9/10
The Dead Don't Die Spoilers
Expand for Spoilers

The film opens on a graveyard with Officers Robertson and Peterson responding to a call that Hermit Bob stole one of Farmer Miller's chickens. Already I'm on board. Any movie with a character name Hermit Bob is a movie that I'm on board with.

As they drive back and have small talk about how much of an asshole Farmer Miller is, they begin noticing that "something's weird". They notice that it's still daylight when it's well into the evening hours, and that their watches and some of the electronics have stopped working.

Officer Peterson comments: "This isn't going to end well".

It should be noted that this film starts off very meta, very early on. After the opening scene, the credits role to Sturgil Simpson's "The Dead Don't Die".

The Dead Don't Die Theme Song.

After the credits play and the song finishes, we return to the cab of the police car. Officer Peterson turns on "civilian radio" and once again Simpson's song starts playing. Officer Robertson mentions how familiar the song is that is playing on the radio. to which Roberson points out that "it's the theme song".

Polar Fracking

News reports are caught in glimpses in the opening scenes that describe that there is a environmental disaster happening because of "polar fracking". The "industry experts" are quoted as saying there is nothing to be alarmed about, but shots of tsunamis and burning forests tell a differnt story. Apparently, the polar fracking has caused the earth to go off it's axis.

This leads to the underlying thesis of the movie that ignoring global warming is essentially as dumb as zombie movie logic.

Want To Know How The New Child's Play 2019 Was? Check Out Our Review!

Zombi Iggy Pop

Eventually the dead rise from their graves, starting with a couple of dead roadies played by Iggy Pop and Sara Driver. They invade the sleepy coffee shop and brutally kill and eat the two women working there.

When the police come to investigate, Officer Peterson has the theory that it's zombies.

They then go about warning the townspeople and start preparing for the zombie apocalypse. The zombie trope of "kill the head" is underlined in the dialogue throughout the rest of the movie.

Buscemi's Farmer Miller is the only one not warned, because…he's an asshole.

Zombies as Consumers

One of the unique aspects of the zombies in The Dead Don't Die is that they all moan about what they craved in their former lives. The first couple zombies groaned "coffee!" Others seek after "toooools", "candy", or in Carol Kane's case, "Chardonnay".

By the end of the movie, Hermit Bob opines that "all them ghost people lost their souls, just hungry for more stuff," and that they are "the remnants of the materialistic people, Guess they've been zombies all along."

Tilda Swinton as Zelda Winston

This was the role that Tilda Swinton was born to play. She stars as a weird, new to town mortician that ends up being an alien. She is the most adept at handling the situation and is basically this film's version of Michonne from The Walking Dead. However, the rest of the town is left in a lurch when her people come and take her away in a UFO ala Poochie.

Zelda's planet also needed her.

The Ending of The Dead Don't Die

Officer Peterson alludes throughout the movie that, "this isn't going to end well," and it doesn't. One of the best moments of fourth wall breaking was when Officer Robertson asks "Why do you keep saying it's not going to end well, how do you know?" To which Adam Driver responds "I've read the script."

In the end everyone dies except Hermit Bob, who we see walking off to continue living in the woods.
Who Would Like The Dead Don't Die?
If you like dry dark comedies like those done by the Coen Brothers, you would likely appreciate this movie. I think it has something for everyone, but if you don't like slower paced films, then you should probably move on.
Horror Movie News
Steven Spielberg is creating a horror show you can only watch at night
Doctor Sleep Trailer Came out. The Shining Sequel starring Ewan Macgregor, directed by Mike Flanagan is coming out Nov 9th
"I think you've made the most idyllic horror film of all time." – texted to Ari Aster
"This hasn't existed yet, and anything after Midsommar is going to have to contend with it. I mean, this usurps The Wicker Man as the most iconic pagan movie to be referenced."
Blumhouse Announces Black Christmas Remake, Sets 2019 Release Date
Other Videos