Podcast: Play in new window | Download (Duration: 1:59:17 — 81.9MB)
Subscribe: Google Podcasts | Spotify | Amazon Music | Pandora | iHeartRadio | Stitcher | Podchaser | TuneIn | Deezer | RSS | More
We saw Ready or Not in theaters, and while my expectations were extremely low, I can honestly say that this is one of the best new movies I've seen all year. It's a dark comedy that has plenty of high stakes and tension which made for a fabulous experience.
Ready or Not Synopsis
Ready or Not is the story of a beautiful, young couple, Grace (Samara Weaving of The Babysitter) and Alex Le Domas (Mark O'Brien of Arrival) on their wedding day at Alex's family estate. The Le Domas family are the heirs and proprietors of a Milton-Bradley esque board game company and are the kind of wealthy that begets butlers, maids, and like 20 dumbwaiter's in their palatial mansion.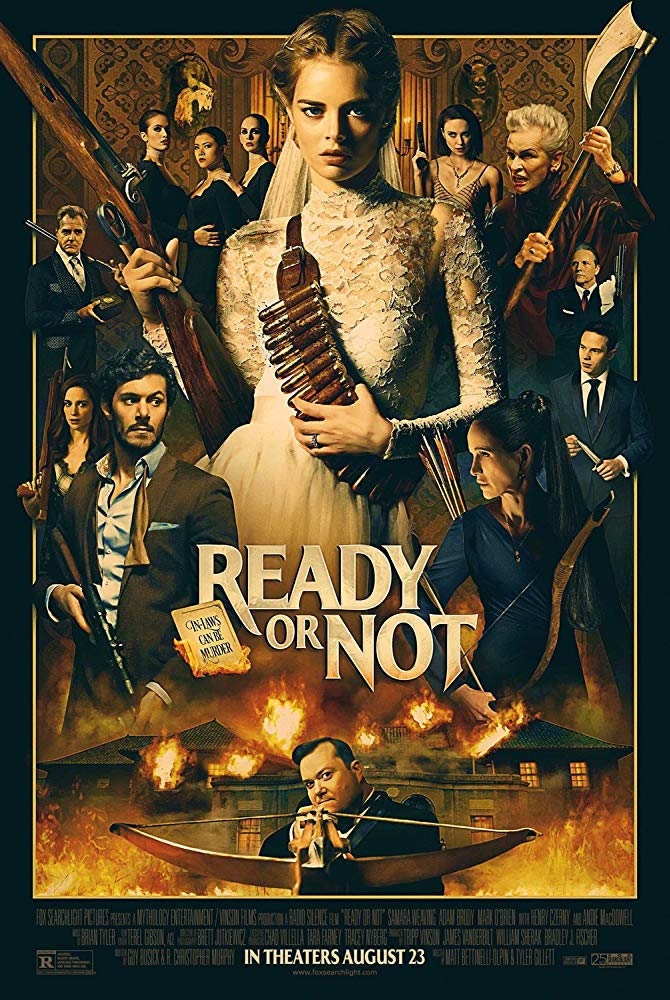 The Le Domas family are made up of Alex's brother, Daniel Le Domas (Adam Brody of Jennifer's Body), father Tony (Henry Czerny), mother Becky (Andie MacDowell of Groundhog Day), and the rest. The Le Domas family are as proud as they are superstitious and cruelly witty.
Right before they consummate their marriage, Alex tells his new wife that in order to be accepted into the family she has to play a game with them at midnight. She agrees, and through a ritualistic choosing method she learns that she will be playing Hide and Seek. She soon learns that Hide and Seek is the only game you don't want to play with the Le Domas family, as they are now going to attempt to kill her to hold up their end of a bargain with the devil that their great, great grandfather made.
Ready or Not Review
Ready or Not is directed by Matt Bettinelli-Olpin and Tyler Gillett, who are most notable for the underground horror favorite V/H/S. Lots of the people who worked on this film have some horror chops already, which may have some role in how well it turned out. I think most of the credit for this coming together can't be attributed to any single source. Everyone did a great job on this movie. Truly witty banter mixed with horrendous scenes of shocking brutality punctuates, the "just another day" feel of this black comedy.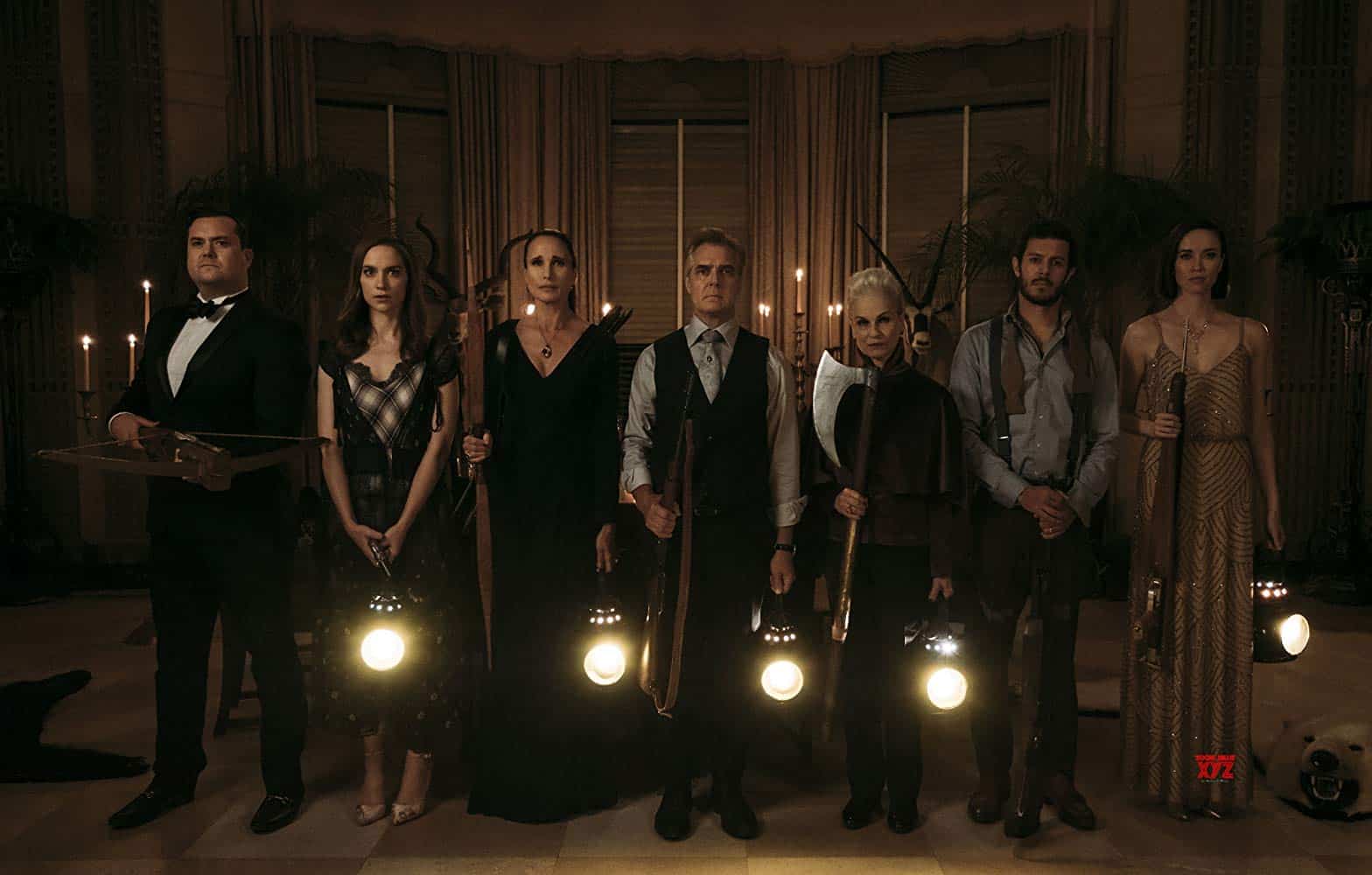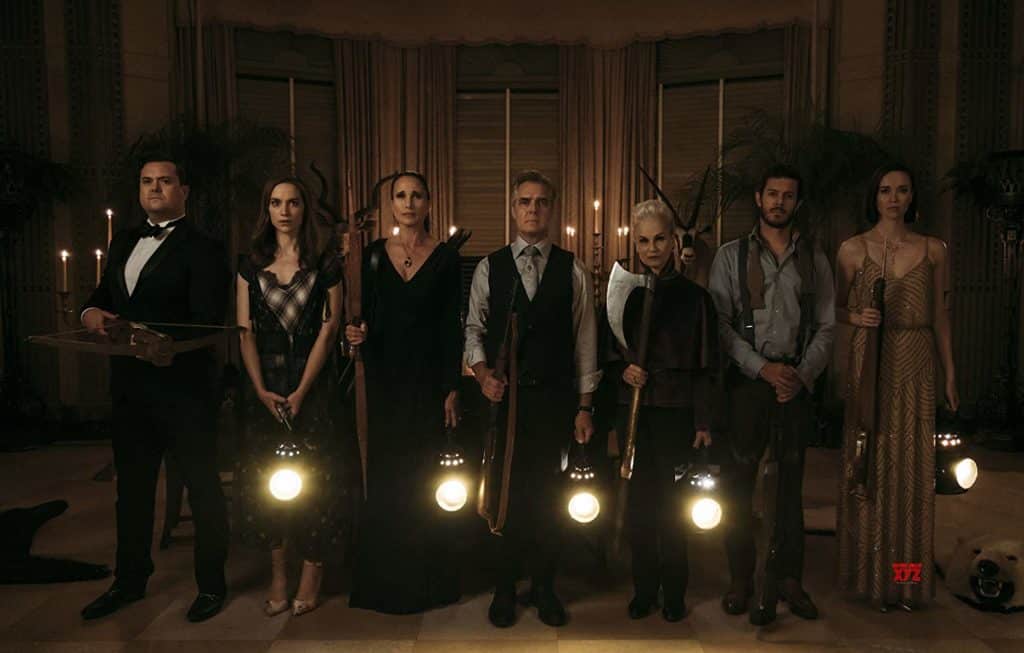 I was so impressed with this movie from the 15 minute mark and on, that I have no choice other than to score it highly. I will be watching it again the same way I watch Cabin in the Woods and Tucker and Dale vs Evil – to have fun while laughing at incredible dark comedy.
Score for Ready or Not
9/10
Spoilers for Ready or Not
The movie starts with Daniel (the brother) helping to kill a guy in the family house. To be precise, a guy is clearly trying to run away from other adults, and the child Daniel outs him to everyone. They then drag the man to his doom in the "family only" room.
The Family
The family is made up of a bunch of rich people stereotypes, all of whom have a biting dry wit, and plenty of personal foibles. There is the:
Overweight brother-in-law
Menacing aunt
Coked up sister
Unbearable rich kids
Man-in-charge father
Woman-in-charge-of-man-in-charge mother
Unenthusiastic but well-meaning brother
Come-from-the-streets sister-in-law
Alex explains to Grace that they play a game at midnight, and it could be chess or checkers, or any game, but you don't have to win, you just have to play.
Recent Classic Horror Movies? Check out Our Review of Evil Dead (2013)
I would like to take a minute to point out that the family name that she is marrying into is Le Domas – which you may know is French for, "The Dumbass".
Hide and Seek Begins
They funnel the family into a private, family, only game room and proceed to tell a story about the beginning of the Le Domas family fortune. They explain that a small box will shuffle some cards and spit out a card with the name of the game to be played. The box says Hide and Seek, and everyone bites their lip except Grace.
Grace is a little buzzed and gets sent off into the house to hide while the Le Domas family plays a goofy record that lasts for 100 seconds.
The soundtrack to this movie is fabulous, consisting of goofy and off-putting older songs mixed with classical and orchestral pieces that really make Ready or Not feel grand.
The family arms themselves with some old-timey weapons and turns off the camera system to pay homage to the way the game was meant to be played, and they set out to find and sacrifice her.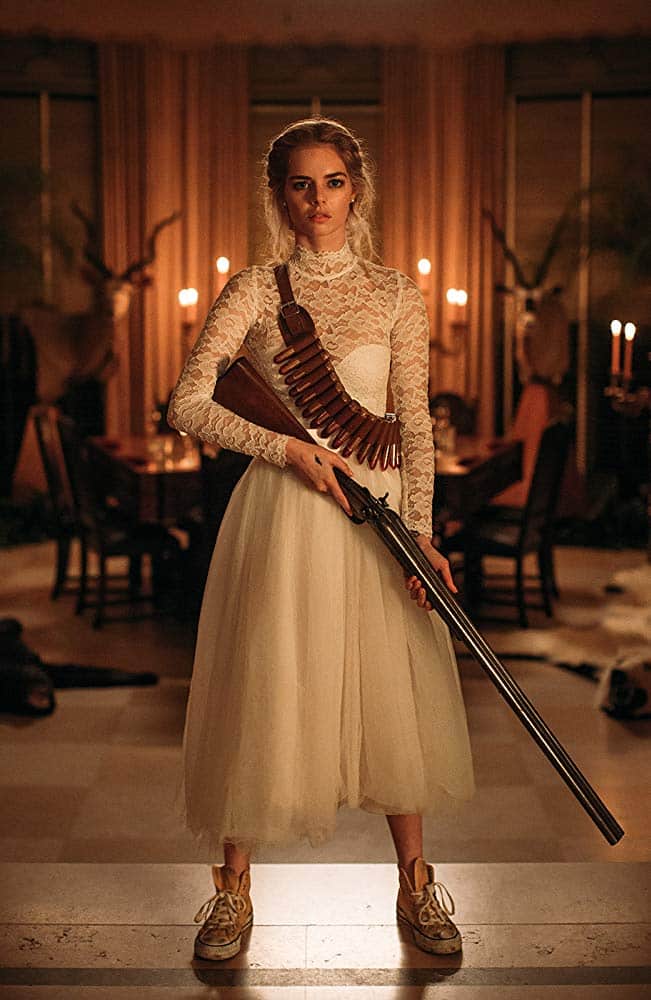 One thing that stood out to me while enjoying this movie – hide and seek works really well for a horror premise. Besides the fact that many horror movies are made as a big game of hide and seek, you have the inherent excitement that comes with empathizing with the hidey…hider? You also have the tension involved with being the seeker. The game itself works for me.
Fabulous Acting
Every bit of acting in this movie was hammy and fun. It was a well-acted movie, and holy hell, Samara Weaving can scream! If she isn't the new scream queen, I will be damned. She has that true terror in her screams that really makes the audience shudder.
Check out Our Review of Greta!
The Stakes are High!
The first death comes early, when the nanny goes looking for one of the kids who she was charged with keeping in their beds while the rest of the family tries to murder Grace. The nanny is filtering through the rooms looking for the kid, and she stumbles into the room where Alex has just met Grace to tell her what's going on. Alex and Grace hide and before they know it, the coked-up sister runs in the room and shoots the nanny in the face. Lots of gurgling ensues. Lots. Like a lot. It's quite funny.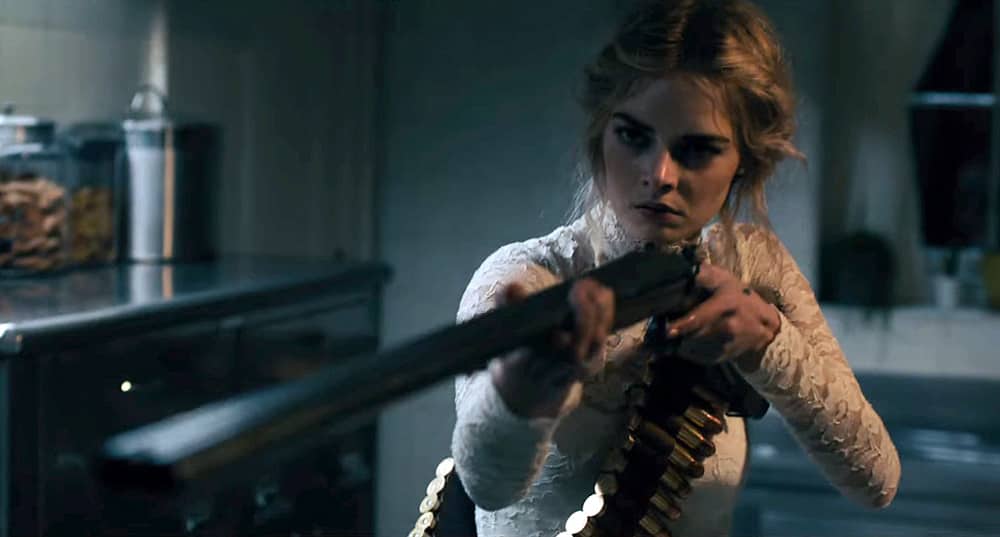 Once Grace realizes the stakes, she panics, but also becomes a badass – ripping off parts of her wedding dress and eventually finding an elephant gun and bandolier.
Cocaine's a Hell of a Drug
There are plenty of tense moments and close calls, the coked-up sister keeping accidentally killing people who tend to gurgle a lot. It's a super dark running gag, and they play it up a lot.
We learn that the Le Domas family believes that if they don't perform the sacrifice on Grace by dawn, they will be killed by satan for their breaking of the family contract with him. None of the family is actually sure about it, but they all err on the side of playing it safe…wouldn't you?
Throughout the Ready or Not, we see Daniel show remorse about being tied to a family who performs ritual sacrifices to Satan. Something about and as the movie draws to a close we are left on the edge of our seat as to whether he will defeat these personal demons.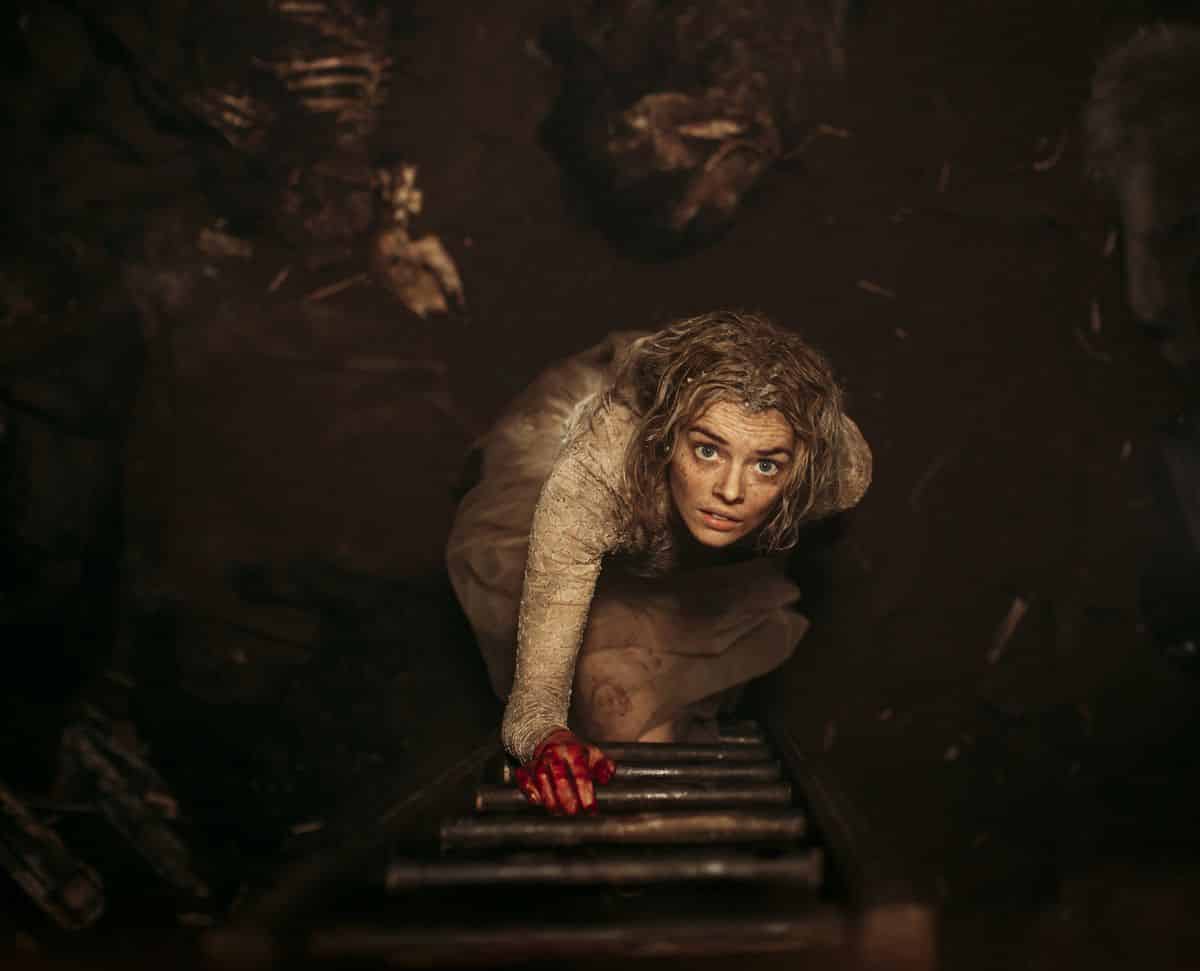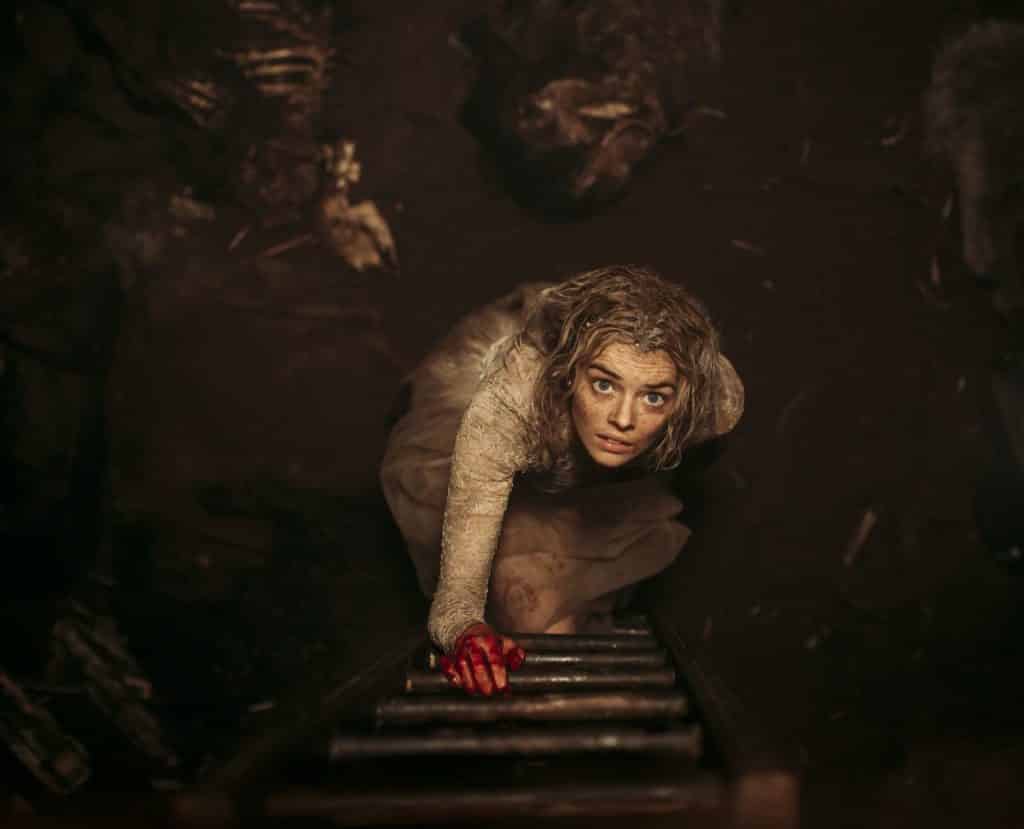 The evil eye aunt eventually tells the story of how Ale should be the leader of the family, and he needs to embrace his new role as the head of the dumbasses.
What an Ending!
Toward the end of the movie, the family has Grace on the alter and just as the pass the sacrificial cup around and take a swig; they learn that they were poisoned by Daniel who wants to help Grace escape.
Alex realizes that Grace won't stay with him after this and even he turns on her to save his own skin.
The Dead Don't Die is as fun as Ready or Not! Check Out Our Review!
As the family converges on her, the drapes are pulled back to reveal the sun! The family shrinks back in terror, expecting to die…but they do not. They stand and realize that they have been wrong about the deal with the devil this whole time. How silly of them!
Then, one at a time, after the relief has set in, they burst like overfilled water balloons full of blood! It's horrendous. The aunt, boom! The dad, boom! Even the two little kids, boom! Fabulous!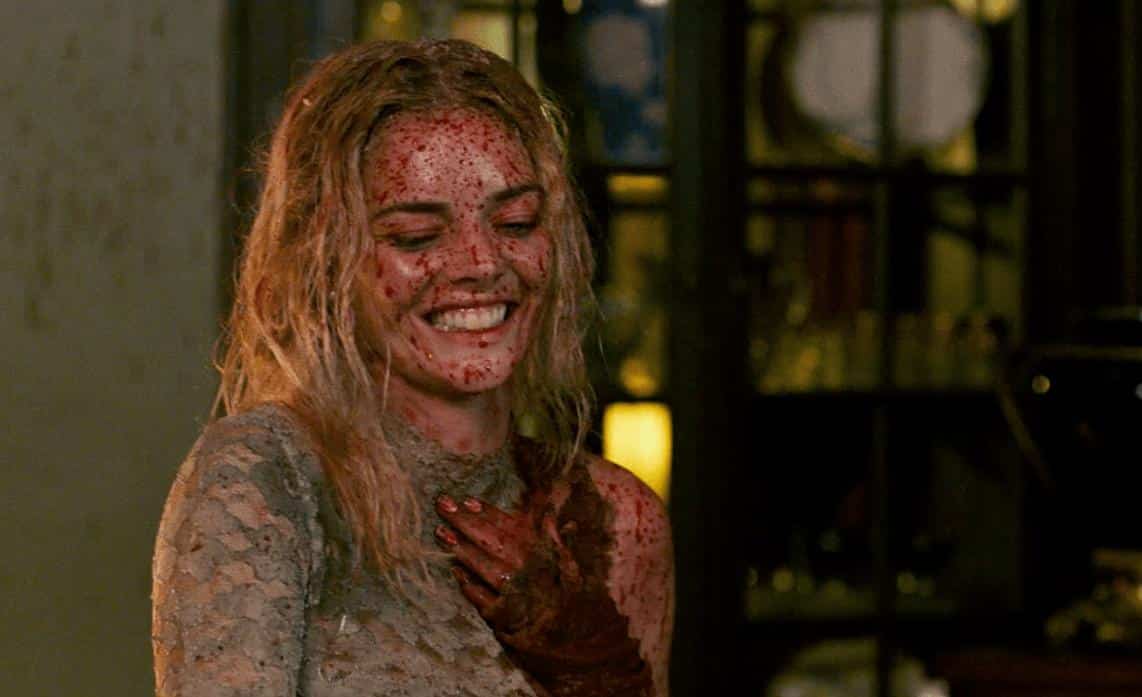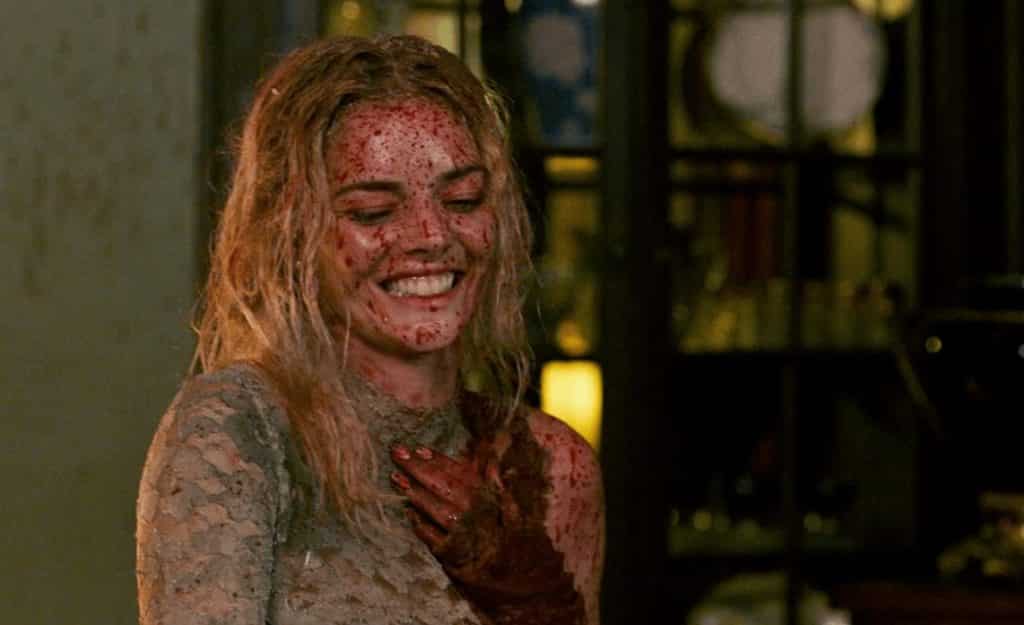 A first responder comes to the now burning down house and finds Grace smoking a cigarette on the back law and asks her, "Jesus Christ, what happened to you?!" She slowly responds, "….., in-laws."
Final Recommendations for Ready or Not
If you love dark humor, gore, and just really well-done movies, you should see Ready or Not. I would be surprised if this title didn't find its place among titles like Tucker and Dale vs Evil.