Podcast: Play in new window | Download (Duration: 1:02:02 — 42.6MB)
Subscribe: Google Podcasts | Spotify | Amazon Music | Pandora | iHeartRadio | Stitcher | Podchaser | TuneIn | Deezer | RSS | More
Greta is an anagram for great, which this film is not. In this episode of Horror Movie Talk, we discuss this new thriller out in theaters starring Isabelle Huppert and Chloë Grace Moretz. Later on we do a round of Taglines and cover the most recent horror movie news.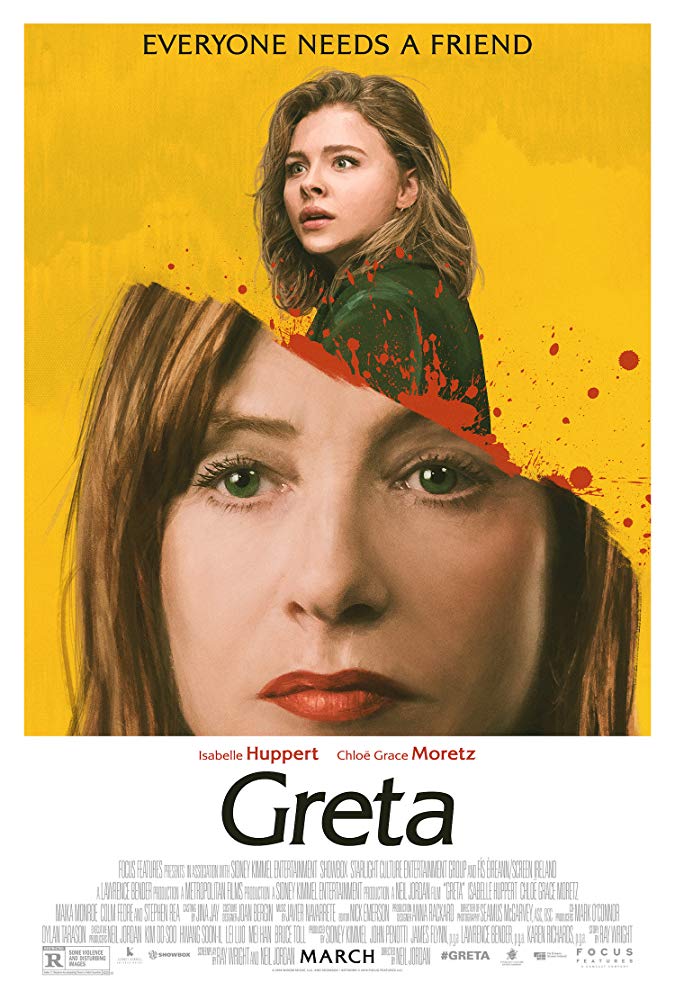 Greta Movie Synopsis
Greta is one of those films that gives you pretty much everything in the trailer. You can pretty much figure out everything that happens in the movie by rearranging the sequence of the shots in the trailer to the most logical sequence of events.
Greta is directed by Neil Jordan and tell the story of Frances McCullen (Chloë Grace Moretz), a young woman that comes across a lost purse on the subway and being a good Samaritan, she returns it to its owner Greta Hildeg (Isabelle Huppert). The two strike a quick surrogate mother/daughter friendship and start spending time with one another. Frances soon discovers that the purse was really a ploy that Greta has used many times before to lure in young women into her orbit. She gets progressively creeped out and discovers Greta's evil secrets too late to save herself.
Want To Watch It?
Click the button to watch Greta on Amazon
Review of Greta (2019)
Greta is an ok film with good acting, but heavily contrived danger. If you can get scared by middle aged, slight, 5'3" women, this movie will terrify you. If you, like me, realize pretty much anyone short of a child could immediately overpower her, it loses some of it's edge. The real power of this movie is when it focuses on the creep factor of having a stalker that progressively gets more threatening as she is pushed away. This isn't a horror movie, but it does have some ok gore and some genuine darkness in the third act. It was entertaining enough, but never really grabbed me.
Score for Greta
4/10
Spoilers
Expand for spoilers


As stated before, there aren't a lot of spoilers to be had with this movie. The only mystery left is "what does Greta do with the girls?" and "why does Greta do this?" Both questions have unsatisfying answers.

She imprisons them in a hidden room (or a box for punishment) until a replacement comes along and she kills them
Because she's crazy

The official tagline for this movie is "Who is Greta?" So I guess that is supposed to be an interesting spoiler as well. The answer is she is a Hungarian woman posing as a sophisticated French woman. Because reasons.

Check Out Our Review of Susperia 2018!

Of note, this is the second Hungarian villain in the last month of episodes. The Prodigy also featured a Hungarian serial killer.

The main draw back of this movie is that the character of Frances is smart enough to immediately recognize danger when she discover's Greta's multiple purses, but to dumb to know when to break a window to escape.
Final Recommendations for Greta
This would be a decent date movie, but you might want to wait till it's on Netflix.
Videos and Trailers Mentioned in Episode 33 of Horror Movie Talk