Podcast: Play in new window | Download (Duration: 1:32:19 — 63.4MB)
Subscribe: Google Podcasts | Spotify | Amazon Music | Pandora | iHeartRadio | Podchaser | TuneIn | Deezer | RSS | More
After multiple patrons and listeners requested, we sat down and watched Tusk on Netflix. We regretted our decision.
This film is all blubber and no craft. Kevin Smith proves his limitations with this failure of a body horror film. In this Tusk Review episode we break down what went wrong and what went right with the execution.
Tusk Poster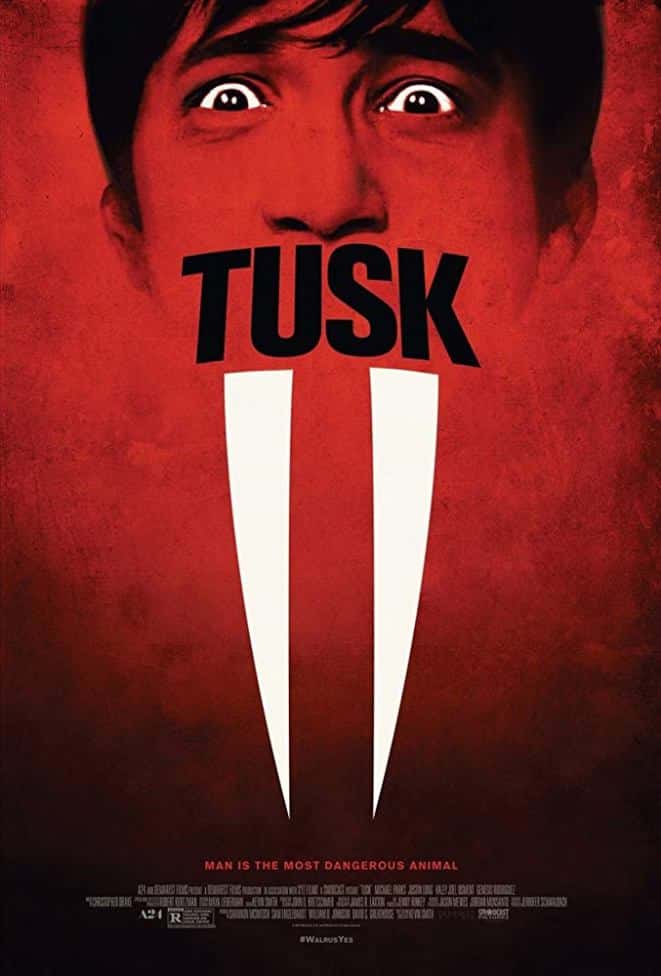 Tusk Trailer
Tusk Movie Synopsis
This horror movie is brought to you by the same guy that brought you Yoga Hosers and Cop Out. He now brings you a body horror movie based on a joke craigslist personal ad. In Tusk, Justin Long, plays Walrus, I mean Wallace Bryton, who runs a podcast with friend Teddy Craft (Haley Joel Osmond). Their podcast is mostly based off of making fun of internet cringe videos, and as such, Wallace flies to Canada to interview this movie universes equivalent of the Star Wars kid.
When Wallace arrives, he finds out that unfortunately, his interviewee has killed himself. Desperate to find material for their upcoming episode, Wallace then discovers a bizarre personal ad in the bathroom stall of a bar. He goes to meet an enigmatic retired seaman named Howard Howe played by Michael Parks. Mr Howard tells tale of his adventures at sea and of a particular shipwreck where he was miraculously saved by a passing walrus. Before long, Wallace finds himself drugged and captive to Howard's twisted plot to recreate his walrus savior at Wallace's expense.
Short Review of Tusk
Sound interesting? It's not.
Tusk is what you get when you make a movie based on a joke. The premise is entertaining enough for a fake trailer, but not a feature length film, and definitely not with Smith at the helm. I expected a lot more, but the commitment and budget did not pull off the intense and twisted body horror tale necessary to hold my attention. It was shot in 15 days with $3 million and it somehow feels more rushed and cheaper than that.
Check Out Our Review of IT (2017)
Instead of focusing on the dread of slowly being turned into a Walrus, Smith focused on creating a panoply of redundant characters delivering redundant dialogue at length. For a body horror film, there is very little care given to the design and shooting of the actual body horror. Smith blows his load halfway through the film and really has nowhere to go after that.
Score for Tusk Movie
2/10
Origin of the Idea of Tusk
The movie is based on a fake ad from Chris Parkinson from Brighton, England. He offered free rent to anyone willing to dress in a walrus suit and pretend to be the animal for two hours a day.
The advert was a hoax, but after Smith discussed it on his Smodcast podcast with co-host Scott Mosier, he began to think about mull the idea of turning it into a feature film.
"Something snapped in my brain, and it's only happened one other time in my life." That other time was 20 years ago, when "I wondered why people didn't make movies about me and my friends talking about movies and pussy and 'Star Wars.' So I did, and it was 'Clerks,'" Smith said.
The Good Elements of Tusk
Michael Parks is undeniably, a great actor, and he gets to display his talents well in this movie. Kevin Smith states that he wrote the film specifically for Parks, and wouldn't make it without him.
My favorite moments in the film were him doing a little delighted dance watching his victim, and him yelling ferociously as a whining Justin Long.
Spoilers for Tusk
Expand for Tusk Spoilers

The first thing you need to know about this film is that director Kevin Smith is a bullshitter, and he writes like a bullshitter. All of his characters sound like bullshitters, and it's bullshit.

Much of this film is taken up with repetitive dialogue and unnecessary exposition.

Kevin Smith's Failures

The direction on this film is truly terrible. Arbitrary flashbacks, forecasted super obvious plot twists, and terrible pacing marred the movie. But the real tragedy is the fundamental misunderstanding about what makes a body horror film work: dread, and disgust.

Check Out Our Review of Ready or Not

In terms of storytelling. the movie blows its load way too early. No care is given to extending out the dread or body transformation.

The main spoiler of the film is that Howard Howe surgically transforms Wallace into a Walrus.

The Walrus-Man Reveal

The reveal is terrible. It looks so much worse than I expected. If you were to imagine in your mind a human surgically turned into a walrus, take that idea, but then think of what a cosplayer of that idea at a Topeka, Kansas comi-con would look like. That's along the lines of what the walrus-man looks like.

Parks and Long sharing a moment of regret for appearing in Tusk.

Smith made the worst possible decision, and decided to show the Walrus in flat medium to wide shots for the rest of the film.

There it is, in all it's… glory.

A note to future budget filmmakers: if you have a terrible cheap looking monster design, go the Jaws route and don't show it.

Mocking Canadians. Lamely

Instead, what Smith focused his story on is lame humor mocking Canadians. Remember that Canadians say "aboot" and "eh"? Well, too bad, Kevin Smith is going to remind you how hilarious that is for an hour and 45 minutes.

Johnny Depp is in this film, and exercises a ridiculous, yet still unfunny French Canadian accent.

The beret is a subtle touch.

The only real reason that Johnny is in this movie is because his daughter along with Smith's daughter play clerks in a Canadian mini mart.

One of the most interesting scenes is probably the one where Depp and Parks play opposite each other and compete to see how much of the scenery each of them can eat.

Again… subtle.

The ending features a fight to the death between Howard Howe in a Walrus suit and Wallace as the transformed Walrus monstrosity. Long wins. Who cares?

In the epilogue, Wallace is shown being visited by his former girlfriend and former podcast co-host who then toss him a fish to eat.
Final Recommendations
I can't in good conscience recommend this movie. It is streaming on Netflix right now, so if you already have a subscription, you could watch it for free. However, you could save a lot of time by just fast forwarding to the scene where Wallace meets Howard, and the scene with the transformation reveal. Everything else is unfunny blubber.
Horror Movie News
Netflix released a trailer for "Netflix and Chills", a special Halloween season release schedule of four original horror movies

In the Shadow of the Moon (9/27)
In the Tall Grass (10/4)
Fractured (10/11)
Eli (10/18)
Rattlesnake (10/25)
They are also advertising a special URL that will land you on all of Netflix's horror offerings: https://www.netflix.com/netflixandchills
Full Transcript of This Episode
Expand for Full Transcript of HMT Episode 63: Tusk Review

this episode of horror movie talk brought to you by your wife's moisturizer. You're a man, so you don't care about soft skin. But you also want to do unspeakable things with those sandpaper textured hands. Well, look no further than your wife's moisturizer to quick splits is all that you need to send yourself to Pleasure Town, followed by a quick jaunt through Shame County, ending with your arrival at disgusted Resolve City. Yes, your hands and unspeakable regions will never be softer or smell more like lavender than after you use your wife's moisturizer. And now from the same people that brought you your wife's moisturizer, try your wife's near sock for when you got a Put Something somewhere. Hello and welcome to horror movie talk and opinionated and accidentally funny Horror Movie review Show your panel of expert hosts each week are Dr Bryce Hanson, who holds a PH-Boo in spookology. Oh, and adjunct professor David Day, the foremost expert on scare No nose. New theatrical releases always get priority, but we also review older horror movies both good and horrible, and I'm Davide man. I always need to put something somewhere. It seems, ah Welcome to horror movie talk. Before we get started, I want to tell you about this great website called Horror movie talk dot com. Do tell me more. It features past episodes of your favorite podcast horror movie talk, as well as links to social media and blog's on horror movie topics. Yeah, it's true. It's true. Also has some links up with the top where you can help us out a whole bunch. But we'll get into that later. You which is? We should do a whole. We should do this episode high energy like other podcasts. Okay, let's do it. Let's do it So we got everybody. If you're new to horror movie talk, we post every Wednesday. So subscribing Smash that rating button. Bring that mouth smash the slap. That five star rating. We're really, really. So if you love the podcast, check out positive. A cast from Davide, another podcast about positivity. Today we got a great show, David, What do you think? We've got a great show today. We got the best show, and one will be talking about us seemingly made for TV movie. We'll be given a brief review and our score for the movie we scored on a scale of 1 to 10 1 being a miserable dread that make you angry. Five. Be an average film that hits all the expected marks and 10 being so good at transcends genre boundaries. What are those? I don't know. Those are big words. After we give our score, we'll get into spoilers and take a deeper dive into what we liked and hated about the food fil film move movie. My takeaway on this Is that your impression of professional radios? Are they are they? They talk so quickly that there nearly in conference about you're just like Oh my God, there's words coming at me quickly. Most most radio personalities probably enunciate. That's that's where they've got me. So, um, take a deeper dive in the light. What we like to hate about every move leader will be doing taglines choked on my coffee. Uh, would you be doing taglines and horror movie news? Oh God, those other podcasts that like our super high energy and it's just one person talking after the other over. I just started listening toe last podcast on the left. They have, like the series on the Mormon religion, and it's just like back. I don't know if it's the editing or they're just like each just waiting to spring on each other after someone finishes a sentence. Yeah, yeah, I mean, it's a strange thing. It's like what you grew up listening to write, which is, like, for me. It's Stern and Opie and Anthony and neither of those format and then Adam Corolla, you know, And none of those formats were ever, like, jump on you. Yeah, it somehow like there was there was like, there's, like, a couple different echelons of radio, you know? And the echelon right below the the one that I like, Uh, which is, you know, just a talk variety. Our kind of thing is, you know, a professional deejay, right? Or just like a morning zoo. Yeah. Lower morning zoo. Exactly where it's just like, Good Lord. Are you insane? And the answer is kind of Yeah, yeah. Anyways, we'll have to do I That's we'll have to build up endurance. I think that's a far as I can go today. I Yeah, I mean my sphincters a little wobbly after it's it's alarming having you and you haven't even talked having you know it's alarming because your energy is palpable and it's not normal. Normally there's a little bit of, ah, black hole on that, Andi. So I'm Ah, so right now I'm I'm a little overwhelmed. Okay, Um, so let's let's get into the movie. Um, I just want Yeah, my levels were right. So after multiple patrons and listeners requested, we sat down and watched Tusk. Yes, we did. Yes, we did. It's available for free streaming on Netflix, and we regret our decision. What the fuck is the matter with you? People like you think we aren't gonna go hard in the paint on you? We will wage war. All right, here's the trailer. Always do sober. What you do drunk. I'm gonna teach you to keep your mouth shut up. Hemingway said that? Yes, he did. He said it to me. I don't want you to go to Canada. Its form for the podcast. It's what I do. I travel around and I interview weird or interesting people. So look out, you crazy. Canucks 100. Wallace takes a raunchy road trip up to the great White North. Hello. I have an old man who has enjoyed a long and storied life at sea and after e owns oceanic adventure. I know. I do not wish to spend my remaining years alone. Why have stories to share? How far is by frost from here? It's about two hours from here to a dude two hours away. Hate American guys. Good evening. Nice to meet you. Could I interest you in some tea? So what happened after the boat sank? I was alone. I'm dead or something. Very swift and frightening. Moved by me. A walrus saved your life. The walrus is far more evolved in any man present company included. Thank you. You're welcome. There, there. And we all ride Mr Tough. He hasn't called me in three days. I'm worried. What? You really morning your humanity. I don't understand the hell I want to be human back. Wait, So I think Yeah, watching that trailer reminded me why I wanted to see the movie. Because the trailer is actually pretty great. It looks like a very promising movie because it doesn't show you. Oh, man. So this is this is a hit piece. This podcast right now, if you're a huge fan of task Well, first of all, I don't know if we can be friends. Yeah, second of all, we're going to tell you why you're wrong. Tusk is a horror movie brought to you by the same day that brought you yoga, hosers and cop out. He now brings you a body horror movie based on a joke. Craigslist personal ad. Justin Long plays walrus. I mean Wallace Brighton, who runs a podcast with friend Teddy Craft, played by Haley Joel Osmond. You remember him right there. Podcast is mostly based off of making fun of Internet cringe videos, and as such, Wallace flies to Canada to interview this movies. This movie universe is equivalent of the Star Wars kid. When Wallace arrives, he finds out, hilariously that his interview he has killed himself. Desperate to find material for their upcoming episode, Wallace discovers a bizarre personal ad in the bathroom stall of a bar, which is normally like a really good idea to respond to personal ads inside shady bars. Yeah, no, but this didn't work out too great for him. He goes to meet an enigmatic, retired seamen named Howard. How semen way. We're no better than the movie now played by Michael Parks. Mr Howard tells tale of his adventures at sea and of a particular shipwreck where he was miraculously saved by a passing walrus before long wallet walrus. Before long, Wallace finds himself drug and captive to Howard's twisted plot to recreate his walrus savior at Wallace's expense. Sound interesting? It's not. I'm so irritated. I'm so fucking irritated right now. The fact that he named him Wallace like that just it Zez everything you need to know right there. What you just name be. Well, we're going to turn him into a walrus, so it should probably name Wallace. At the very least, it should have been the last name Ready Should been like Robert Wallace. Test is what you get when you make a movie based on a joke. The premises entertaining enough for a fake trailer but not a feature length film. And definitely not when Kevin Smith is at the helm. I was expecting a lot more, but the commitment and budget wasn't there. To pull off an intense and twisted body horror tale. The film was shot in 15 days with $3 million it somehow feels more rushed and cheaper than that. I'll give him credit. 50 days is pretty quick. 15 days is very, very quick. Ah, the It's impressive the talent that he was able to pull in, I assume, just with his name. Yeah, but, man, I I'd be surprised if he was able to do it again. This is a one and done kind of thing because anybody who catches wind of this well, he had already here and he pulled in Michael Parks for Red State. And he basically said that you wouldn't make this film unless Michael Parkes played Howard. Um, and then Johnny Depp somehow got in this. The thing I found out is that those clerks in the minute mark the Canadian minute mark were Kevin Smith's daughter and Johnny Depp's daughter. So I wonder how much it's like just a Johnny have time wanting to do something with his daughter. Yeah, you know, I don't know if you're going to get to the fact that this is part of, ah, like a light trilogy. Not really. I mean, yeah, so it's kind of like a Canadian trilogy, and I can't imagine how unspeakably unfunny the other ones are. But there's yoga Hosers. There's Tusk. And then there's, um, most tooth or something like that. Something to be released? Yeah, there's like Moose jars. Something with Moose. Yeah, okay, because Canada. So instead of focusing on the dread of slowly spoilers being turned into a walrus, Smith focuses on creating a panoply of redundant characters. They're delivering redundant dialogue at length for a body horror film. There's very little care given to the design and the shooting of the actual body horror. Shockingly, shockingly, A Smith blows his load halfway through the film and really has nowhere to go after that. It's truly it's like it's shocking. It's astounding that he's, I mean, he's not a bad story teller. No, he's specifically a good storyteller. But I mean, does follow That guy does is the reveal is so bad. It's just so bad. And then you're just like, Oh, that's That's it, like that's where that's what we've got for this film. And then it's just like all right now on to the interesting part. And let's be clear, hilarious detective work, clean chewing Johnny Depp And let's be clear, I was excited about this movie like I was like, Yeah, Tusk Let's go. Yeah, I wanted to see this one for a while. It's one of those that you're like. I've heard about it like everybody has been, like, really seared that. Yeah, I'm really curious about it. See, that's the thing. I haven't heard people talk about it, and that's usually what keeps me from seeing it. Like I'll look at the trailer and say, This looks very interesting. I'm putting that on my cue. Who? But the thing that tips me over the edge to actually watching it is if someone mentions it in a good light. And I don't think I've ever heard anyone rave about the film or say that it was actually work worth watching. But now that we have a horror movie podcast, everyone wants this. Submit our time and brains, too. Yeah, the stuff that well, there's a few things going on there, right? Like Okay, first of all, first of all, that there's a few reasons why I think people referred the US to this movie and and I would like to point out that no one has has referred to me going. You'll love it. There just been like they wanted to hear what we say. You please watch this. And then they slap it down on the table and slide it across to us and their eyes have some sort of weird, fucked up fire behind him. And we're like, Okay, but so and then also, this is a movie about podcasters. All right, so now we're getting a little meta with the people suggesting right? Hey, you should watch this horror movie about podcasters you horror movie podcast hosts. And so now we're in too deep and and oh, man, I just had such high expectations because partially because of, like, the aftereffect, the afterglow that I had I still have for movies like Dogma and Clerks and you know, all my middle school chuckle fest bust, a nut and sort of sophomoric humor from Kevin Smith. I love a lot of Kevin Smith movies, but this is just unbelievably poorly done. Yeah, he is is not in his wheelhouse. Let's just say that Yeah, he should be ashamed. Even even more recent ones that have been better. Not great, but actually interesting, at the very least, So red state was pretty good. That one with, um, Mallrats. No, not Mallrats. What's the other one? There is Red State and the one that just the guy. I was pissed off it. Rude people. Yeah, I don't know. I can't write that one's called anyways. Like Kevin Smith is hit or miss in my mind. Sometimes he tries to overstep his boundaries and try to be a little more ambitious than he has the capacity for. This is definitely one of those. Yes, this is pretty clear. Like I kept kept coming back to the saying, Oh, he's trying to be a Quentin Tarantino in this, right? Like he's trying to write dialogue like pithy dialogue, but he has no idea what that looks like. He just has no idea. He just can't. Yeah, that's my first point when we get into the spoilers. Um ah, but let's talk about our score for the movie. Um, so with all that being said, all that being said, this was see, I was rested for this, like normally if I give like a really low scores because like, I just wasn't paying attention because I was so tired. But this one, I I put down a three, and then I changed it to a two because I'm like, What? What was? I didn't laugh at all in this movie. I might have laughed once unintentionally for an unintentional like funny thing. Just like, What are you doing? Like what the fuck not like, Wow, that's shocking. Or that's over the top. It's just like, Wow, that's really inept. But for the most part, I just got angry that the dialogue was so redundant and so repetitive and it was just It was really bad. It was bad. Now, now there's a little bit of a letdown factor to this, right? This is not true. This is not a terrible, terrible, terrible movie. I understood in that I understood what was happening at any given point, right? So it makes sense in so far as what is trying to make sense at. It's just a It's just a ah slapdash movie put together by a notable filmmaker. Yeah, and a notable film maker who has a lot of feels from my childhood attached to him and a lot of expectation from me. So in that regard, it's not a normal too. But I wouldn't say you're wrong because with great responsibility, with great power comes great responsibility. Kevin Smith. You should know this comic book enthusiast, slash writer, and I know D. C is more your thing, but, you know, you can you can take a little card out a spider man's book. Thank you. So, yeah, I don't have a strong opinion on this, which is probably more damning than anything. That's like, I don't give a shit what what we rate. This is definitely a a three. Definitely a three. Yeah, it's just a let down. Yeah, I think I think the thing that pushed me over the edge from a 3 to 2 is, um, the dialogue is truly, like boring. It's so good. It's so the pacing is so bad, it's very bad. And then an utterly fails at the genre of body horror up like it just does a very, very bad job falls flat on its face. It didn't the The idea that this is Bodie whore is absurd. It it's it's body horror in husk like that's the husk that this comes out in. But then it doesn't do anything with the body horror genre. There is no man. I mean, I think about it. It's not like you didn't try and that there's not, like the elements that are You would expect to be there, but they're just pulled off so bad. Yeah, like the transition just happened way too quick. Quick. There's no meat on those bones on that transition from, like, All right, now it's happening. Your metamorphosis. The supposed to be the culmination of the whole movie. All the interesting stuff. All right. Okay. Throw that sock away. Yeah. Uh, yeah. He's focuses so much time and energy on dialogue on unlike jokey, like tired, stereotypical jokes. And Jason Muse isn't even in it. Like like, if you're going to do that, at least have somebody who's strange and interesting to watch. Do it? Yeah. You don't think Johnny Depp is strange and interesting? It's not that I don't think Johnny Depp is strange and interesting. No, I don't think Charlie to have a situation interesting, actually, now that you mention it. Okay. So, uh, let's move on to spoilers. All right, so we've already talked about it, But there was one observation that I made about Kevin Smith's dialogue style. And if you've listened to Kevin Smith tell stories for his podcast you mean you sh mod cast. You should know Kevin Smith is a bullshitter. He's one of those guys that can tell a story that captivates your attention. But if you step back, you realize that it's a lot of unnecessary information. It's just a lot of color and not a lot of substance, necessarily right. And if you step back here like, oh, so you're just you're just kind of being awkward. Yeah, that's that's the takeaway. If you if you sift it, sift through all the bullshit is that it's a very normal occurrence that happened. Well, you have. You have in, like, one paragraph. You've stripped him totally nude. Did it? Can you imagine how awkward something I don't know. Maybe he's so good at Deflection and that kind of thing that that this you know, if he heard your words, if he heard you say those things and they rang totally true, he would he would say, Oh, yeah, that's absolutely 100% correct. Are you kidding me? That's me. Yes, of course it's me. Everybody knows that's me. Good job, professor. And it's like, um so as such. He he's a screenwriter that writes like a bullshitter. Yeah, so all of his character sound like bullshit? Er's. And in this circumstance, it's bullshit. Well said, Um, he's not. So here's the difference between Quentin Tarantino and can't believe Kevin Smith. They're both very, very good talkers. That's Tran. They're both homely, homely, issue gentlemen, or have spent a good part of their life being not good, looking enough for the women that they would like to have right. Much like a lot of people. I don't know if Kevin Smith likes to fuck feet, but I wouldn't be surprised. Um, but Quintero, both of them when they're writing the dialogue and the characters speaking the dialogue, are prone to sound like them. Like Quentin Tarantino, script sounds like Quentin Tarantino, right? And Kevin Smith sounds like Kevin Smith. But the difference between um, the dialogue is like I said, Kevin Smith is a bullshitter. And so the bullshitting comes through. But with with Tarantino, there's like a vast amount of pop culture knowledge and nuance and like opinions and strong, intelligent and taste that comes through yeah, intelligence, Which is this laundry list of good things that that Quentin Tarantino has that Kevin Smith doesn't. And yes, I I am constantly on Tarantino's nuts. I don't think he's ever made a bad movie. Look, the the on Lee. I mean, even the most recent ones, which are not even necessarily my favorite, are better than 90% of any movies that have ever been made. Yeah, the problem is, and the thing that Kevin Smith would say in rebuttal to this is you're comparing me to the best filmmaker of all time and thank you very much. And it's like, Yeah, but shut the fuck up because it's clear you were trunk like you were comparing yourself to Quentin Tarantino when you made this movie, and if you weren't I mean, boy, it sure does look like it right. And then the other thing is outside of screenwriting. Quentin Tarantino is a master director, like if he was not a screenwriter, he could tell the story of any any script on film because he is excellent at directing and portraying the story in whatever genre he chooses. Yes, so it's distinctly his, but also distinctly of the genre. And, ah, Kevin Smith obviously does not have that in his favor. He's he's kind of a one trick pony. If it's like, you know, younger twenties and probably now, like middle age guy friends that are bullshitting and talking about relationships and, um, comic books, their inability to handle interpersonal conflict, then, yes, probably gonna be okay for Kevin Smith. But if he's gonna do like a nuanced genre film, he's just not going anyway. Moving on. So the origin of this film, the idea, actually came, um, about after a man in Brighton, England, put out an ad in this. It's like a Craigslist type site called Gum Tree. Ah, he offered free rent to anyone willing to dress in a walrus suit and pretend to be said Animal for two hours a day. The advert turned out to be a hoax by a writer poet, Chris Parkinson. But after Kevin Smith discussed it on a smart cast with his co host, Scott Moy Mosier, he began a mole. The idea of turning in the turning it into a feature length film. Hey said something snapped in my brain, and it's only happened one other time in my life. That other time was 20 years ago, when I wondered why people didn't make movies about me and my friends talking about movies and pushy and star wars. So I did. And it was Clerks. Smith said. So, uh, that's also probably something you'd say if he knew you made a piece of shit. Oh, is this Remind me the reason why I made this movie is it's exactly the same reason as I made that movie that you actually like. Um, so I mean, I thought it was interesting. That is not even an original idea. It's not like they they, uh, like improv it on the show. Right? It's literally someone else's funny idea. Inspired by yes, taking us, like, altered to there purpose of Reverend. Um, yeah, it's, um and I can, you know, And in that format on, you know, as an interesting topic t bring up and talk about on on kind of an all purpose the topics podcast. This story is fun and works, you know, thing is exactly the kind of stuff you want to talk about. Bring up not the kind of thing you also want. I mean, you know what? Actually all even reverse that this could this movie. It could have been with this concept awesome. It could have you in your fucking awesome. Yeah, if you had given this movie to GM Road Del Toro? Yes. And he had the same budget. Three million? Probably even the same. Well, not the same script they have. Yeah. No makes no. Yeah, but if they gave this to, like, a really good body whore, direct or like Cronenberg or something, I wonder what Cronenberg could do with this on $3 million? I don't know, but it be a lot better. This is the concept the bones of this thing could have been. The bones of this thing could have been Ah, could have been great. You could have had a really crazy cool story, but in effect, there was ah lot of blubber. There's a lot of fat on the bone a minute. Okay, um so before going very much further, it should be said Michael Parks is the best part of this film. Oh, hell, yeah. He's great in anything he's in. Um, Michael Parks is kind of chameleon. You don't really recognize him that much. That the part that I was like I was astounded at and I was a huge fan of them ever since kill Bill because and kill Bill. He played two characters on one in each film. The 1st 1 he was the sheriff that discovers the bride. Fantastic character outer. And then in the 2nd 1 he's the, like cigar during Hunter. And, like, drug Lord pimp. Yeah, um, and they're so different. And he was able to portray that. So each character so well that I had no idea that it was the same actor until the commentary. Yeah, he, um and that Honduran pimp, the the cigar sucking, kind of lazy eyed, lazy blinking it took place in. He was that same character in this movie. Basically, he was not far from it. Ah, yeah, yeah, we got a lot of the same affect. I got a lot of the same feel. It's interesting that you I say that I didn't I didn't see that. This one is, like very much like it. Well, yes, he's a distinguished gentleman. And both of them, Yeah, it kind of sits there and smokes and ponders and tells a story and right? Yeah, that's yeah, it's Ah, I see it now. Yeah, so that he's the best part. The worst part is the direction is truly terrible. And and and the script s so there's arbitrary flashbacks that tell super obvious twists And just fuck with the pacing so bad. Look, that you're just like what? Why, though, like you, you know you have to leave the action. You need to leave like the tension of the the one storyline of him being held captive. You have to leave it for something else. And what he chooses to leave it for is just like who cares like it should. There's sometimes, like, just kind of a template that you that you can use for the genre's you know, you said, you have someone told captive, Um, something bad is happening and then the B story line is the people that love them notice that they're gone and are trying to find out where they are. Yeah, like, that's a very tried and true template, and sometimes you should just do that. Would you? Would you mind if so, So far we've just been ripping this thing apart, but we haven't really given the basics of what happened in the in the movie. Would you mind if I ran it down real quick. Yeah, I mean, it's pretty. It's pretty basic. You go ahead. Yeah. Yeah. So this podcast, they, you know, they're Why would they send one of the two guys? Who is the guy that they sent? What's his Wallace Wallace. But what? Who? What is his actual name as a Justin Long? Justin Long. Thank you. You would recognize Justin Long. He's the Mac guy. Yeah. And, um And so they sent him to the Great White North to interview a ah, viral video sensation who once he got there is revealed this kid killed himself. So now Justin Long has to has to find some other interesting story to talk about. So when he's in the bar up in realize that if said all this in the synopsis, right? Oh, you did? I'm sorry. I was thinking about how horrible this movie. So the part that I haven't covered is is when he gets there. Michael Parks. His character tells this story, and it's kind of like, super interesting guy and Justin Long's character, the podcasters like I could totally use. This is an air view. He gives him some tea, just tea, and then, as he's telling him the story about being saved by this walrus and how important it was in his life. Justin Long faints clearly the whole time. It's just very obvious that the tea is drug. It's like here is some tea and just long is like I love taste. This tastes really weird. What's in this Drugs? So and then he wakes up and very quickly you realized that well, I mean at right, as Justin Long's character faints and it's even in the trailer. Howard House. Howard How the character that that Michael Parkes Place says, you know, go to sleep, Mr Tusk. And so that's the name of the Walrus that saved. And so it's pretty obvious that he's got out there very quickly. He's got a thing for walruses and expends no time and just saying he's gonna turn Justin long into a walrus, Right? That's the premise of this film, and I think pretty much everyone that knows about this film knows that's what it's about. Yes, there's a very thin veil of, Of like, Why am I here? How why why did you amputate my leg? And he's like, Ah, spider bitch! It was a brown recluse, also known as the whole Both Spider and that bitch and I had to amputate. Will had to have your own a leg amputated. Hey, you know, you're under some heavy sedation and then he wakes up again and he's a Wallace. It's like, Okay, like And that's literally that's literally the movie like we could stop with like we could. And then this friends find him and he's made a full metamorphosis into this is I mean, there's not even a slow. I mean, there's like maybe two seems, but really so then there is a tremendous There's like a 40 minute long dialogue with Johnny Depp, who's who's a detective who's who's hot on the trail. Canadian detective who's hot on the trail of the serial killer who mutilates his but never sexually touches, which I don't know why. That's interesting. That's anti interesting. He never, ever sexually gets. And so I mean, it's not even like it doesn't play at all with the body whore. It's not, you know, which is also kind of a missed opportunity, in my opinion. Yes, they make a big deal. Okay, this is this is like a sidestep, but they make this big deal about showing the walruses Penis bone, yeah, on the mantel and talking about like a Penis bone penises in right. And they make this big deal out of of Howard of Mr Howard's character getting just horribly abused when he was younger. And so you'd think there'd be, like, some kind of weird, deviant sexual thing like, No, that's just just so stupid walrus suit. And then they fight. What's the the So the main points of like about a body horror are he faints? He wakes up, his legs amputated. He's like, What the fuck? And Mr Howard's like, Ah, it's just a spider And he faints, gets drug again and takes his other leg and kind of so's his arms together. And then I don't even think we see his reaction to that. Like we don't see Justin Long waking up after that particular operation the operation could have been, could have been 10 minutes long and horrific, horrifically gory. Look, I'm not a body horn, and there's like, two operations, but one of them doesn't even matter because you don't see his reaction to it. All right? And then there's another operation where it's like the full transformation and then the reveal immediate. I mean, it's within a span of it happens at the middle of it. It's like there is exactly three minutes of this body horror movie devoted to body whore like, and it's an hour and 40 minutes long, and there is, I mean, that I don't know if that's the exact time, but that's what it feels like. No, it is it. Like an hour 42. No, I mean the amount of time they spent on the body or yeah, yeah, it feels so insignificant to the amount of time. Yeah, and it's e. I mean, look, I'm not a body horror guy. I don't like it. I'm just saying, if you're trying for that, just go for it. You do that? So, uh, so at some point, um, after he gets and his leg is amputated, this first leg is amputated. Wallace calls his girlfriend but doesn't give an address or any useful information you are, which is great, which is a pretty lengthy call. It was like a you know, two or three minute voicemail, but he doesn't like, say, this is the town. I'm in. Look, I'm pretty sure I can't remember in my whole Social Security number, but the last four is definitely 44 to 1, and there's no use it. She just gives her everything in the kitchen sink except right, all of the useful stuff. Um, we've already talked about how this movie blows. It slowed way too early. No care is given to extending out the dread or the body transformation. It's it feels so insignificant. So let's talk about the actual reveal and how terrible it is. It looks so much worse than I expected. I like. I'm still they spent. They spent so much camera time looking directly at this horrible walrus costume. I can't believe it. It's like $3 million. You imagine your head if you haven't seen this movie and you? I have watched the trailer, doesn't show anything. And if you were to imagine in your head, what would it look like if someone surgically turned someone into a walrus? Go ahead. I have that picture in your mind. Imagine a good movie was made out of that. Okay, Now imagine someone at the San Diego comic con did like pretty good cosplay of it. Okay, so put that picture in your mind. Okay? Now picture someone in like a Portland, Oregon comic con Ah! Ah, That's the sauce play of it. A significantly smaller, less well attended comic con. Okay, now, now think of someone in like like Henderson, Texas, comic Con Forks, Washington comic con attended by six people. Okay, okay, that is the cosplay. The person that goes as cosplay for that That movie. That's what the actual design looked like in this film. This is not an exaggeration. It's It's like a big latex. And the real damning part of it is how how he moves in the costume. They don't go to any length at all to try and hide the fact that this is just basically a big plastic bag around around him. He's like when he retracts his head into the costume it like and it's and it's just very clearly a big latex bag. Weird. Why would you show this literally looks like just latex foam? So it's not even like he's in a bag full of blubber? No, it just feels like Yes. Oh, it's so bad. I can't underline how bad it is. So in a circumstance circumstance like this, if you have a terrible, cheap looking monster design that's not scary and looks ridiculous, you have to go the job's route. You do not show it. You show it in flashes, right? You show like the aftereffects of its presence. Yeah, you show all these things fleeting but disturbing imagery. He tries to do that leading up to it. But even that isn't super effective because it's the design is so bad that it looks fake. Yeah, just it's this is the other one. Okay, is the better analogy. Get rid of all the comic con cosplay stuff. All right, The costume looks like it's from a Conan O'Brien sketch air We go. That's that's what guys made a walrus costume. Yes, unlike Late Night, Conan O'Brien's like early Conan O'Brien with, you know, back when, uh, what was that pimp bought? 3000? Yeah, Or like the masturbating bear. So this is like minty, the candy cane that fell on the ground level. That scotch tape is involved. Yeah, anyways, and they just he just does not know how to shoot it or make it interesting at all. It's looks like there is isn't that scary? Now let's just keep looking at it in a wide shot. I keep us. That's the most interesting thing we can do. I keep wanting to give them the benefit of the doubt and say It's it's intentionally ironic, but it's just intentionally shitty or even just the lighting If they let it different or this made of more like like slimy M or something, It was just so bad, and it happens at the midpoint of the film. It's over at that point that there's nothing left in your film and, like the Onley thing left and I'll skip forward to the very ending. The Onley thing left is there's a fight to the death of Justin Long's character and Michael Parkes character, and Michael Park is dressed in a walrus suit, and it it is like as much as it would. It can redeem itself. It it kind of is interesting at that point, and then it dwells on that for like, half a minute, and then it's over. OK, so where did the $3 million go? Bryce. So the maternity Where did it go? Did it go to the soundtrack to get that Tusks? Yes, exactly. Or but why the fuck did they go for the the like? That's the layup like That's the layup song go for I am the Walrus. If you got $3 million like, why are you? Why are you going with who's saying that? Fleetwood Mac What? Where you going with Fleetwood Mac when you could have the Beatles? All right, I think it was a good choice. That's that's a great choice. It's well for this movie because it's a B side, but yeah, Kevin Smith even said himself that, like most of the budget, was spent on licensing that I mean, probably not a lot of the budget was spent unlicensed. Sing that song. That's a pretty big song. We'll see if we'll see what get pulled off a YouTube for two and 1\/2 seconds of that. But ah yeah, it's just so bad. All right, So let's move on to some other things that the other bad things terrible jokes based off of tired Canadian stereotypes. Just not even interesting joke. Not even not. There's no hey, did you know that Canadians say A and A boot and a boot did you know that it's time that we know that they're polite. This movie came out in 2014 in there, making jokes about that isn't that funny? Let's base an entire Let's just really dwell on Canadian stereotypes and aren't French Canadian hilarious. Let's let's put Johnny Depp in this. Do you care that Johnny Depp is in this Johnny Depp? Okay, No, First of all, no. You know what? You know what putting Johnny Depp in this movie does. It makes you go, Oh, shit. About 20 minutes into this to seeing that character you go. Oh, that's That's Johnny Depp. Yeah, he really was in a bunch of weird makeup and maybe a prosthetic, and I was like, Why are they making him up so much? Second, I didn't recognize him, but then I looked. I'm like, Oh, it's cause it's Johnny Depp. By the time Johnny Depp shows up, the movie should be fucking over. But instead there's 40 minutes left of Johnny Depp just kind of expounding on this serial killer who turns his victims into something we don't know. What spoilers. It's a walrus, Uh, and and then and then it's just and then it's just Johnny Depp. Just kind of just going to in the scenery. You sure in the senior is just just Johnny the ideas like, wouldn't it be funny if Johnny Depp was did a ridiculous French Canadian accent? So So what? It turns out no, it's not funny. Yeah, and what it accomplishes is like when the movie's already over and you're and you're still supposedly telling a story, the audience halfway through goes, Oh, shit, that's Johnny Depp and then gets on their phones to get on imdb to make sure that that's actually Johnny Depp. So now you have half the audience just gone right? Oh, man, this movie, another be plot is Wallace is coupled it a cuckolded, edited by his friends and podcast partner, played by Haley Joel Osman. Do you care about that story line? I don't except to say that Haley. I said this during while we were watching, but Haley Joel Osmond is just unfortunate looking because he looks like a child actor who grew up. Yeah, he's He's probably the most child actor that grew up pissed. Yeah, looking. I mean, Macaulay Culkin's pretty close, I think the thing with Haley Joel Iseman. He's still got I don't want to, like, rag on somehow because mostly, like everyone looks like a weird version of the child themselves. Except you don't actually get to know the weird version of Child. Exactly. Don't see like you don't miss the transition you see in the whole time. But with Haley, Joel Osmond has a particular thing where his face is very small. Yes, comparison to his head When he's Yeah, it's It's strange because yeah, I don't want a rag. He did a fine job. He's Everything he's been in has been great. He gave us six cents. Jesus Christ, like he was great. And, ah, most recently the boys on Amazon. You were telling me about that. You should watch that. But But all suffice does. Suffice it to say you don't care about his story line or his character that gets way too much time, right? Um, talk about this. Briefly. Howard Howe was abused as a child by a community of pedophiles. Um, it feels like it's what Smith is using as a reason for why he's insane. Here's Here's the clip from From the Movie on. So for the next five years. I was beaten. I was tortured. I was raped. I had things in my mouth and no human being should have a taste. I never thought of you as a person. He just thought to use me. And usually they didn't. Priests, politicians, interests, even the nurses. No night watchman alone. Which is all to satisfy the most peace, physical and financial desires through the rectum and lips of a child. Like I get it. You grew up Catholic, and you had a hard time because because And I mean, I like my heart goes out to anyone who was who was abused as a child. Like 100% right don't like. And? And the whole point of this movie, like the through line on this movie, is like, Why would you want to be a person? It would better. It would be better to be just something as a name as a walrus, Right. But ah, boy, man, you could do a lot. You could do a lot more footwork. Yeah, it feels it feels a lot. It feels pretty cheap. Using that is like a plot point, but not actually like attaching it to anything other than just People are bad. Yeah, And again, like my heart goes out to eat to Kevin Smith. Like, I'm sorry for what happened here legitimately, but this was this was a bad way to do it. Yeah. Um, the scene with Johnny Depp and Michael Parkes is probably one of the most interesting parts of the movie. But I'm not going to say it's good. It's It's meta interesting because they're two actors just absolutely chewing the scenery. It's Johnny Depp doing a ridiculous French Canadian accent and Michael Parkes doing like a almost touched. Yeah, he was a bit Southern American type accent. Yeah. Um, here's Here's a clip of that. Just to give you a taste. I have it. Here it is. Good afternoon. Tea, sir? I am Philip went So do kid Dick. Oh, Did you come here by a biter? You come here about the spider? Yeah, Yeah, Yes. Ah! All right. So this movie is basically a much worse version of the human centipede. But you brought this up while we were watching it. I just wanted to briefly touch on what human centipede did better. Ok, One of my favorite films. Yeah, human centipede is Bryce's baby. Yeah, so Human Centipede drew out the explanation of what the doc was going to do. The people so part of, like the's body horror movies, especially with a insane scientist, the draft is the insane scientist, explaining exactly what he's going to do to you and why that's like we're half the horror comes from where you realize this guy is fucking insane. Yeah, and you have to sit and watch and see his delight at his idea. Yeah, it's It's the Clockwork Orange thing where they're prying your eyes open and making you watch something you don't want to watch. And it completely doesn't do that in this film, um, human centipede. There's a much slower passage of time and showing of the recovery process of the surgery, which is also like, just horrifying but also very interesting. And it just shows, like a lot of like, what would this actually be like? I just don't want to watch him and send a beat so badly, and then the the tone. This is where, like just why it's such a glorious fill. The tone I was trying to write down what the tone of human centipede is, and it's so difficult to say exactly what it is. I imagine it's It's like hell on earth. It's played so straight and committed. It's so committed and but somehow still over the top. But it's not like hacky. Uh, it's it's over the top and how much it's playing it straight, right? It's like it's like saw if saw took itself even more seriously. So it just underlines the ridiculousness of the premise. And it feels like it grounds this horrible idea in this ridiculous premise in reality, which makes it horrifying, Um, and a really focused on the horror of the protagonist situation and Tusk like it just says like this happened. But it doesn't really dwell on what the protagonist thinks about or they're actually experience. It just it just shows them any screaming. That's it. It's silly that I mean, that's all the years shown about, like, his experiences that it's done in the East any any. He doesn't like it. Yeah, um, the ending with the walrus duel to the death, it really could have been great. It was an interesting idea. Having Howard in like, another walrus suit and try to battle to the death with their tusks, but again felt firmly right on his face. From the directing standpoint, the choreography is terrible, like it's literally just like if you're lying next to each other and just kind of like rolling into each other. Yeah, that's that's it like and if that's if you're limited by the costumes, okay, that's fine. But try to shoot it in a way that it looks like there's something happening other than that. And it just didn't. I just looked like I felt long, like a medium shot or a wide shot of them kind of nudging each other. And then it ends with Justin Long, like tackling the guy and stabbing him with his tasks is and it's just that's that's and then another ending is tacked on with the girlfriend feeding a fish to him. And this is actually we missed it if we had listened or if we had watched all the all the credits. So we've been treated to this clip from the smog cast when they're discussing the third, okay, we skip we skipped all the way to the very end of the of the credits because it looked like there was a like, there was a scene at the end. And they're waas. Yeah. Welcome this podcast. I'm Kevin Smith. Scott Mosier. Oh, shit. All right, So here's the third act. He then goes and puts on his suit, you know, made of human skins. And so you realize he's done this before? Like, I'm not the first lodger and shit like that. So he's in it. You're in yours, and you guys have to have one. Morris fights on the beach. Always love each other on you. Start like we start saying is man indeed a walrus it hard. You ultimately get him and fuck, I think what has happened at the end is that once he makes that switch, yeah, he can't go back like the clinic for the criminally insane or somewhere. And you see, you know, like his buddy, he's got something wrapped in a newspaper. You know what's going on? Yes, eyes awesome. And it is like it's like another walrus enclave. A better version of where he waas because he realized they can't reverse the process. Yeah, he's funny. He's got even in his head. He's gone full walrus and he throws in the fish and then fucking the walrus man scurries over to it all gross and starts biting at it. The ground they play like some sad piano music roll credits as we pull back in this overhead watching fucking this facial, there's a song that's just like big sender in your way. Need a hashtag for this conversation. Needs to grow to hash tags. I am Field that inside. So this actually parlays nicely into something I was. I was mentioning about this movie. It's written as a comic book. This this movie would work as a comic book very well. And by the way, if you're not familiar, Kevin Smith does author comic books, and he's good at it. Ah, really good at it, because because of that dialogue, you just heard that all plays very well on the page because it needs to be obvious. It needs to be exposition, all dialogue. It needs to be all of these things. So if you're looking for good Kevin Smith comic books, go check out, I think, uh, he has a green arrow. One called my quiver or something like that. Check out that grate shit, not tusk. Yeah, um, to me the best possible ending would have been if they had just put him back together if they just like, yeah, put that, too, and just had him horribly like mangled and stuff. But that would be like the only thing they deem it like have a modicum of redemption for this film is if they just did something as ridiculous is like Oh, yeah, and then they just put him back together. And now he's like, just a human again. But he's got legs again, but instead they the most ridiculous. Like I get it like I like. I get the ironic, sad irony of putting him in a in a basically 1\/3 rate zoo in the middle of Manitoba somewhere. But it's not. See that's the thing like it goes from again that works in a comic book. Really well, it's is like, Oh, he's a walrus. He's full walrus now, but like you never felt like he was still a human after the reveal anyways. And it's yeah, and it's not like it's not like it's wasted on me that this was just a goofy goof that was meant to be fun and funding for you to make. But, you know, I mean, presumably people paid to see this. It's just a giant. Well, not a giant piece of shit. Not a lot, because it is the final bullet points. So $3 million was the budget, and the cumulative worldwide gross was $1.8 million. I'm sure they're making that up on the back end because it's been on Netflix for years. I don't think they make millions of dollars from Netflix, though. I don't know how. I don't know. I mean, this is the kind of movie that the buzz around it before it was so large about like, how ridiculous would this movie be a movie about someone turning into a walrus? But you would assume that it would be able to make $3 million But it didnt mostly because anyone that saw it probably told other people, Don't go see It is bad if I recall human center peed. That was actually so that was released in still in the era of I think that was, like 2007 or eight or nine. Yeah, maybe maybe even six, because I remember walking through the, you know, the Hollywood video and seeing, you know, a wall of human centipede, DVDs and being like, No, thank you. But but But then, you know, I mean, it really kept go like the the hype train for human centipede kept going because it was available was one of the first titles available when Netflix went streaming, I believe. And ah, and so I don't know, I I don't know what what? My point is on that other than to say, Ah, I think there's a definite lane for this kind of movie and it be interesting if it was done right if there were more like human centipede. Not that I'm interested in watching them, because you but But this is very easy to stomach. In my opinion, this tusk is just Ah, yes. So we had two people request this, and I think they're both patrons. I think a couple other people that were just reached out to some social media said, Check it out. So, um, we need more people asking for human centipede so I could make David watch it because he does not want to watch a video if you want us to review human centipede send us Ah, Senate Seema Info horror movie talk dot com or reach out on Facebook. Okay, so let's move on to final recommendations. Who do you think should watch this Brown? Just just don't pull a father like this is one that you should just search for clips on YouTube. Just get get the idea. Probably believe the only scene. I mean, it's on Netflix, so you can skip through it. The only scenes that are interesting are the scene where Wallace and Howard are talking. When the introduction and an hour talking about his past and then him fainting skip forward to the reveal. Yeah, and that will give you a taste of, like, how much quality this movie is. Everything. Everything else is totally dispensed. Maybe maybe the very end, maybe, like the walrus fight and then the end scene with them feeding the fish Like it? Yeah, really? It's only two things that it is on Netflix. So if you are watching looking for something horrific Ah, thio be on in the background. It is getting towards October. So I guess you could Yeah, this is but also the witches on Netflix. So watch for real I would rather watch the witch, like, five more times than watch this. Yes, but first time. Yes, but you don't want you like you want to soak in every second of the witch. This you could just put on in the background. That's right. Yeah. Maybe you could watch it while you're working. Um, okay, So final recommendations is just, like, just don't this problem, really? Don't. Who would like it, though? Like whose? It would be a big fan of this. Oh, Kevin Smith. Fanboys mostly, uh, or, you know, people. I mean, this is one of those ones that's a really low bar of entry into body horror. So if you if you like full moon production stuff, if you like, Just like absolute shitty horror movies to make fun of, This is Ah ah. Maybe close to that. Yeah, but but the So here's here's an interesting thought. So in order to get this made or gauge responsiveness of like who would like to see this story? Kevin Smith started a hashtag campaign of walrus. Yes. And hashtag walrus. Yes. And hashtag walrus. No. And and so you know, we could Dio is we could start that that campaign right back up and just ah, tweeted Kevin Smith hashtag walrus. No, just just light him up and and, you know, tag us horror movie talk in there and let's see if let's see if we can get Kevin Smith angrily rant and give us exactly what we want. Some some time on from his valuable is super valuable podcast This month, the podcast mum cast So, uh, so hashtag walrus. No. Yeah. Um, okay, let's move on Thio Games and bits. New Way never did the mid roll. I don't think so. We didn't do the middle. So Hey, guys, if you would like to support the show if you if you find this funny or interesting or even annoying, you can go ahead and head on over to our website at horror movie talk dot com, check on out at the top of the page there. If you want to become a patron, that helps us out a whole lot. Still, only one tear on that five bucks a month gets you grandfathered into all the eventual tears that we will offer, and it gets you access to all after pods, which there's quite a few of now, And that's like kind of the therapy time after the show, where Bryce and I talk about are weak and, you know, and then we have a cry and then we laugh, and then we cry more so you can do that. Another way you can support us is there's another button that just send you the Amazon. I think it's linked to just all of the horror films that are available for DVD, but pretty much if you click on that link and buy anything on Amazon. Even if you're like buying kitty litter, your monthly kitty litter or something, just click on that banner will get a little taste of what you spend on Amazon. Um, big, big news. I have big news. So there was some question about the shutter code. Not working. Our HMT code was not working with Shutter to get you. When at checkout, When you check out for shutter, you enter HMT it check out and it should get you 30 free day, 30 day free trial to shutter, which is, ah, horror movie streaming platform, and it's really great, and I got it fixed. So get back on their if you've already signed up for Shutter, just use that HMT code on a different email address. Yeah, and Ah. And now we're really trying Thio knock it out of the park with them because they're actually gonna track They're actually gonna track how we do instead of, I don't know, potentially forgetting about us like they did before. Yeah, So I know there's at least two people that said that they tried and it didn't work. So we just want to let you know that that's available again. We haven't mentioned in the last couple episodes, but yeah, 30 day free trial on Shuter. If you use code hmt a chicken, please rush to shudder and use it. There's all I think, the 1st 6 nightmare on Elm Street's on Shuter streaming right now. If you like streaming horror, it's the best way to go for sure. Um, finally, we've put a call out to ah to call for writers for our block if you're interested in writing about horror movies, um, and horror movie topics not necessarily reviews, because that's what we do in the episodes. But horror movie topics um, we're accepting submissions reach out to us on Facebook or Twitter, and we'll be happy to see what you got in. We could give you suggestions if you can't come up with an idea. Yeah, and we've had some people reach out to us, and I'm super excited because it sounds like they are, you know, horror connoisseurs. And and so they have some interesting content coming your way soon. All right, let's move on Years, tagline. Taglines is a game where we come up with alternate taglines for the movie we're reviewing. So I'll go first. You go first, actually. Yeah. Okay. Tusk. It takes a bite out of your time. Ah, Tusk. You've heard the saying that this cat has claws? Well, this walrus has heart tusk touching tale of a man who loves a walrus and a man who is a walrus. Dusk, Thea Oscar goes to Justin Long. He was He was shafted that year, man. I mean, he really should have got it. Yeah. I mean, how are you supposed to act with your tongue? Cut out Tusk Human scent ap Sorry, Tusk Human Centipede without all the fixings. Tusk. At least we know that Kevin Smith has less money to make movies like this Now Tusk picture a 10 minute long story stretched out in the one hour and 40 minutes and Oh, yeah, Johnny Depp That's all I got. I got some more. OK, go for Tusk. It could have used Jay and silent Bob Tusk. I think a tusk the same way I think of people with blue hair. It's just like, Oh, it exists. Yeah, look atyou. Let's not interact with it. Let's I know everything I need to know about you now. Oh, I was thinking like elderly people. Blue hairs like blue hair. No, I'm talking about, like, dyed blue hair. Okay? Yeah, It's just like, Oh, yeah. And you all have the same picture. We're all thinking of the same person. Um, I think I have one more. Ah Ah, yeah, I don't actually, if they this would have been a very interesting film if it was a Jay and Silent Bob sequel, right? If it was silent Bob, that was turned into the walrus. Whoa, Dude, look at this crazy crap is going on over here. And that's this. Worst J was just like observing. Yeah, Yeah, I really could have called him Fat boy. Okay, last bit. Gonna talk some horror movie news s so we don't have to cover all of this. I've put a bunch of quotes in here If there's anything interesting that we actually want to go deeper into. Netflix is S O Netflix just released a trailer for their Netflix and Chills event kind of event things. So it's a special Halloween season release schedule of four original horror movies who so first on September 27th they're gonna put out in the shadow of the moon. Um, but but but but s. So it's like a serial killer movie. That'll be I'm excited for a serial killer movie. Yeah, they've got a lot of serial killer content on Netflix should. And if you, if you start watching like mine, Henderson will forget about it. You're like the algorithm will be like, Oh, you like serial killers. Here's Here's all the fucking serial killers. It's just like every TV anyway. Um, on October 4th, they release in The Tall Grass, which is based on a novella by Stephen King and Joe Hill. So if any of these jump out at you that you want more information, anything, people being sure we could read the synopsis, but I don't really care that much. No running Over Fractured will be released on October 11th. I don't know what fractions about on. Then Eli, released on October 18th is about something, and then rattlesnake. We'll be released on October 25th. It's also about something also about presumably a rattlesnake. I think I think fractured has someone recognizable in it. Okay, you go, you'll figure it out. Um, so So this is notable because Netflix does know how to do horror movies. Like if If you remember about this time last year, maybe November last year we reviewed the ritual, which is, Ah, horror movie done by Netflix. Great. Just Ah, really? Yeah, there's there's there's been some good content put out on Netflix. The ritual The Apostle is probably worth watching, Even Bird Box and the profound bird bird box was fabulous. We've reviewed all of those, um, so yeah, they're kind of going a little deeper into horror. They actually released a special you Earl that will land you on all of Netflix's horror offerings. If you go to dub dub dub dot netflix dot com slash netflix and chills. It'll just put you on the landing page for the horror genre. That's just a quick if you want to simulate shudder. Yeah, through Netflix. You could do that. But why would you want to do that? You know 30. 40 trial by using HMT. Um so well, in the in the poster, this episode will put ah link to the YouTube trailer for that Netflix and Chills event. Next item synapse Films Bringing is Bringing Dario are Gento, Suspiria to four K ultra HD in November on November 19th 2019. That'll be cool and be a full restoration fork. A restoration of the uncut, uncensored Italian 35 millimeter negative with color correction supervised by cinematographer Luciano Tivoli, Jonno and ah, but but but But it's a great I don't think I've actually watched the original yet, but we reviewed the remake, which is apparently nothing like the original. I've seen bits and pieces of the original, and it is effective. There's a reason it's good. Yeah, special features. We'll include two audio commentaries by authors and our gentle scholars, Derek Botello and David Dill, Vala Troy Howarth. Whatever. Um, bunch of other special features. 123456 Like six notable special features. You can check it out. We'll put ah the list on the post for this episode. John Carpenter's Halloween is returning to select theaters beginning September 27th. Yeah, this will be This will be huge. Yeah, it's ah restored and remastered digital prints, and it was created under the supervision of world renowned cinematographer Dean Cundy. Um, so that will be interesting. Actually, I check the schedule and it's gonna be a Kiggens theater. Oh, shit. Which is interesting, because last year we went to kick ins theater to watch the original Halloween, but was put up put on by just a local podcast here. Yeah, a small cast, if you will. A, uh, it's the podcast called the horror killer. I'll, um, you check them out. Um, if you're interested in that, get tickets at www dot cinna life entertainment dot com slash events Last Halloween. Another news item. Brendan Fraser is all in for a new mummy movie. Should the opportunity present itself. Shocking Hollywood collectively replies. Yeah, we know guys, just if anything was going on over there like anything at all, I'm really I'm just really excited about whatever it is you're excited about. Yeah, and it seems like the most likely thing of that is the moment. So it's like if Christopher Lloyd said, Hey, guys, I'm all for doing another back to the future sequel if you if you need me like yeah, we know, like obviously way, we know that you're not doing anything. You would make a great that right. We're not doing that right now or it's like the Bill, the Bill and Ted's excellent adventure sequel that's coming up the not Chiana Reeves guy. It's probably like, Oh, thank God that it is. I thought that was an interesting but I I don't understand what brought in and Frasier did to fall out of. I think he was. Well, uh, he got he got fatter and uglier, lost his hair, But George of the Jungle, though Yeah, well, I was never a huge Brendan Fraser friend. To be honest, I didn't mind him. He hit me. He hit all the expected marks. For what about Monkeybone? Bryce monkey pants. Just always like I could always expect. Kind of kind of not that funny, but goofy but passable. I gotta fuck that's that's That's where he's at. I got a fun recollection of high school where I was like trying to be a human being for a moment. You know, where I was, like, I don't know how to be like you people. So let me. So I got one of those three ring binders that had, like, a clear sleeve for the, you know, to put whatever it was. And I was like, Oh, kids are like displaying artistic things on their binders, saws. They just printed out a giant picture of Brendan Fraser. It's alarming how close you are. So I had a subscription to PlayStation magazine, and in it was a an ad for a wacky looking movie that I had never seen or really heard of. But it was called Monkeybone, and it had, like, a weird little suggestive themes and and kind of fun little. So I took an Exacto knife and cut out all the little little portions of this, including Brendan Fraser and and the wording Monkeybone at the top and displayed them at is like a shadow box at the front of my three ring binder. And then kids just called this was like sophomore year. And then I was Monkeybone. Wow. How much did you regret that after watching the film? I was I was bought and I was like, This is how I do it right? And they're like, Yeah, look at you. Stupid. No book. I was like, Okay, I'm doing it. I think I'm fitting. So you go Really was like, I got my niche. Now I'm monkey find monkey book like that. I didn't even like I knew it wasn't quite, like matching up with how later art being artistic work, right? But it was It was the best. I had, like a right. Nice. And now you have a fair to middling podcast. Showed all of them fuckers. Who's Monkeybone now? Idiot. Um, speaking of shudder, we weren't speaking to shutter, but we've mentioned them. So should have released a trailer for an original film called Blood Machines. The trailer looks is actually really interesting. It's kind of like it's a cosmic horror movie that looks a lot along the style of, um, Mandy. Lots of color, but kind of cosmic or elements will link the trailer on the post to crowdfunded English language French production that follows to space hunters who witness a mystical phenomenon when they see the ghost of young one crawl out of a machine they destroyed. That sounds like right up my alley in the Like that I love the cosmic. Or that's my favorite. No, no release date as of yet, but go check out the trailer is pretty interesting. We'll have it on the post for this. This episode at horror movie talk dot com Andy Machete details to deleted scenes that would be part of a potential supercut of both it movies. So I think we mentioned this on the last episode that that Andy Machete has said that he's interested in doing a supercut where he combines both it films into one gigantic, like six and 1\/2 hour long movie. He talked about two scenes. There's a scene in the 16 hundreds. These decided not to put in to the film because it was a little confusing would touch more on the origin story of Pennywise. He also talked about a deleted scene where the celestial turtle ner known as mature in an ancient figure who appears in King's It novel as well as the dark tower. So Okay, good cuts. You know, it's interesting. Actually, the Pennywise origin stuff might might have been interesting, but ah, yeah, that Z is interesting when you have, like, a two hour and 45 minutes. What? What is cut like At what? At some point, your leg Was there anything that hit the cutting room floor other than his feet on DA And, you know, it's interesting to it. Chapter two is getting a lot of flack right now for not being LGBT friendly. The Pennywise air Pennywise was very homophone is not, As it turns out, he's a bad guy. Yeah, he's not. He's not accepted. He's fired. I can get on board with the eating children part, but I draw the line at homophobia. Why would you want him to be inclusive of any part of you? Why would you want him to be on your side anyways? Um, cut more things. Amanda Seyfried is in talks to star Netflix's horror thriller Things Heard and Seen, uh, which is a movie that could be directed by Sherry Springer. Berman and Robert Pulcini, who were directed her, were nominated for an Oscar for American Splendor. Did you ever see that movie never did. Paul Giamatti as the famous comic book writer. I can't remember his name. Do you have a good? Do you have a good impression of him of Paul Giamatti? Yeah. No. Okay, I just can't stop thinking of I can't remember who it is that does all the Paul Giamatti impressions. I think it's on the Adam Corolla show, but where it's just, he's just on injury. Think I from private parts basically a pig pig vomit. Big moment. Anyone's that's That was a really good movie, so this might be like a pretty good movie. The story, a story of things Heard and Seen, centers on a young couple who moved to farm near a small town in upstate New York. Their new home is cursed by the murder of its former owners, and as haunted secrets revealed themselves, the husband and wife's own marriage reveals itself to have it darkness of its own. Stop it, Um, okay, a couple. Just two more things and we're gonna go. Toni Colette, our favorite from hereditary, joins the cast of Guillermo del Toro. Is it guilt? Gilera? Guillermo, this is saying it right. This is the most difficult region ever done. Toni Collette are fair from her secretary, Gilma de Toro's. It's only hard because because Bryce Hansen is reading it. He's a mealy mouth piece, a shit Guillermo del Toro's Nightmare Alley, the next movie being directed by Guillermo del Toro. And it's an adaptation of the novel by William Lindsay Gresham, which was published in 1946. The novel spawned its first feature film just one year later, starring Tyrone Powers and blah, blah, blah, blah blah. Who cares? Uhm, Tyrone is like the strongest name you could give a child. Well, other than Murdoch, Murdoch is fucking strong to my. My youngest middle name is Murdock on Lee because I couldn't convince Errand to give it as his first name. But if there was any kid that was named Murdoch, would it not be calling totally would be column is such a fucking Murdock? Yeah, we're over at your home, Murdoch. We were over at David's daughter's birthday, her third birthday last week last week, and your sister in law Look at Colin. It was like, How old is he? Was like, Oh, yeah, This month, he's gonna turn to She's like God, he he's not too yet because he was standing next to Charlotte's bigger than my three year old. Yeah, he's just and my three year old is not small like she dwarfs a lot of these way fi kids like there like she's, she's I mean, she's not thick or anything like that. But she's she's not a small girl. Yeah, if you were to, like, take a normal sized three year old and like having put their arms down to their side. If you were to, like, draw a rectangle around their shoulders and the arms of their side, widen it by about like an inch, that would be just Collins chest. Absolute unit. Um, he's wide so that that Nightmare Alley notable also in the cast is Bradley Cooper, Cate Blanchett and Rooney Mara, and sounds like a really good cast. That's gonna be huge. That could be good, of course. Like I don't know, Bird box and And the perfection had a really good cast, too. But they're like, Dude, what do you talk about Bird Box? And is he was huge. Do you remember that? Like this head of steam on that? Yeah. No, I mean, I guess I like both of those films. I like Bird box. A lot is a phenomenon. Uh, okay, So, sadly, Final final. No, The nail in the coffin finally dropping a movie pass shuts down with its parent company citing failure to raise funds on Friday movie past notified remaining subscribers All you bless your heart for still subscribing a movie past. I'm sure they're very, very shocked at this, but they're going to shut down. Service is effective September 14th. So it already happened. As of this podcast release, um, its efforts to recapitalize movie pass have not been successful to date. Um, and even even with movie passes of evident demise, I read the press release. It's actually, like, kind of bittersweet. I kind of felt bad for him because they mentioned that they really did change the movie industry. The yeah, yeah. They in effect accomplished their purpose one year ago. This time one year ago, we were we were subscribed to it. Yeah, it was great for like, a week. And then, like they the shit hit the fan in terms of capitalization and they just could not provide. Service is I think It was just kind of off and on for like, actually providing the service that they promised. But even with movie passes evident demise, the service's spurred theater chains, including AMC Regal and Cinemark Tow, launch their own rival subscription plans. And last month, Emcee said it. Stubbs A List program, which lets subscribers see three movies weekly for 20 bucks a month, had hit 900,000 subscribers. See, here's my here's Here's My Angle. I'm going to try and get a M C on board. Tiu sponsor us to sponsor them. T sponsor that their service? Because Because, let me tell you, Bryce AMC already sponsors the show. There, they own shutter. That's true. So let's let's got to have some sort of hashtag walrus. Yes, or horror movie talk? Yes, for AMC HMT sponsorship. Yes, yeah, we It would be so sweet Thio to get some sort of deal going. Let's do Let's start the hash tag. AMC hashtag AMC sponsorship for HMT now. Yes, don't do that. We'll think about it and we'll get back to you with something that might actually work. Or if you work for AMC Corporate, you just drop him a line and tell us to contact us. That whatever. Um, whatever. That's our show for today. Oh, it is not. I would like to say thank you to a few people. Jeannie Borland, who gave us a stellar review on Facebook, Who's like these guys. Brightened my bright my drive Every time I'm going to work, I'm like, Hey, Janey, Thank you. Yeah, it's really nice. We really appreciate you and listening to us and the nice words that you said about us And also her birthday was Friday the 13. Wow. Dude, I wonder if she's still with us. Do you wish we had planned? Still with us? Yeah. I mean, your birthday on Friday the 13th. They're gonna make it out of that. I really wish we had planned for Friday the 13th and released like a nightmare on Elm Street episode. You mean a Friday? The 13th episode? No, I would do. Why would we do that? Yeah, I don't know. Um, that's a good point. Also, I'd like to say thank you to ah, Steven, Michael, for for basically just just interacting with us basically constantly on Facebook. I love it. And, uh, e really latched onto the Scorpion King. Uh, add that we ran last week on the chapter two. So thank you, guys if and if I'm missing your name. You know what? I would like to give a shout out to somebody I think about frequently whenever I burp on the show. Dana. Dana, Thank that if you're still listening. Thank you. I love you. And I think of you every time I burp literally. Um, yeah, thanks. Especially to all our patrons on patri on. We hope you enjoy our exclusive content. If you want to become a patron and unlock exclusive patron content, you can get access to our after pods as well as our one off episodes such as our review of the IT miniseries from 1990. Again be like Janie, review the show, especially on apple podcast. If you have an iPhone, um, give us our AA rating. You don't even have to leave a review. Just a rating. Be nice. I mean, if you want to be nice about it, you know, five started. I mean, I'm not gonna ask for it, but if you if you're a nice person, yeah, he'd give a spy, sir. Um, as Well, don't forget to share the podcast with a friend. It's the only way we grow and go to our website At horror movie talk dot com, you'll find links to all our social media and and share links and subscribe buttons and all the doodads and dude as, um, don't forget to click through that Amazon Associates button and the banner if you're gonna buy anything on Amazon. Ah, a big shout out to all our international fans. You know who you are. The standout is obviously Magnus there in Sweden. Magnus the man. We got a lot of people listening in the UK Got a lot of people listening in. Ah, Australia. You in South America, we've gotten a couple people reach out. Yeah. Good day, mate. Put another shrimp on the Barbie. The country of South America, the whole country of so Okay. All right, guys, have a great week. We love you, bye!