Podcast: Play in new window | Download (Duration: 1:22:25 — 56.6MB)
Subscribe: Google Podcasts | Spotify | Amazon Music | Pandora | iHeartRadio | Stitcher | Podchaser | TuneIn | Deezer | RSS | More
We saw Dawn of the Dead for free on Youtube because it's available for free on youtube. This is a Patreon request, so if you want to have a say in what we review, join our Patreon and you will get to weigh in on what we review once a month. This movie is the classic sequel to Night of the Living Dead by George A. Romero that really upped the ante on the zombie concept, and shock factor of the time.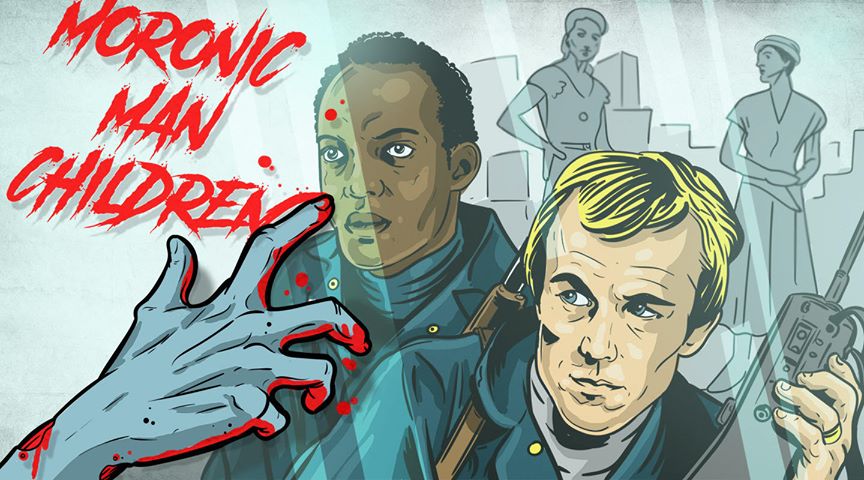 Dawn of the Dead Synopsis
Dawn of the Dead starts in an emergency broadcast television station with lots of disarray and confusion before it settles on some National Guard troops who have set upon some public housing with an outbreak of zombies.
Pretty soon the movie settles in on the lives of four individuals – two National Guard members (Peter played by Ken Foree and Roger played by Scott H. Reiniger), a traffic reporter (Stephen played by David Emge), and his TV Exec girlfriend (Francine played by Gaylen Ross). This group sets their sights on a Mall in the rust belt and try their best to fortify the mall. Eventually, things calm down, and life returns to ), pace before outside forces beyond their control throw everything into disarray.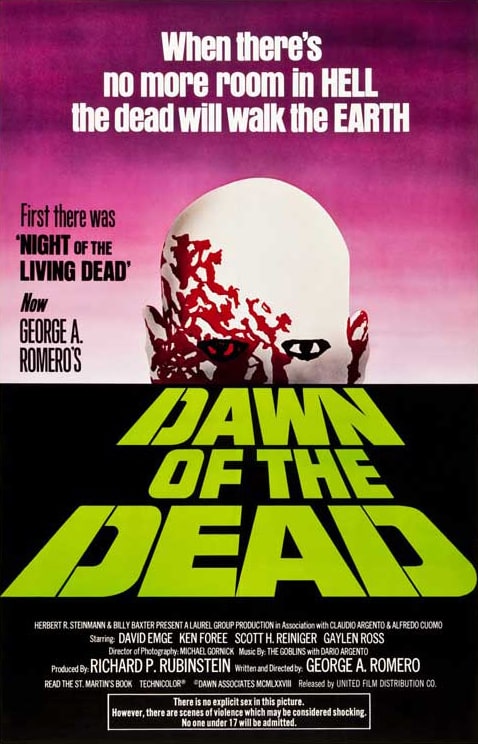 Dawn of the Dead Review
The time has passed for Dawn of the Dead to be a shocking movie, while it was crucial to the horror genre in upping the stakes of gore and satire, it's just not that impressive anymore. What Dawn is still good at is taking a hard look at the human condition and posing the question of what would you do in the event of a zombie apocalypse.
There was a period where I watched every single zombie movie I could get my hands on with the intent of breaking down my own obsession with building a firm tactical plan for some such zombie occasion. Goofy? Yes, but man was it satisfying building "fool-proof" plans that my friends would tear apart with zombie-like fervor.
Dawn of the Dead is an important movie, and it's has a historical place in the vaults of horror, but it's slow for today, and it's not that shocking when you compare it to any modern horror. Like I mentioned, it does do a great job of exploring the human condition and posing fun and interesting questions about all kinds of societal ailments.
For anyone who wants to check it out today who hasn't seen it or hasn't seen it for several decades, remember to parse it through the lense of "this came out in 1978".
Score for Dawn of the Dead
8/10
Spoilers for Dawn of the Dead
Click to Expand Spoilers

Dawn of the Dead is a pretty barebones movie and as such, there isn't much to spoil. People living in zombie hellscape, find mall, settle down, are overrun by biker gang. "But David, there is so much more to this movie than just that story structure!" I agree! Most of what Dawn of the Dead brings to the table is conversation fodder and philosophical debates. So let's take a look at some of the more interesting talking points that are found in Dawn.

We Are Already Zombies!

This is a theme that we are presented with a few times. Why are these zombies here at the mall? Why are they picking up items and using them in a vain attempt to act human? Because this is what they know, this is what is familiar to them. When you boil that down, what these zombies knew before death was just going to the mall and buying stuff, the real terror starts to set-in. We are just slaves to commercialism!

Our very purpose is to consume what is put in front of us until we die and have to eat brains! Ok, maybe not that brains part, but still.

What's even scarier is that our four alive protagonists do the same damn thing! They play in the mall and have a great time until the novelty wears off, and they start to fall into the rut of mall life. And then the marauding biker gang came. C'est la vie.

The Death AlleGORY

Zombies take what scares us the most, and shoves it in our face in the form of an insatiable horde who wants us to join their ranks. They force us to look at our fear of social collapse and civil unrest.

Unruly mobs scare us. Social unrest scares us. Death scares us.

Zombies are the personification of all of these things. They force us to deal with these issues face to face.

The Death Reality

Dawn of the Dead forces us to deal with the real life issue of death as it enters our life. What do I mean by this, and how is it different than the death allegory? I mean the fact that at some point in every single zombie movie you are invested in the protagonists, and at least a few of them become zombies that the group has to "deal with". The protagonists turn, against their will, into the antagonists.

And once you realize that, you place yourself in that position, often with a group of friends or family members and you ask yourself, "Could I do it? Could I put down my friend/lover/parent?"

Hard to think of hurting a loved one? Yep.

The Strategic Mind of Zombie Preppers

Look – if you haven't found someone to talk about strategy and tactics for the eventual zombie apocalypse, just hit me up! This is one of the best parts of zombie movies, figuring out how you would handle yourself and your family in the event of an outbreak. I've reached such a fevered pitch in this arena that I am actually outfitting my truck to be able to double as a zombie bug-out vehicle (if you talk to my wife, it's a family camper) for just such an occasion.

Dawn of the Dead does a great job of taking the "what would you do" portion of the zombie problem and taking it to the extreme right away. Well, first off, you have to think about your party. You need good cohesion and morale, and it helps to have some people who know their way around firearms.

Next, you need a diverse array of skills. We are talking about people who can pilot a helicopter, who maybe have a CDL for handling those big semis with double clutches and people who know their way around communications equipment. Dawn of the Dead gives us all of that.

Finally, we need someone who understands how to fortify a structure or location for optimal living in a zombie-infested world.

Dawn has all of the above in spades.

Seriously, if you want to talk about zombie tactics, please reach out to me on this site or any of our social media.
Final Recommendations
If you are a fan of classic horror movies or zombie films, this is not only good; it's still the standard today. Dawn of the Dead and it's predecessor, Night of the Living Dead basically define zombie movies, check them out. Also Check out the 2004 remake of Dawn, which was written by Romero and James Gunn, and was the first feature length movie directed by Zack Snyder. All of them are iconic and interesting and really make you question what it is to be human.
Horror Movie News
If you listen to our podcast (find the player at the top of this post), you will hear some horror movie news at the end of the show. Here are the links to those stories: