Podcast: Play in new window | Download (Duration: 1:08:21 — 46.9MB)
Subscribe: Google Podcasts | Spotify | Amazon Music | Pandora | iHeartRadio | Podchaser | TuneIn | Deezer | RSS | More
When was the last time that you had a total blast watching a movie? For me it was this weekend at The Predator. This movie is a blast from start to finish. While not technically a horror movie, The Predator is tied to a "horror/action/sci-fi" franchise that is subsequently tied to the Alien franchise.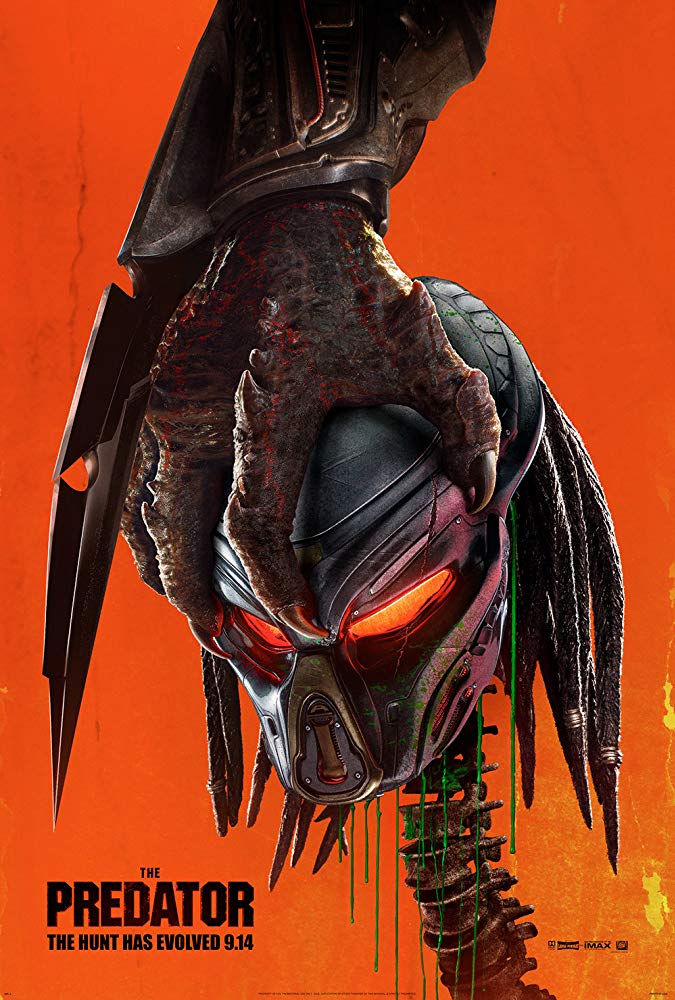 If you want to watch The Predator, please consider renting or purchasing the movie through this amazon link to help us support the podcast.
If you have seen any of the other movies in the franchise, you know you get lots of action, some horror elements, and lots of sci-fi elements whenever you sit down to watch one of these titles. Well, Like Gremlins, The Predator adds comedy into the mix.
I wasn't sure what direction they were going to go with this movie, it could easily have been scarier, but I'm glad that they made it what it is, which is hilarious, action-packed, and completely irreverent. The Predator hearkens back to the action movies of the early 90's, definitely pulling from its Predator and Predator 2 roots for its sense of humor and it's snark. This movie even pulls the music from its predecessors, and it feels great!
Quick Summary of The Predator
The Predator is set in the current day and follows our elite sniper protagonist Quinn McKenna (Boyd Holbrook) as he is hunted by and as he hunts the predator and the US Government. McKenna makes first contact with the Predator and seems to be a worthy opponent.
The US Government wants to get their hands on the predator, and all of it's sweet sweet technology, and they obviously don't want any witnesses, aka loose ends like McKenna hanging around. The Govt. briefly employs the help of biologist Casey Bracket (Olivia Munn) who is infatuated with what she see's to be the most fascinating biological specimens ever.
Eventually McKenna and Casey team up with an unlikely band of armed forces men who need some serious psychological help which include Nebraska Williams (Moonlight's Trevante Rhodes) and Coyle (Keegan-Michael Key) to fight against the US Government, and two factions of warring predators who arrive on earth at roughly the same time.
My Rating for The Predator
8/10

While this is not technically a horror movie, it does prominently feature monsters, has plenty of intense gore, and is part of a franchise that has horror elements. If you are looking for scares or spookiness, this isn't on the menu. If you are looking for a seriously great time and some gut-laughs, check it out.
Spoilers for The Predator
This movie understood what it was from start to finish and it made the most out of all of it. It had blatant product placement, gratuitous violence, completely inappropriate jokes, and lots of handicapped people who were made fun of.
The nitty-gritty of the plot was a predator crash-landed on earth to help humans combat another, much larger predator who is a collector of sorts. What kind of collector, you ask? The genetic kind. The big boy predator is part of a clan that concerns itself with collecting genetic traits and genomes of all the bad-ass species throughout the universe – er, galaxy. Once it has a genetic trait, it seeks to alter it's own genome, you know, for self-improvement reasons.
McKenna and his unlikely crew of psychologically unstable veterans wage war on the big boy predator who has his sights set on McKenna's child. McKenna's kid is seen by the predator as genetically superior because he has a special mental abilities thanks to Asperger's syndrome.
Is The Predator Worth Seeing?
I'm a pretty hardcore predator fan. I enjoy the original movies and 2010's Predators with Adrian Brody. I've read a lot of The Predator comics and one or two of the novels, and I love the Alien franchise and the nods the two give each other. Not a fan of AvP unless we are talking about the games. This movie scratched every itch in my body!
It was well executed in every appropriate sense. Was there obvious exposition? Yes. Was it appropriate to the storyline and well-executed? Yes!
Were the Predators badass? Yes. Were there tons of cool weapons and action that made you excited to be watching an action movie? Yes!
Was it a total blast? Yes!
I would recommend this movie to anyone who loves action, sci-fi, horror, comedy…I would recommend this to anyone who doesn't mind some gore and irreverent humor.
Check Out The Trailer For In Search Of Darkness
In horror movie news we talk a bit about the upcoming horror movie documentary, In Search Of Darkness, which just released this trailer that has us pretty amped. Check it out!
What Do You Think? Leave a Comment Below
How do you think The Predator stacks up against the other movies in the Predator series? Leave a comment below and let us know.
If you want to watch this movie please consider renting or purchasing the movie through this amazon link to help us support the podcast.