Podcast: Play in new window | Download (Duration: 1:50:31 — 75.9MB)
Subscribe: Google Podcasts | Spotify | Amazon Music | Pandora | iHeartRadio | Stitcher | Podchaser | TuneIn | Deezer | RSS | More
American Psycho is, without a doubt, one of my favorite movies of all time. This thriller is one of the most hilarious and disturbing tongue-in-cheek movies ever made.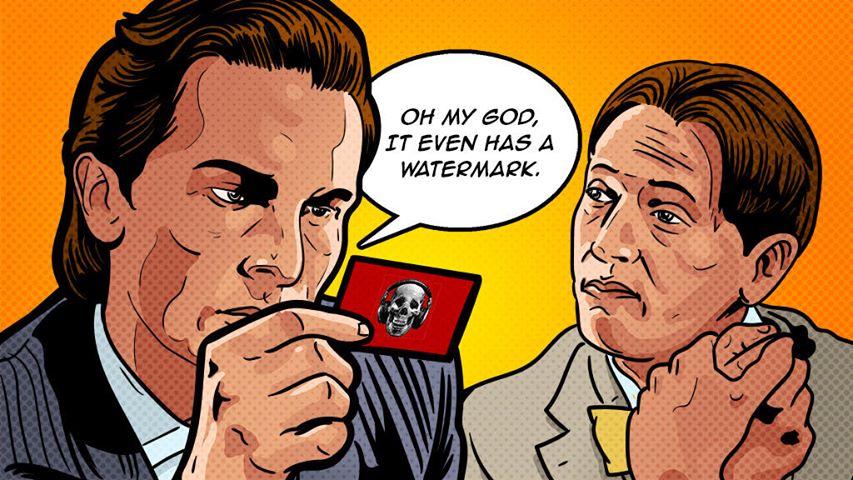 Oh my God, @Dgoebel00 on INSTA provided this amazing pic. Check him out on his site as well.
American Psycho can be found on Netflix right now for free, and just about everywhere else for a nominal rental fee.
American Psycho Synopsis
This is the story of Patrick Bateman, a Wall Street investment banker who is wealthy, materialistic, and totally insane. As you get to know Bateman, you will realize that you are witnessing an interesting turning point in his life. The emptiness that he feels inside is forcing his addictive habits further into the open than is wise.
By day he frets about having the perfect business card, or the best suit, or reservations at the most trendy restaurant. By night he is a psychopathic serial killer.

But how much of this lunacy is real? With Patrick as our unreliable narrator, we get a behind the scenes look at the mind of a real nutjob – a true "happy camper".
American Psycho Review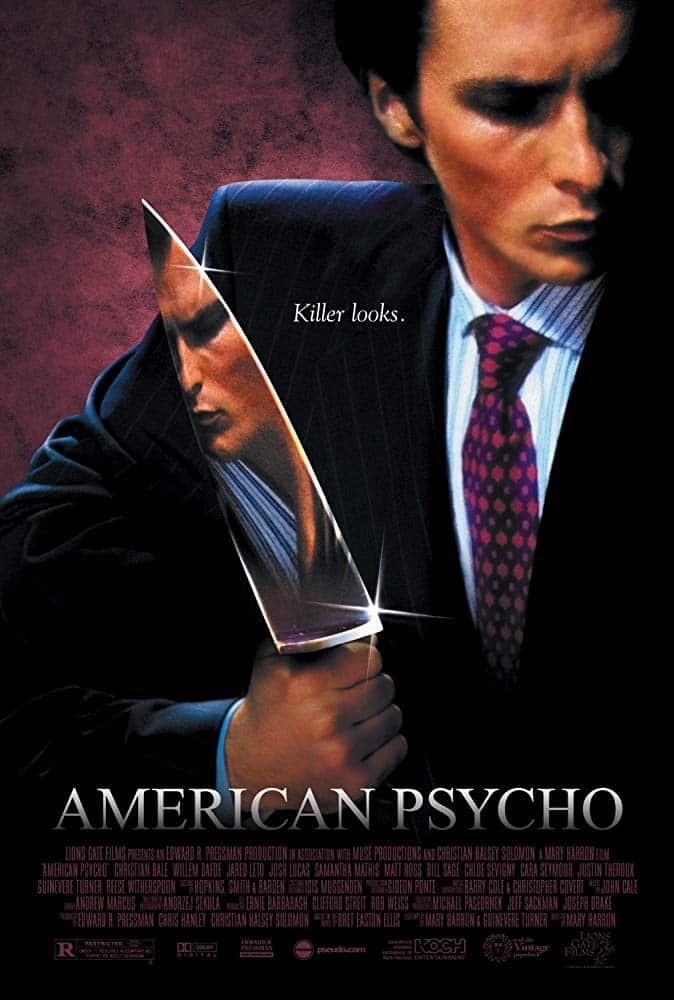 American Psycho is, in my opinion, a masterpiece that looks directly at the human condition as it is today. This movie is based on the 1991 Bret Easton Ellis novel by the same name and is set in the late '80s, amid the extreme excess and consumerism that marked the time. And it holds to this day.
The restraint shown in this movie is perhaps the most impressive part of an already very impressive movie. The acting is perfect. To my mind, this is the movie that put Christian Bale on the map as one of the best actors we have ever seen, and definitely my favorite method actor.
Mary Harron, the director of the film, describes it as "feminist," which may not be as accurate as saying it relishes all of the most despicable masculine traits. It's an exercise in rage, lust, vanity, and boredom.
I love the message, I love the presentation, and I love the story. The character of Patrick Bateman is as strangely relatable as he is totally alien.
Score for American Psycho
10/10
Spoilers for American Psycho
Before spoilers, do consider listening to the podcast instead of reading my review. We go very deep into this movie, and it would be a shame for you not to listen to our analysis of it, at least, that's my opinion.
Bateman is an Utterly Insane Narrator
Patrick is lots of things, and top of that heap is nuts. He is also our narrator. This is important because the whole way through the movie, we get to see him doing and saying things that are absolutely horrific, and no one seems to bat an eye. Is it because they didn't hear him, don't care, or did he actually do that? I think the more important point that this movie makes is, it doesn't really matter.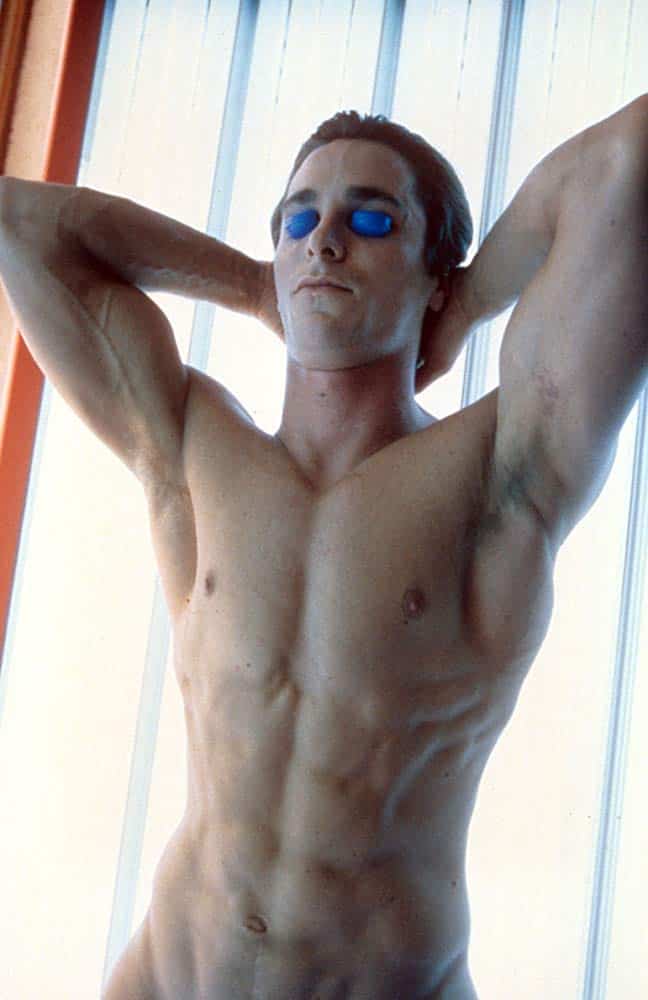 So much of what we do and say and excuse is completely unacceptable, yet totally accepted in today's culture. We all have a little Bateman in us.
His morning routine is where we start, and boy is it a doozy. He is extremely superficial, vain, and egotistical, and it's all apparent from the opening scene.
Did You know Joker is basically American Psycho?
It's true, While American Psycho maybe one of the most unique movies I've ever seen, Joker is essentially the same movie with an antihero who starts from the bottom instead of the top.
Bateman is the Boss
He tells his receptionist, Jean (Chloe Sevigny), what she should wear. He refuses to marry his fiancé, Evelyn (Reese Witherspoon), because he doesn't want to take time off work. He threatens to kill his dry cleaner because she speaks a different language and can't get some … stains … out of his bedsheets. It's clear that Patrick is the boss of his world, and he doesn't care who gets hurt because of it.
People Don't Matter To Bateman
I say that people don't matter to Bateman, but people don't even really matter to each other in American Psycho. Every character is having an affair with every other character, and no one seems to mind. All anyone wants is, "…to fit in." As long as everyone gets what they want or who they want, they are happy.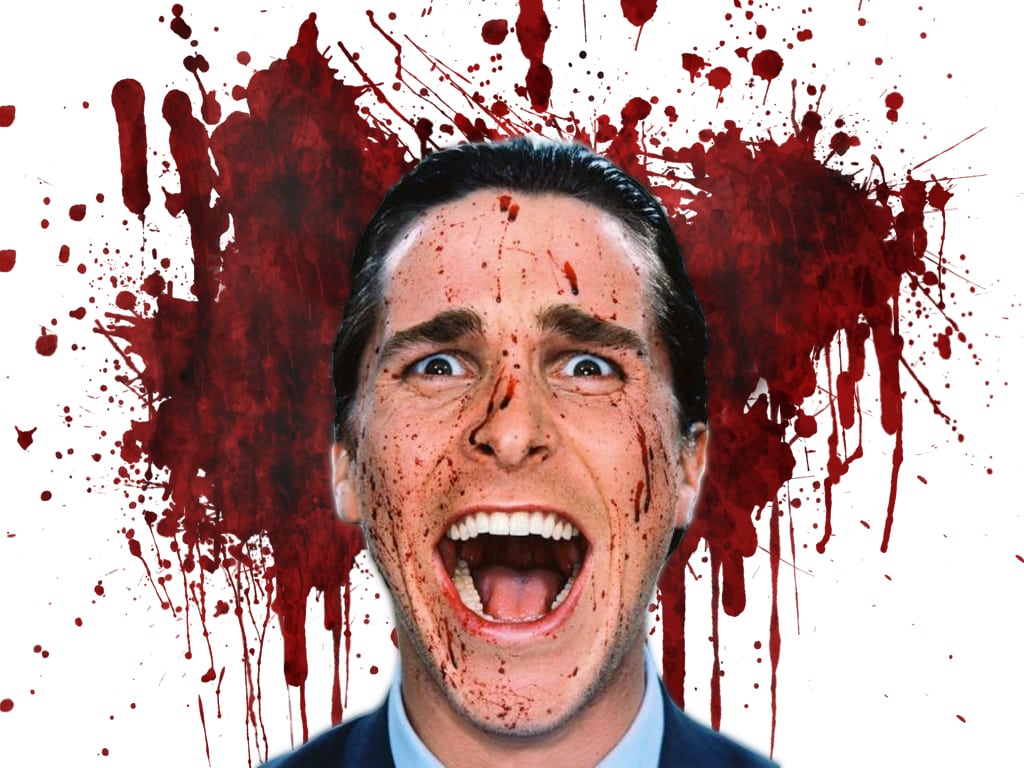 As I write this out I am beginning to wonder why I revel so in the abominable messages and themes of American Psycho. It's damn depressing that this is somewhat true of American culture today and for the past several decades. It's also a breath of fresh air. It's nice not to be lied to. It's fun to see something and call it what it is – sickening!
Business Cards DO Matter To Bateman
People may not matter to Patrick, but things certainly do! The business card scene where Patrick almost has an aneurysm over his peer's cards is perhaps one of the most iconic scenes in all of movie history. The whole movie is one big commercial for the best suit, real estate, haircut, music, and restaurant.
Ironically, Bateman's tastes are so mainstream and safe that none of them amount to a hill of beans. Every business card that he fawns over is the same as the others; every song he enjoys is vapid and painfully pop. It's all just consuming to consume.
Bateman Isn't Really Bateman
Patrick is only himself for about half of the movie. The rest of the time, he charades around as Paul Allen (while banging and killing prostitutes) or Marcus Halberstram. In-fact his own lawyer mistakes him for someone called Davis at the end of the movie, suggesting that no one even knows who anyone is. At least, the idea of Bateman, as he says, isn't real. It's just an idea, an inkling of the murderous, disgusting, letch that haunts us all. Who is Patrick? Does it really matter?
American Psycho Ending Explained
There is lots of speculation to this day about what exactly happens at the end of American Psycho. It's confusing! He has spent so much time lying to the audience, having delusions, maybe killing people, acting as others, it's hard to know. Many people suppose that he did all of the murders that everything is the truth.
Others say that none of it happened, that we are witnessing the mind of a sick man, a psycho. Some say that it's some amalgamation of the two.
I would pose that the point of the American Psycho ending is to say that it doesn't matter at all. Whether it was a total farce or completely real, it's real enough in our society. It's a thought experiment meant to make you ask what part you play in this fucked up world. How much of Bateman lives inside you?
Final Recommendations
This is a fabulous film. Although it will leave the faint of heart and empathetic queasy, it's still worth the watch. I whole-heartedly recommend this film to everyone who is interested in having a little peak at insanity.