Podcast: Play in new window | Download (Duration: 1:31:38 — 62.9MB)
Subscribe: Google Podcasts | Spotify | Amazon Music | Pandora | iHeartRadio | Stitcher | Podchaser | TuneIn | Deezer | RSS | More
We watched Quarantine for free on Crackle and it hasn't lost it's luster. This is still a staple of the found footage genre, and one that sticks out in my mind for a number of reasons. On this episode we go over the movie, play a rousing game of Attack of the Rotten Tomatoes, and talk about what happened to us over social media over the last week. We also discuss a bit of what it's been like in our own quarantine.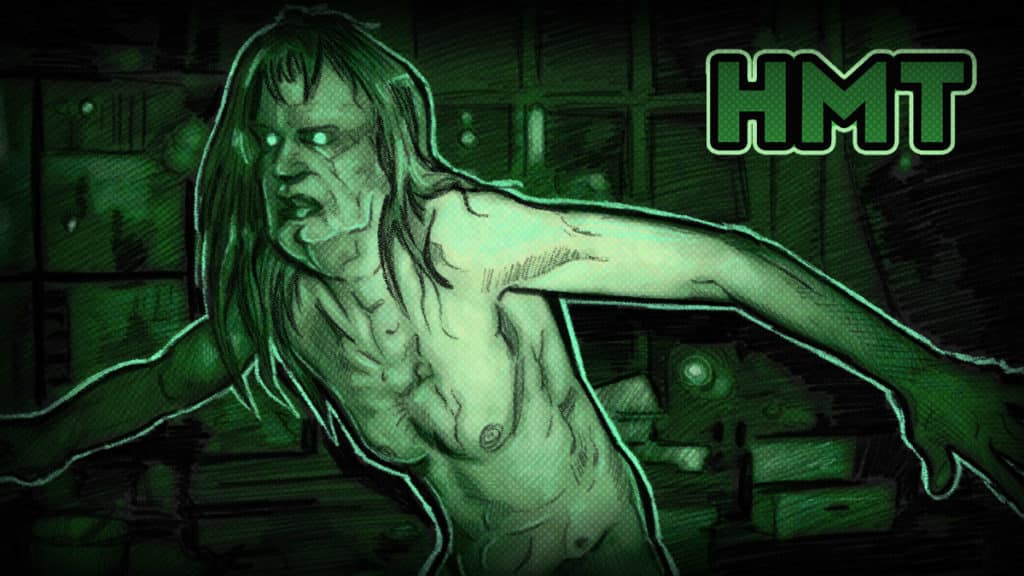 Synopsis
Quarantine is a 2008 American recreation of the 2007 Spanish film REC. It's very similar to REC in just about every way, but because it's out of Hollywood, it seems to have dwarfed the original, despite not being as effective.
Quarantine follows a reporter, Angela, who is doing a slice of life piece on some local firefighters in LA. As she goes on a routine call with the crew, they end up at a small tenant building that houses a variety of residents.
It soon becomes apparent that there is some kind of infection going around the building as matronly and old tenants begin to brutally attack those trying to help them. The firefighters, camera crew and the tenants are all locked inside and soon they find themselves with more quarantine than they bargained for!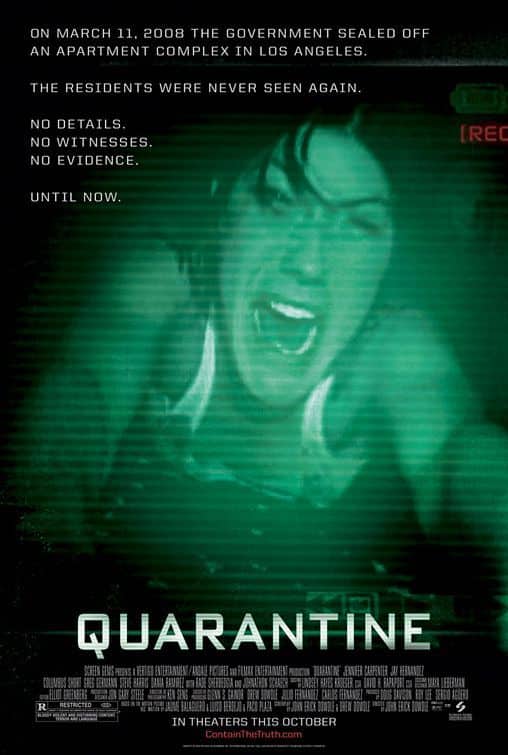 Quarantine Trailer
Review of Quarantine
Quarantine was directed by John Erick Dowdle who is also known for some staple cult favorites like As Above, So Below and The Poughkeepsie Tapes.
It stars Jennifer Carpenter who we love when she acts in the horror genre. We just reviewed The Taking of Emily Rose, which also starred her.
I enjoy this movie because it has a great start, middle, and a decent ending, although it's impossible to beat the ending of REC even though this tries. It has all the elements that make a great found footage movie.
The story is compelling, the situation is extremely relatable…now, and there is plenty of shaky-cam footage to keep your eyes clawing at the edges of the frame for whatever that thing was that just ran by.
I will say that Jennifer Carpenter's acting gets in the way of the ending of this movie. She hams it up to such an incredible degree that I couldn't stop thinking about every middle school girl nervous breakdown I ever witnessed or had myself – and there were more than a few.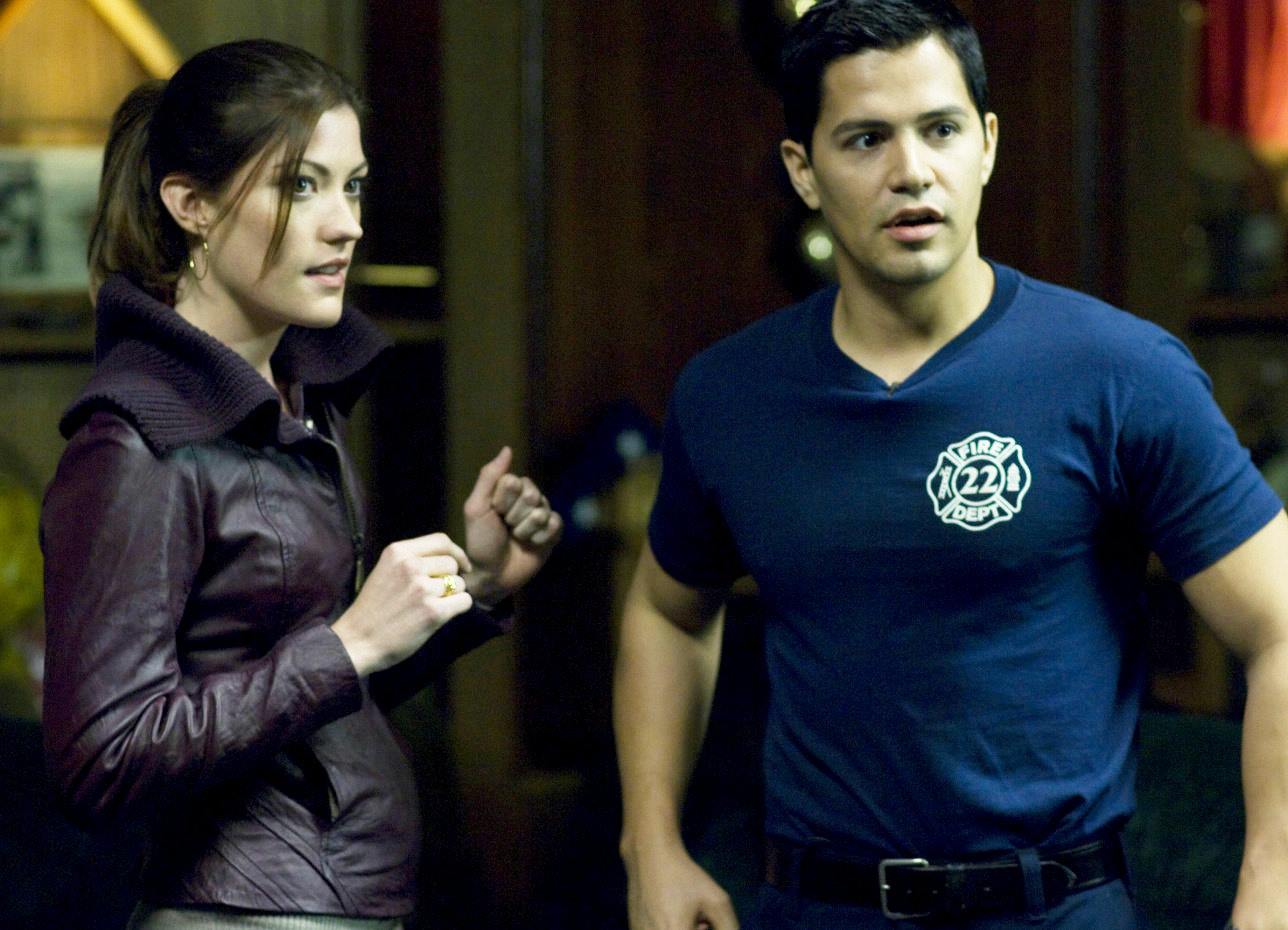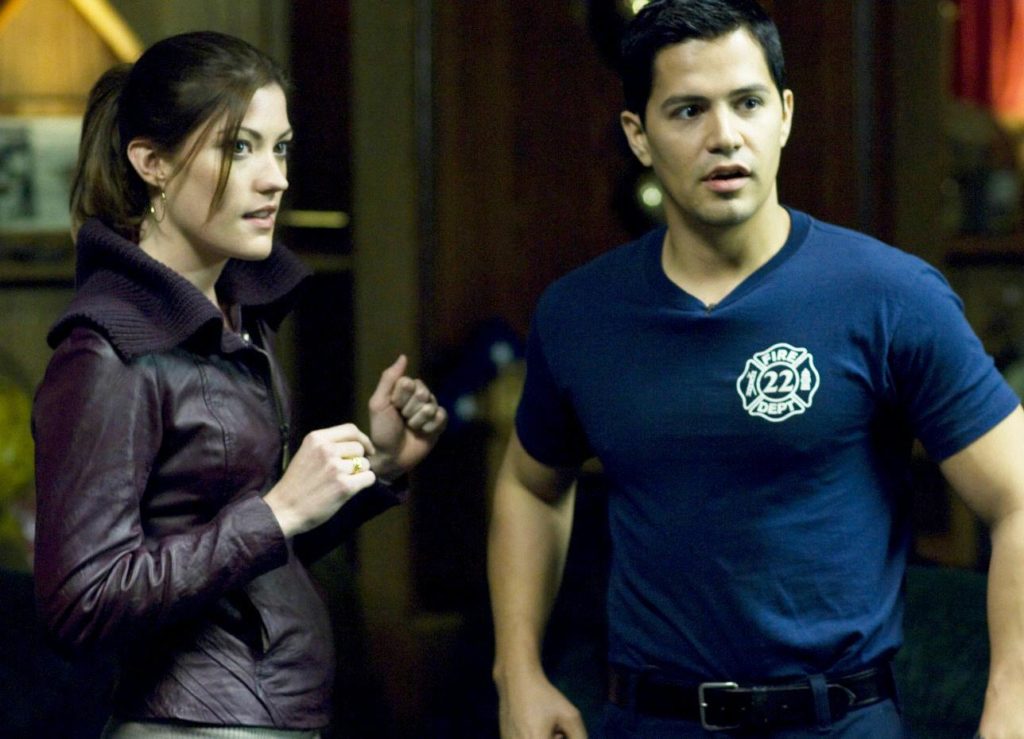 Even with the overacting, I think Quarantine stands out as one of the classic found footage examples. If I had to point people to a movie to watch, I would point them at REC before this. You can find REC right now on prime for a few bucks.
Score
7/10
Spoilers for Quarantine
After watching this movie, it's a lot more simple than it seems as it's unfolding – not that it seems terribly complicated. It has a learn-as-you-go structure and there is a mystery that slowly unravels: why are we being quarantined and what is this sickness?
It starts with some engaging banter between our reporter and her firefighter subjects. I always enjoy horror movie beginnings that are light and breezy and fun. It's a refreshing palate cleanser to what is going to become a horrendous scenario.
Queue the horrendous scenario. They get to the apartment building and they meet some creepy old grannies who are obviously afflicted with some malady. Ms. Espinoza, one of the old ladies in question, attacks a firefighter and rips out his jugular.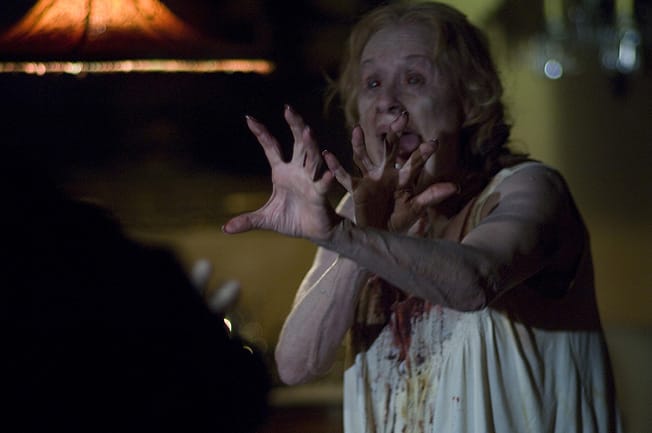 What is the infection in Quarantine?
The only real spoiler in this movie is what the malady is that affects the tenant building. In the first act we learn about a little girl in the building who has a mild fever. She has a little dog, who is also sick and was taken to the vet yesterday.
Well, this little dog was infected with some sort of super rabies it attacked some other animals in the vet that they took it to, and those animals started showing signs of rabies after only one hour, which is about a month too fast.
The CDC was notified about the dog and they traced it back to this building. Turns out, there are some rats loose in this building that exhibit the signs of rabies.
Good thing too, because while normal rabies is nothing to scoff at, this is sooo much worse!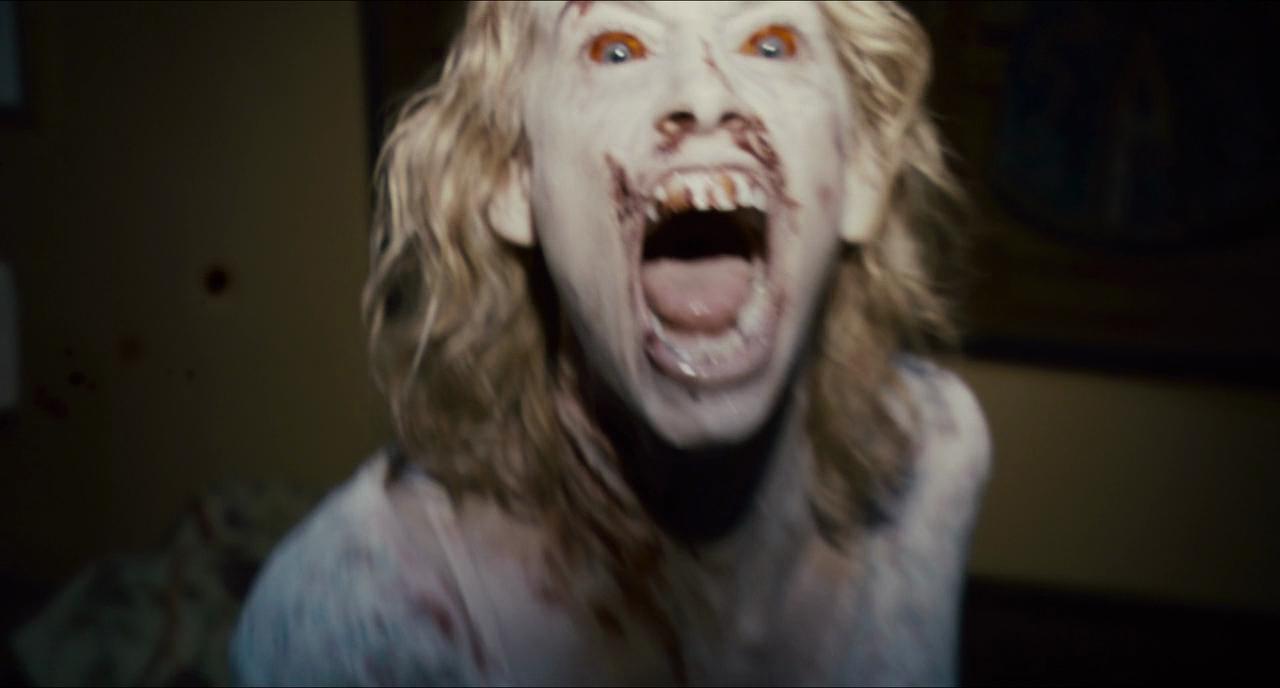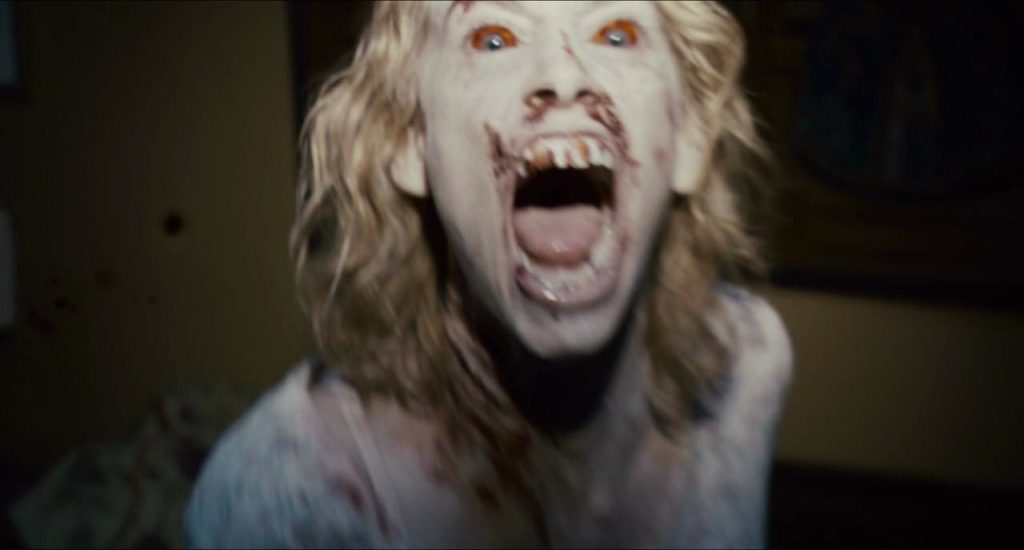 Rabies public service announcement
To avoid rabies, these are the signs that animals with the disease portray:
Aggressiveness
Agitation
Hallucinations
Muscle spasms
Seizures
Paralysis
Sensitivity to bright lights, sound, or touch
So, these rabies rats come from the attic, where a tenant who rents it keeps a bunch of experimental rodents and news clippings of his satanic death cult. Turns out, he's been working on weaponizing the rabies virus, and either he set some rats loose in the building on purpose, or they escaped by accident. I haven't seen Quarantine 2 but I bet they tell more about the story there.
The End
The end of Quarantine is not nearly as strong as REC even though it tries to accomplish the same thing. The problem is the camera, the monster, and the hyperventilating Jennifer Carpenter. It's so loud and fast in this movie that when they find the emaciated rabies monster in the attic, there is no dread or tension to go along with it, just a panic attack being had by our reporter friend.
The end of REC, on the other hand, is downright chilling, and remains with me to this day.
Final Recommendations
If you've already seen REC or if you can't stand subtitles, this is a great found footage movie with break-neck pacing and some really intense moments. Otherwise, start with REC then watch this to compare.
Links for this episode: