Podcast: Play in new window | Download (Duration: 1:11:23 — 49.0MB)
Subscribe: Google Podcasts | Spotify | Amazon Music | Pandora | iHeartRadio | Stitcher | Podchaser | TuneIn | Deezer | RSS | More
We watched Tetsuo, The Iron Man (鉄男 TETSUO) on Shudder and jesus christ; I don't have any words.
Tetsuo is a David Lynchian / Cronenberg-esque film that aims to disturb with intensity and extreme imagery. Everything about this movie is turned up to the max. It's full of intense mutilation, body horror, and sexually provocative fetishization and imagery. I wouldn't go so far as to call Tetsuo, The Iron Man a good movie, as I would call it an important movie.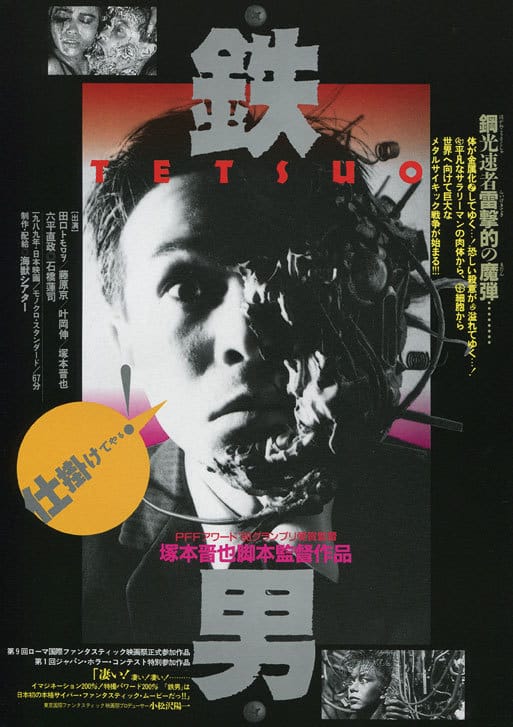 With that being said, I found this unpleasant to watch in just about every way. There isn't much dialog, the story is paper thin, and the intent is unclear. It is clear that there is a decent amount of symbolism here, or at least that people will reason that this movie is symbolistic. For me, it's hard to tell whether writer/director Shin'ya Tsukamoto intended for the obvious symbolism, or whether he was banking on you wanting to read too far into it. It seems equally plausible to me that Mr. Tsukamoto has some crazy kinks, and needed to work them out on screen.
Tetsuo, The Iron Man Trailer
Tetsuo, The Iron Man Synopsis
Tetsuo is not an easily understood or interpreted movie, and it's not supposed to be. The synopsis of Tetsuo seems to be that a man known as the "metal fetishist" (Shin'ya Tsukamoto) is obsessed with pushing pieces of metal into his body, which gives him some sort of high. At the start of the movie, he is getting off while pushing scrap metal into his legs and ends up running into the road in some metal obsessed stupor. At this point, a man credited as "salaryman" (Tomorô Taguchi) hits the fetishist while driving in his car with his wife or girlfriend (Kei Fujiwara).
Want To Watch It?
Watch Tetsuo: The Iron Man on Amazon
The story transitions to following the salaryman, who begins to notice metal objects quickly taking over his body, which is alarming to him – shocking, I know. From here it spins out of control, and the salaryman begins his rage and sex-fueled journey into metal oblivion.
Tetsuo, The Iron Man Score
4/10
I feel that it is important to say that this is an important film.
For More Boundary Pushing, Check Out Our Review of The House That Jack Built!
Tetsuo, The Iron Man Spoilers
Inspiration for Tetsuo
Tetsuo felt heavily inspired by Eraserhead and also, meth. That is to say, I vividly remember the feeling I got when I saw David Lynch's Eraserhead, and Tetsuo gave me many of the same feelings. It was also frantic from beginning to end, feeling almost like an hour long music video, constantly moving and changing frame – always moving to the next strange medium.
This was shot in black and white on 16mm film with tremendous amount of intense lighting and with lots of stop motion animation and special effects.
Troubles Shooting
Interestingly, this film was just as hard to shoot as it was to watch – most of it was shot in Kei Fukiwara's (cast as "woman") apartment. By the end of the production most of the crew had quit or been replaced because the conditions were so atrocious.
Taguchi, who played salaryman, was one of the only crew members who didn't live on set and he was quoted as saying:
"It was very tough so I quickly sensed that if you would stay with them all the time, you would inevitably get the urge to escape. So I figured that if I could keep some distance, I would be able to last much longer and keep a good relationship with them. It's true that almost every day I went there another crew member would have left. One day I arrived at the house and the lighting crew had gone, so I had to do the lighting for Tsukamoto's scenes myself. Toward the end, only the actors were still around. Nearly the entire crew had given up and left by then."



-Tomorô Taguchi
Director Tsukamoto said years after shooting that he had contemplated burning the negatives of the film because it has been such a bad experience.
Like Disturbing? We Got You Covered With Our Review of Susperia(2018)!
Soundtrack and Audio Elements
This movie feels a lot like a music video partially because of the extremely grating soundtrack of industrial and metallic clanging that is constantly being piped into your ears. Strangely, near the start and end of Tetsuo, The Iron Man, there is a chill sort of jazzy number that is laid over some strange imagery. The jazzy number, ironically, is the one that's totally out of place, and the industrial seems to fit right in with the theme.
Themes in Tetsuo The Iron Man
Rage and sexual frustration seem to be the mainstays and the feeling behind Tetsuo. Rage as a transformative force in the human body, and the desire to self destruct while watching the world burn with you is something that, I think, many can relate to.
One of the core components of Tetsuo, The Iron Man is the symbolism with technology taking us over. As we give ourselves to to technology we begin to lose control and morph with it into something wholly disgusting and non-human. Technology takes away the human aspects of us, like love and compassion and leaves only rage and sexual desire mixed with frustration. Pretty spot on for 1989.
Ultimately, Tetsuo, The Iron Man is a part of film history and a cult classic. While it didn't do anything that hadn't been done before, the energy behind it is undeniable and intense. Everyone will have an opinion about this movie, and they will want to talk about it. For that reason, I enjoy the idea of Tetsuo and not so much the experience.
Like Sci-Fi? Here is Our Review of The Predator
Final Recommendations
This is not a movie that anyone I know will enjoy because it's enjoyable. It's good because it's important, it's good because of what it allowed to come after it. If that sounds like a checkbox that you are looking to fill, give this movie a go, if not, maybe watch something more breezy.
For Something More Breezy, Check Out Our Review of Happy Death Day 2 U!
Tetsuo on Youtube