Podcast: Play in new window | Download (Duration: 1:22:45 — 56.8MB)
Subscribe: Google Podcasts | Spotify | Amazon Music | Pandora | iHeartRadio | Stitcher | Podchaser | TuneIn | Deezer | RSS | More
The Little Stranger is a little known horror film that came out in 2018 that toes the line between murder mystery and horror movie. It is very English in it's sensibility and might remind you more of the Turn of the Screw or The Remains of the Day than The Conjuring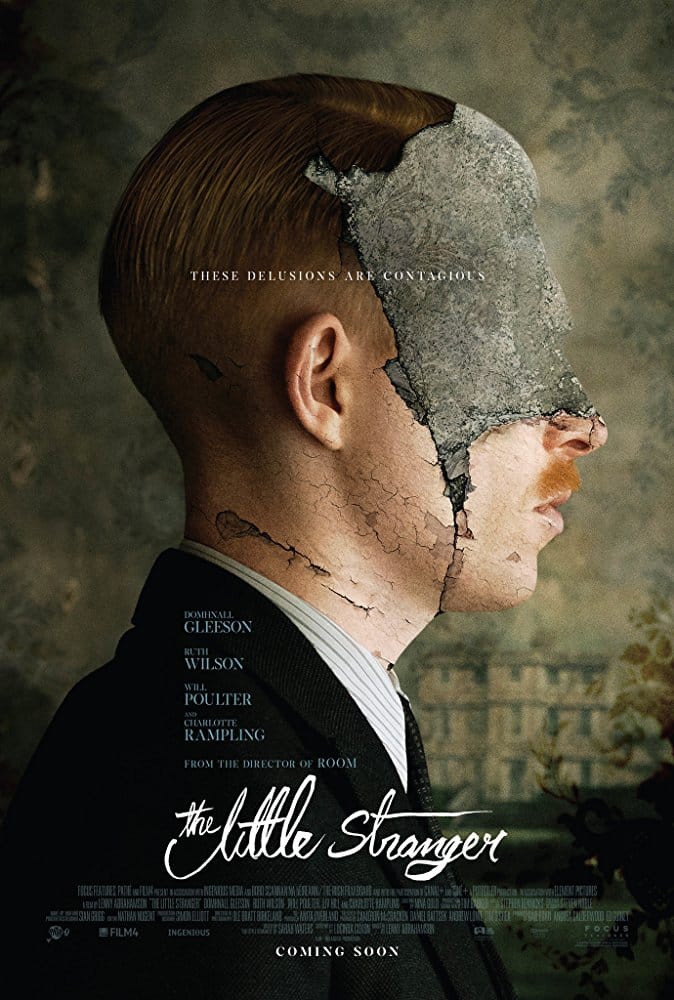 If you love scary movies, but wish they were more like The Remains of the Day, then you might like The Little Stranger. It can be found in theaters right now.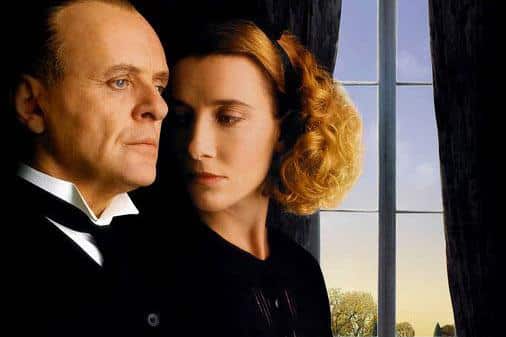 The Little Stranger is about Dr. Faraday (Domhnall Gleeson), an english country doctor that starts making calls at the estate of the wealthy Ayers family, Hundreds Hall. Think Downton Abbey, but sadder. Dr. Faraday has a history with the estate, as his mother used to work as a housemaid there. Nowadays, the estate a run-down shadow of its former self and is only inhabited by the eligible bachelorette, Caroline Ayres (Ruth Wilson), her horrifically battle scarred brother Roderick (Will Poulter), her mother played by Charlotte Rampling, and the lone housemaid Betty. But are they the only Ayers living there? We…slowly find out that the house is haunted sorta kinda, and then the movie ends.

My Rating for The Little Stranger
4/10
It was a slow movie that could only be generously classified as about 5% horror movie. It's slightly interesting because of the human drama, but the scares fall flat.
Spoilers for The Little Stranger
Expand for Spoilers

There is a lot of ambiguity and subtlety in this movie. I walked away wondering if there was any supernatural occurrences whatsoever, and if all of the calamity could be just explained by surreptitious actions of Dr. Faraday and/or human error. The only thing that keeps me from definitively making that conclusion is that the spontaneous scratch marks that appear on Mrs. Ayers, seem to have no other explanation than supernatural phenomena.

Check Out Our Review of The Perfection!

So it could either be one bad dude, or it could actually be the ghost of a dead Ayers child that creates all the havoc at Hundreds Hall.

There is talk of poltergeists and a heavy emphasis on Dr. Faraday's covetousness and forwardness. The poltergeist could be just an extension of Dr. Faraday's sub-conscience, which is an idea alluded to in the script.

I'm tempted to read the book that the film is based on to get a little more insight into the character of Dr. Faraday, but to be honest, the movie wasn't interesting enough for me to spend more time delving into the story.

Check Out Our Review of Ma!

Needless to say, everyone dies because of some curse that befalls Hundreds Hall, and Dr. Faraday is seen in the epilogue wandering the halls staring off into the middle distance. The last shot is of Faraday as a child looking over the balcony that Caroline was pushed over. Does that mean he did it? Was Caroline's "It's you" referring to Faraday? I dunno, maybe.
Is The Little Stranger Worth Seeing?
I wouldn't recommend seeing it in the theater, but it would make a fine "Netflix and chill" movie. It's not a good horror movie, and it is only a middling drama.
If you are the Dowager Countess of Downton Abbey, you might like it, but everyone else can probably find something better.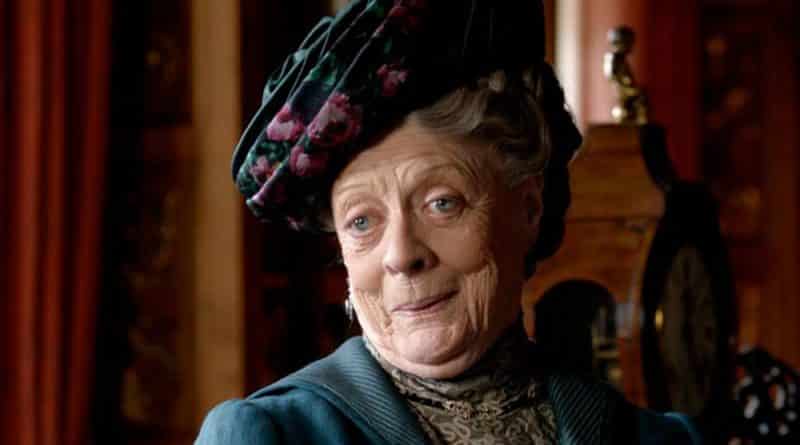 Expand for full transcript

This episode of horror movie type brought to you by Costco Meatballs.

I don't know. Maybe we should just do Costco meatballs and rice for when dinner comes around and you're barely more ambitious than sandwiches by Costco Meatballs in the frozen aisle of Costco today.

Hello and welcome to horror movie talk. The horror movie podcast were too schlubby. Guys talk about spooky movies with your hosts. Bryce Hanson, the cool collected nihilist and David Day a public urinate er who is always right. Hey, this is a podcast for lovers of horror movies, old and new. You want to hear about what's in theaters, what streaming fresh takes on old classics and terrible movies that are bad enough to be good.

I'm Bryce Hanson and I'm David Day, and I'll have you know, I Rice changed the intro on this, and I was not made aware until until I heard it. I don't appreciate that it's true, though. I mean, just because it's true doesn't mean I mean doesn't mean it's got to be part of my intro. Yeah, hey, disgust me. Look, man, look. Any red blooded American male who says that that there you there who says that they don't pee in public.

Is either is either a liar or there rare a liar, right?

No, I I admit I'll I'll pee in public, but we're talking about, like, campsite on a tree hidden.

Tell the audience about your public urination.

Look, the details. I know what I'm not gonna be pinned to a cross here. How close was the closest person while you publicly urinated? They knew about it and we're laughing about it of all of them, because I was surrounded by my friends at a slayer concert I wear. I can't think of a more appropriate place to be in public than a slayer concert. So and the the only the only God damn it, I can't believe this is happening on the pod. I mean, I guess I should have known that it was coming up. I just forgot. I didn't know that it was coming. Look, I had 88 ounces of beer in me at this point, and it hit me like a ton of bricks in the middle of lamb of God and, you know, jokers to left me clowns to write. I couldn't get out of there and Furthermore, I was gonna miss omerta. So there you go. Middle of middle of the lamb of God said, I just got down on my knees, you know? Whipped it out. Let her let her go. No, my friends were in front of me. They were downhill from the street. There were blockading is making sure that other passes by Didn't Didn't, uh you know, you silly their shoes first is what you're saying, right?

So you leave out that this is an event, this seated venue which made which made getting out much harder because you're you're boxed in by huge keeping slayer fans who are like steelheads. Well, I'm not gonna lie and say that there weren't skinheads there. It's a small sub subsection of Slayer fans that slayers probably not too proud about. No one should be proud about it, But, yeah, they were probably there. That's right. I'm just giving them, aren't that?

Yeah, that's a question to the audience. What's your worst public urination story? That's a try to beat among the masses. I can't think it needed more. I it would be It would be disrespectful not to, huh? All right, so today we're Oh, yeah.

First of all, let's just give a couple plugs. Our website is horror movie talk dot com. You can also find this on social media or most active on Facebook. We're also on Twitter and Instagram. Let us know if we should be more active in one of those. If you would like. That's your preferred method of social media. Yeah, Post, uh, episodes every Wednesday of horror movie talk.

This is new. We're moving to a weekly format. We've got a couple episodes in the bag there, just waiting in the wings and a bunch of new horror movies coming out in advance of Halloween. So we're trying to up the the schedule.

Please subscribe and leave a review of our podcast on iTunes. That helps us out a lot and helps with the visibility of the podcast. So today we're gonna be talking about the little stranger, and how will go over the episode is first off will give an overview of the movie and review and a score. Um, gotten a lot of feedback about wanting specifics about what are scoring system is at 1 to 10 1 being just a miserable dredge to get through five being average and hits all the marks. Just an average movie. It's acceptable. It's not fantastic, doesn't it? Just doesn't make you angry. Just makes you feel. Yep. I saw a movie and then 10 being just absolutely fantastic. Just best movie of the year type quality transcends the genre.

So a couple examples of tens recent tens the witch. Um, read it, Terry. For me? Yeah. We're gonna be doing it so that these air these air recent tens and so, like the which probably a recent 10 that will be a little bit more for gotten. It will probably die down in my memory that as time goes on, it's a fantastic movie. But it won't. I don't think it will be. Yeah, An exorcist. Yeah. I mean, they're not necessarily the most popular, But if you watch him, it would just be hard to disagree that the they're not great movies. Longstanding tens are like Psycho. The Exorcist. Jaws five. Most recent five was the Meg last episode. Just popcorn movie. I can't not good. Not bad. It's just there. And then we'll, um thanks to mark for the feedback on a lot of people seem to be very interested in the scoring system, which is interesting to me.

Um, Brett, you know, if you want to know more about if you want us to do something different about it, your add to it, let us know, Right? Um, I think in general we don't get excited easily. So if if it's above a five and that's probably a pretty ding good movie, it's worth were thing. I mean, I think five were saying because I like movies. Yeah, yeah, I think two's or worse, I think cause I love terrible movies, too. But I think for the most part, stuffs around five or maybe a little less or a little more. Yeah, I think in general, neither of us is terribly. Ah, suede. You know, we don't have a lot of energy One way. We're pretty pretty neutral. Going into and coming out of movies right later will be doing a couple of bits will do tag lines where we replace the movie's taglines with something that we think is more appropriate.

We'll be talking about what's going on on our Facebook page and a little bit of horror movie news today, uh, mostly talking about trailers and what we're excited about. Thanks again for listening and let's get into the show. So we went to see the little stranger. And if you love horror movies but wish they were more like the remains of the day starring Anthony Hopkins, then this is the movie for you. What's the remains of the day? If anyone seen remains of the day, that will be a hilarious joke. Okay, here's the trailer of the little stranger that remains of the day. The first time I saw 100 tall was July 1919. Nothing could have prepared me for the spell it casts.

When I saw the house again 30 years NATO, I could hardly comprehend the change in the place. Why don't you tell me what's going on? You wouldn't believe me. Another. This is Dr Faraday. How did you find the patient? A little under the weather. It's war shock. E Caroline Him tonight I've heard they're troubled. Very conscientious about it. A long time ago I was a child. This isn't died before I was born. There's something evil in this house. Let's shoot. What you doing here? You write for me, Miss. I did not. Mrs Astor's upset strong itself, did it. What she's that's impossible. Your mind is playing tricks since is a memory. It will be explained. I'm worried. Don't you ask me that? He said he could smell smoke. I couldn't smell anything.

Delusions seem long as contagious. Someone's staying games. People are capable of nasty impulses. Something in this house you do know. Yes, they're tricks. What happened next? It's a mystery to me. The little stranger could be found in theaters right now. If you're confused about hearing about this movie that you haven't heard about it in your horror movie fan, I guess I wouldn't be that surprise. It's barely a horror movie. Well, this is a great example of a trailer that that I saw many times in horror movies. You know, it was targeted at horror movie fans. So I saw the trailer for this in, you know, in other horror movies. And and it sells itself as a horror movie very much. Yeah, The trailer is not what the movie is, right? The little strangers about Dr Faraday, played by Donald Dom Nal Gleason, The, uh, what's his name? Huck's from Star Wars. Yeah, and many other movies.

If you've seen a redhead man in a movie in the past 10 years, it's been Donal Gleason. Ah plays an English country doctor that starts making calls to a state of the wealthy heirs family. The state is called Hundreds hall think Downton Abbey, but sadder. Dr Faraday has a history with the estate as his mother usedto work as a housemaid there. Nowadays, the estate is a rundown shadow of its former self, and it's only inhabited by the eligible bachelor at Caroline Ares, played by Ruth Wilson. Her horrific, least battle scarred brother, Roderick, played by Will Poulter, her mother, played by Charlotte Rampling. And the loan housemaid Betty. Um, but are the Onley heirs living there?

We slowly find out that the house is haunted, kind of sort of. And then the movie ends. Yeah, it's left up debate to debate, whether I mean, I was confused whether it was even haunted because it really doesn't sell it. Have at all have a lot of theories. So before we get into spoilers and talking about the details of the plot, what we liked and didn't like, um, I just want to give a quick review. Ah, slow movie. I mean, it could only be generously defined as a horror movie. It's about 5% horror movie. Yeah, and it's like it's like a like if a nineties family sitcom did a horror episode. Yeah, it would be about that much.

Yes, Kerry material. It's less scary than or maybe as scary as a tree as a Simpsons treehouse of horror. Right episode? Yeah, I don't know. I mean even even treehouse of horror. Would you like the later treehouse of fours where they just get into? Yeah, I kind of just more Ah, taboo subjects and not actual or write American horror Story is leaps and bounds scarier than this. Um, it's slightly interesting because the human drama but the scares fall flat. I give it a score four out of 10 c I. For me, this is a five because it's it's interesting enough on its own, you know, it wasn't Ah, it wasn't offensive at any point.

It was just a little confusing because I thought we were, you know, because we're a horror movie podcast and we were there E. So I was like, What the Well, who else was in the theater with us. Old people. Lots of old people. Yeah, they were gearing up for a period piece. Which this waas. Yeah, more so than a horror movie. They were like, Oh, how quaint. You know, it was kind of that. So it scored. Did you? Did you say it? I will give it a 5%. It wasn't up. It wasn't terribly. It wasn't bad. Like it was not a bad movie to me, but I could see how a four would would be where you're going with it. I'll tell you what it made me think a lot. You know, we did talk about it after the movie, and I was interested enough to kind of look a little bit deeper Raft afterward.

Yeah, it did inspire discussion, but it's my question is, is it did it inspire discussion because it wasn't effective? Or did it inspired discussion because of accurate Cheap Or did it inspire discussion because it was actually thought provoking? I'll tell you what, It was beautiful. Yeah, it was like the scenery and the location filming and like all the seasons and like the house itself. Wow. Oh, I'm very pretty Domina. Lt's Donald Gleason's hairline. I was fascinating.

I mean, lots of lots of hero shots of his the back of his head. Yeah, and it is exquisite craftsmanship of whoever did his hair. Yeah, it reminded me of your hair. Yeah, often. Yeah, because because it's so like cough. You know, it is very clearly has the comb marks. And, uh, and your hair does that You very free. I mean, it's obvious that you comb your hair and care about how it looks when you leave your house. Yeah. Yes, I combed my hair. Right.

I have I have rolled out of bed and walked into the every day of my life since I was 12. You say I stopped combing my hair a 12. And then but people like Domina LL and Brice are keeping, you know, keeping it swath, right? Well, I mean, it's different hair types. If I rolled out of bed, you would definitely be able to tell. Yeah, your hair. I mean, there's nothing to be done. It's just It's just what it is. You just get out of here. Have you ever grown out of throw? Could you do a throw? I wanted to. I could do a froze. It gets heavy. It's really it's not fine enough Thio to do it. You know, at about three inches you can do a decent throw and then passed that. It's just, Ah, it's just going to get greasy and weighed down. It's gonna look like, you know,

it's gonna look like a kind of gross Mad of Greece. All right, well, let's get into spoilers. Spoilers. Okay, Uh, okay, So I think to start out with this movie about how it's barely a horror movie or confusing it's who is targeted to. I think the most telling thing is the previews that they showed before the movie. You know, what were they like? It jumped between horror movies like legit horror movies and, Gosh, I can't remember the other ones. But there they were, just regular drama's drama or period piece movies.

Yeah, it was just hard to know what the audience for this movie was looking. The theater. It was a lot of old people, and it was probably people. I mean, it is the people that don't know what movies air out. They look at the newspaper in. They're like, what's playing, and they don't want to see the Meg. They don't want to see a superhero movie, right? Like, 00 this is about 19 fifties forties forties. Felt. No, it wasn't. Forties wasn't before the war, I felt like I think it was nothing. You said it was in the forties. Okay. Ah, by either one of those around that time, right? It wasn't during the war.

No. Um, so But yeah, it was it was confused about. I was confused about who it was for afterwards. It was very, very English going into Yes, it was very English going into it. I was sure that it was a horror movie. And then about 50 minutes through, I turned to Bryce with Ernest, You know, with Ernest Concern and said, Is this a horror movie? Are we supposed to be in here?

Have we supposed to be here? Like I was? I was legitimately confused, and I had a little bit of that. Um, you know that You know that disorientation that hits you after watching nine trailers before a movie. When you go, where am I? What? Over here. We see what is happening that hit me about 50 minutes through, and I and I became a warmed and worried that, like we were seeing the wrong movie or something like that, that experience was interesting and new happen halfway through a movie, right?

Yeah. When I say it's very English, I think it is a very English style scary story. Like, um um, a Christmas carol like? Well, technically, yes. That's a ghost story. Yeah, that's a good point that it's very it does not dwell on the bread of the supernatural. It's just kind of incidental. Yeah, Incidental dread. Right. Um, that being said, that's a really good point. And I Yeah, I would say that this is a English and English feeling horror movie, right? Yeah. Um, so the movie starts out. It's kind of a flashback of this Dr Farraday character when he's a child and he is visiting, visiting hundreds Hall, and he does not feel, I mean, he's he's not one of these wealthy people, and he's out of place and by happenstance is able to kind of wander around the the halls of 100 tall.

I don't Do they have 100 halls? Hundreds all. Maybe. Maybe that's why I don't know, man, it was a huge house. It was three or four stories of and palatial, right? And ah, the main thing is that he feels feels out of place when they take a picture. Some, you know, girl, that Ziggy Sookie from the air's family stands right in front of him so he can't be seen in the photograph. And I guess that makes him sad.

Um, and then sat slash man, Matt said later in the movie, it's revealed that don't aunt done. He steals well, Acorn from a frame. Yeah, from a from a like a mirror frame, like a wooden mirror frame that has, like a bunch of like, carved like beautiful acorns and leaves and stuff he, like, walks up snaps often Acorn. A lot of lot of intent is is good placed on that snap like that. Snap is the snap heard round this movie? Yeah, yeah, and the sound effect of the snap is used over and over again. Yeah, who's sorry I didn't mean it.

I messed up the, um so that's that's like one of the things that was confusing to me is what is the motivation? A fair day and how much significance does that have on the current day? Faraday In his mindset. Yeah, they did a really bad job of conveying that, because, as it turned out, it's very important. This is one of those movies that's like, That's very six Sensi. You know, it's like, Well, let's go through the whole movie and ah, and then we'll tell you that there's a twist, right? But there's no but not actually tell you what the twisted but not act, yeah, but not actually tell you what the twist is and also, like, make make you completely guess like there's there's no feeling throughout that you're going to be a twist, kind of kind of what it's setting up throughout the whole movie. I mean, just like any period piece, it's, ah lot about the class system.

It's a lot about people living in this palatial estates that have hordes of servants, servants and how disconnected they are from everyone else and then the working class or the poor, that look up to these people in these estates and and wish that they could live there. So a good portion of the movie is about Faraday having that experience and now being respectable doctor, that's being brought into this life into kind of their family. So that is a significant theme. But I don't know if that is nothing, you know, because at the end of the movie, you could either be Yeah, spooky stuff happened. But I mean, my prediction and about the middle of the movie was Oh, this is gonna be a switch where it's just Faraday making in all these bad things happen.

And it's gonna like do flashbacks to each of these moments, showing how he set it up toe happen because yes, he's Ah, he's ambitious and he keeps trying to insert himself into the life it first starts out is like he is kind of interested in. He's called there, and you know, he has a history, so he's got a little bit of baggage, but by the end of it, he's really trying to assert himself into their life and like, make decisions for this family that he isn't really a part of it, but right it becomes it becomes more evident. And, you know, you mentioned Ah, you know there's an opportunity at the end of this moon movie for them thio yet drawl that connect the dots for you to give you a flashback of every instance that happened and give a reason for this this apparent supernatural supernatural entity that's moving through the house actually ending up being Faraday. But they don't do that now.

This is a This is apart about movies that I can sometimes appreciate, right? I like it when movies don't hold my hand and let me work things out is one of things I like about, um, Prometheus a lot, you know, it doesn't hold your hand. It leaves it a lot of it up to you to determine Thio to go back through other movies and go Oh, yeah, there's a connection here. There's a connection there. Yeah, I mean, I was listening the NPR the other day not to be too snooty, but we're revealing the little stranger so seems apropos. But on NPR, they're interviewing this composer that was doing the thing with Oregon Symphony, and he described the ambiguity is because his ah ambiguity, his wholesome ambiguity in movie in an art, Okay, because he was he was, um, commissioned to write this piece on homelessness and Organ Symphony was playing it, and they're trying to ask him, you know, the meaning behind stuff. And And he was really hesitant to a true coming described and describe what he was, what he meant by stuff. And a lot of the early movements were very hot garden and whatever, and then there's kind of stuff that was very tongue in cheek.

But one of things, he said, was that in any art form, it's important to have some level of ambiguity, especially in great art. Yeah, having a level of ambiguity and yeah, I too. I love that that it does movies that don't hold your hand and just experience it. And you have to draw your own conclusions. It's the fast.

It's a mental puzzle that you you get that they give to you and then you get to unravel. It's one of the things that makes a movie or any Yeah, like you say, any peace aren't great right now. With that being said, there was almost too much left unanswered in this movie. Yeah, I'm left, like, wondering is, is the ambiguity earned or is accidental accident? Yeah, accidental ambiguity, or is it or is that they just don't know how to tie things together or convey what they want to convey. And then at the end there, just like I think, whatever you think, I'm gonna go, I'm gonna go with, like I'm gonna lean a little bit after having done some homework.

And that's important to mention because the movie interested me enough to go and do homework afterward, right? So there's something there. But after doing some homework, I started piecing together even more parts of the puzzle on going. Oh, this wasn't as this was more intentional than I. I thought, like I like leaving the movie. I was confused. I was a little bit like, What was that about like And what about this and that? But look, if you look at the poster for the movie, it's the whole. The whole answer is right, is right in the poster. Even which is, which is, Um what what's His name is strange name? Farraday. Yeah, Faraday. But what's his Oh, Domino Domino. Yeah, it's It's a it's It's like a side portrait of him on Lee. Only, like the only the important part of his face has, like, fallen off it like as if he were a statue that had been carved of stone and and the parts of the stone had had been had been weathered by time and come off right. Well, it was like it's like a oil painting with canvas falling off from disrepair. Something like that. I think there's a few different ones, but in any case, it made it clear that this man is falling apart. It is it is him who Who is the broken one? It's not, You know, you can draw a lot of conclusions just from looking at that poster after having watched the movie and and go, Oh, this is very intentionally him And it's just that and and to be fair to them at the end, it really points the finger at him.

Yeah, it, albeit confusingly, but does gives theirs. Like I said, I predict that they're gonna just place it on Faraday. But then I go back and think about some of the stuff that happens, and I don't think that he could do that. But I think the answers are in there. Let's just go over kind of the the bad things that happened in the movie real quick. So these air it starts out. Um oh, yeah, man, it starts out and, um, really stuff starts going wrong during this one party that they have. And they haven't had any kind of, um, gathering gathering at this house for a very long time because it's an ill repair. And they're just kind of, like, stapling stuff together to make it presentable for just a couple of people showing up. And the party is attended by the whole Ayers family, minus Rodrick. Because he's kind of going, He's having anxiety issues. Rodrick is the battle scarred, just horrifically scarred veteran Young Burns burns over like a good 50% of percent of his body or something.

Like both of those legs. They're probably just completely mangled any It's his faces. Yeah. Good makeup on him. Yeah. Great. Great makeup on him. Great acting. Yeah, um, so he's not wanting to come to the party, and he says some foreboding things. Like, I've got a bad feeling and, you know, going to fare day and saying, Don't you don't you feel that basically And then during the party, um, I don't know her name, but I'll call her varicose salt because you just like the little the little girl that will a spoiled girl, that their parents were making a point of not having any rules whatsoever because it might cause Nero see their guest. She's aghast in this house, right? And I believe she's the only young child in the house at this point. Um, she is very during this part, fixated on the family dog, which is an old like You're right lower, no black, big, fat, lab like lab. And she kind of follows it behind this curtain and they're playing around and then she gets viciously mauled by the dog. And so you like Okay, yeah. Aaron Roderick was well right.

He, you know, foretold that happening. So that's the first thing that happens. And then later in the let's just go through these rules, you know, I'm like, I'm with you. I just find myself drawing connections as we speak. Like or and not also being more confused, right? Um Rodrick. Later, he's in his study or in his office. It's like his room. It's basically his bedroom in his office, and he's yelling at the wall or something like that. And then we get a brief shot showing that the bookcase is going up in flames. It's it seems like a dream, almost like he's watching it happen. But it's not happening like it's happening for him. And no one else. Kind of, Yeah, it's portrayed as spontaneous combustion.

Basically, yeah, like like the houses, you know, like the house is out to get him right. And and I think he says something to that fact that, you know, the house is too much for me. I can't I can't take it. And, ah so Rodrick gets committed by Dr Faraday or Dr Faraday brings in a psychiatric psychiatric doctor and Dr Rodrick it's carted away to the loony bin. And then, by the way, it should be noted that Roderick was was in the process of selling the property in the house, right? And and so, as he is ramping up his efforts to sell the house well, he's not selling the house yet, but he is selling the property to get some money right. But he's selling very important property as opposed to, like scrub that he initially wanted to write and and right before he's getting committed, he had sold the house, he said.

He said, Oh, it's It's almost done like I almost have the ship gone. Oh, I missed that part like we're like, This house is almost gone from us, and we don't have to worry about. And right then he gets committed by Faraday, right? But it wasn't It wasn't insidious at all when it happened. Really? It was just like, yeah, guys. I mean, look at him. He's got PTSD seeing fire. He's all scarred up, right?

Um, the next weird thing that happens is they start hearing some things around the house. A lot of what's in the trailer is in the next part, and they see little scratches of, um this dead daughter's names of the daughter that blocked fair days away in that photo. Um, later that day ended up dead later, the day s O. Way back when when Faraday was young and just visiting the house, Yeah, later that day, this this little girl who was the families first daughter died. And I believe that was the beginning of the end for this unfortunate family that was the first in a series of many unfortunate events that led to this house and the property needing to be sold just so that they can get this once prosperous family can make ends meet. So these mysterious, uh, scratches and and lettering starts appearing. And you show that it's the name Sookie is doing it in there.

The mother is kind of freaking out, and, you know, they're just assuming that this ghost is here and so fast forward Mother, um, she's walking with fair day. And there's the There's the one part is the one supernatural thing that I can't that I couldn't say. They could go back and say, Faraday set this up. Um, they're walking along. And then all of a sudden lady heirs or Mrs Ayers, the mom, the mom started getting scratched on her skin underneath her clothing.

These, well, just scratched enough to bleed through clothing. And then later she, um, commit suicide with a shattered picture frame. Yeah, and it's all kind of insinuated that she's being driven insane by this, that she's being haunted by a poltergeist or something. Yeah, and then finally, the finale. Or should we wait now? Before that, I just want to point out the other thing. You can't attach to Faraday in any way, shape or form, as far as I can tell. Is the dog attacking that little girl in the party? That first point you brought up? Yeah, the dog attacks air it, and it's like an alarming sound. And, you know, it's like a It's like a spooky sound along with the dog growling and mauling this little girl. But it's also that's that's one of those that I would attribute to that could just be a regular happenstance. Eso anything? Okay?

Anything that supposedly supernatural could be said to be naturally occurring to the dog attacking a girl that's probably sticking her finger up its ass. Dogs, dogs attack. It does do that. That's what David old dogs and the fire in the study. All you gotta do is show Rodrick lighting a match in a flashback. And that's perfectly normal. Yeah. You know, um, Lady Ares committing suicide, I mean, you know, people commit suicide would commit suicide. Well, you said the one thing that just doesn't make any sense is that the scratches spontaneously appearing the outer skin. That's like the only one that couldn't be red con to me. Yeah, Everything else condemn Finitely and does does get a decent enough explanation. So they do.

Making bells ringing. Oh, the bells. Well, they even say that in the scene. But that was just mice. Yeah, but that's that's like the point of the movie that the trailer hung its hat on like it was like, Ding ding, ding, ding, ding, ning ning me shows these bells, you know, these servant bells showing all these different rooms asking for attention. There's nobody in the house, right? But then, like you, So you're like, when when the bells are ringing like Okay, here comes this spook gonna get spooky and and then they just they just open the door and the other device in there, they could have drawn it out a little bit.

They just opened a drawer in the like mice. They're pulling all the strings, and it's like that was so goddamn it. Good. Lame. He could've made it spooky. So they do make a point of mentioning poltergeists. Fair day. Yeah. Talks about theories of, you know, conscious and subconscious mind that's separate from you. And you know, Doctor, these talking to little what you're talking about is a poltergeist, and he's like, Well, maybe you know, so that that must.

He's talking about how this insanity that's in this family in this house is catching and that he himself feels like he's starting to believe weird stuff is going on and that it's not explainable. And so they kind of hand that to you. That poltergeist is a thing, and so that is possibly key to interpret the movie. I think it is. Either it's either the dead girl haunting the house or it's Faraday. Acting is kind of like a carry type situation poltergeist making things happen around him. Yeah, because of his intention. So it's made pretty clear that Fair Day wants into this life. And when things happen that threaten that, um, they must be bad things happen after that. So Rodrick, you know, is gonna sell off some of the properties like No, you can't do that.

We gotta stop that like fair days. All of a sudden, very, very yeah, concerned about the property itself, and he's in as their doctor as I'm thinking about it. There's also that part where Rodrick had sold a piece of the property and there's work being done on that piece of the property by construction workers to build like, um, housing for low income people are, or something to that extent, just normal people. But they're low income people, right by comparison. But But if you recall like, one of those workers got really deathly ill, right? And it had to slow down and stop construction, huh?

I forgot all about that. I just I'm just remembering it now. I didn't even notice that attachment. That relation. Yeah, but you're right. As you said, you know, anything that threatens the sanctity of this house falling into Faraday's hands ends up poorly, right? And you know, he's a doctor. So he has trusted in this community. This is back when doctors made house calls and were obliged to to make sure that the people that they treated work, We're okay.

And there's many parts where he's, you know, he's kind of touting that power a little bit jokingly but also not joking, like right. So the other thing with the with the mother so major plot point is Farraday eventually proposes to get married to Caroline airs. And she's it seemed that was so awkwardly forced. Yeah, It was like watching somebody get marriage raped. It was not. It was like, Just marry me, Please, Please, can we get married? And she was like tears in her eyes. It's like trying to get my wife to watch a scary movie.

It's like I don't just please alleys. Flake. No, actually, it's not anything like that, because my wife would never say yes. But, uh, yes. So he proposes Thio get married. And then when Caroline says, 00 we can't live here He's very like, Oh, well, we we have to. I had to turn down that other job in London. She's like, it was my way out of this horrible house. I need to get out of here And he's like, No, no, that's why I know it's okay. Well, it's also she's blaming her mother like we can't live here with my mother while we're married and he says she'll have to live with it, should be used to actually get used to it or or something. And so there's kind of this threat of the mother being the cause of Faraday and Caroline not being noble live there.

And so all of a sudden when Mrs Ayers kills herself. It's like question mark. Question mark question mark is this fair day. And then finally the very end maze will spoil the whole thing. Um, Caroline, um is investigating some sound in the middle of night that went bump tonight. And this is after she, her mother broke off the marriage to Faraday, saying like, Oh, yeah, I can't get married to you. That's right. And then and I was like, Well, sleep on it. Just yeah, you know, it'll be cool. And then she is investigating the sound. And then she's shoved over the balcony on the third floor in falls to her death. And the last thing she says is like something like, Oh, it's you or it's you. Yeah, And so she recognizes whoever it is whoever is about to push her off of the balcony, right?

And so that's also highly suspect that Faraday is. It could be either. Like the insinuation that the movie makes the whole time is this is her sister, Sochi, who died tragically when she was very young. This movie makes it. It makes it hard attempt the whole way through to pin this on the coast of Sookie? Yeah, or season. But it could easily be fair to, except for a couple just actual supernatural things that I can't. I mean, unless he is some kind of magician where he could make scratches appear. Yeah, after. But it doesn't say anything about him examining the mom, and it's a very interesting movie.

Yeah. I mean, that's why I'd give it a five instead of a Ford just cause it's like, I'm still the kind of Tauron about it. And it's well done enough to make me think. Well, I mean, I don't know, like, yeah, I'm having a good time trying to puzzle it. Right? Right. So anyways, it all and the very in. Yeah, And then it shows kind of Ah, epilogue. Where, um, Faraday is in the house efforts even more decrepit. And after all, the development in the adjoining land that got sold was developed. Any sea like Oh, yeah. The view is definitely, you know, kind of ruined from this house, and it's completely it's like filled with leaves and stuff. It's falling apart, and he's looking through.

And the question you ask is like, What is he still doing? Hanging around there. Everyone is dead. And why is Why is even there like he's It shows that this house is really important to him. And then the final shot is like him as a boy at the top of the balcony. Look down at the body, looking down or at the spot where would pushed. But then it's It's like that. What's your name? Caroline. Caroline. Where he Yeah, it's It's It's basically him. Is a child standing at the third floor looking down at where where she had just died, right?

But what makes it in cruising? What makes it confusing is that it's that decrepit, like Lee filled yet. So it's 100 old House. It's like now time. It's not old time. It's now time. And it's not the time that Caroline got pushed, right? It's so if I If I was to guess what they're trying to say by that is Oh, it's Donald. Lt's character. Um, it's Faraday being jealous. Faraday being jealous, jealousy of a child, having the jealousy of the child push. Yeah, his spurned fiance. Yeah, that's that's what the core of of his his inspiration. Yeah, but But then again, just the mixed message of It's in the Old House and it's just him showing the flashbacks of when he was a kid. He wasn't at the top of the stairs. That's gotta be meaningful. That it's that top balcony.

Um, I mean, as we're walking out David you're talking about Oh, it's showing that fair day killed Sookie, right? You remember that? Yes. Yeah, that's right. Because she died that day a day that he he learned of his love for this house in this life, and she kind of she kind of pissed ma ficus. You blocked right view of amber. And when he ripped off the acorn, she was, like, smirking. She was there to witness his mother beating Slap the shit out of dude. He got molested with that hand. Like she smacked the shit out of him.

Yeah. Ah, but when I did a little more research on this movie looked on the Wikipedia page, so it should be worth mentioning. This movie is based off of a novel. Um, and also called a little list, stranger. Yep. Okay. And apparently from the comments that I've seen, it's very true to the novel in terms of plot on reading the Wikipedia entry. It's It hits all the beats. But what people say is it leaves out a lot of the character development for Faraday and a lot of, um, stuff about his motivations, which is like, Okay, yeah, that that is kind of missing. I bet there's a piece missing of giving you a little more inclusive. And then that was my immediate thought.

Coming out of this movie was men. This would make a spectacular book. And then he said, Well, it is. It's based on a book And I said, I'm sure it's much better, right? Because it yeah, because this is This is book fodder. This is right where it would shine. And then the thing that ruins your theory. I read that in the book, Sookie dies because of getting like dysentery or something. It's like a sickness. She wasn't murdered. She was down with the sickness.

Yeah, well, I mean, it could be that same. It could just be the malevolent, childish spirit of of Faraday, like inflicting evil upon those who get in his way. Yeah, right. The same way that that the construction worker was was made ill right there. is a couple quotes, that kind of point to that. I think it's Caroline says. Both says whenever you go away, something terrible happens or something horrible happens. And then she also says, Sometimes I think you want me to be tired and he does, because that's that's after she's she's doing. She's saying she wants to do something that he doesn't want her to do. And he's like, You're just tired. Yeah, we'll talk about this later. Just like sometimes I think you want me to be tired like, yeah, so who would, uh, would like this movie? E. Wrote down. Who would like this movie? Um, who would like this movie? The Dowager Countess of Downey and Downton Abbey would love this movie. I don't get it, but it's funny. Why e I mean, just like old old people will like this movie. People that, like thoroughly English period pieces, would would like this.

Um, yeah, if you like Matt lock, this is it. This is a a long version. If you like the spooky episodes of Quantum Leap, you probably like this movie if you like. If you like movies that feel like they're three hours. But are only an hour and 1\/2. You like this? Maybe write this movie felt like it was a million years. I was just like, What is? We got out and I was like, It's gotta be like we went in. What was the time we went in to see it? It's like 303 I thought it was like, six. We got out and it's like, five. It was five. So I mean, we went into the theater at three. And there's probably, you know, 15 was an hour and a horn, every bit of previews and then yeah, yeah, I don't know.

I don't think it felt too long because I'm used to the like period stuff. I've got a wife this into that? Yeah, it's It's a great period movie. Like I said, it's beautiful. It has amazing everything, like everything, everything except the being clear. But I mean, they even go to the trouble of like showing his some of his like patients. And what is normal Day is in like let's go to a party. And like all this superfluous stuff, that doesn't matter. It's very period feeling. You know, it's It's just like Here's a slice of life back then, right here.

My baby crying in the background. He is a Q T man. Yeah, like good looking little man went thio Mount St Helens. The Johnson Observatory. Oh, you did yesterday. You did? Yeah, Yeah, we went after church and Ah, cash, that's any time you go out with the family with three kids is always a fucking nightmare. Cash says two and 1\/2 hour drive or something like that. It was a miracle that we didn't stop. We just went all the way there. That which is amazing with kids, got all the way up there and then, you know, spend maybe an hour at the Johnson Observatory. We didn't even go on any hikes. We just looked at the museum.

Yeah, there's enough to do it. Just just that Johnston Ridge Observatory and I used to work out there to be trails, trails, maintenance amounts of Helen's years. It's beautiful, and it's interesting. I've seen how much has changed since last time I was there. I mean, it's still pretty desolate, but it's really coming back to recovering. Yeah, really. Well, you can see all the way along the the flow that there's some greenery has been likened up 30 36 years, I think. Since you know, so is Katie. Katie was an 80. It was 80. Okay, Okay. So 38. Yeah. Yeah. So anyways, we went up there, and he was like, it was probably the fifth time. He's called a Gerber baby. Like he totally is.

He's got, like, the curly hair and chubby face. Yeah. Yeah. He looks like a total like, miniature version of you. Just, um, except with curly hair And like and like hope Theo, No worry in the world on a poopy diaper. Oh, man, he like such a joy to see him because I walk in the house and his his face just lights up. You know, he's like, Oh, it's just happy. Yeah, yeah. So unlike us. No, we're pretty. We're pretty happy. Yeah, I'd say. All right, so that's I think we're wrapped up on on the little stranger. Tell us what you think. If you see in the movie, Madam, did you like it? Yeah. I mean, the more I talk about, the more I feel like you have, maybe it's maybe there's a favor. Six but I know it's not a six.

I don't think Yeah, it does not go above an average. Yeah, I don't think it's not. I mean, it's It's slightly interesting. I think even the drama could be a little more interesting than it was. It's weird how entertainment works, right? Because the Meg was just a really piece of crap as far as a CZ, for far as the story goes, right, Right. But, um, especially compared to this, You know, compared to this, the Meg had no story. It all. But it was fun enough. You know, it was like just eye candy and, like, corny lines And, like, China is going to take over the world. And it was entertaining in a totally different way. It's already proven itself aggressive towards boats.

Huh? Um oh, man, I can't remember any of the funny The funny lines. Those sharks have no fins. Okay, but but it was as entertaining. Almost. It was about the same level of movie, just totally different variety. Like, it's just strange to me how entertainment works on our brains. Yeah, because this this is about where the Meg was, but just for totally different reasons. All right, let's move on. Do you want to do the commercial? But first, a word from our sponsor taglines is brought to you by Costco Taquitos.

I thought we had more room in the freezer. Don't buy your roller food from expensive convenience stores. Buy it in bulk with Costco taquitos just shoved in your freezer. You know, you lied. Someday I gotta practice for when those real sponsors start rolling is a tagline, e. I think that's brilliant. I want to pat ourselves on the back for that. Yeah, that's pretty good. I was skeptical, but it's good. All right, The little stranger. Ah, spot a fright. A spot of fright. I like that. Like a spot of tea. There wasn't enough tea in this movie. Normally, British anything is all about t references. Hey, can we have some tea now? I'm sure would like it if someone put on a fresh I like a fresh cuppa. Um, can I t give me more like there was No, This is This is David's conception of any British period Pieces all t all that is not my conception. It's just it's just is my observation of all British it is like, Where's the fucking T? Like it can all be summed up in like also, did we mention T.

It's just too much tea going on. There wasn't enough T references in this to be an accurate a period piece set in Britain. The only thing to fear is, Well, we're working on that. Just hang out a little longer, Poop the end. Ah, that was good. Little stranger. The remains of the day, like Italy remains okay like a remains. Right? It's a plan. No, it's great. I love that movie. I have to explain it for to be funny. But it is funny. Once I explain now I'm laughing. That's how comedy works inside. Okay, hang on. This this one requires some inflection. Thom, Yorke and Byork are on a collision course and Okay, let's start that again. Oh, I love the idea that that Dom don't know looks so much like Thom Yorke to me.

It's ridiculous. No way. Oh, man, he looks just the same. And the girl and the lead actress looks just like Bjork to me. They just bizarre I could not disagree more. Okay, well, I mean, you're a Gleason, your favorite band ever is his radio. But how could you? They're both gingers. They're both British. Thom Yorke is not a Ginger. He's he's not not a Ginger he No, he is not a gender. He, uh, we'll agree to disagree. Absolutely agree to disagree, you know? I mean, this is just one. There's no way to know is what I'm trying. All right. Anyways, we'll accept the premise of the tagline and proceed. Thom, Yorke and Byork are on a collision course, and the only road to redemption is through the house that hall built. Join us this summer for the little stranger Hall wasn't the house named Hall. It's all house. It's called hundreds, hundreds Hall. I thought it was whole house. No. So that it ruined my old tagline.

There's many things that will ruin that tag line. That was a I will not. I won't stand for these wild allegations. All right, well, let's Ah ah, I'll do this one. A little stranger, the heirs and their heirs, heirs, the heirs and their heirs asked. So the air's is the name of the family. This another one that I need to explain, and it will be funny. The air's is the name of the family heir, right. As in the descendants. Yeah. Ares, as in mistakes airs in there. Yeah, that's appropriate response. My final one is met the movie. I've got a couple. They're varying quality. But maybe one will make you left a little stranger, The snooty ist of poltergeist. Pretty good. Um, these air just kind of just English phrases. The little the little stranger will have no more of that nonsense. It would be better if I had a British accent or ah, little stranger. Just dreadful. Yeah, yeah, yeah. Okay. And the last one, the little stranger. What's wrong with his face? Yeah, Yeah, he had some pretty intense makeup going on. Yeah, and was one of the things I want to mention just real quick.

This movie was the constant promise of something interesting and never a delivery on that promise. It was just always like, Hey, something interesting is about to happen. How about No. No, not yet. How about No. Yeah. Even the quote unquote sexy. And I was just a blue balls. Was there sexy? Well, he starts. Was there There was a baby? No, it's not is it? I was a baby, baby. Yes. I mean, they're coming back there, a little drunk in the car on Dhe Faraday makes his move, and then she's like, No. So there's probably like, a little third base happening. Maybe. Yeah, it looked like it, but that was like, No, I can't do this. Very unrequited love. So now we move thio from the Facebook. This isn't This is new to me. I don't know what this segment is. Man. I tell you what. It is hard to get engagement on social media. I now and end its soul sucking like if if if anybody can, can, like, just humor me while we're making posts on Facebook into the Twitter, it would make it a little bit easier. Or maybe worse.

I don't know. I think I've gotten some pretty good engaged, engaged. I think we have to. It's just you're always thinking about it, right? You know, I was talking. I was talking Thio our mutual friend Eric recently, and he is like and he you know, they he has a band and and so they you know, they do a lot of social media's stuff, and he's like, Oh, man, if necessary. But it just sucks your soul. And I was like, Yeah, that is what it does, isn't it? Because you're required toe toe Look at social media were and and a little bit of your soul hinges on it, you know? Ah. Hinges on somebody being like, Hey, that was cool. Yeah. And you being like, uh, give me that. Those Sweden door from Russia, right? Yeah. Somebody liking something that I did. Okay, so only, Ah, reboot the intro from the Facebook. Ooh, the unfriended.

Ah, the unfriended. Ah, reverse message. The upside down message sound. So I just wanted to kind of pull some stuff that we've been doing on the Facebook page. Um, did a couple questions and poles, I guess one of each. But it sounds like we're really a you know, doing it up on Facebook. It was one. After our last episode on the Meg, we posted a question to Facebook Page. What is your favorite movie that used the ocean or an abyss to inspire dread? Yeah, and we got a lot of responses off of it. Um, Alicia Clawson said open water, which is a great response Yeah, that was one of the ones that came immediately. To my mind, Scott Allen says Finding Nemo Garrett, your brother says Captain Phillips, I'm the captain now. Justin, going traditional is jaws.

Oh, yeah. And he said deeply, see. And the spear? Oh, man. Sphere. I wanted to talk about that sphere. That's a great call because I remember being a early teenager when the sphere came out and just being that was dreadful to me. Like it inspired terror within me. Yeah, I think I read the book before I saw the movie and I don't remember anything about either one of them.

What? It was very claustrophobic. And it was like, You get near this fear that's that that they discovered at the bottom of the ocean. And it's all gold and shit starts operating like like your worst nightmares start, start coming true. And it was just very it was It was like Event horizon, basically, but underwater And before I think it was before, right last responses from Evan reading the nine hours on the Hobbit box set that isn't That is a truly dreadful feeling talking about the runtime. Yeah, looking at the run time for the Hobbit. Yeah, I I only have seen I think I saw the 1st 1 in the 2nd 1 The one that ended with smog. I didn't see the last one. I think I only saw the 1st 1 I mean, I like Lord of the Rings. Obviously the quality and dropped off so much in The Hobbit between Lord of the Rings and The Hobbit.

Wonder why I mean, I guess because they tried to split it up. Make it make it 33 hour long movies. No, I know why. Because I saw a behind the scenes stuff. They gave Peter Jackson no time for preparation like they were building. They're building the train tracks as the train was speeding down the track, That area very interested. And there's like vignettes of them shooting battle sequences. When they didn't even know what was supposed to happen in the battle sequence. They just had a bunch of people with swords, like fighting each other to get shots. And eventually they just I think Andy Circus, the guy that plays Gholam, was directing them, and eventually he's like, uh, let's just stop guys, we don't know what's going on. And then it takes, like a month long hiatus to even just figure out what's. That's very interesting. So So, given that they're spectacular, well, that really puts it in the context. Because because, you know, I mean, the obvious comparison is you go, Lord of the Rings. Hobbit. Right? Look at this one. Look at that. Look at that one. That one of the best trilogies ever made.

Probably the best trilogy ever made. Lord of the Rings by, uh, what what could beat it? I mean, Starr Worse. Okay, Yes, True. But right. Right next to it. Right next to Star Wars stands. Lord of the Rings. Right as faras fantasy. I mean, there's not even there hasn't even been a film that was successful in the fantasy genre in movies that can compare to Lord of the Rings. Yeah, I can't I can't really think of one. But when you So when you set the hobbit next to Lord of the Rings, you get up, do you? But when you consider that it was a that I didn't know that, you know, it was such a train wreck of ah, production, right? Yeah. Okay. And then the other thing we had on our Facebook pages, we posted a poll of slashers or found footage. Which do you like more? Which do you like more dead heat 50% and 50% on each of them. I'm interested to hear from the people who like slashers more.

I get it like I like slashes. Okay, It might be a generational thing. It might be, I mean, but if that were so like, I would be of the slasher category, right? But I'm very much the found footage guy. Yeah. I mean, I think we both voted for a found footage. Yeah, I think that's what we're into. Yeah, I know. It's hard to say. I don't see any obvious lions to draw from who responded. Now there's some interesting stuff about about both that kind of crossover. So, like, for example, I'm thinking like Halloween, right? So Halloween kind of introduced the first person perspective camera behind the mask. You know, it's like it's like it, which is essentially that's like found footed way before found footage. It's not footage being found, but it's shot in the same way it's a lurking and, ah, but you're putting a perspective of like the killer.

And then you get to watch and perpetrate this horrible crimes against against, you know, his family and friends and stuff like that. And then there's also aspects of that that inspired dread in found footage that are make you feel that kind of that same sense of, like, dreadful helplessness where because the camera will be like stationery and you'll, you know you'll see somebody walking up behind somebody else and there's nothing you could do. It's just right that just wait for it. Yeah, it's that kind of thing. So get it. Yeah, yeah, but yeah, that's interesting. 50 50. So, anyways, that was from the Facebook last off. Just wanted to cover some horror movie news. Upcoming movies This week, the nun is coming out will be seen. That and doing another episode next Wednesday will be the release. Um, I just want to say the trailer for the nun has the most effective jump scare I've ever seen.

Yeah, I know it. I've seen it six times. Yeah, isn't over theater. I'll jump every time. Like I know exactly what's happening. And even this last time, it's still got me every time it works. I don't necessarily jump, but it alarms me, Right. I go Overlord is another trailer in the movie. From what I could gather, it's a movie about a drug that makes you arch your back. Yeah. Um, it's a It's a It's a Nazi killing movie. Yeah, I think not to use Super Army movie. It looked like wolfenstein the movie to me. Right? Uh, first time I saw the trailer for health test. Was it the little stranger? Have you seen trailer? I've just seen that trailer before. It's like a pretty generic slasher. Yeah, set in a really scary, haunted house. Not in like a theme park content, unlike a haunted theme park.

Well, they got, like, the haunted houses where it's, you know, your generic content house that maybe like a high school could make. But now they have these extreme like nineties, you know, starting with the letter X extreme haunted house where it's an experience, and they will literally, like, dunk your head in water and do shit to you That will actually make you start wondering if you should have done this. Yeah, like, yeah, Like whore like, uh, like um, haunted houses that make you say, like that mad brand advertised on the radio until you, It's inexperience so terrifying You need to sign a waiver. So it sze jumping on that train The predator.

Oh, Pimm's out in two weeks. So excited for the Predator. Yeah, the printer is David's favorite franchise. I love it other than you know. What do you like more Predator aliens? And I mean, they're They're I mean, they're of the same variety. I like alien more. I'd say I love the I love the universe like I love the comics. I love the movies. I love Prometheus. I love all of it. It's all it's the best from So the thing that I am, I'm not super interested in print. I think the Predator movies that I've seen is probably most of the original, because I watched it with my brother on as a kid. Um, I saw Alien versus Predator, which is one of the worst movies, and then this one I'm excited about because it's written. I think it's written and directed by Shane Black. Did you see predators? The most recent one with, uh, Adrien Brody, Adrien Brody, Adrien Brody a dream. Brody plays dream. Really? Yeah.

That one was pretty good. Yeah. Um, yeah. So Shane Black. He was actually in the original Predators, and he apparently punched up the script of the original Predator. Oh, yeah. Okay. Cool. And so, um, Shane Black is the guy that does a lot of buddy cop movies and is the best at it. So he did Lethal weapon. And he did. Ah, the good guys. Most recently which I loved. I loved the good guys. I did not like the good guess that makes it. So he's done a couple Donald Glover.

Don't Donald Glover movies, then because he must he must have got his hands on Predator, too. Yeah, maybe I don't I'm not sure, but Predator to was one of these, like it was like it was made naughty to me because I watched as a kid and there was a lot. There was, like, nudity and drugs and, like, extreme gore, you know, there was like us, You know, the predator, like, pulled a spinal cord in skull out of a dude's body. And so it was that did that in the 1st 1 to, um uh I don't think so. Call it. It's there. It's basically predator. The predators do that. That is their deal. They pull your skull in your spinal column out, so it probably you're probably right. But so, yeah, I think Shane Black on the 1st 1 wasn't even really credited. But he was like, he definitely his hands were on that script to put it up a little, Like any of the kind of sarcastic stuff that that sells the ridiculous lines. Um, has probably had Shane Black. Okay, Right in it. So I think I think that that is ah, very hopeful for that movie. Um, just a za public service. I looked at what's arriving on Netflix and Amazon prime this month on Netflix.

You might be interested in King Kong. The one with Jack Black. Uh ah. Texas Chainsaw Massacre. The beginning, September 17th. The witch. Which is, if you have not seen it. See it fabulous. One of the greatest movies I've ever watched. I mean, if you're looking for a period piece horror movie, watch the way that I don't think there's anything better than the which. Yeah, just impressive it. The guy used the actual transcripts of court records to write the script. So it's so close to sail on the language. Yeah, yeah. Which trial? Yeah. Um, Amazon prime this month pulled you guys to the other side who still haven't seen that one. You haven't seen polder guys to know.

I've only seen the 1st 1 I'm not a fan. I like older guys. I mean, I like anything. Spielberg, everybody, everybody. I cannot hate Spielberg. I just, uh um, Pumpkinhead one and two will be on Amazon prime blood wings. Ah, the Amityville Horror. The original 1919 1979 version and at the very end of the month, Jigsaw. If you're into that, I like the amany. I'm medieval whore. It's one of those ones. Kind of like the Texas Chainsaw Massacre. The original that is Maur made more alarming by the fact that it feels gross. You know, it just feels dirty and ah, the quality of the film feels dirty And you feel dirty, like the subject matter just just makes you feel gross. And it works very well. See, I thought you I thought you abstain from any torture porn movies. What you did you just say You didn't like it, But you did like Amityville Horror.

Oh, I thought your time, Jackson. I'm sorry. Oh, no. Yeah, I haven't. I I don't I didn't I mean, I watched the first saw, and and I think I watched one or two of the others. But for the most part, Yeah, I don't get off on on. No, on that stuff. I don't like violence for violence is sake to, like still watch it, gore and then the last bit, um, sounds like a quiet place is getting a sequel. Who should be released in 2020. I would like them to do a sequel. Where? Just John Krasinski Kick him quiet place, monster ass. Just like taking out a shotgun. Like with this little, uh, with the weight. Does John Krasinski survive now in that movie? Okay, so I guess if Emily Blunt, Emily Blunt kicking monster asked just a shotgun and ah, and ah, your piece the best. Whatever.

Whatever makes that sound the best thing they could do for this movie is treated the way the Cloverfield creators have treated. Cloverfield, in my opinion, is like an anthology movie. Yeah, slightly rearranged. Changed the format. You know, first Cloverfield was found footage. The second was 10 Cloverfield Lane, and it was not found footage. It was a legit, uh, film rod. That was John Goodman doing, like, the scariest interpretation of a of a prepper that you've ever ever seen. Um, and and and the the way they dance around the kind of hoops, the way they dance around the subject, matter of the thing, you're supposed to be scared off, and they never let it really get in frame too much. And they never explain too much. Yeah, that would be the best thing they could do for a quiet place. Yeah, I think I mean, personally, I think they should just leave it. Just just leave it. It's a great one off movie. Quiet place to police allowed much louder than the first.

That was a great movie, because because of watching it in a theater full of people, including a bunch of rowdy teenagers who went dead silent for the movie. I mean, why would? But now that I think of it, why wouldn't the government just, like, put a big, loud loudspeaker in a mall parking lot and just have them all attack, you know, put it behind a wall, make it make it like a like Oh, yeah. There's people inside. This seems like a problem.

That's all of the monsters coming attack and then just vomit like, Yeah, I'm pretty sure bomb would blow up the monster, right? Yeah. Yes. Yeah, I know. I mean, if if it didn't blow it up, it's certainly definite. Yeah. Didn't you hear me now? Oh, that's a good name. The quiet play. A quiet place to Can you hear me now, Mary? Yeah. There you go. All right. You got anything that would be, like the quiet place to And then the tagline is just popcorn crunching sounds. Shut up. Put it away. All right, that's it for this episode. Thanks again for listening.

Please share the podcast with a friend if you got anyone that you go see horror movies with or if you're not into this kind of stuff and you're just being friendly and nice to us because you know us shared with someone that you do know watches, horror movies. Ah, love feedback. Let us know how we're doing. There's anything you'd like to hear about on our Facebook or in our post comments? Um, you can see Ah, previous episodes on horror movie talk dot com subscribed to us and raid us on iTunes special thanks to, I must say, Mark. Mark, you're giving us feedback on. You know what he wants to hear about the ratings? Awesome. Yeah, All right. I'm Bryce. I'm David, and this was a horror movie talk.
If you want to watch this movie please consider renting or purchasing the movie through this amazon link to help us support the podcast.