Podcast: Play in new window | Download (Duration: 1:54:18 — 78.5MB)
Subscribe: Google Podcasts | Spotify | Amazon Music | Pandora | iHeartRadio | Stitcher | Podchaser | TuneIn | Deezer | RSS | More
There is a reason why The Witch is considered to be the first movie in the "elevated horror" sub-genre. It raised the stakes for what a great horror movie could be. Think that's hyperbole? Well listen to our review of The VVITCH, and we'll state our case.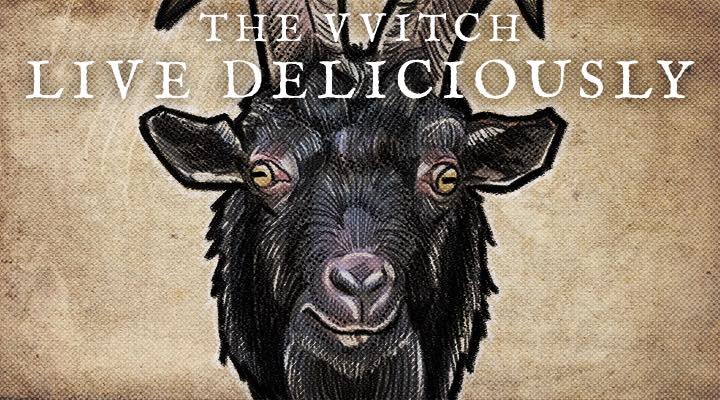 The Witch can be found streaming on Netflix and available to rent
Plot Synopsis for The VVitch
This film is about a family that is trying to live off the land in seventeenth century New-England after being banished from a Puritan plantation due to ideological differences. The film never tells specifically what these religious differences are, but the father William (Ralph Ineson) is a devout man of god that, while prideful and stubborn, is trying to raise his family as zealous christians.
William's family is made up of his wife Katherine (Kate Dickie) and his five children Thomasin (Anya Taylor-Joy) the eldest teenage girl, Caleb (Harvey Scrimshaw) the next oldest boy that is on the cusp of puberty, the young twins Mercy and Jonas, and finally the baby Sam. While the harsh realities of homesteading in 1630 present their own danger, the family is also beset by a witch that lives in the nearby woods.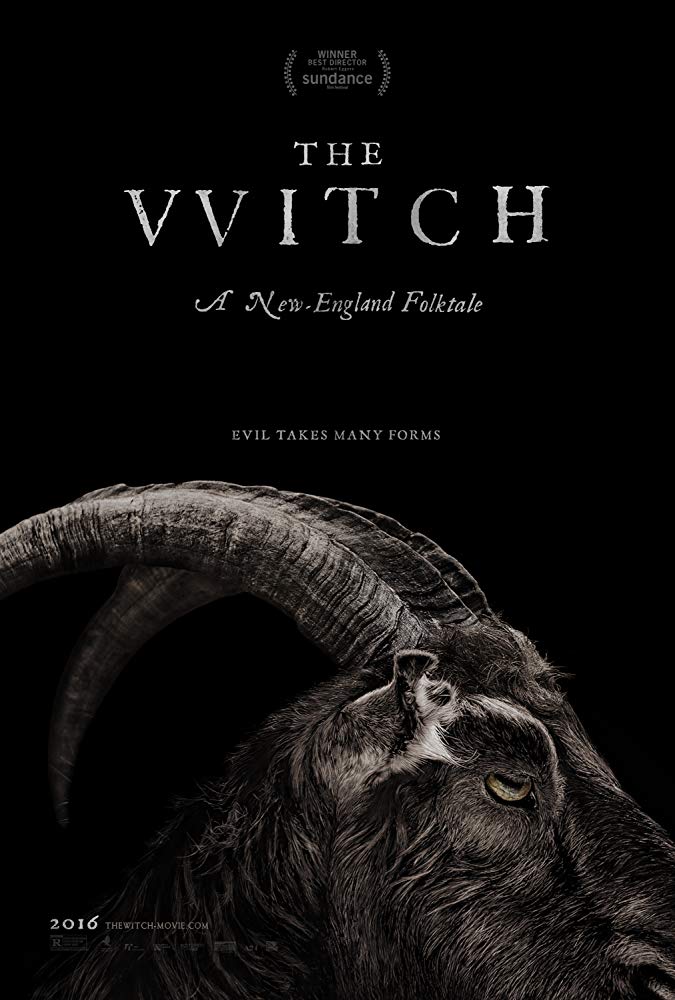 Thoughts on The Witch
This film's original title was The VVitch: A New-England Folktale, and it really is that. Great lengths are taken to make this period piece authentic. From the costume design to the dialogue which is sometimes directly taken from sources from the time. I went in with a certain set of expectations with this film. I thought that the major dramatic tension in a super realistic period film would come from the mystery or doubt surrounding false witchcraft accusations ala The Crucible. Well this is not the Crucible, while realistic, this is still very much a FOLKTALE, and as such, the Witches are VERY real, and the power of the devil is frighteningly apparent.
It should be noted that this film is important in the genre as the first of the modern wave of horror films dubbed "elevated horror" that have come out of A24 films. The seriousness and craft that the director Robert Eggers is undeniable, and showed how successful serious, cerebral horror movies could be.
I really can't say enough good things about this film. It creates a believable world filled with relatable characters, which brings a really unprecedented gravity to some fantastical supernatural elements. There is no doubt in this movie for the audience. They go FULL WITCH, very early on, and the audience gets to witness in horror, the dramatic irony of this poor family being ripped apart by the powers of Satan.
Score
10/10
Check out Robert Eggers Other Masterpiece
Spoilers for The Witch
Expand for Spoilers

The film opens with the father of the family, William, standing before a panel of Puritan judges being defiant. We're never told exactly what William is on trial for, but my guess is it's for being kind of a dick.

The family is banished from the Puritan plantation and sets out to create a homestead on the edge of the forest. The dissonant music tells us that this is not going to bode well for them.

Hail Paimon!

Within the first 10 minutes of the film, the families baby is stolen literally right from under Thomasin.

Not to waste any time, Eggers establishes that, yes, the witches in this movie are real, and yes, they are scary af. We are shown the witch murder the baby and literally grind it down to bits with a mortar and pestel to rub the remnants over her wrinkled bent body.

This movie does not fuck around.

While you might think that the entertainment of this movie might come from the over the top violence that that scene might convey, the real good stuff comes from great characters and subtle interpersonal drama.

This movie is brilliantly written. It really explores the fragility of human life, and their will resist their weaknesses.

As the family works hard to mitigate their disastrous corn harvest, it is made clear that the cards are stacked against them. In the wood is not only the witch, but her master the devil is also exceedingly close. We see hints that outside forces are conspiring against them. We are given hints that some of the animals we see are either the witches familiar, or are inhabited by dark forces. You can tell that they are evil because they have real shifty eyes.

Everyone in the family is dealing with their own struggles and doesn't really notice the obvious signs of satanic interference. Caleb is dealing with his burgeoning puberty. Katherine is dealing with the grief of losing her child. Thomasin is dealing with the guilt of losing Sam on her watch. William is trying to hold everything together. The twins… well the twins are mainly praying to a goat. We hear them sing this song to their black goat:

Black Phillip, Black Phillip, A crown grows out his head,
Black Phillip, Black Phillip, To nanny queen is wed.
Jump to the fence post, Running in the stall.
Black Phillip, Black Phillip, King of all.
Black Phillip, Black Phillip, King of sky and land,
Black Phillip, Black Phillip, King of sea and sand.
We are ye servants, We are ye men.
Black Phillip eats the lions From the lions' den.

The Twins' song

Wut M8?

The events quickly turn south when Caleb goes missing in the woods. We see him captured by a seductive witch in the woods.

Now the family is exceedingly suspicious of Thomasin since both disappearances happened with her around. Things are only made worse, when Thomasin finds Caleb naked and bewitched.

In a family prayer circle, Caleb comes to, but rants about the witch tormenting him, then the sighs in religious ecstasy as he is accepted into the bosom of Christ and dies.

The whole time, the twins are accusing Thomasin of being a witch, and eventually William is convinced.

When he confronts Thomasin, she denies the charges, but also spits some hard truths back at William. Mainly that he is a terrible father and farmer, and he is only good at chopping wood. She also points out how close the children have gotten with Black Phillip and that they are actually much more likely witches.

William puts Thomasin and the twins into the shed and boards them in.

Then all hell breaks loose.

The witch appears in the shed and goes full cackle.

William is attacked by Black Phillip and in his last moment, succumbs to evil.

Katherine is tempted by the vision of her dead children.

Finally, Katherine attacks Thomasin, and Thomasin kills her mother in her defense.

The film concludes with Thomasin making a pact with the devil and becoming a witch herself.

Thomasin arriving at the black mass
Final Recommendations
It might seem pretentious to say that this is an important film, but it is. I think it's important for everyone to see this film to be reminded of the possibilities in the horror genre.
Horror Movie Talk Episode 67: The Witch Review Transcript
Expand for the full transcript of the episode.

this episode of horror movie talk brought to you by Sleepy time Disposable ether wipes. If you're like me, you hear about all these studies on the benefits of afternoon naps. But who has time and they're busy schedule to carve out time for a nap. Well, the good people, it's sleepy time. Have you covered with one swipe of a sleepy time brand disposable, either Wipe you'll be off to Does land on this News Express. Don't waste precious minutes of your power nap falling asleep. Let's Sleepytime disposable. Either Wipes. Release you from consciousness faster than you can say sleepy time disposable ether wipes. Go to sleepy time dot onion and use the code HMT A check out to receive a free pack of sleepy time disposable ether. Wipes for kids Hello and welcome to horror movie talk and opinionated and accidentally funny Horror Movie review Show your panel of expert hosts each week are Dr Bryce Hansen, who holds a phD in Spook ology, and Professor David Day, the foremost expert on scare No nose. New theatrical releases always get priority, but we also review older horror movies both good and horrible. I'm Bryce Hanson and I'm David Day. I'm the foremost expert in scare. No nose. Yes. I don't know if you knew that, and I appreciate if you'd call me Dr Hansen from now on. Yes, Doctor. I mean handsome. I went to 12 years of college to get my doctorate in spook ology. Well, I mean, you got to respect the position. Respect the the position, not the person, I think, uh, to new listeners. Check out our website at horror movie talk dot com All one word you can put a www in front of that. You know how websites work there? You'll find links to our social media and past episodes. We post new episodes every Wednesday. So please subscribe on your favorite podcast platform. And please, please, please, if you're on IOS and use apple podcasts, leave us a rating. And we're really trying to get up to 200 ratings. That's our goal. You guys want us on rotten tomato? We wanna be on rotten tomato. So guess who's gonna be on rotten tomato with or without your help, motherfucker? Say you better get on with your help. You with your note? I meant to say we've got a great show I am this so excited for today. This is like I'm I can feel the energy in the room today because this has been a long time coming. Yeah, we've talked about this movie quite a bit because it's one of our favorite movies. It may be my very favorite movie. Yeah, it may be. It may be right behind there will be blood. Yeah, this is Ah, an important film in the horror genre and something that I think fans of ours will like us talking about. Today we're gonna be talking about the Witch Hall. They will start out by giving a brief review and our score for the movie. We score on a scale of 1 to 10 1 being miserable dredge That makes you angry fiving in perfectly average film. It's all the expected marks in 10 being so good it transcends genre boundaries. This is all stuff we say in every episode. So let's get through so we can talk about the witch after we give our score, will get into spoilers and take a deeper dive into what we liked and hated about. The film later will be doing a couple of games we're gonna be doing taglines perennial favorite as well as a new game, especially for the witch, which is a witch, which is a which which which is which, So we'll get there. But first, let's talk about the witch. Let's indeed we both rewatched the witch. It's ah, the Times. Have you watched this, I think, is probably my fourth or fifth time. Yeah, this is probably my third. I think it's available for streaming on Netflix right now, right? And it is as great as I remember it the first time. It is just such a solid perfect. It's It's really a great movie, but what's e I mean? Just wait for our scores, though, because you never know. You never know. I mean, I'm I'm feeling a pretty low score today. Here's the trailer. What? When we out into this wilderness to find I believe in our country. Kindred our fathers houses For what? For the kingdom of God. Let's just wait. Family. Wait. Can I leave my senator? We have a show. Okay. Again, Like David mentioned, this film is available for streaming on Netflix. If your Netflix subscriber, you can just watch it for I mean, I guess not technically free. But you can watch it there as well as any you know, rentable streaming platform that'll be found there. This film is about a family that's trying to live off the land in 17th century New England after being banished from a Puritan plantation due to ideological differences, the film never tell specifically what these religious differences are. But the father William, played by Ralph Innocent, is a devout man of God that, while prideful and stubborn, is trying to raise his family as zealous Christians. Williams family is made up of his wife, Katherine, played by Kate Dickie, and his five children. Thomason, the eldest teenage girl. Caleb, the next oldest boy who was on the cusp of puberty. And the young twins, Mercy and Jonas. And finally, the Baby Sam, while the while the harsh realities of homesteading in 16 30 present their own danger. What this film is really about is this family being beset by a witch that lives in the nearby woods. There's well, it's just general satanic forces. There's a lot of undercurrents and themes within this movie that go, in my opinion, go much deeper than just the what you see at the surface level, so and, well, I'm going to get into that for sure. So, yeah, um, the film's original title was the bitch. So ah, lot of times you'll see this this film with the title of To Capitol these in front of it originally was called The Vite. The vich, a New England folk tale. And it really is that great lengths are taken to make this period piece authentic, from the costume design to the dialogue, which is sometimes taken directly from sources from the time I went in with a certain set of expectations with the film, I thought the major dramatic tension in a super realistic period film would come from the mystery or doubt surrounding false with Kraft accusations. Allah the Crucible. Well, this is not the Crucible know. While realistic, this is still very much a folk tale. And as such, the witches are very riel, and the power of the devil is frighteningly apparent. Yeah, that's like the major. I mean, it's it's so weird seeing it. It's so accurately portrayed. Yeah, I am. And the characters even more so than a normal period drama Almost and because it felt as dirty as it would be bad. And it's not like, Yeah, I mean I mean, if you're trying, if basically, if you're trying to move out into the middle of the woods in Ontario and ah, which is where this was filmed isn't in northern Ontario. I've been there and it looks just like this, Um and, ah, if you're trying to do that and really make a make a shot at it, this is what it's kind of look like. If you don't have a truck, if you just got ah, horse and some seeds in your pocket Yeah, and so the it's not. It looks realistic, but it is not based in reality. This is based in a the folk magic and the folk beliefs of the time, which is also just a really interesting thing, like taking like a folk tale like what if you took Paul Bunyan and made a realistic, gritty movie about him? Yeah, it's no, it's a turn that I think I wish we had more of these kind of examples of, you know, the the the cautionary tale that was told to keep people in line being riel right that you know. But also they really believe this stuff back then, yes, that's very much had impact on their lives, as opposed to just being like a children's story, right? So it should be noted. And several people have noted that this film is important in the genre as being the first in this modern wave of horror films dubbed Elevated Horror. Um, which most of them coming out of the 8 24 film studio. The seriousness and craft that director Robert Eggers brings to this film is undeniable. It showed how successful a serious and cerebral horror movie could be. Yeah, I went into this with high hopes because the trailer was very impressive and I was not disappointed at all. I remember coming out of this going Holy shit. I didn't know that this kind of thing could happen, right? You know, I didn't know that you that you could make this kind of like it just was a totally new thing to me, and I was so excited because I like it, gave me hope for more like this, and hereditary really followed it up nicely, right? And it's it's kind of a also out of a 24. Yeah, this this moniker of the elevated horror movies I know in the genre. There's lots of people that take issue with that because it's saying that the other horror movies aren't as good. Yeah, but even look around the time I mean production value and the seriousness of the draw of the genre was kind of starting to get more traction even before 2015. So I mean, like, even the conjuring films were a little higher effort. Yeah, they were taking more seriously than a final destination movie, and it was starting to come out of that found footage. Um, period in horror films to where they're like All right, we've we've, ah extracted a ton of value out of this idea of found footage where supposedly we're spending a lot less money to make a lot more money. Yeah, because it feels realistic. And then they started going back more towards high production and higher like artistic. And you're coming, Merritt, you're coming out of a decade, you know, 2000 2010 where it was kind of it was kind of a desolate spot for horror movies. I mean, there are obvious, you know, standouts. This is where this is kind of where, you know, found footage was birthed and but a lot of people toe found footage in very high regard. It all, um I I think there's definitely a time and place for it, but in terms of, ah, big blockbuster horror, there was not a lot going on for a long time. Yeah, this is this one of one of the kick starters? Yeah. I mean, the blockbuster horrors were the found footage movies, right? I mean, Blair witch and paranoia paranormal activities did really well, Yeah, they did really well, the other ones that were really popular, you know, maybe not right around this time, But pretty soon before, it was like more on the torture porn variety, Yes. Hostile and saw and stuff like that that was had it today in the sun. And so this is really kind of a turning point, and some point to it as the first, but, I mean, there's other films around there. I mean, the Baba do came out before I could say that that was kind of it felt like in the realm of the elevated horror, Um, stuff. I felt like it felt like there. Now. There was being horror made for me, right? Is what this film felt like to me. Um, but I really can't say enough good things about the which It creates a believable world filled with relatable characters, which brings a really unprecedented gravity to some of the fantastical supernatural elements. There is no doubt in this movie for the audience I want to make a point of that is going in. Like I thought that would be a big part of it. They go full, which they like, full cackle. If it is, we have kids. If you have kids, this is going to be, Ah, hard watch for your wife potential. If your wife is like my wife, they go full, which very early on. And the audience gets to witness in horror the dramatic irony of this poor family being ripped apart by the powers of Satan. Yeah, in a real real way, it's really ah, disturbing and graphic. It goes hard in the paint, um, you know, But at the same time, it's not. It's not very, it's It's graphic in the in the graphic parts And then there's just this. And then it's mostly a kind of inter family drama. I mean, I can't even say that there's a lot of graphic parts. Honestly, it's one of those films where you you first. So it first so much and you assume that there's a lot that's absolutely right. Just the ideas that it's conveying are so shocking. Oh, well, the end the imagery is shocking to it is shocking. Yes. They don't show that what? What we may be alluding to right now. And if you've seen the which you can probably know what we're talking about, but they show enough for you to be like Oh, shit. Oh, shit. This is hyper alarming, right? And ah, so I give it a two out of 10. Sorry. Hot right now? Yeah. No, uh, what do you Would you really give it? I give it a 10 out of 10. This is as close to a perfect horror movie for me as as it can get. And I mean, I you can call me your pretentious douchebag. But if you think that this movie sucks, you can just get the fuck out of here, okay? Yeah, just like this is really our lane. Yeah, 100%. And ah, I I definitely 100% agree with you. I like I said, I've watched this four or five times. I may enjoy it more than I enjoy hereditary. This is such a good, such a well made, well thought out. Just impressive story from beginning to finish. Like just in terms of Eve. We're looking at good stories. If all you're looking for is a good story, this is a fabulous story. There's no fat on the bone at all. Everything is intentional, everything's important. Every scene is there for a reason. And it's so good. It tickles my Dickel the whole way through. Yeah, I think I mean, some people I've heard some people say that it feels really slow, but it doesn't. For me, it's only an hour and 1\/2. It moves a pretty quick clip, and stuff happens like one after the other. It, if you're there, is enough time to breathe, and and And there might be an element of hearing the accent and the language of the time. That might be a little off putting. People might not quite understand it would be like, Oh, this is boring because they're talking boring Talk has listen to their voices. Not only is that but so much of it requires your you to make up to infer right. This is not a horror movie that shows its its hand. You know, this is not a Halloween movie where he's he's hacking people up. You know where he's on the hunt. This is This is a movie that is a It is a slow burn drama, you know it is. It is a drama dramatic story about a family that's being torn apart. Yeah, and tearing themselves apart like it's Yeah, there's lots of stuff that happens between interpersonal relationships. And I think, you know, I gave hereditary of 10 out of 10 also, but I think I might be inclined, agree with you that this kind of edges it out because it'll that of the sole reason that it is so consistent in tone like there's not a shift. Hereditary has a definite shift at the end, which I still love. Like it's not. It's a totally different thing, someone people complain about, how it like, you know, it's kind of goes full retard at the end with the with you said the hour with the cult stuff. But this one, You know what's happening the whole time. And, you know, basically where it's gonna end up, it's either gonna end up, they're saved or it's gonna very badly. Yeah, Another aspect of this is and this is not This is this is not Thio. This is not to be, um, belittling towards towards people or anything like that. This is just one of these things where if if if you don't have kids, it may like for me like there are plenty of people who don't have kids and who will fully realize and and feel all the full spectrum of emotions that I felt through this whole thing Plenty because I remember watching this kind of movie before I had kids still affected me greatly, but there is a There is a sub, a subsection of people who just can't relate to this. This very primordial like Oh my God, my kid feeling and and if that's you, nothing, nothing against you at all. But this movie will work better if you have a lot of empathy for little kids. Yeah, I think I'm pretty inclined to write a block post. I got an idea for a plot post about the parental divide in horror movies, because when I go on our horror, said it, This is what I'm talking like there. There is a definite divide and people that love hereditary and, um, like movies based around family relationships and stuff happening to kids. And it may work a lot better for women as well. And for people with a high amount of empathy or who can relate very easily like this is the kind of thing that you will get to them. Maur. Yeah, but there's there's a certain element about parenthood that unlocks a just a huge Pandora's box of fears of fear. Inside, you know, you did not have access until not have access to until you become a parent should preface that we didn't have it. I didn't have this necessarily so much of this terror for kids as I do now. Yeah, I mean, maybe if you're an older sibling and you've had responsibility with kids and you realize how fragile and sickle and ah, you know, vulnerable kids are maybe a little bit really like. It feels like there's this divide where people that had that her parents rescue. They get really scared by, um, kind of more cerebral relationship stuff around kids, right? And people that haven't had kids. It just doesn't affect him. Like you see a kid, you're like, Oh, that's another character that died, right? You know? Oh, no, that's the the monster Got that? A little child. I'm really interested to see what they say about this because you have an interesting take on it. And because it is, it is a bit of a you know, it's it's a little bit of ah, I did delicate area, don't get place to tread. And then, like the the other stuff that I know, it feels like the the people that aren't scared by the parental stuff skew more towards slashers or like home invasion stuff, where it's like they they're just wanna see someone murder or they they are more fearful about being attacked right themselves, and I never Yeah, it's hard for me to relate. I don't really care, and also I'm a little bit nihilistic, so I just welcome it. I hope on first let's let's end this charade of life. Just take me now anyways. Yeah. 10 out of 10. It's a fantastic movie. I'm sorry if I offended you if I told you to fuck off, but honestly, uh, this is like undebatable to me. This is just a great film. Yeah, it's it's it's a great film that it sze not even it's a standout the hum of the genre. You compare this to any other movie and I for the most part, unless you're unless you're putting it up against there will be blood. That would also be a good alternate title for this movie, by the way, Yeah, there will be blood. Yeah, that'd be a great title. But, um or, you know, this is this is a just a solid film. So let's get into our mid roll. I just want to take some time before we get into spoilers and take a deeper dive into some of the plot elements of the witch to plug ourselves. Because if you like the podcast and you're not a first time listener, I don't expect first time listeners to come and go and join our patriotic count. But we do have a patriotic count, and we've just released several new tears ranging from kind of itty bitty donations up to, you know, rather sizable sizable donation for us and each Each tear gets more and more perks as you go up and every little bit helps and counts. And we really appreciate it if if you just take the time to consider supporting us because you know, this is a labor of love for us. So by all means if you can help help out the show, we are small and we want to grow. And every little bit does help. One of the the avenues that weaken, grow and get better is just production value in terms of, you know, we are third mike shit the bed on. So we need to replace that. There's other stuff we could buy around, like freeing up some time with editing, paying someone to edit for us or to buy some more interstitial music That's not just stolen. So stuff like that and, um, you know, we try to do bring content to the listeners that they care about, and, ah, you unlock some added bonus content when you become a patron also. Oh So if you want to become a patron or just check out what the tears are. If you're curious, Goto our website horror movie talk dot com and there is a button and the banner to become a patron, and it'll send you to our patri on page. The other button you'll see in that banner is by on Amazon. You can support the podcast by buying or renting any movie or product on Amazon if you click through on that green button in the header. So if you're gonna buy him something on Amazon, click through from our site and we'll get a little taste of that eyes I have. I'm so excited because we have a pumpkin carving contest going on right now and is very important, and we have were announced it last week and we have zero entries. Well, I mean, you got to get the punk. It's a little It was a little bit early last last week, so I understand they're getting their pumpkins. They're carving them up there, trying to think about you know what's what's gonna really wow us and win this contest? Because the winner, uh, you got to get your entries in by October 25th and the grand prize winner gets three funk Oh, pop bobblehead dolls of the witches from hocus pocus. So that fits quite nicely with this episode because I'm just like the witch is really disturbing. Hocus pocus has a few disturbing parts as well. You know what I mean? All you horror or porno fans? Yeah. Um, so you get in entries by the 25th of October said all you got to do is fill out your contact information and your address so we can send you the prize and upload an image of your pumpkin carving. Could be a jack o lantern and can be some super super elaborate, you know, movie poster carbon into a pumpkin. We're really excited about how creative our fans are. And please share the entry retweet the tweets that we sent out about it or re share on Facebook. So you get all your friends that are doing pumpkin carvings to enter. Um I will say, Don't cheat. We will do a reverse Google image search and whoever we pick and toe and picture that you're not a dirty liar to enter into it. You just head to our website. There's a There's a Jack o'lantern from the Season of the Witch, the Halloween three movie that appears on almost all the pages Somewhere on the page. Yeah, it should be on all the pages on the home page is down at the bottom and pretty a pretty much every other page. It's at the top of the sidebar. Um, it's pretty unmissable if you scroll around. It's a giant Jack o'lantern, and I'll give you a link to the entry. You do have to have a Google account you have to sign into your Google account. To enter since is a Google form. But that's not a big big You improvise the 25th of October and will announce the winner on the 30th of October podcast episode. So thanks again for listening. Oh, yeah, we haven't mentioned the positive A cast Well, so the positive a cast went dark on Thursday or end and Friday I am gonna record a few new episodes, but I think the five day schedule is it is a little too much for this podcaster to keep up. So I need Thio. I need to rework exactly how the dreaded pod. Fayed. Well, yeah. I mean, the interestingly like my listens are up. Really? Yeah. It's just like I've just got a lot on my plate right now, and I'm pretty busy, so I just let it slip for two days and you just ran out of things in the room to talk about. I went through every coin between John. Let's see the torn up. No anytime. $2. Any talk about Darnell's Inge? The crown molding didn't crown molding. Okay, All right, dog will get down anyway. Thanks again for listening. Let's get into spoilers. Oiler Foot section is This is the spoiler show. I like this first point you have What's your first point? Oh, yes. So the first point It opens on the trial of William and his family. So it opens in this Puritan courtroom, you know, full on pilgrims like they've got hats with buckles on them. It's not clear what William is on trial for, but he might be on trial for just being a dick. He's kind of really. It seems almost like a trial that he called the way. The way it plays out, it seems like Williams like called them there, and he's like, You guys are fucking up. Yeah, and they're like, Well, what do you want from us? Would you like to be banished? And Lee? And he's like, I fucking love it, Thank you very much. Let's bring it like like it's so confrontational On his part, it almost seems like he called the meeting and was like, You suck, you suck, You suck, you suck. I'm out. Yeah, I mean, it almost feels like it could be he's too zealous or calling the church itself to repentance or write something that's it doesn't ever talk about specifically what it is. It feels prideful, but it feels prideful. It feels like, um and I think the only thing that really mentions later on is William talks about, like with disdain the church. So, like, I think organizationally like probably the inner hypocrisy, ease of the church or the leadership or something, whatever. It is like one of those common things that people leave churches for, like it's but the lake, without a doubt William is a true believer is it's not a trial for heresy, not a trial, for it's doing something wrong. It's a trial for either. William is being very difficult continuing to be very difficult or this is just William being like like, officially, I'm out like, yeah, I mean, it's they basically say like, yeah, like you said, What, do you want to be banished or something? He was like, Yes, go for it. Fuck. Fuck you. Yeah, and they're like, All right, you're banished. It almost feels to me like it's like William called it so that God could see him, renounce them and be like, I look, I'm done with you officially, Thank you. And so that so that he can maintain his, You know, his standing in the eyes of the Lord. Yeah, that's an interesting take on it that he would call the trial. But I mean, I mean, that's just what it feels like to be. Obviously, that doesn't make the point. Is he's very defiant and very confident in his ability to make it on his own, um, in the wilderness. So they go off and set up their homestead next to the edge of this impassible forest. Yeah, and you know, very early on as they're going, a main character in this movie is the music and the soundtrack. The music does not. It communicates a lot. It does not bode well for this. Hold well for this family as they approach this forest. Birds air, not chirping bees. They're not buzzing. But what you do here is creepy choral music and, like strings, it's it's ah, pretty intense in the soundtrack. We talked about this before. The soundtrack is just fantastic. The soundtrack. The soundtrack is perfect, like the choral music, the A bunch of voices all rising and falling and go together works really well. But not only the soundtrack, the sound design. What's going on with the base, Um, what's going on with the the way they pick up the vocals of everyone talking, It's just so good. This is one of those things that's very nerdy of me to point out. But what's great about this movie is the dynamic range of the sound. How so? It reserves the very loud, loud for very loud moments, right, and normally it's like a pretty relatively quiet film, and then some moments are very quiet, like there's a big element, especially at the end around whispering, and it's really effective because you're leaning into it. And not only not only the sound is is but also the lighting that there are. So whereas some movies air just dark and you can't see this movie is very dark for a lot of it. It's, I mean, the lightest. It gets his gray. And I think I think the okay, There's another podcast that you guys should listen to. I think I mentioned it before, but a 24 the studio that put out this movie, they have a podcast. And one of the episode was Ari Astor, the director of Hereditary, and Robert Eggers, the director of this film, just talking to each other. They're interviewing each other, and it's a really interesting up, so they don't necessarily talk a lot about their own films. They actually talk a lot about their inspirations. One director and in particular, Ingmar Bergman, German director that was highly influential for both of them. They're just kind of nerd ing out about this, Um, thing is a German Expressionist director, um, but in that in that interview, there are some stuff that that was revealing about Robert Eggers. In particular. His background is kind of in costume design I think his father or someone in his family was involved in fashion or costume design and sew. He has a really good grasp on it, and it comes out in this movie because the costumes were fantastic in the in. The setting of the movie is very realistic and, to your point of it, being dark talks. It's got a beautiful Grady int of dark like It's not just dark, and then it's just black. It's this amazing Grady int of light to dark right? But it's realistically dark because at the time, if you think about it, if you're in a scandal in the family at night, it's literally lit by just candles. And so it's super. Um, you know, the source. Lighting in the scenes is very dim and flickering, and I think I noticed, as I was watching those scenes with the family at night, just huddled around some candles. There he does light it a little bit more than would normally be from the source lighting, but very subtle right, because you can go to dark with this kind of thing as his evidence by that fucking Abe Lincoln movie with Daniel Day Lewis. Like that movie was so dark, I couldn't see shit. The whole time I was in the movie theater. I couldn't see anything. But we need to establish early that everyone in this found every everyone in the family is devout Christian. Oh, yeah, like they are true believers. There's not really need out the only two that maybe kind of twins. That's when the twins seem a little little ostentation. Yeah, they have, you know, they're mostly Christians, but they also kind of like this black goat. Yeah, in particular. Um, but that's really important that there's not really any doubt in any of their minds like that's not a part of it, Right? Religious doubt is not part of the equation, and that's really interesting to me, the choice that they make. And I'll talk a little bit more about that later. Um, within the 1st 10 minutes of this movie, we see the witch. Yeah, which is this most impressive part of this film, and it's the part that sticks with me most probably because it's the most shocking is it is. It's like your ultimate nightmare come true. Yeah, so so opens up. They bear very quickly they're expelled from the Puritan community. They set up their homestead and it kind of flashes forward and probably a couple seasons. It's like they left in the spring, and now it's here we are in the fall. So Thomas and the eldest girl is taking care of the baby Sam, and this is in the trailer. She's playing peekaboo with him, and she covers her eyes and goes and does that three times. And the third time shams gone, she opens her eyes, and she'll as she looks up there's like a stick in the in the middle distance and a tree in the far distance. And they're both wiggling, as though somebody just darted away right like it's like Holy shit had How'd she moves? How? How did whatever grabbed him move so fast and he couldn't feel it go by you or even just that moment in the trailer was so alarming, was on board was like Good God. That is frightening. Just having a baby vanish in front of you, and it's within, like, closer than arm's reach your hovering over it. It's realistic to because I'm at that stage right now with Emma, where you know about nine months and she she she started calling a couple weeks ago. And now she's so fast that you little you put her down and then you turn around to get a fork and then you turn back around. You're like, Who? Where's the baby? And, you know, she's trying to pull the refrigerator down on top of it, right? So Baby Sam disappears and you think like, Oh, well, that's gonna be the mystery of the movie. What happens to Sam? I know you don't have to wait like it cuts to the witch running through the woods with the baby crying. Yeah, she's like It's like, Oh God, she's she's got him. There he is, He's he's in her arms. And then you go in this witches hovel and she's kind of petting this naked baby. And you're like, What's she gonna do with this baby? What kind of ritual she's gonna perform? And then she just picks up a knife. And you're like, Oh, intimate cuts, too. Ah shot her a shot of her naked back. She's naked port dimly lit and working away wars really, really working. And, uh, I don't know howto howto break this to you. But she is mashing up this baby and like a mortar and pestle. Yeah, like just really grinding down baby and that she's mirror on her. She rubs it all over herself, so alarming. It's I can't Stress is enough. This is within the 1st 10 minutes of the film, my wife was like She's like, I remember this movie. This movie was great and then 10 minutes and she's like, This movie is terrible. She's like, I'm like, Yeah, but is it terrible? Is it just make you feel terrible on? She's like it. It makes me feel terrible. It's a great movie. I cannot get my wife to watch this movie. I tried so hard the angle of its a period movie. It's It's It's a really it has artistic merit. It's mostly accurate. All act all accurate. Yeah, that's those. None of none of that is a lie. Yeah, and Ah, so, yeah, we're We're told very early on that this is a real thing, This which is actually mashing up babies and rubbing it on her body. And that's like those air the table stakes for this movie. And so that's where we are going on, and then it cuts back to the family. And a lot of it is just the family dealing with the disappearance of their baby. Yeah, and the fallout from that and all of the characters in their different stages of life and different priorities trying to live in this really, really marsh great environment. And, you know, you know, the baby going missing really sets the movie up for you know, your fall guy, you know? So now you have. I'm sorry, what's the oldest girl's name? I should Thomas and Thomas and Thomason is now like, fucked. Basically in the family's eyes, she was. She was in charge of watching the baby, and the baby goes missing on her watch. And now she's the fall guy, right? And, uh, and as if she wasn't having a hard enough time coming of age, you know, she's a young girl alone in the woods with Onley, her family coming of age. It's just it's this is everything's coming to a head. Yeah, and things don't go well for her after that as well. No, nothing goes well for anyone. The harshness of the wilderness is really a character in this movie. A very large element of this is in the backdrop. Not only are they suffering from this horrible loss, but also their farm is not doing well. Yeah, it has, like, like a little bunch of diseased corn. Yeah, and they are, Actually, we're worrying about starving. Right? And William, the father is trying to do his best. Um, but in the end, you could you get the impression that he's he doesn't really know what you're doing, either. Um, he he's not terribly good at hunting. He's not terribly good at farming, but he said he's a dead ringer for chopping wood. Yeah, Dude's got that wood chopping down and he does it throughout. That's a that is a, ah, pretty constant. It's a constant throughout the movie, where you get a scene of him chopping wood and basically it's babe. It's It's just him getting his frustrations out, you know, it's it's him being with whatever that this next thing is that he's dealing with. He's just like fuck yeah. One of the main point is William doesn't tell his wife Catherine, but he takes her silver copper prized silver Cup that she got from her grandfather or something, and he sells it so he can buy a trap for the woods because you know they're going to starve. And so he's trying to plan forward. He takes Caleb, their oldest son, but into the woods in the early morning, and William shares this secret with Caleb and tells him not to tell anyone. And, ah, they check this trap in its empty. It's empty, it's it's gone off, but nothing. And they're trying to go out and hunt and they have their gun with them and they spot a bunny. Yeah, William, like, kind of a hare, a hare. But it is a bunny, and you could tell that the hair is evil. Yeah, you could have got a real shifty eyes. You eat em and he's not wrong. What? He says, the way sounding it sounds almost like a Norma Donald job. But no, that's that's an evil looking bunny. Yeah, it's and like the music cues and stuff, it's it's great. So I mean, I always make for a reference to this, but that's like a Simpsons references Bunny looked at you when ah, Homer is pitching a movie idea to Mel Gibson. He does laundry if the laundry list of all these ideas. And this is like the The dog is evil and Mel Gibson's like, Well, how do you know that the dogs evil always got real shifty? I think at the end, while they're running the credits in that episode, they got a dog with shifty eye looking around and you're like, Oh, yeah, that dog is evil But this rabbit is he's, um yeah, he's a bad rabbit. And then the gun I said, I should say she's a bad rabbit. Yes, it's This is the which is familiar. Is it, though? Is one of them? Yeah, absolutely. And, ah, so they tried to shoot it, this rabbit, but the gun back fire. So it's very obvious that this rabbit or this which have influence and they're kind of fucking with yeah, the family and their livelihood And because and I mean there's more to just the trap being set off, and there's nothing there than just that because you look at the bare trap. If it gets set off, whatever sets that thing off is in there like like it's not a hair trigger. Take some weight to Dio and and if if whatever put some weight on there, did it, it's It's still in the trap. Yeah, so they go back. And and so there's this added element of Katherine wondering where your Silver Cup is. And this resent this growing resentment between Catherine and Thomas and her oldest daughter, oldest daughter, and the secret that Williams keeping so lots of, like, interpersonal stuff. The other thing that's happening, like each character has a really interesting ark. Yeah, like every single one. So Thomason has this whole drama surrounding her of losing the baby and becoming more people becoming more and more so. Something about sheep of the family and Caleb, the oldest brother. He's just on the cusp of of puberty. Yeah, you can tell he's really dealing with what that means, because he's like dealing with these hormones. And he's trying to start sneaking a peek at Thomason's breast, yeah, through her clothes. And then I could spend a whole episode just talking about that Really, like that is so there's another movie that does that to which is babble. I don't know if you've ever seen battle. No, I haven't. But there's this part. It tells the story of, like these different, disparate families across the world and how they impact each other. But one of the families is this Afghani. I think it's an Afghani family, okay? And yeah, one of the boys is like tracked it to a sister because there's no other women around. And you're like going through puberty and living in a super super conservative religious environment that tells you your evil if you have any kind of lustful thoughts or whatever. And so, like when you have a lustful thought, it goes to the worst place, right? But this movie deals with it in such a realistic way. It's not it. It's not perverse or anything like that. I mean, it is in in in, in the very most bare bones of nature's. But it's not because of because of his reaction. He no, he's feel shame about it. He's trying to, you know, he'll spend a little too long looking looking at her, and then he'll and then he is very clearly feeling shame over it and and will avert his eyes from her for a whole minute, you know, and won't even talk to her had just been like, you don't leave me alone. I'm just trying to get by and be a non center here. So, like, and he doesn't Can you take those sweater puppies and just maybe put him over there for a while? And he does love his sister to, like, just, you know, as a brother. Yeah. I mean, it's just it's just when there's boobs out, you gotta look. Yeah. What are you going to do? Is one of those things when you're growing up like you worry about. Like, what does this mean? Like, does this make me a bad person? Or does this make me evil? Um, or even like parents, when they see their kids doing stuff they have to be told or remind like this is just normal kid stuff. Well, yeah, this is stuff that they they're figuring out. Like if you leave like little kids alone at a certain age, like they're gonna end up naked around each other and they're just gonna be curious and play doctor, whatever. And especially now, nowadays, you just like you immediately go to Okay. There's some sexual predation going on. And even though even though they're like five like, Oh, someone is preying on another. It's like, No, this is This is just part of, like, curiosity and growing up and trying to figure out feelings and what not, anyway, So that's going on with Caleb. It's a mother, of course, is going through this grief spiral with losing Sam dealing with leaving her her country. Yeah, she left England. She misses, presumably, her whole family. Mrs Society, this is society realization. Now she's cast out of their community, and everything is going wrong for so it's very tempting. But I'm sure people look at the character of Catherine and say, Oh, she's just a shrew or she's like Man, she's a real bitch Like she's not being helpful. It'll like the second viewing. Especially. I'm like, No, this is perfectly understandable lamp stuff that happens to Katherine. It is absolutely understandable that she would go insane like no doubt. Yeah, only abs. Absolutely. If you consider the whole of her of her, you know her life, and then where'd it's amounting to? Right now, everything is Everything is coming to a head for this family very quickly. It for every person in this family and she's really the only one that's reacting in a relatively normal way to how crazy things are. Isn't it weird? Isn't it weird how, like she loses her son, her baby? Uh huh. And then, like, really almost the last, like one of the last straws for her is losing her Silver cup. Like then she's like, Where's my fucking silver cut? Like I moved away from my country. I got banished from the from our small little civilization. I lost a kid. I'm our farm is we're not gonna have enough food for winter. And where's my fucking cop? And then? Well, yeah, And then later, um, spoiler. We're in the spoiler section, so doesn't matter. But later, Caleb dice, right? And so she is. She's her family is dying in front of her. It's the only thing she has left, and even then, they're worried about starving and all dying. So anyways, like her reaction to what's happening makes a lot of sense. Even Williams reaction to it makes less sense because his pride and his like his stoic nous about the situation is probably not natural that he should be more panicked. And he's he's not I mean, but we all know Well, I mean, I know of at least a few people, uh, you know, in my in my family, who are very similar to him and and the reason I believe he is, he is. His faith is so strong, and he is so sure that God is with him that it justifies and and explains away, You know, I've met this guy who is just like this. I know him. He's you know, I'm related to him. You s Oh, yeah. Um, so that's his character. And then finally, the last characters of the twins. And they're just little kids. They're annoying little kids. They're going a little shits, but a little boy and girl, they're still innocent. But there's something going on there. Yeah, there's definitely something going on there. They're singing this song. They're a little too attached to this black goat black Philip who shows up out of nowhere. This if I if I caught the the um if I caught the way the way it went down is these kids are dancing around that that first scene with them dancing around and singing to black Phillip black. But they have the song for him. That's the first time this family has seen Black Phillip Black. Philip appeared out of nowhere, and the dad wrestles him into into the cage. Know that it was their goat. And no, because because then later, Thomason says, says to her dad, Oh, and then and then this goat shows up out of nowhere and the twins, or just are able to speak to it. And you think when he's basically accusing her of being a witch, she's like, Well, what about the twins? This goat shows up out of nowhere. They can talk to it. It talks to them like I don't I didn't hear That comes out of nowhere thing because it's hard. It's hard for me because because her speech is so stilted in this old 16 hundreds kind of vibe. That's what I thought I got out of it. I might be wrong. Correct me if I'm wrong. The first thing listening to this, the first thing is they're like, dance around black Philip and out of his pen out of his pen, and they're like the father is pissed off that they let him out, so, like it didn't it didn't appear then. So at least they had it at least before that scene. Okay? He was supposed to be in the pan and wasn't. I'll try and look it up as we're as we're talking. You know, uh, I can't just pull it out on Netflix, so Yeah, Black Philip was in the family after some research. After some research, we we went back to the film way did reveal the tape. Um, so, yeah, these these twins are really enamored with this goat, and their family has had the whole time. I was wrong in my assumption that they found the go. Yeah. So they they're singing songs to this goat, right? They have a song for black Phillip. They have a couple little things that they do and say with Black Philip. And this is one of those things that I I almost suggest that you watch this movie with subtitles. You can't understand it. Um, it is kind of old English, so there might be some phrasing. It might be a little confusing. Um, but a lot of the stuff happens like a lot of the lyrics and stuff kind of betrays what's going to happen. So this is the song that they sing Two black Philip, you gotta imagine Two twins singing this like that are maybe like, should we try a blackfella black Philip? A crown goes out, it's and blackfella black Philip to Nanny Queen is wed Jumped the fence post running in the stall Blackfella black Philip, King of all King of all Yeah, on the other one's air Black Philip, King of sky and land, King of sea and sand We are ye servants. We are ye men. Yeah, and black Phillip eats the lions from the lion's den s Good lord like this is like they're hard core They're pledging allegiance to this black goat and saying that he is the Lord of land and sea and air and and their parents or just like, Hey, can you can you guys keep it down a little bit while you're singing your Pledge of Allegiance to this Go? Yeah, so it feels very like, in a sense, while they're doing it. But there's this edge to it. Yeah, the direction is great. You're like, something's not right about that. Yeah, the whole time you're like, these twins are fucked up but you can't necessarily hear what they're saying because a lot of it's like in the background and other stuff is happening. But if you have the subtitles on you could read it. You're like, Good Lord, that is actually Satan in this goat. Um, there. So they there's a lot of resentment around Thomasina. The mom wants to ship off Thomasina cause she's coming of age and she'd be better serving another family and maybe making them some money. I think that was kind of part of it. Or that we're gonna sell her off or to be a servant or something, The mainly salary or something. It was mainly to have her not be there for another mouth to feed since they're going to start. Yeah, but Caleb overhears this and he doesn't want that to happen. So he takes it upon himself to go out into the woods and try Thio, get trying to rustle up some grub, rustle up some grub and hunt and Thomasina demands that he takes her with him. They go out into the woods and probably Caleb just goes out. Uh, kind of a lot. He, like, two sets off apart from Thomas And on a chase? Yeah, he sees Was it the rabbit? So that they catch a rabbit in the trap and then they seize the shifty eyed rabbit and he starts chasing after it. And Thomas seems like, whoa! And she's on a horse and the horse is freaked out by the devil rabbit and ex her off. So Caleb is chasing this rabbit and ends up at the at the witches hut, which we'll wait before before we get to. There is probably one of my favorite parts in the movie, especially with the subtitles on, because they're trying to find each other in the woods after they're separated. And Caleb is trying to whistle for Thomason. Yeah, and ah, the subtitle for it is attempted whistling. And here's a clip from the booth. She puts his fingers in his mouth, you know, do the finger whistle. And that's exactly what I would sound like thio on. So, yeah, he goes into the woods and he discovers this hut, and you're like, Oh, that's the witches hut. Now, once we get to the end of this whole thing, I'm going to discuss a couple themes that I see in this movie, and I think it's important to mention just for for the sake of my explanation of these themes this the way this hut looks, it's almost it's almost the land. Yeah, it's like a hobbit hole. It's bit, yeah, it's basically ah hill with with a den cut into it and Ah, and it's it's very has. It's very obvious that they're trees growing out of the top of it like this is part of the landscape. Yeah, And so you're like, Oh, this is the witches, then. And you've seen the witch before that she's this evil hag young woman like 75 year old naked. And then what comes out of the the hut is this, like, hot, witchy woman bosomy lady? Yeah, and Caleb, which is already trying to like feeling guilty about sneaking a peek at Thomason's like pretty, you know, underdeveloped chest there through like layers and layers and layers of fabric of linen like this. Stiff, stiff, stiff linen. Yeah, this woman is like she is propped up like presenting, and Caleb is just not equipped to deal with it. He is. He is in the throes of passion. He's he's like, Whoa. Like, frozen in his tracks like he can't move because he's like, I want to fuck. That's so bad. But I don't know what to do. I need to run. This isn't right. I need to find my sister. And then the which slowly walks up to him and and like, start kissing him on the mouth inappropriately. Yeah, bad trash. Like he does not consent. And then she grabbed his neck, and then it cuts. And so then the next thing Thomas and goes back to her family and like, this is the worst possible fucking thing that they lose. So I the horse I've got, like, a huge thing. Rice. They got some bad news. Remember how we lost that? First? I lost that first baby. Um, yes, Sam. I remember him. Did you find him out in the woods? So it's pretty? No, not exactly that. Like I said, it's bad news, but it's not. It's not the worst news because I'm here. Right. So, um, I went out in the woods with Caleb. Um, I lost him too. Yeah. Yeah. So Caleb's gone. The horse is gone, which is just like a hugely significant loss that they never really touch on. After that, they do a little bit. He's like, he's like she's like, What? Could you just go back to the Village? And he's like, It's a day's ride with, ah horse and I don't have that anymore. And I think the dog never comes back, either. Yeah, the dog gets injured in the woods, and, uh and that's that. Yeah, so she comes back and then all of a sudden it's really suspicious. What is up with Thomasina or Thomason? And and so it just goes down from there. Um, the the this is really kind of when the mom goes crazy descending into madness, the movie really starts ramping into, ah, fever pitch. And it's and it's only made worse when Caleb comes back. Yeah, because Thomason is really trying to get in the good graces of her mom. And she's like, I'll let me go like, take care of the goats for you or something like that. It's dinner time, and her mom's like, No, it can wait till morning and she goes out. Don't worry about it. I'll go do it anyway. Yeah, she's trying to really ingratiate herself to the family to try to make up for this horrible tragedies that's happened. And then Caleb comes back naked. It's like in the rain. This is almost worse because she names and all of a sudden, Caleb's back and naked, and he is definitely like Bewitched. So you lost him and you found him? Yeah, and so they bring him in. He is. Fever's got a fever. He can't talk. Yeah, And what When he does talk, he's whispering in tongues or something like that. Yeah, And he's like they try to bleed him to cure him because, you know, that's the cure for everything is bleeding someone and ah So that's kind of where it's at, its like slowly descending into madness. And then what happens is Caleb comes out of it briefly. He comes out of it to do the most disturbing thing he possibly could write because he's like starting to yell out that the witches attacking them and and then it just descend. This is like the most madness that happens in the movie, because to set the scene, he contorts. Caleb is in in this bed, in the in the attic, like there's a window over him, shining light on him and he starts the family spasming. The family is around him viewing this. Yes. Oh, mother and father on each side of Thomasina nose kind of at the foot. And then the twins are off to the side. They're all there, Caleb. Start spasming and spouting off like craziness about this witch, and they're panicking. And so Mother, father and Thomason and start the twins start mimicking him. They they start basically doing what he's doing as he's doing it. Kind of so they all start praying, like, try to do kind of a group. Let's pray the devil out situation. And they're all saying the Lord's prayer. Accept the twins. Their tongue has stopped. Yeah, and they can't speak and their life. So they claim I can't remember how it goes. I can. And then it's like she's now. This whole time, the twins have been accusing Thomason of being a witch because at one point, the movie Thomas and got sick of their ship and was like, Hey, you bitches, Shut up. I am a witch, And if you tell anybody I'm going to get you. Yeah, and it was like a bigger sister. Well, yeah. Lighthearted, you know? Well, not lighthearted. A serious, bigger sister moment. But a bigger sister moment. Nonetheless. Yes. So they picked the worst time to act like this is like the crucible part. This is like the party crucible where the little girl's air acting bewitched. And it's at this moment that they decided to do that. But also, they might actually be affected. Well, they're not effective. Very hard to tell. They're basically probably being told by Satan to do this. It's definitely a good trick to trick the family, Which is where Satan works is grayer. And and so the gray area, Bryce, And then Caleb is it doesn't help. Like they're praying, Caleb. Eventually, like, from when he talks about, he sees Jesus Christ and welcome you into his bosom and kind of like in ecstasy. Yeah. Like in in, like, religious ecstasy and dies. Yeah, he he basically says, Oh, Lord, here you are. You're here. You're here to take me. Take me, lord, and then and then just fucking dice. Yeah, And like in the most dramatic fashion you possibly can and you know what an act, man, This all the kids in this. All the actors, all the actresses. Brilliant, Fantastic. I can't believe they got this out of what appears to be a 10 to 12 year old boy. So? So that happens. And then what? Just in very quick succession, William accuses Thomason of being a witch. And this is the greatest thing. We just watched it again. Thomason, you know, he says, like you're a witch and she's like, No, I'm not like, Why don't why won't you believe me? And he's like, Tell me the truth. If you tell me the truth, we can get rid of it. Yeah, she's like, she's like, You want me to tell you the truth? And then she goes, is the best moment of nails him to a cross because she just points out like you did all these things, these horrible things to me. Like you let Mom believe that I stole this silver cup and you let her and you are terrible at farming. You took Caleb out in the morning and on. I took the blame for that too. Yeah, and ah, they she, like, points out these terrible at farming. He's terrible at hunting the only thing he's good at is chopping wood. And, like just all this, like laying out the dirty laundry and Lee unsaid bag. You want to talk truth, Let's talk truth. And so he, of course, hits her and eventually Oh, and then she reveals. She points out like, Hey, your two twins are communicating on the regular with this goat and singing songs to him. So I think we all know who the witches are there these these fucking kids air evil and they're lying to you. And so it's kind of like a moment of realization for William. But in the end he puts Thomason and the twins into the barn. The remaining children nails him in there. Hey, nails like them in with wood planks and says, like we're gonna figure this out. You guys sit out here because my wife and I need some time to think. And then the ending is just the most. It's like the best delivery of this story because black Philip gets a man I could talk so long about this anti black bill gets out. Um, William confronts Black Philip the scene. Okay, the scene after he puts the kids in the barn. He's like praying to God in, like despair. And he's like, Just forgive me of my pride like I'm This is all my fault. Like I tried my best. Like, what is going on? Please save us. Meanwhile, in the shed, the kids are sitting out in the shed in the dark at night, and they hear something jump onto the roof. And then and then they watch it work its way, and you don't get to see it. But they watch it, work its way into the shed with the And then Then there's a scene of this old witch basically slurping, slurping milk out of the goats. Ted. Yeah, and this isn't the other every time they show the which is great, because stroll which and they go on full on which cackle. Here's here's a clip, Theo. I love it. Okay, look, I just got goose bumps so bad. Yeah, it's like, Oh, that is scary. That is frightening. Seeing a like evil. Dag, that's like eating readily children. Definitely, definitely bad person. Yeah, so? So that's all happening, Williams, like praying to the Lord and really, sincerely, like in despair. And then when this thing is such an interesting choice. Such an interesting choices as all the is like the family gets picked off one by one, basically black Philip gets out. It's already been established like something ain't right with Black Phillip and the horns on this go. Yeah, black Philip attacks Williams like stabs Um, like horribly in the abdomen. William is immediately bleeding from the mouth from this. He's going to die now and he lifts up. This this act. It's like the moment in sightings. Exciting. No signs. Signs where? Swear way, mayor. Like swing away, Merrill. Except instead of chopping down on black Phillip, this is such an interesting choice. And I love it so much he throws the axe down and then he says, I think this line is chills corruption. Thou art my father, and then he falls down. And then that the goat attacks Oh, yeah, pushes them into the wood pile and this giant like ton of wood falls on Williams. So in the last moment of his life and this is so significant in there in their theology he dies chopping wood. That dude he dies doing the one like in the one thing he was good at. So he black feel kills him. And in that moment, he basically submitted to write Satan. He said, Corruption, our my father. So he gave up. Yeah, and it's like in their theology and in their belief system. That's just it's the worst thing, the worst thing you can do, like he evil one in that moment. And then it shows the mother she comes upon this scene and she sees she sees the shed that's torn apart. And Thomason is basically passed out hanging out of the ship well before that, actually. So in the night that the which appears to the children, there's lots of stuff that happens. And Kathlyn Katherine Katherine the mother, um, goes downstairs, and she's greeted by her two missing children. Yeah, Caleb and Sam. And like a love dream, almost. Caleb's holding Sam in the candlelight, and she's like, Oh, my God, my children have come back to me and Caleb starts talking to Catherine in a whisper. Yeah, and it's like, This is what you want. Yeah, it's like we can we can come back to any time like kind of this thing and and Catherine, take Sam, and he's crying. So he goes to breast feed her, and then it cuts to reality. And it shows this raven pecking mattered tit and, like, just really been. She's in the throes of of motherly ecstasy. Like she's like, Yea, I have my children back. This looks like Poland on her flash. Really alarming stuff. And then so yeah, then cut to, um, Williams dead. And Catherine comes out and she sees this shed. Or this barn is, like, completely tort apart. Like it looks like an explosion happened and all the dead goats around it. Yeah, and then it's It's just Thomas. And the twins aren't They're twins are gone. Twins like disappeared or something. It's never talked about where the twins go now. Wow. I mean, the twins made a pact. You sing. I assume the twins are just gone. Yeah, well, I assume they've not not dead and gone, but, like they like, the devil got them. Yeah, And then Mother attacks Thomason. And this is another moment that just really is just this great payoff between the characters because it just ends in tragedy. And the mother is like attacking her and Thomas. Um grabs a knife like grabbed like some farm implement slashes her and then because her mother's really attacking her, like really trying to do her harm killer And she she cuts her mother in the face in the face. Beats her, and she's like It's the most heartbreaking moment because Thomason, even in this moment, says, I love you. Love she so helpless in this moment, it's basically everything in this movie is happening to Thomason. Yeah, she's this innocent girl, true believer. She's really trying to do her best, and it all points to her as being the reason for it. And it's not right. So her mom is trying to kill her, and then she has to. She has to kill her mom to save herself, and when she does, you can tell a switch flips. You know, Rick Intel, because by then, everything gone have ordered her entire family is gone or dead right at that at that point and then So the the final ending is so Thomason in a daze, goes into the house and how to sleep and falls asleep. And when she wakes up, she goes back out into the barn and black Phillip is sitting by the barn just waiting for, and they both go in to the barn. They have a discussion, and she she goes to him and and says, like, you know, talk to me like you talk to Thio twins. The twins like, speak to me. Can you understand my English? And then this is the iconic moment in the film. I pulled the clip. I conjure thee to speak to me. Speakers had to speak to Jonas and mercy. Just I understand my English time and someday, Well, this won't what can soak it. What's it like with taste? But but British press? What's that like? Yes, I cannot underline how great the scene is. It's It's so it's so artistically done to the choices that they make for Satan. But I'm always really interested in depictions of Satan. Yeah, and film in an art. And this is one of the more interesting ones because it's she's talking to a goat. You don't actually see the goat in this scene. And when black Philip quote unquote starts talking to her, it shows like the very tips of an actual man. Yeah, they're so you see, like walking the other TSC like that's the boots to great way to say it. You see the boots and then you see him like walk around behind her and he's like in the darkness, and you can barely barely make out an outline of, like, a face or person. And he's like just offering her the pleasures of life, you know? And just that the phrase wouldst thou like the taste of butter, and it's so simple and back in those times that must have been like that is so you got some butter. Wait a minute. What? Well, I mean, you say butter. I don't think it's probably rare. I think that butter was like a thing. But to just eat it to talk about the richness of right. What he can offer is like, Do you like the taste of butter? It's you like nice clothes you wanna live deliciously. It's just such an interesting way to phrase that it's beautiful and and then she submits. She's like, Yeah, yeah, I don't know how to sign. And he's like he's like, all guide your hand and then you see, like another outline of him, like kind of collect, clutching her like you don't really see. You don't really see him, but you get the impression that he's touching her. It's I honestly believe, that the only brace one of them or underutilized characters in in art is Lucifer or Satan like an actual, just a depiction of Satan himself. Like every time that they do it. There's so much interesting stuff you can do, like, you know, if you go back in history to like Paradise Lost by Milton like the most interesting character. And that is Satan like That's the only interesting one because like you got God, which is perfect. So boring, boring. You got Adam and Eve, which are perfect and innocent, which is boring. And then you got Satan That's got beef. Yeah, and in perfect and and And Has intelligence. Yeah, you know, like he has, like, that's what he gives to Adam and Eve. He gives them the gift of intelligence. You have the ultimate evil, ultimate intelligence. He knows everything. He's basically like God any. And he has. He is also powerful, yet he's he's the bad guy to God's good guy. Yeah, yeah, No. So anyway, before we get into the themes on this. I do want to give a shout out to Dust. And Goebel, who does who has given us some great artwork for Pumpkin Head and also now for the witch. It's ah, you can check out his his artwork for the witch. He he drew, um, black black Philip for us and and it's ah, I think it's, I think, his It says the witch lived deliciously. Yeah, and it's beautiful and you check it out. You should check him out. His instagram is at D Goebel. That's G o E B E l 00 on instagram. You check out his ah, his art. And you know, if you have, if you have professional artwork needs or if you have, like, fan fan stuff that you want, want done, I'm sure he can. You can help you out to get a hold of him. Yeah, big thanks to you. Really, really awesome. That is very, very generous toe. Help us out with the artwork. And so, yeah, this let's let's talk about the films where I knew that this was gonna be a long episode, because there's so much to talk about it. It's so interesting to meet like each each one of these points, like I could talk about Caleb and his dealing with hormones. And, like attraction. I could talk about William and his like struggles with faith and trying to support this family. And, like every single character, is interested. It's E. I mean, even the titles Interesting. The two V's. I looked up, I looked up. Why it was why was spelled the vich V v i. T. C h instead of the which apparently, in this time in, you know, the early 16 hundreds. W. Was not in common use. Yeah, they didn't have it, so they made it with two V's. Yeah, and it's like a German thing, too. I mean, like, I think it's also just a German pronunciation of the letter W so that just six to the bank then, like spelling, was not standardized. That's something that we don't have. Like even even in like the 18 hundreds. Spelling was not standardized at all, especially in American English. So that just speaks to the effort's gone forth to make this, you know, a true period piece. So there's a bunch of themes in this that I'd like to at least touch on one of which is this is a strongly feminine or or feminist film. To me, I This the shame that that that women are made to feel about their body and have been, is so is so prevail int prevalent, relevant, relevant in this in this movie and and being and the the Thomas and being blamed for everything taking on all of the yet and also like the value or superstition of the value of a woman. Two men to where it's revealed at the very end. When the mother is attacking Thomason, that this whole time she's like You're a slut and you're you're trying to seduce my son and my husband away from me. It's like this undercurrent of like sexuality our hour of the three of being of being a female and and, you know, this is almost the Adam and Eve Eden story told in reverse. You know, it's like at the end instead of at the beginning. She accepts the knowledge she does the deal with the devil. You know, she and and she's what she's given in return is freedom. Like now she's truly free. She goes out into the woods. She's naked. She no longer has to has to worry about being ashamed of her body. She rises into the air. That's the ultimate freedom. Being able to fly like she's. She's done with this life of being everybody's bitch of of being, you know, blamed for everything. And now she has the power. She's the one who and by the way, the witches in this movie have all the power throughout the whole movie, most true, like they are in control the whole way through there. And they're the female force. The other one I wanted to talk about so that I find the most interesting about this. This this film which is which is which is, um, you know, in a time where women, you know, historically were were burned at the stake for being what they weren't in this movie, that which is actually do exist and they have the power. Yeah, the other one is nature versus versus order, you know, chaos and order. Right? Which is which is, um Yeah, that's also kind of a part of the the lore of the devil on dhe witches. Right, is that it's very based in nature to right that is the true at a concept of Satan is that he's the Lord of Earth. Yes, like God is the god of the heavens and everything in the universe. But Satan is put on Earth to rule, like the worst impulses of man and of nature, right? Like And that's that's kind of It's so interesting because because nature is cast as evil and nature as well as we know, nature is not evil. Nature just is. It is there. It may appear evil and very harsh because that's that's the world, and I can see how someone would construe it that way. But ah, but this trying to eke out into the wilderness and carve your order into it does in this situation does not work out there trying to trying to force the land, to give them what what they need. But the witches, they're doing just fine. Living basically in the land like they're like their hovel is just a hill that they carved into the land. And they're just stealing babies and rub them all over themselves, doing doing fine, like they got everything they need. Yeah, obviously the land will provide babies for them to mash right rub on their body. Yeah. When you need to mortar and pestle yourself a baby, just go on, Get one. Satan's there for you. He's got you covered. Uh, yeah. Did you? Oh, and the other one was Everyone in this movie purports to be everyone being the family Everyone in this family purports to and hopes to be so pious. But the whole way along there, they're lying. There's all these little lies and all these little imperfections that make each one of them. D'oh! The mom, the dad, the the brother, The cyst, like they're all like the sister messes with the twins. She shouldn't have done that. Like every one of them is deserving of some sort of retribution. Yeah, I mean, this is like, Okay, so I'm locking my Christian brain or unlocking kind of a theological part of it. This is a theme that I found really interesting Is the closeness of sin. Yes, that it's right. There were always trying and everyone's in perfect, but they're trying so hard to be perfect. Pretty much everyone succumbs except Caleb Caleb. Yes, he does. It does like he doesn't run away from the witch, but also, you know, he's kind of bewitched and like he's lustful. He's also preyed upon by the witch. But when he comes back and he he has the kind of a deathbed moment of redemption, like he accepts the Lord and his Lord and Savior. And when he dies, he saved like that is, that is the day that the heavy implication and everyone else succumbs. And the most heartbreaking one is William, that he is the pillar of strength and the family. And in the final moment, like the moment on his, he's going to die. He could kill Black Philip. He almost made us with this acts that he's like, you know, swing away Merrill moment and he decides like he has. He decides to let a happy decides to let it happen, and he's not even really worked upon by the devil. It's just literally his despair. It would just be easier to give up. And in that moment he decides, and it's so so be it a close. So in that theology, and in that that those rules of like what? What you say on your deathbed or like any given moment, your decision can lead you to damnation. They all decide to go down that road even though all of them are pious love, Homer. They're good people, too. It's not even I can't even say that They're necessarily hypocrites. Even Williams actions therefore the best interest of this family. He's not like lying for the sake of lying, his lying to try toe to try and save. Whoever is in the is in the crosshairs of the mom at that moment. Yeah, he wants to like a very good reason. His his wife is despairing. Yeah, about this lost baby. Trying to smooth things is a bad time to come to her and say, like, Hey, you know this treasured cup like we really got to sell it right now. So he's trying to, like, go through these actions to try to protect yes, the family, both his wife's emotions and his family's well being. So even like the hypocrisy unquote unquote that occurs in the family like it's all well meaning it is all and and it's just, you know, I think it's a great example of it is in our nature to sin. You know, we way we are, there's no way to escape it, right. It's very hard. Even Caleb, who is basically sinless, lust after his sister a little bit and feels remorse for it. And it's to do the people of that time the prospect of witches and black magic and Satan's influence. And even like when you put it in that context. For modern viewers, it's still terrifying. Yeah, and it must have been terrifying to them back then. Oh, my God. Specter of evil magic and which is working against you. You're in a new land with new diseases, new shit. Noo noo animals like you got you left your family behind and across a huge ocean like it's just amazing that you're even here And now nature is trying to get you, and the only way you can rationalize it is there's got to be fucking watches after me like this point. I'm just insane. So the ending, ending, ending is Thomas in, You know, signing Satan's book and walking into the woods, and it ends in this black mass, and it's really a beautiful ending It is, And it it's probably the only depiction that I know of of what is historically described as a black mass and the pictures that you see of a group of naked women and witches floating in the air in a circle and Justine ecstasy because the kind of the lower behind witches is you signed Satan's book and you become his concubine more or less like you are a witch. If you've had sex with Satan like that's what historically that means. Is that okay? Yeah. Hey, that that woman's a which I know because I think she fucks Satan who, like that's quite an accusation. Yeah, and ah, that's really interesting. Yeah, And you know, by you've been through this, like, following up on this feminine, feminist sort of agenda of the whole thing, you know, she doesn't have to be scared anymore. Now she gets to be the terror, you know? Now she accept ce it and revels in it, and it never, never like it never shows the bad side of being a witch other than, you know, mashing up babies and rubbing against yourself like the whole part of the lore of Satan is that he is a deceiver. And whatever deal you make with him is a very bad deal on your for you. Are you saying it's sweet? Are you saying Bryce that it's sweet to be a witch because you get to kiss little kids? Is that what you're saying? No, I'm saying, like it doesn't show the bad part of being a witch. I'm disgusted by you. That is disgusting. I guess I'm not being clear on what I'm trying to say. But you I think of the undercurrent is like she she submits, she becomes a witch, and the audience is left not only with the with the, um, aftershock of what happened with family, but also there's an understanding that this is not gonna work out good for Thomason like this is still the bad choice. I mean, you know, who's to say it seems like a sweet deal? Let's go with it. You know, uh, corruption. Thou art my father. Yeah. All right. So that's the witch fantastic movie. I mean, so final recommendations for this. I think everyone should see this movie. There's some people that aren't gonna like it. This is This is too heavy of a ride for many people for sure. Like there are people who will just not be able to handle the 1st 10 minutes of this. Yeah, and then it is just is not gonna end up good. See, that's the thing. I I feel like it's such a great choice. Two put throw down the stakes right away, down the stakes right away And it like All right, yes. This is a super accurate historical drama, but there is, ah, supernatural, supernatural Hagee, which that's gonna eat, baby. So for those people, that kind of like the more gory or, you know slash cherie horror, there's, you know, there's an undercurrent of that Got you covered. That's so interesting. So it's a great degree. I've had such a good time. Just dissecting it and going back over it, like this movie is. So is such a dead ringer for just a very satisfying, well made movie. Um, I'll go back to a year after year. I really Well, is it true truth transcendent 10. And this week, as of So this is released on Wednesday and Thursday Friday, Robert Eggers is coming out with his sophomore film, which is the lighthouse, which was super excited about seeing. So so go see the lighthouse this weekend. Go see it. We're going to be reviewing. And I think as Willem Dafoe in it, Yeah. Willem Dafoe and, um, the vampire from from Twilight Series. What's his name? Robert Pattinson. Okay. Robert Patton. Oh, wow. It's been a while. Hot minutes since I seen him. He's been in stuff, Just not stuff you've watched. Oh, okay. Yeah, that makes, um so, yeah, check it out. It's streaming on Netflix. Watch this and then watch the lighthouse this week. Yeah. Okay. Moving on to tag lines. Years, tagline. How many you got? Four memory you got? I think I have three year four. Okay. Taglines is a game when we come up with alternate taglines for the movie that we're reviewing, and I think I got some good ones. Okay, you go first. The witch. What's now, like the taste of deez nuts. It was great because I did not expect it all like, oh, you corn ball. And then you said these nuts was on board. Ah, the witch eating babies and taking names. Uh, okay. The witch, loosely based on the actual life of Stevie Nicks. All right? The witch, the Oregon Trail. But instead of dysentery. You die from Satan. That's good. The witch, which is all float down here. Look. All right, That one. Maybe not somewhere, right? I was trying. I probably could have worked that out better. It's an it referenced people. Yeah, I get it, You know? Okay. The witch, the rave in the writing desk and the titty Well, cause she's sitting at the writing desk and the ravens picking out her at her boob. I'll get the reference. Is that a reference to something raving in the raven and the writing desk? Oh, yeah, it's a It's a It's just a piece of cannon literature, that's all. Um oh, yeah. All right. This will be a performance based one. The witch. You chopped 16 tons. What do you get? Another day older and your family is taken apart by satanic influences. Who would have thought that the which would have made for good tagline me? I mean, that's Ah, it's a great Do you have one last one? No, I don't. I apologize, though I was thinking about it was like the raven and the writing desk. I think was actually the poem that the Mad Hatter gave in Alice in Wonderland. Uh, what is the raven and the right? Like, what's the difference between what is the similarity between the raven and a writing desk? It's like, what? I don't know. Well, as it turns out, it's the titty. Okay. There. You, um Okay. Next game. I mean, playing. I don't game. I don't know anything about this. What? Just called. What did they call, which is a witch, which is a witch? No music for this one. We'll come up with something. Hold on. Hold on. Let's play. Which is a way. Okay, so which is a Which is I'm going to give you two actresses, five sets of two actresses, and you have to pick which one has played a witch. Oh, that's a cool game. Good for you. Look at you. Okay. Which is a witch? Okay. Sandra Bullock or Christina Hendricks. Oh, I know this for sure. Although Christina Hendricks would make a valuable is witch. Uh, no, Sandra Bullock was I believe in practical magic. Yeah, you're right. Okay, I got one. Okay. Number to Michelle Pfeiffer or Kristen Stewart. Oh, that's that's Ah, away. I'm thinking of Dunst's. But Stuart was the girl from the we just mentioned that Twilight Twilight. Okay. And eso Kristen Stewart and Michelle Pfeiffer. Miss Michelle Pfeiffer. I think Michelle Pfeiffer was in something about Salem. I'm gonna I'm gonna go with massage Michelle Pfeiffer, even though I'm sure Stuart has been in more witchy movie. Pfeiffer, you're correct. Okay. And when l. Pfeiffer was in Witches of Eastwick? Yeah. Yeah, it is. Yeah. Okay. All right. These air easier than I thought I was. When you were over, I was overestimating your ability to not remember actresses or move Well. Well, there you go. That's what you get for. Underestimate. All right. Next is why known a writer or Neve Campbell? Oh, that's yeah. I mean, so the I'll tell. I'll give you this. You've done an excellent job of pairing up women who seem like they should have been witches because well known writer obviously seems like she should have been a witch at some point. But no, it's Nev Campbell. All right. Fuck. All right, well, we've already won, but here's the next to ah, Alyson Hannigan. Or are very plaza. See, now I don't know who Alyson Hannigan is. Can you help me out. American pie issues The one that says one time at band camp. Oh, hello And Aubrey Plaza. Aubrey Plaza again is a very Wynonna Ryder. Ask choice. But, ah, um I think given her the Alyson Hannigan. Honey, I think she was probably probably hit something in one of the It was she in any of the, ah, scary movies? I'm going to say her. Well, I'm terrible. Okay, You're right. Alyson Hannigan played a witch in Buffy the Vampire Slayer TV series. OK, Buffy, the vampire layer is what we prefer to last one. I hope this one's the hardest one. All right, We'll see. I'll see. I'll take it as the proof of concept if you don't get this one right. All right. Milla Jovovich and Famke Janssen. Who's Famke Janssen? Oh, you know. No, she was a model. And also she was Jean Grain. The original run of X Men movies. You would probably recognize her if you saw her. See now Milla Jovovich. Ah, star of all the resident evil movies and a few other movies I could see. And the fifth element? Uh, I could see her, like accidentally being like, ah, which you know, like by name. Like she plays a character who is technically, technically a witch the same way Yoda's. I don't know that for sure. We had what? A wizard? A wizard. But, um mmm. This is tough. I'm gonna go with the girl. Who? I don't know, because I don't think Milla Jovovich has played away. Damn it. Okay, all right. You got all you got, Every single fucking one of letting go. So Famke Janssen was a witch in Hansel and Gretel. Witch hunters? Yeah. Oh, I watched that. You did. I did see that. Yeah, well, she was The witch was not good. Shocking. Okay, So that waas which is what I should have waited. We have to attack that button, which is a So that's our show for today. What A failed game. Will never play that one fucking again. I love that game. What are you talking about? I had a great time. Yeah, that one was kind of cobbled together at last second. It's Some of those were so obvious. Like I was really hoping you weren't gonna get Sandra Bullock. I thought that was gonna be the one practical Magic is okay. so a practical magic, fun, funny story. Uh, I think the first fight Carrie and I ever had was over that. So I'm dating my now wife like, 11 years ago, and, ah, and I'm over at her house. So I have an apartment. She's living with her parents at the time it were in early twenties, and Ah, and I'm at her parent's house because they have food. And I'm a bachelor who has peanut butter, and I'm getting tired of peanut butter. So I'm over at her house and, ah, practical magic comes on and cares like I loved his movie. And I'm like, This movie sucks. I've never seen such a visual response before or since. She's like It does not suck. Get out House. Wait, what it does suck number one. So I dug in. Obviously, I was like, How can you say this movie doesn't suck? Look at this movie, Boo And she's And then she's like, How can you say it turned into a big thing, you know? And then, ah, I think I probably charmed my way into getting to eat because I, you know, I could do that with older women. So I was like, Okay, she's trying to make me leave because I think practical magic sucks. And then we ate a tense dinner or something like that, but yeah. Practical magic. Yeah. I still haven't seen us fight. It's a Sandra Bullock, and, uh, some other big notable no Tom Cruise is ex wife. Oh, Nicole Kidman in big notable wasn't that Nicole Kidman was which twice she was in practical magic and Bewitched. Oh, dude. Oh, you know that's something else. All right. So thank you for listening to the show special thanks to Dust and Goble again our artist for the show which graciously made our cover art for the post episode check out, um, the cover art for this, but also for pumpkin head. He did a great cover for Pumpkinhead. Parfitt has pumpkinhead. And what his name Hendrik Lance Lance Hendrickson like it behind the scenes picture of them of them, like together viewing a smartphone and like the put in a sharing some headphones, some ear pods watching. So great. Anyways, thank you so much dust in for doing that for us. That's D Goebel 00 on Instagram. Yes, it's at D g o e b E l 00 on instagram. Check him out. Also special things to all our patrons for supporting the show. Um, please, if you want to support the show, you could do it financially. But also you could do it just by sharing with a friend. Right now is the Halloween season. People are watching horror movies, pleased to share the podcast with other people. Also leave a rating on Apple podcast so you can get up to our goal of 200 ratings. Definitely do that. And then also, you know, check out our Facebook page or any of our social media. But mostly Facebook page, because Bryce has been doing 31 days of horror throughout October and 31 days of horror movie talk specifically, yeah, horror movie talk. So he's been sharing past episodes that, you know, we'll get you in the in the mood for the season. The last one that I shared well, not as of this of this post, but, um, the last one that I shared yesterday as of this recording was our review of Sleep Away Camp and I I revisited the first part of that. That is a great episode. A tragic boating accident. And it has, you know, one of my very, very favorite clips from that episode. Damn. Look at those hot children. I've been, like, I've been told by people that I should be very mad at you. Oh, for for this for free for constantly dragging that clip out. See, that's the thing is the reason why I get to do that is that I just pulled the clip. Yeah, in that same episode, like, immediately after that clip, I say something that's very, very bad taken out of context. But I wouldn't do that to you. And I haven't. Yeah, but that's also Well, it's hilarious because you're my friend, or so I thought so. I mean, what what's your opinion on children, though? God damn. Look at those hot children. That's not my opinion on children. That's taken completely out of context. I, uh Yeah, um, yeah, that clip like that. Knowing that in that episode I think you could have pulled a clip where I said, um, I said something about their hot little ass is Yeah, And then there is something else of that. Oh, yeah, They they call them Baldies. Where I come from, he's where I come from. Yeah, Steven minute made mention of that on that post. Yeah, that was That was a really fun episode. You guys should go back and check out some of our some of our old stuff and check out our Facebook page because we will just give it to you. Last plugs. If you go to our website horror movie talk dot com, you'll also see a button in the banner for our M Thio links to Amazon. If you click through there and buy anything on, Amazon will get a little cut of that. One more thing. Shutter. It is how you stream shudder. Ah, using HMT at. Check out the code HMT it. Check out to stream tons and tons of classic horror classics and new originals and original siris on Shutter so shutter dot com and HMT A checkout gets you 30 days of free viewing. That's the whole month. Yeah, I've got my own personal 31 days of horror movie films going on right now and off of Shutter. I've watched Halloween four and five and we'll probably be watching more some Jell O that I need to catch up on. I think they have. I think they have, like, most of the Hillary's or serious on. They're still, don't they? I e don't recall. I think they have the blob on there. And I would like to watch the s. So check that out. Thank you so much for listening. I know that there's just a couple of you left. Um, you're our favorite. You you right there. You're the That's listening. Uh, we will do unspeakable things for you because you're listening to the very end. So we love you and we'll see you next week Way. Love you.