Podcast: Play in new window | Download (Duration: 1:26:46 — 59.6MB)
Subscribe: Google Podcasts | Spotify | Amazon Music | Pandora | iHeartRadio | Stitcher | Podchaser | TuneIn | Deezer | RSS | More
We went and saw The Grudge, and I feel like I'm taking crazy pills, because I liked it. That's because it's a dark and moody sequel/reboot of The Grudge.
Nicolas Pesce wrote and directed the film, and brings a more serious and weighty tone to the proceedings.
This is the first Grudge film to earn an R-rating, and it is warranted not only for the violence, but also for the mature subject matter.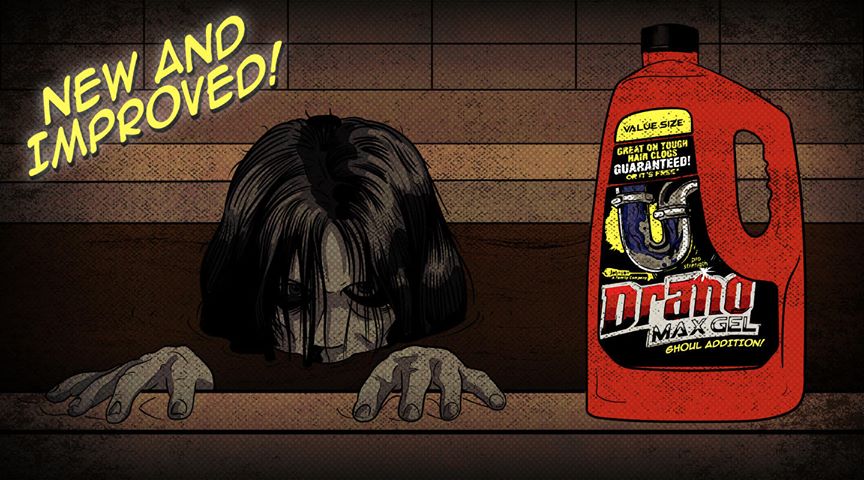 See The Grudge can in theaters now
The Grudge 2020 Synopsis
This film is a soft reboot sequel of the American Grudge from 2004. It tells the story of a single mother Detective Muldoon (Andrea Riseborough) as she moves to a new police force and discovers a dead body in the woods.
Muldoon's partner Detective Goodman (Demián Bichir) is disturbed when the body is connected with previous murder cases he investigated. As established in the previous Grudges and the opening credits, when someone is killed in a violent rage, a curse is formed around the place of death. Goodman mysteriously tries to dissuade Muldoon from investigating too deeply, and DEFINITELY NOT GO IN THE HOUSE. As you can guess, she goes in the house.
As Detective Muldoon investigates the current and previous murders, the film flashes back to tell the story of three families in different stages of life all being haunted, and hunted by the same curse.
Review of The Grudge (2020)
I haven't seen any of the previous Grudge's or the original Ju-On, so I was going in blind. However, the information I needed was provided in the opening credits:
Murder bad.
Make curse.
Curse Bad.
This technique I actually liked, but I admit it does lessen the mystery a bit. But since this is a sequel, all that information has already been established.
Dark Tone
The director Nicolas Pesce sets a measured pace and a moody tone for this movie, which for me, helped to build up the dread. There isn't much mystery, or any real surprises in terms of the plot, but it does still feel compelling because of the inevitability of what you know is going to happen. It's like watching a slow-mo train wreck.
The first act takes it's time to develop characters. Each family is introduced in turn with a unique situation that inspires empathy. Therefore it does feel like there are stakes. The most interesting of the bunch is probably the elderly Matheson family that is dealing with dementia and assisted suicide.
R-Rated Horror
This is definitely a one trick pony though. Along the lines of The Conjuring movies, it's more of a vehicle for jump scares. Some of the scares are effective, but they are generally pretty sparse until the end. With the R-rating, it is able to delve into some more graphic violence. This is a pretty "light R" since there are only a few moments that earn the rating, but they are effective and pack a punch.
When we left the theater, both David and I thought it was a good movie. Despite it's slow pace and general predictability, it's a well crafted movie with a distinctive tone and gravitas. We covered Nicolas Pesce's last movie, Piercing a while ago and I think he has an really interesting style.
Negative Reactions on Twitter
Upon checking twitter, we are in the minority on this movie. People and critics apparently HATE this movie. It has worse scores on Rotten Tomatoes than CATS, which is ridiculous to me. I felt like I saw a completely different movie. I don't know what people were expecting from it, but apparently they were VERY disappointed with the film. Most of the criticisms about it are that it is "boring" or that it didn't feature the original girl ghost "Kayako" as much as they wanted.
Score for The Grudge (2020)
6/10
Final Recommendations
I stand by my original impressions upon leaving the theater. I think it's worth a watch.