Podcast: Play in new window | Download (Duration: 1:25:51 — 58.9MB)
Subscribe: Google Podcasts | Spotify | Amazon Music | Pandora | iHeartRadio | Stitcher | Podchaser | TuneIn | Deezer | RSS | More
Since there aren't any new releases out this week, this week we are covering another listener suggestion. This one comes from Anthony F. in San Antonio, TX.
"I have listened to almost every episode. I dig what you guys are doing. keep up the good work.I would love to hear your take on Kuso, it's available on shudder.


It is one of the most fucked up films I have ever seen."

Anthony K.
We watched Kuso, and as advertised, it is the most fucked up movie I have ever seen. And I've seen The Peanut Butter Solution!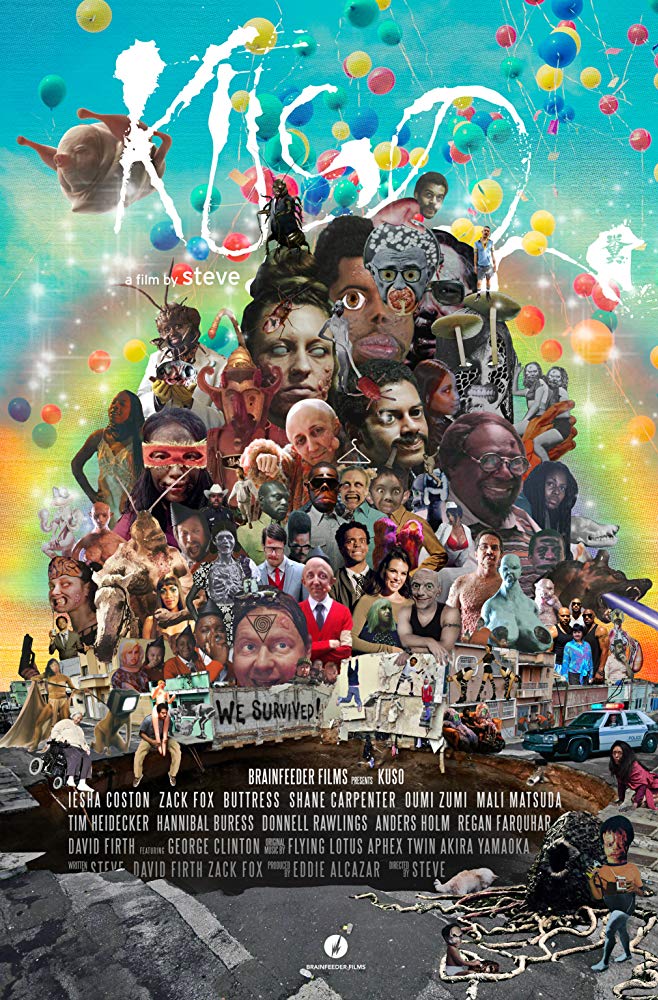 It is a Shudder exclusive. So if you are interested in seeing it after hearing our review, feel free to subscribe to shudder using the code HMT at checkout to get a 30 day free trial.
I found it surprisingly hard to give a summary of this film. Even on IMDB, it only has the following plot summary:
Events unfold after a devastating earthquake in Los Angeles.

IMDB
Kuso is a film directed by Flying Lotus, which is the stage name for Steven Ellison. It consists of 4 of what I hesitate to call, "Storylines" that are written by Steven, Zack Fox, and creator of salad fingers, David Firth. The plots of these vignettes are secondary to the surreal and disturbing imagery and production design of the whole affair. There is only one piece of trivia listed in IMDB for this movie:
Received a large number of walkouts at Sundance and was deemed in an article written for Verge as "The grossest movie ever made.

IMDB
The Four Story Lines in Kuso
Royal: a young couple with some interesting Kinks
Mr. Quiggle: an Up-and-coming female rapper "B" goes to an alternative medicine doctor
Smear: a young man has digestive issues
Sock: a woman in search of her lost child
But really replace all those story lines with poop and that's probably a better description. I provide a more in-depth description of these story lines in the spoiler section further below.
The First Movie We Ever Reviewed – The Devils' Doorway
Review of Kuso
This is a type of movie that is almost impossible to review. If you say it's terrible, you aren't hip enough, if you say it's great, you're a pretentious douche bag. It's the type of film that you would find playing on a loop in a modern art museum. alternatively, it's like a David Lynch student film project, but weaponized.
I'll just say that I didn't enjoy it, but I think that is kind of the point. This film is truly one of the most consistently, visceral disgusting films I have ever seen. Most of the film just wallows in its own filth, but there are some moments that stand out. First being the Mr. Quiggle story line featuring Zack Fox playing Manuel who is treated by Doctor Clinton, played by George Clinton. The second being the finale, which somehow ups the ante of grossness after an hour and a half of pure grossness.
Score for Kuso
2/10
Watch Kuso on Shudder
Use the code "HMT" at checkout to get a 30-day free trial
Kuso Spoilers
Expand for Spoilers

The opening scene is frenetic and features a spoken word jazz, and throws you off kilter immediately.

Buckle up, because this is nothing compared to what is to come (literally, sometimes). I'll break down the four main story lines below.

Royal

Royal starts out with Kenneth listening through his paper thin walls to his neighbors having sex. His girlfriend Missy comes in and she chokes him with a rope as he masturbates. She says her hands are growing and soon "She won't need a rope".

The most striking thing about this is the disgusting makeup and production design.

Read Our Review of Unfriended: Dark Web

All of the production design looks like it was done by the show Hoarders. The pillow that Ken is laying on looks like it was a replacement for the notorious cumbox of reddit fame.

In terms of makeup, both of them have the most vile boils and sores all over their mouths and faces. This is a recurring thing, but the boils are heavily featured in Royal.

Also, post ejaculation, Kenneth turns and smears his jizz all over Missy's face. So there's that.

Later in the film, when we return to the couple, it's revealed that one of Missy's boils is sentient and talks. After reasoning with Kenneth, the boil fellates Kenny boy and Ken bequeaths it with the name "Royal".

Smear

Smear features a young man named Charlie that lives with his single mother. His mother serves him the weirdest rotten looking soup I've ever seen. It reminded me a lot about the Don't Hug Me I'm Scared series on YouTube.

Charlie and his mother reminisce and worship (?) his dead father.

As Charlie is leaving, a line of black men show up to run a train on his mother.

At school, Charlie has some bowel problems (I would too) and proceeds to shit his pants.

Here is Our Review For A Bad Movie – Slender Man

Humiliated, he runs to the woods where he encounters a giant prolapsed anus coming out of the ground with a tongue coming out of it.

He does the only logical thing and picks up some shit and rubs it on the tongue. The tongue slowly, over repeated visits of shit rubbing, turns into the likeness of Charlies father. Then the last time that Charlie smears the anus face, he is electrocuted with a green lightning bolt.

Mr Quiggle

Mr. Quiggle features a two story lines of its own.

B

An up and coming female rapper "B" is a slave to two interdimensional creatures named Kazo and Mazu. She is visited via her toilet by an ex-boyfriend Phil (played by Tim Heidecker). Phil describes raping her while she was passed out, and B finds out that she is pregnant. After going to the doctor to get an abortion and only given a hanger, her fetus is aborted with Mortal Kombat sound effects by her captors. They all laugh.

Manuel and Mr. Quiggle

While in the waiting room at the doctors office, B meets Manuel who is there to get over his fear of breasts. The film then follows Manuel as he visits with Dr. Clinton (played by George Clinton).

Check Out Our Review of The Curse of La Llorona

Manuel has to then serenade Dr. Clinton's anus to entice out a parasite named Mr. Quiggle. Mr. Quiggle looks like a giant crawfish.

He then rips off a tentacle and drinks the pussy liquid that comes out of Mr. Quiggle.

When he awakes, Manuel is cured of his fear of breasts.

Sock

Sock is the most Avant-garde of all the shorts and features an Asian woman searching for her lost baby who is "trapped behind the concrete". She states that she must eat her (the baby girl) to survive.

A disembodied voice coaxes her to go down a hallway where she falls down a hole into hell. She eventually crawls through some intestinal tunnels and her head pokes out of a prolapsed anus in the woods.

Miscellaneous notes I made while watching Kuso

This is going to be a long movie
Sound effects heavily featured:

Farts
Cartoon SFX
Mortal Kombat

This is a movie where you can skip to any point and trip across a disturbing image
What amazes me about movies like this is that… all this stuff takes as much or more preparation. Someone has to prep that fake poop.
How did they not get Die Antwoord for this?
This movie gave me a similar feeling to watching Gummo
Final Recommendations, "who would like this"
If you like looking at bathrooms featured in the show hoarders. If you like Harmony Korine's films but wish they weren't so "mainstream".
Special Thanks for This Episode
Brad K for becoming our first Patron
"We shouldn't be here" podcast for having me on as a guest and also supporting us on Patreon
Anthony F for Suggesting that we watched Kuso.
Dana C for giving us many suggestions for new games.
Quin Mason for the Live Free or Die Hard intro music.
Bonus Videos Referenced in This Episode: